Like GearBrain on Facebook
Google finally released the latest version of its smartphone operating system, called Android 10, to the public this week.
But, while it is available for owners of all Pixel phones — even the three-year-old original — to download and install right now, users of Android phones from other manufacturers could be in for a lengthy wait before the update arrives for them.
Read More:
This is because each manufacturer (and even individual mobile networks) like to make changes to the way Android looks. Sometimes this is just a bid to make Google's software fit a display aspect ratio not used by Pixel phones. But in many cases manufacturers like to apply an entirely new user interface over the top of Android.
A new interface needs to be adjusted and modified to work on other devices, like those from Samsung, Huawei, Sony and LG. Sometimes a redesign takes just a few weeks, but in other cases it can take months. For example, HTC has only just rolled out Android Pie to its U11 and U12 phones — remember, Pie was released to Google Pixel phones an entire year ago.
So, while not every manufacturer has released a timetable for its Android 10 plans just yet, what follows is when we expect the rollouts to happen through 2019 and 2020. We will update each section of this article when manufacturers make further announcements on their plans for Android 10.
Google Pixel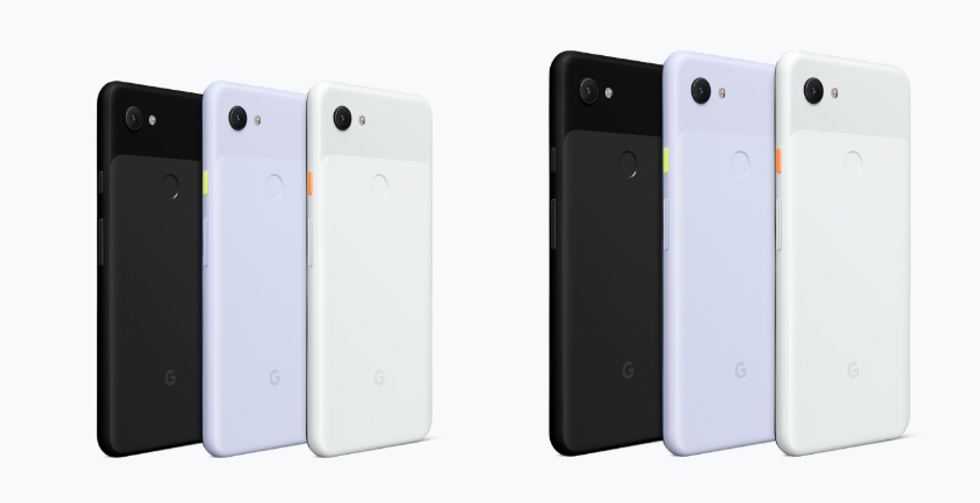 All models of Google Pixel now have access to Android 10 Google
As we said above, every single Pixel phone can now be updated to Android 10, This includes the original Pixel and Pixel XL from 2016, right up to and including the cut-price Pixel 3a from earlier this year.

When the Pixel 4 arrives this fall, the smartphone will be running Android 10 right out of the box.
Smartphones running the Android 10 beta
Google welcomed more devices to its Android beta program this year than ever before. These devices were granted access to the beta back in March, and will receive the final version sooner than most others.
Google said in early September that it is "working with our partners to launch and upgrade devices to Android 10 this year," which means owners of phones with beta access shouldn't have too long to wait.
These devices are:
Asus Zenfone 5Z
Essential Phone
Huawei Mate 20 Pro
LG G8
Nokia 8.1
OnePlus 7 Pro
OnePlus 7
OnePlus 6
Oppo Reno
Realme 3 Pro
Sony Xperia XZ3
Tecno Spark 3 Pro
Vivo X27
Xiaomi Mi 9
Xiaomi Mi Mix 3 5G
Samsung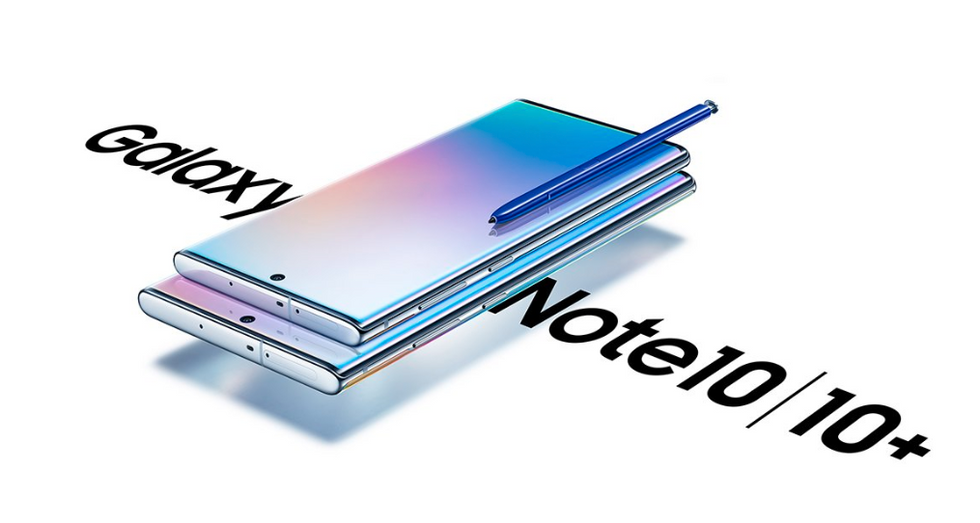 The new Note 10 should get Android 10 in early 2020 Samsung
The world's biggest smartphone maker has yet to say when it plans to bring Android 10 to its phones. However, looking at its past record with previous updates, we can say with confidence that this year's Galaxy S10 and Note 10 will get Android 10 towards the end of 2019, or in early 2020.

Looking at the roll-out of Android 9.0 Pie last time around, the OS arrived on the Galaxy S9 in late-January 2019. S9 and S10 owners should expect to see Android 10 arrive around the same time in 2020.
But sometimes Samsung rolls out updates by region, so the release date in Europe and the U.S. might vary by a few weeks. Don't let anyone tell you that Android updates are a simple subject.
Huawei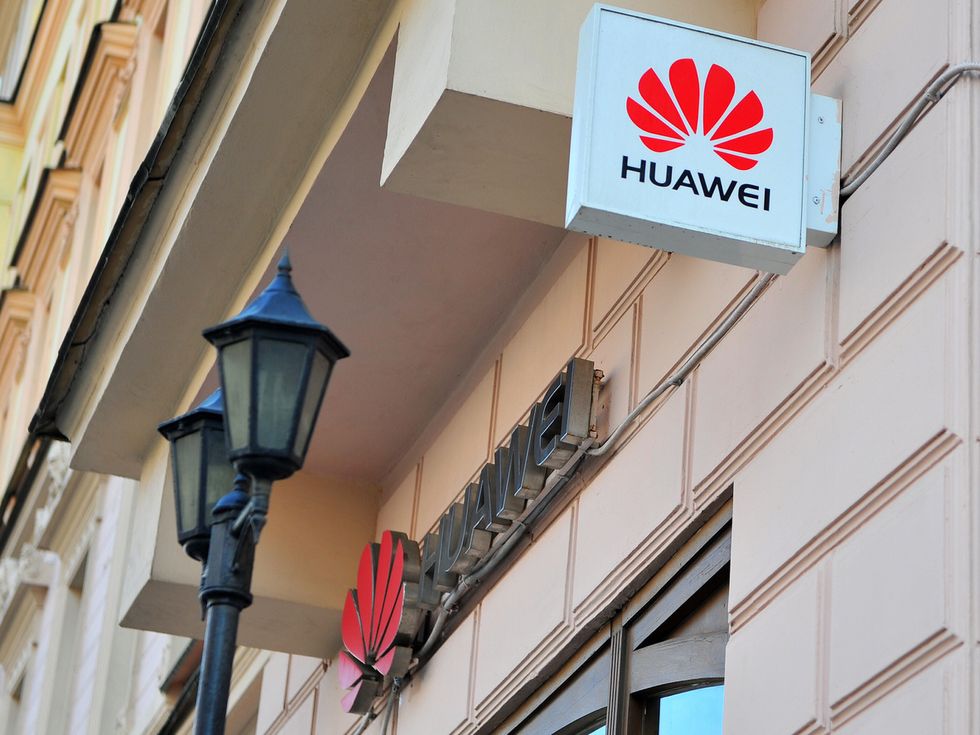 Huawei will bring Android 10 to its 2018 and early-2019 handsets iStock
It would be fair to say Huawei is in a difficult position here. Due to the US.. government blacklisting the Chinese company, Google cannot provide its software and services to any new devices Huawei makes. But this does not include those made and sold before the trade ban came into place. As such, phones like the Mate 20 Pro and P30 should receive the Android 10 update as normal.

Going forward, Huawei phones are expected to use the company's own HarmonyOS software.
Huawei said recently it is "confident that our most popular devices, including the P30 series, will be able to access Android Q [now called Android 10]...Technical preparations and testing has already begun for over 17 devices."
Some phones are expected to receive the update in the next few weeks, ahead of much of the competition.
Devices Huawei hopes to upgrade to Android 10 include:
P30, P30 Lite and P30 Pro
Mate 20, Mate 20 X (5G) and Mate 20 Pro
Porsche Design Mate 20 RS
P20, P20 Lite and P20 Pro
Mate 10 and Mate 10 Pro
Porsche Design Mate 10
Honor
A subsidiary of Huawei, Honor says several of its phones will be updated to Android 10 as soon as November. These include:
Honor 10 and 10 Lite
Honor 20, 20 Lite and 20 Pro
Honor View 20
OnePlus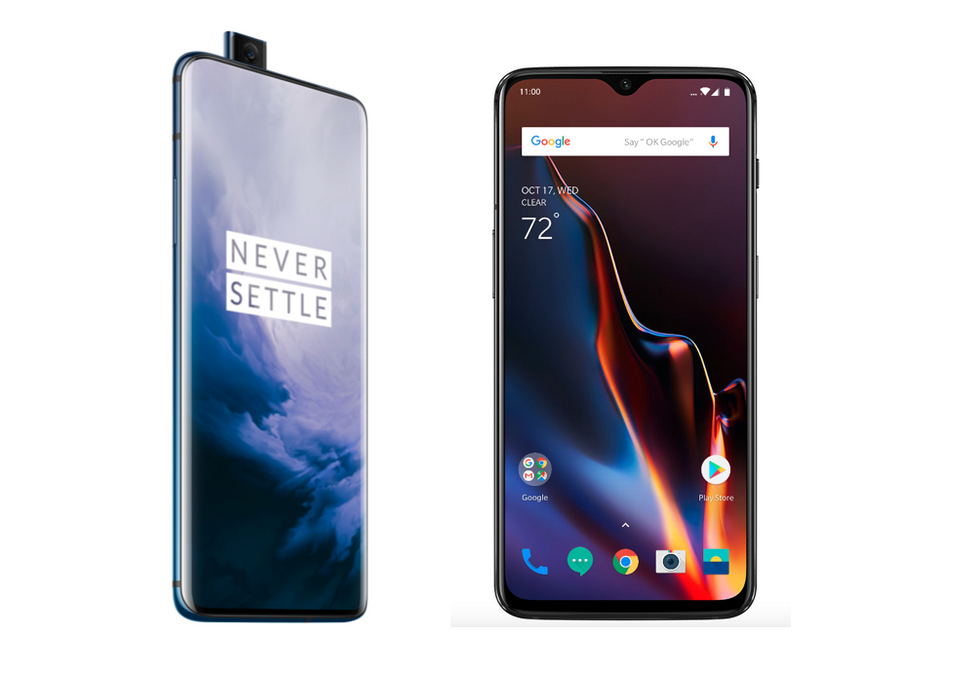 Both the OnePlus 7 and 6 will get Android 10 OnePlus
Four smartphones from OnePlus were a part of the Android 10 beta program, which means a huge chunk of the company's users should soon get access to the finished article.

OnePlus hasn't yet announced a roadmap for the rest of its handsets, but we wouldn't be surprised to see older models like the OnePlus 5 and 5T get upgraded to Android 10 in the coming weeks and months.
LG
We can't help but feel LG has lost its way in recent years. Once a force to match Samsung, the company's offerings have become lackluster and offering little in the way of genuine innovation.
This is reflected in the fact that, while the company's flagship G8 ThinQ smartphone is part of the Android 10 beta program, it has so far only received half of the updates issued by Google.
This doesn't bode well for a speedy release of the final version, especially as last year's Android Pie update didn't land on LG phones in the US until May this year. We think late-Q1 or early-Q2 2020 is most likely for Android 10.
Nokia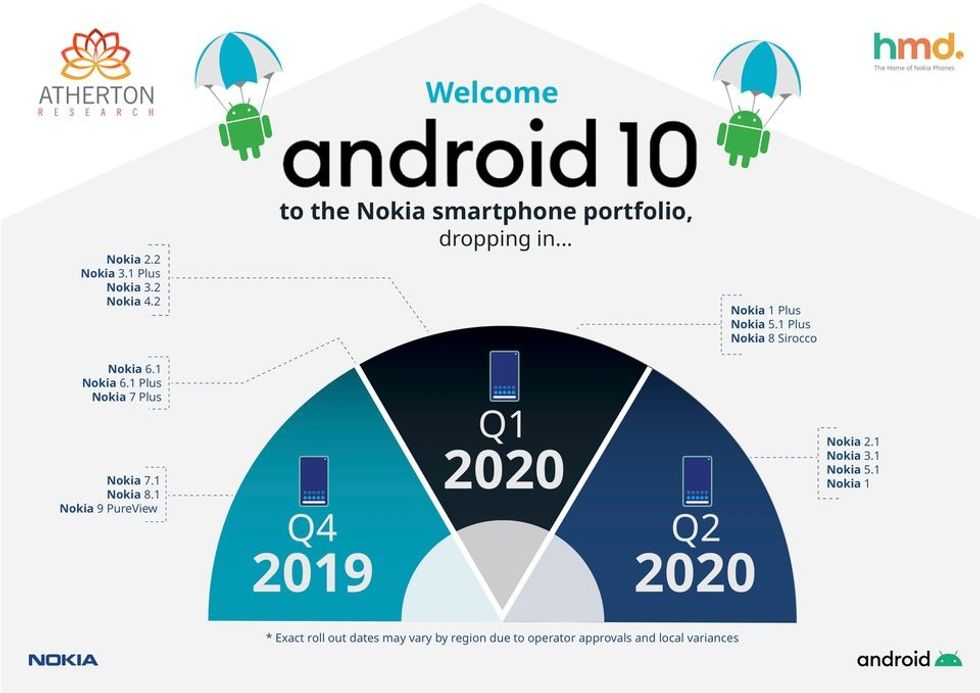 Android 10 roadmap for Nokia phonesHMD Global
It's a much better story for Nokia users, who were treated to Android Pie before the end of last year, and should expect to see Android 10 before 2019 is out.

Nokia owner HMD Global announced its Android 10 update roadmap in August, with the software rolling out to the Nokia 7.1, 8.1 and 9 PureView in the fourth quarter of 2019. Android 0 will come to the Nokia 6.1, 6.1 Plus and 7 Plus at the end of 2019, then it'll come to the Nokia 2.2, 3.1 Plus, 3.2 and 4.2 in early-Q1.
Later in Q1, Nokia hopes to update the 1 Plus, 5.1 Plus and 8 Scirocco, then during the second quarter of 2020 the Nokia 2.1, 3.1, 5.1 and 1 will all be updated, too.
The exact dates of these updates depends on approval from network operators, but it's fair to say Nokia is proving once again it is the king of timely (and well-communicated) Android updates.
Motorola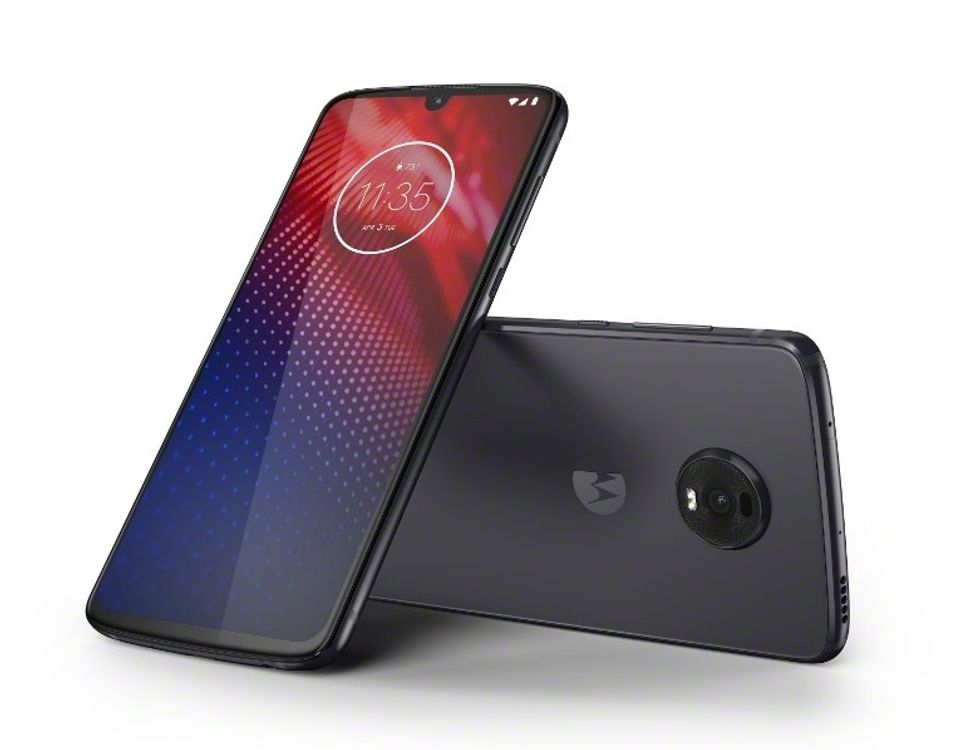 The Moto Z4 will get Android 10, but the roadmap hasn't yet been announced Motorola
Motorola has been inconsistent with its recent Android updates, highlighted when midrange handsets were upgraded to Pie before the company's then-flagship Moto Z3.

For Android 10, we can at least say with certainty that the Motorola One Power and Motorola One Action will get the update, as they are both part of Google's Android One program.
As for the rest of the range, there is no official roadmap to follow just yet, but we can expect to see Android 10 appear on the Moto Z4, G7 range, and the Moto Z3 and Z3 Play.
Sony

The company's flagship Xperia XZ3 was part of the Android 10 beta program, so should get updated to the final version fairly quickly. As for the rest of the range, Sony was quick at updating its XZ2 range of its handsets to Android Pie last year, so we will be hoping for a similar performance this time around. But without an official roadmap from Sony itself, this is speculative for now.
As we said above, we will update this article once manufacturers announce roadmaps for updating to Android 10 over the coming weeks and months.
From Your Site Articles
Related Articles Around the Web
Like GearBrain on Facebook