Toy racing tracks and high-speed car movies are perfect bedfellows. That's why it was just a matter of time before Anki Overdrive teamed up with The Fast and the Furious franchise. That merger is here with a special edition racing track and toy — the $169.99 Anki Overdrive Fast & Furious Edition. The box set really just mirrors the original race track, but with some movie branding, and virtual tricks built into the app that lets you ramp up gameplay while you race.

Ideally, you're going to want to play this edition with someone else. You can race against the app. But racing against a fellow player is much more fun. But note that both people need to download the Anki Overdrive Fast & Furious Edition app on their separate phones, and create two separate accounts. While this doesn't take too much time, set aside a few minutes.
Also, the app for this special edition is different than the app for the Anki Overdrive main kit: there are way more features, weapons and tricks you can earn and unlock with this particular toy. So make sure you're searching for the right app in your respective app store.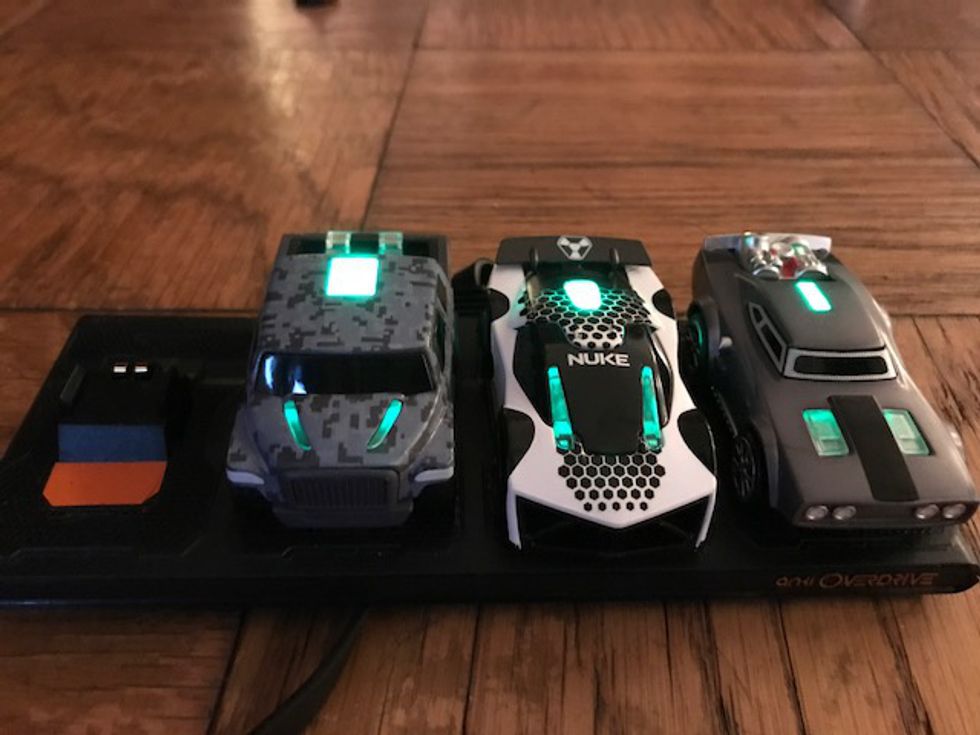 Two cars, Dom's Charger and Hobbs' MXT, come with the Anki Overdrive Fast and Furious edition — Nuke is extra.GearBrain
Setting Up
We cracked open our kit, which Anki sent us to test, setting up the initial track in a matter of minutes. You get nine track pieces — three straight and six curved — more than enough to make a solid racing space. You can actually sit in the center of the track once it's set up — just so you get a sense of space. That's also worth noting because you're going to need some floor room to build and play. The tracks could work on a big enough table (it would have to be sizeable.) The floor is best.
The cars need some time to charge — set aside a bit for that too — and its lights will turn a solid green when they're ready to race. (They'll turn red when your car's battery is running low.)
Our biggest problem came up even before we started racing. The 12 guardrails or bumpers that come with the track don't secure very well to the sides of the tracks — there are slots where you slide them in — and after spending 10 minutes, we left them tucked on the sides, unconvinced they will stay. We were right.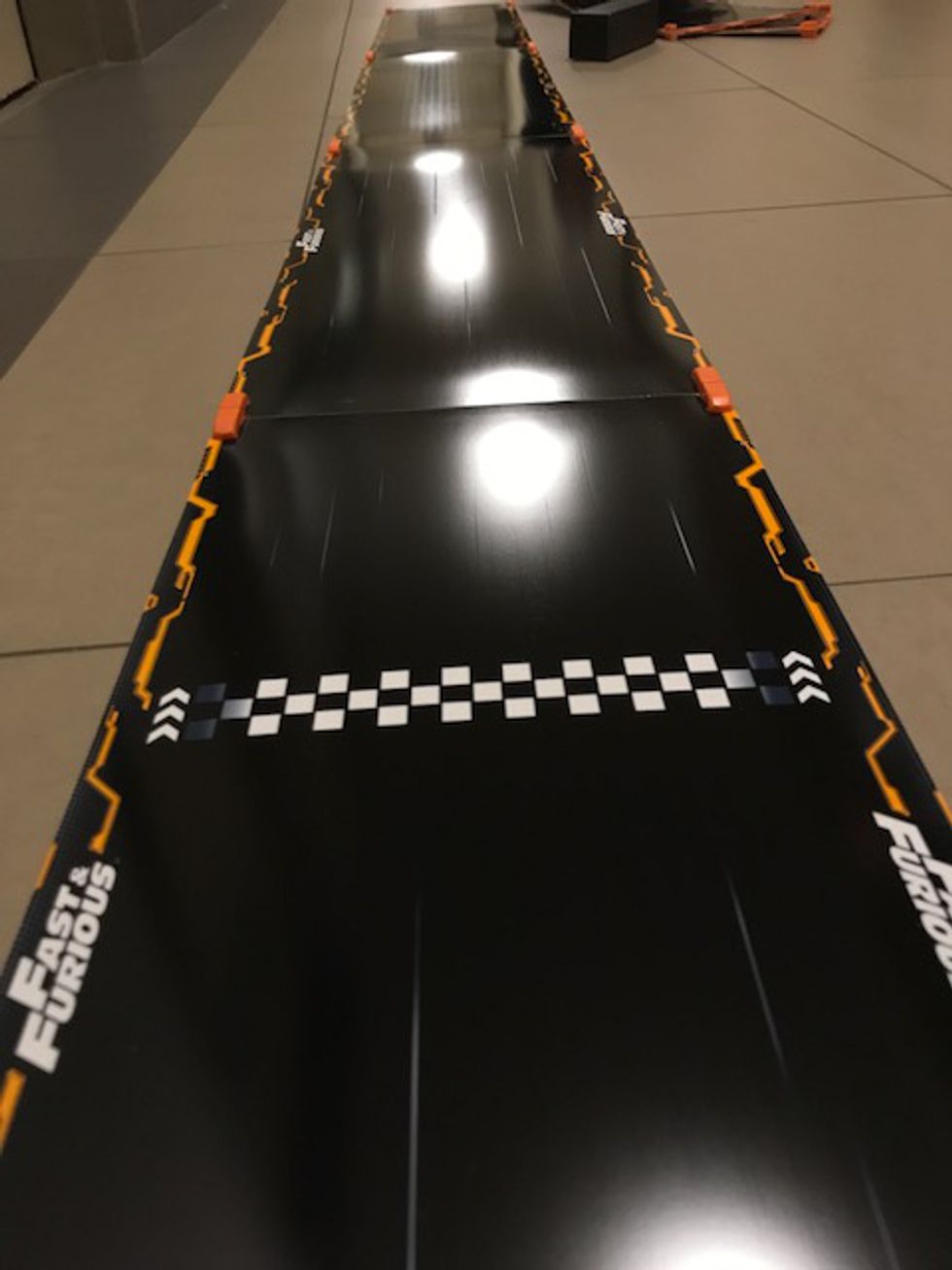 Setting up tracks, we took off the guardrails for the Anki Overdrive Fast & Furious edition.GearBrain
The Anki Overdrive Fast & Furious is meant to allow cars to go faster, and guard rails are key. You'll find, as we did, that these guard rails are necessary to keep cars from sliding off the track. When they're loose, cars can fly off on the floor, taking the rails with them. That's what happened to us on almost every race.
Still, making the track was great fun, and easily as much fun as racing. You get to invent the most insane jumps and turns you can to test your cars. You have to think about if you cars have enough track to build up speeds for your jumps. Full disclosure: We have the original Anki Overdrive and using that we were able to build a seriously, sick track.
Ready, Set, Race

To start racing, someone creates a game, and needs to invite the other person. On the first I tried to invite my fellow racer and it kept telling me he was waiting, even though he didn't see an invitation. Once that was squared away, you choose which car you want to be — the main set comes with two cars, Dom's Charger (Vin Diesel? Boom.) and Hobbs' MXT but there are two others you can buy as an add-on, including Nuke, that are priced at $49.99
The music that plays is cool, and quickly gets you into that edgy, racing mood, but it quickly becomes repetitive and annoying. However, the sound effects are like being on a race track: the race starts and finishes come through with that echo-like microphone sound.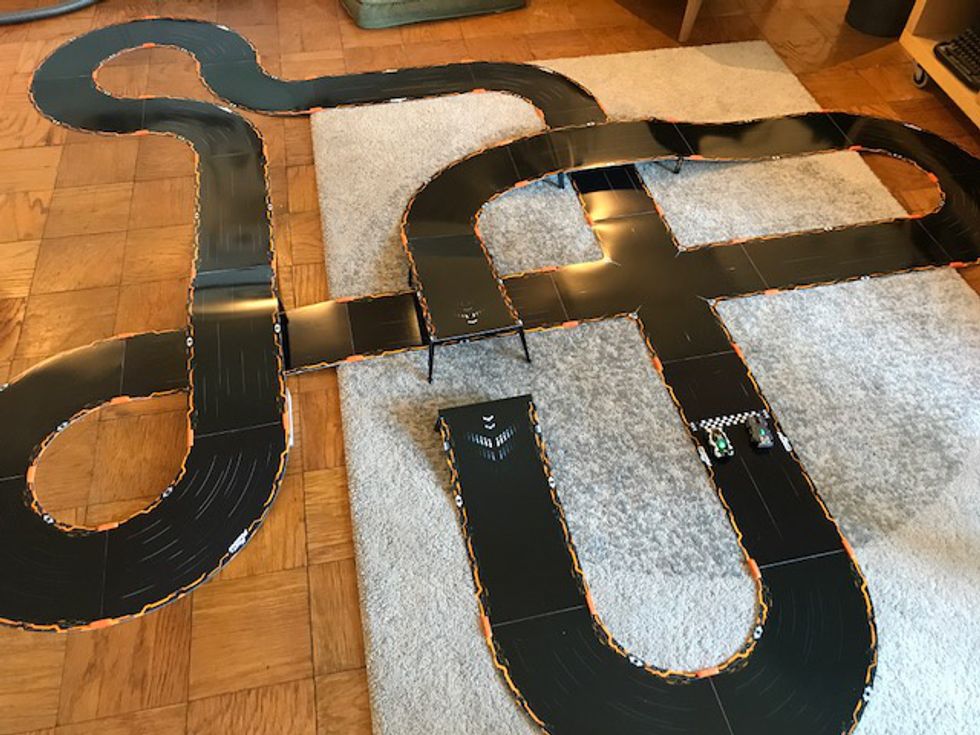 Our track, built with extra pieces from the original Anki Overdrive kit.GearBrain
The cars go around the track slowly for the first lap — the cars need to scan the track and get a feel for where they're going. They'll do this each time you launch a game — but not each time you race.
Blue lights on the cars mean they're on the track, ready to go, and those will turn green as they start to tear around the track. Get ready: because they fly fast — and here's where those guard rails cropped up again. They flew right off when our cars hit them. We ended up thinking we would want to glue the bumpers to the tracks, if we had a big place to store the tracks in that set-up.
The cars can also end up going backwards if they go too fast on the turns, spinning around and heading in reverse. Just grab them and send them off in the right direction. Races last about one to two minutes tops – long enough to get amped, short enough to start up a new one quickly.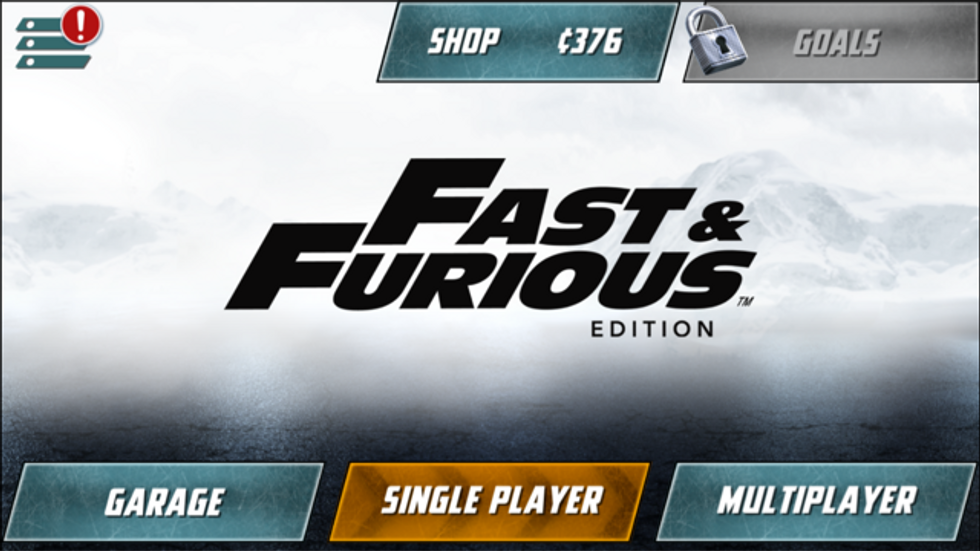 You can buy extra weapons and tricks in the store, with coins you earn winning races in the Anki Overdrive Fast & Furious EditionGearBrain
The app is where most of your customizing is going to happen. When you win a race, you earn coins. I got 128 for one race, for example. And those coins help you beef up your ride with weapons. Some of the big ones cost thousands, so you're going to need to race a lot to get some of the really cool add-ons. You can also win more coins and get more weapons after unlocking certain tasks, like beating Leddy in a campaign.
There are other great features: brake lights work on the physical cars, and you can earn extra weapons, including virtual spikes, to slow down your opponents.
Finish line
Bottom line, this is a great toy — particularly for anyone who loves racing games. A nice plus is that you can use this an expansion pack for the original Anki Overdrive, which we defintely did. Yes, the guard rails, as far as we could tell, were worthless. But if you can figure out a way to hack them together, or just ignore them, you're still going to have fun.
Pros: Taps into The Fast and the Furious franchise in fun way, apps makes it easy to unlock new tricks and weapons and works as an expansion kit for original Anki Overdrive.
Cons: Guard rails consistently failed and music is a bit annoying.