For all the good they can do with their apps and internet connection, entertaining us, keeping us in touch with loved ones and helping out in emergencies, the smartphone can easily become an unhealthy distraction.
We know this, you know this - and now Apple knows this too. In a bid to curb its customers' addition to their smartphones, the iPhone maker has developed a suite of functions in the new iOS 12 operating system designed to better manage our time and help us deal with the daily onslaught of notifications in a more efficient way.
Read More:

At least that's the theory. Revealed at Apple's annual WWDC press conference in San Jose, California this week (June 4), iOS 12 is available to developers now, will be accessible as a public beta later in June, and is due to be launched as a finished piece of software in the fall.
There are three parts to Apple's plan to improve our relationships with our iPhones.
1. Do Not Disturb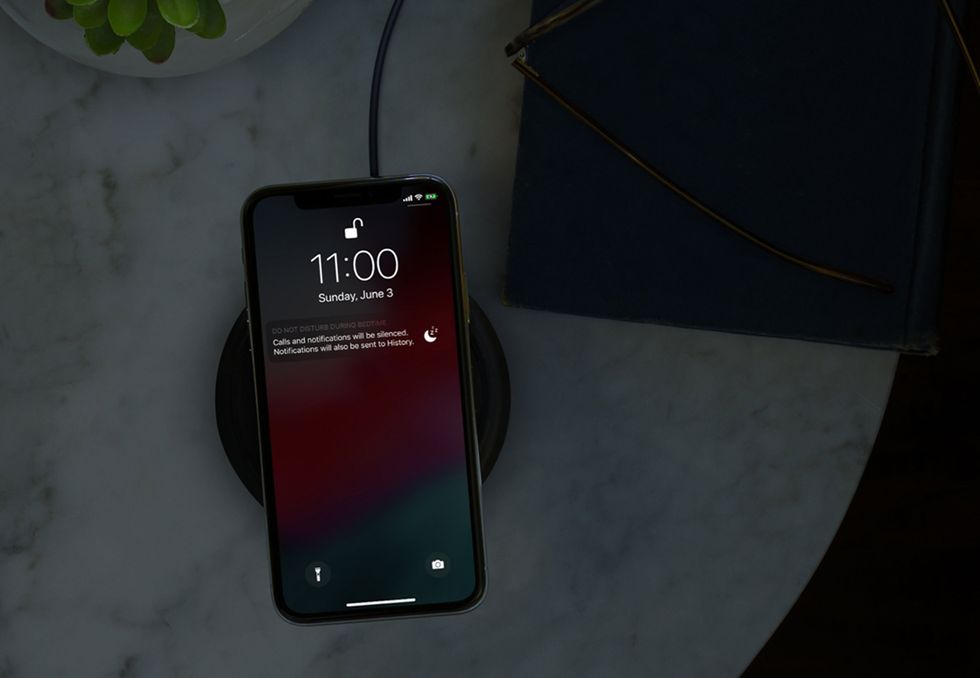 Apple
Currently, Do Not Disturb basically stops any notification from making your phone light up, vibrate or make a sound. Calls and text messages do not come through - unless from a predefined list of favorite contacts - and all other notifications are silenced.
With iOS 12, this feature is given some new functions. First there is 'Do Not Disturb during Bedtime', which removes all notifications from your iPhone's lock screen between predefined hours each night. This way, you won't be hassled by emails and WhatsApp messages when you use your phone to check the time in the night.
On checking your phone when you wake up, the lock screen will simply wish you a good morning until it is time for your notifications to reappear. Also new is how Do Not Disturb can be set to switch off after a certain amount of time, or when you reach a certain location - the office, for example.
2. Notifications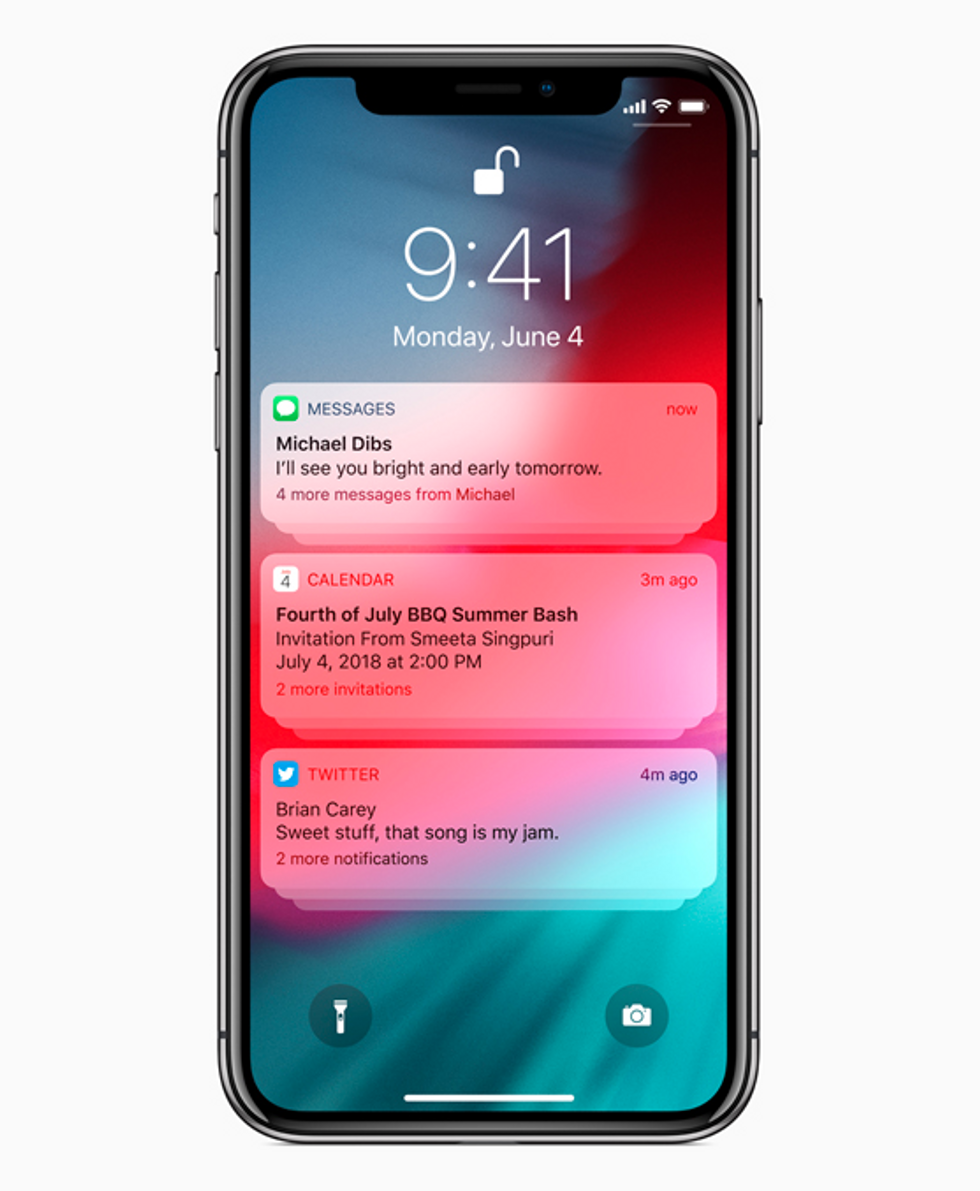 The iPhone will finally get grouped notifications with iOS 12Apple
At long last, Apple has listened to years of complains from iPhone users and grouped notifications by app on the lock screen. This way, instead of every single missed WhatsApp message getting its own bubble on the lock screen, the app has a single bubble which says how many unread messages are waiting for you. Android has displayed notifications this way for some time, so this is definitely a case of Apple playing catchup.
More granular notification control in iOS 12 means you can ask for some apps to deliver alerts 'quietly'. This means they will not buzz your phone and appear on the lock screen, and nor will they display a banner at the top of the screen when using your phone. Instead, they will appear in the notifications center and the relevant app will get a red notification sign on its home screen icon.
Siri in iOS 12 learns how you deal with notifications, then makes suggestions on how to deal with them in a more efficient way. For example, if you rarely act on Instagram notifications from the lock screen, Siri will suggest you make these 'quiet' notifications, removing them from the lock screen and leaving them in the notification center until you are ready to view them.
3. Screen Time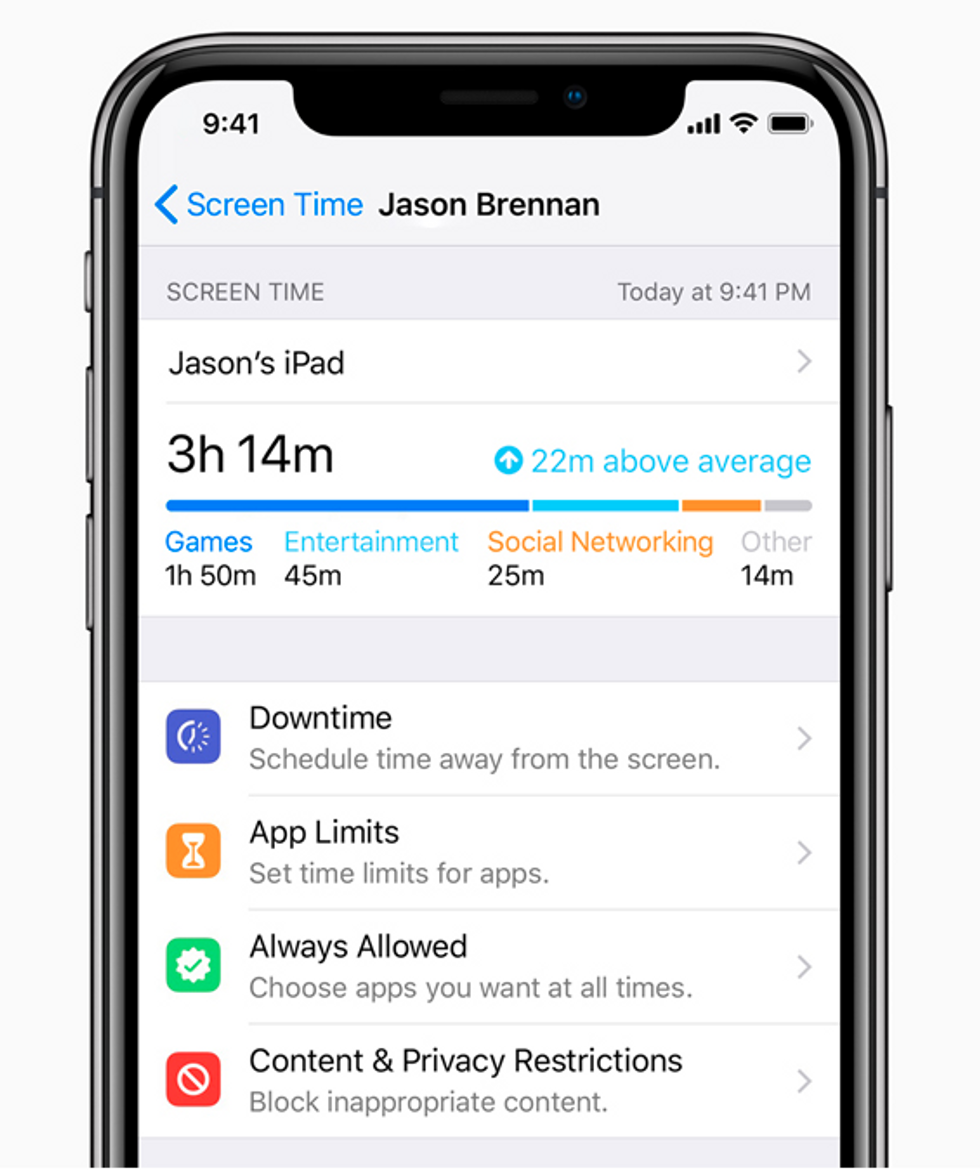 Apple
Like a fitness tracking app, Screen Time is new for iOS 12 and creates detailed daily and weekly 'Activity Reports' which show the total time you have spend in each of the apps you use. Screen Time also shows how much time you spend using each category of apps (social networking, entertainment, games etc), how many notifications your receive, and how often you pick up your iPhone or iPad.
With this data, users can then set themselves daily time limits for each app or category of app, and a notification will appear when the allotted time is about to expire. This function can be used by anyone, but will likely be used most by parents who want to keep tabs on their children's usage habits. Parents can access their child's Activity Report on their own iOS device, and remotely manage app time limits.

Taking this a step further, parents can set blocks of time for when apps on their child's iOS device cannot be used at all, such as after bedtime. During this period, called Downtime, app notifications will not be displayed and apps will display a badge to indicate they cannot be used. Parents can apply this to all apps, or allow some to always work, such as Phone or Books.
Screen Time is account based, so data is collected across all of your iPhone devices (or the iPad and iPhone or your child) and fed into the same daily Activity Report.
While this is all to address user's 'digital health', Apple has also incorporated a new system in the weather app of iOS 12 for warning about unhealthy air quality. As well as descriptions like 'sunny' and 'rain', the app now also says: "Unhealthy air quality for sensitive groups" when relevant.
iOS 12 will be released by Apple as a public beta later in June, before launching as a finished product in the fall.