Ask for directions to a major airport in Apple Maps, and you'll now see Covid-19 details from whether you need to wear a mask at the gate, to social distancing rules.
The alert is front and center — and shows up even before you click for directions. In some cases, you can even get a link to the airport's own web page listing additional requirements. The details in Apple Maps are fairly limited, explaining about social distancing and mask wearing, and in some cases about potential quarantine requirements as well.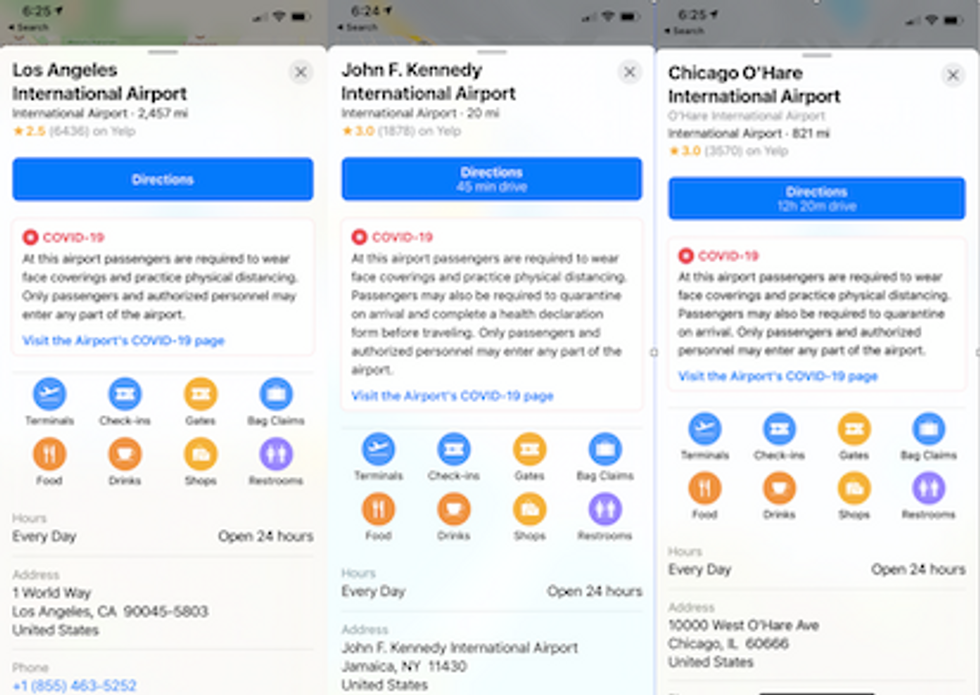 From mask wearing to social distancing, guidelines for major airports are shown in Apple MapsGearBrain
Not all airports are listed, including small regional locations. But many international airports are, including Charles de Gaulle Airport in Paris, and Rome Fiumicino Airport.

The information is coming from the Airports Council International (ACI), a trade group, which is supplying the details to Apple Maps through an API. And airports need to sign up on the ACI Health Measures Portal to participate. Passengers however just need to open up the app.
Cities also may have additional rules outside of what airports require from travelers amid the Covid-19 pandemic. Chicago, Illinois, for example, requires a negative Covid-19 test no more than 72 hours prior to arriving in its city from all travelers. That detail, though, is not in the Apple Map advisory. And ACI's own Check & Fly site even provides additional information, including whether an airport sanitizes touch screens between users who are checking — which Los Angeles International Airport, for example, does not, while John F. Kennedy Airport in New York does.