Apple and Google's Covid-19 contact tracing app launched to tepid adoption earlier this spring. The system was initially designed to allow states, territories and countries to develop apps built on the API. But Apple and Google saw few states develop their own apps, nor adopt the program that allowed health officials to trace people who may have been exposed to Covid-19.
Now, the two technology giants have developed a new system, called the Exposure Notifications Express tool, which states can sign up to use without having to craft their own app. Three states, Maryland, Nevada and Virginia, along with Washington, D.C. were the first to sign up using this new option, according to MIT Technology Review.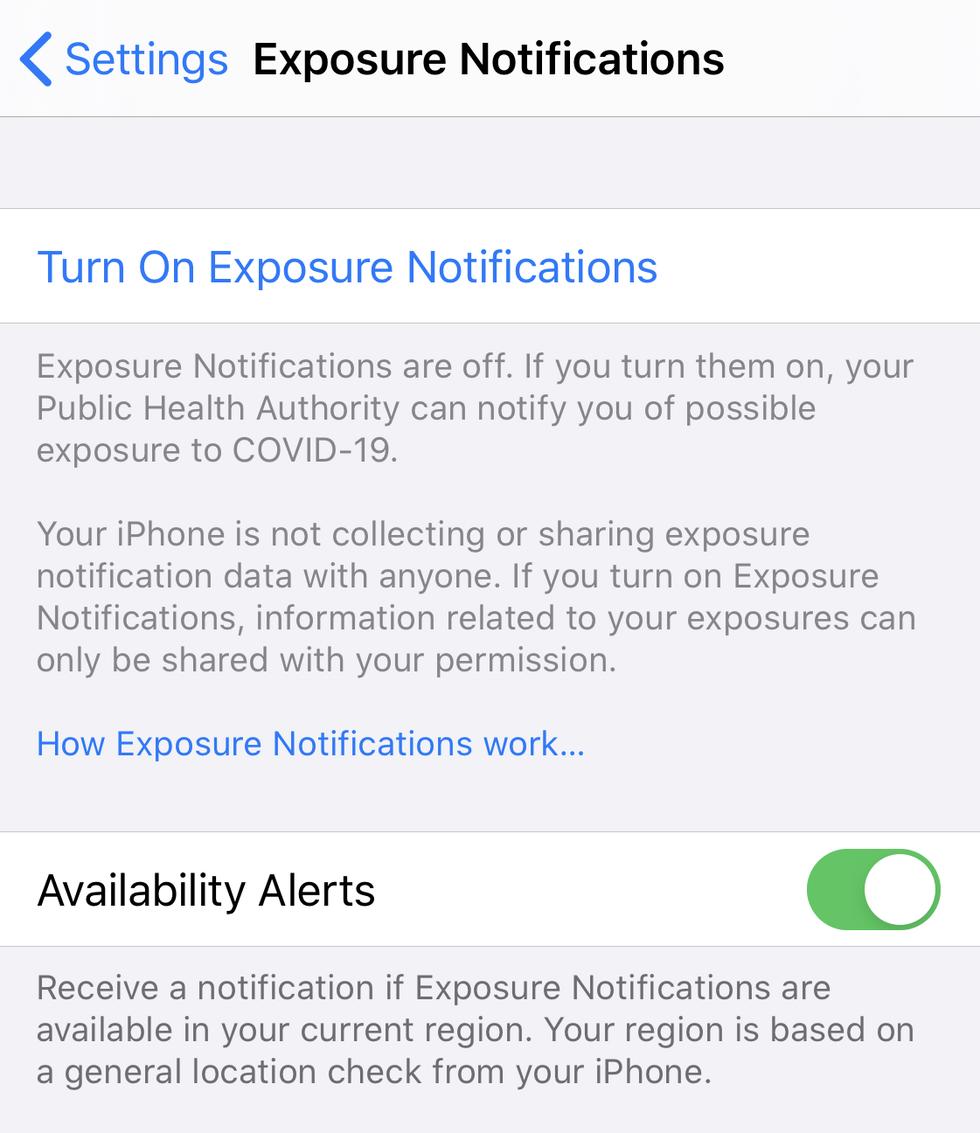 Apple iOS 13.7 contact tracing Exposure NotificationsGearBrain
The ability to use the new option is live now for Apple users through an update to iOS 13.7. For Apple users, the option appears in a new section under Settings called, "Exposure Notifications." To enable, click on the phrase, "Turn On Exposure Notifications." From there, you'll be asked to identify which region of the world, or country, where you live. For those in the U.S., you'll then select the state. You will be told immediately if your state has Exposure Notification activated.
When walking through this ourselves, we found a couple of issues. We were told our state, New York, had an actual app available, and when we clicked through to the App Store, we found that an app was not available. Something to note.
Android users will get the ability later this month through a new update as well. For those users in a state where the new tool is available, they will get a notification that they can use the system, and they need to opt-in. Android users will have an app to download — iPhone users will not — but the app is being created by Google.

Contact tracing is considered a crucial part of how to prevent the spread of coronavirus. The original API supported alerts, so if people had spent a certain amount of time in the presence of someone who had been diagnosed with Covid-19, they would be notified.
Crucially, people's identities are kept anonymous — details are not even stored in Apple's Health app for example — and the contact is cataloged through a system that traces random keys generated on a phone, and which recognize each other. Two keys will note that they've been near each other when they come close — and these random IDs are then stored for 14 days in an exposure log assigned to each key.
People will still need to opt-in to the program should they want to be part of the contact tracing endeavor. But contact tracing can help to isolate people who have been exposed — and then help to prevent them from exposing others, particularly vulnerable people.