Three years on from the iPhone X ushering in Face ID and deleting the home button, it is finally time for another visual redesign from Apple, in the form of the iPhone 12.
Although not as big a leap as the iPhone X was from the iPhone 7 that preceded it, the 12 takes the game forward from last year's 11, and features 5G for the first time.
Read More:
The new model reintroduces the squared edges last seen on the iPhone 5s, debuts Apple's new MagSafe system, and includes the usual range of camera and processor upgrades.
For this review I will be looking specifically at the iPhone 12 Pro, which I have in Apple's new Pacific Blue and with the entry-level 128GB of storage.
The 12 Pro sits in the upper-middle of Apple's 2020 iPhone lineup. The new iPhone 12 Mini (due out in November) and the regular iPhone 12 are below it. Above, you will find the larger iPhone 12 Pro Max, with its uprated camera system (also due November).
iPhone 12 Pro review: Design and hardware
I was always a fan of the squared edges of the iPhone 4 and 5, so when the 12 arrived with a similar design I knew I would like it. But this is of course a subjective matter, and I know others who are less keen on the revived look. But given the iPad Pro and new iPad Air also have square metal chassis, it makes sense for Apple to take the new iPhone family in the same direction.
Although it is precisely the same size as the regular 12, the 12 Pro differs by having stainless steel edges instead of aluminum, plus a different range of color options. They are otherwise the same, and cases made for one will fit the other perfectly.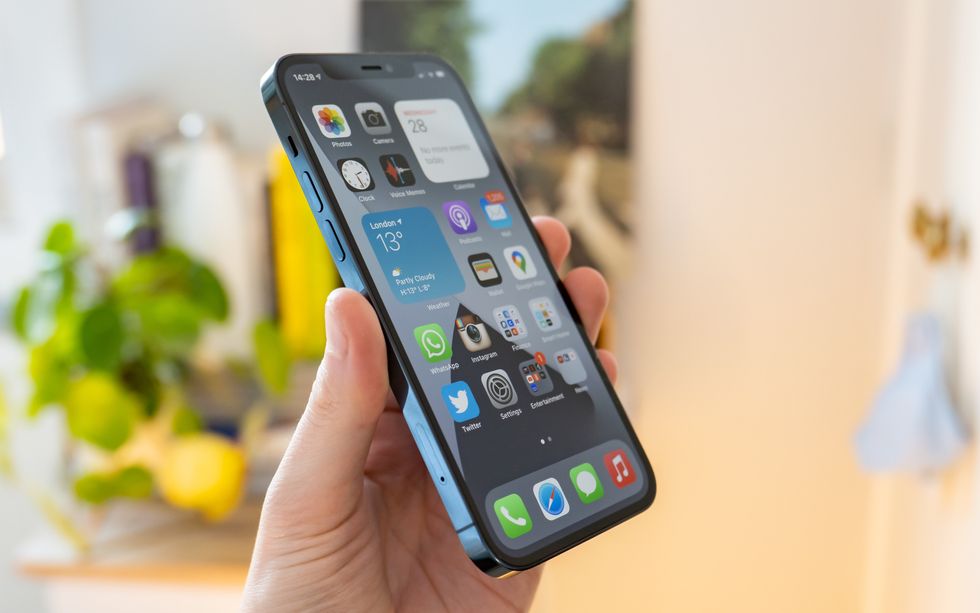 The iPhone 12 Pro has a 6.1-inch OLED displayGearBrain
At 5.78 inches tall and 2.82 inches wide, the iPhone 12 isn't a gigantic phone, but anyone upgrading from an iPhone X or XS will notice that it is a little taller than before. Thankfully the iPhone 12 Mini will be along soon for those who want a more compact handset. The 12 Pro's power/screen lock button is slightly longer than on older models to help offset the extra height

The stainless steel edges provide a decent amount of grip, but the matte finish of the rear glass panel is often quite slippery, and despite Apple's claims that this is a tougher iPhone than before, I still recommend all buyers invest in a case.
Beneath that rear case is Apple's new MagSafe system, common to all models of iPhone 12. Borrowing the name of a now-defunct type of MacBook charger, MagSafe is a magnet on the back of the handset. This can be used to connect to cases, stands, wireless chargers and other accessories like Apple's own leather credit card wallet. It's a smart system and one I have no doubt is training us ahead of Apple one day announcing an iPhone without any ports.
For now, the iPhone 12 sticks with Apple's Lightning connection, but the cable in the box is Lightning to USB-C. There is also no power brick in the box (or earphones). Apple says this is an environmental move, reducing the amount of old chargers headed to landfill, making the iPhone box smaller and lighter, and meaning more phones fit in a plane/van/shipping container.
Some buyers will inevitably complain at this move, but the iPhone 12 works with the iPhone charger you already have, plus it'll work with any USB-C charger you have too, using the included cable. Only if this is your first iPhone (and you don't own a USB-C charger of any kind) will you need to buy a power brick.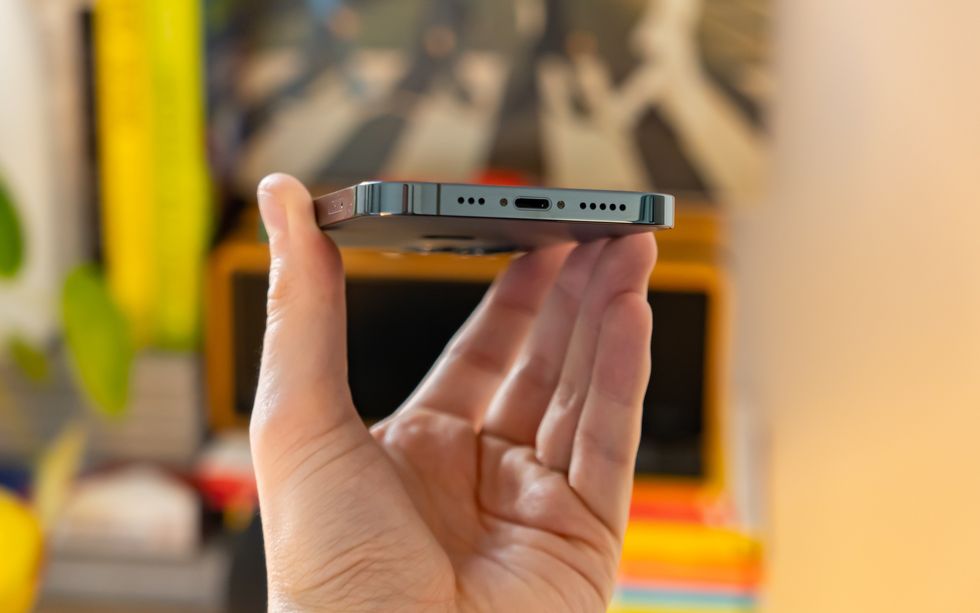 The iPhone 12 uses Apple's Lightning portGearBrain
Overall, the 12 Pro is a high-quality handset that exudes quality thanks to its slick, stylish design and extra weight over the 12. Yes, it is still a phone that starts at $999, but it compensates by feeling like a thing of real value every time I pick it up.

IP68 water and dust resistance is among the best you can get on any smartphone and means the 12 Pro can survive being submerged in six meters of water for up to 30 minutes.
iPhone 12 Pro review: Display
Every member of the iPhone 12 family gets an OLED display, which is an improvement over the iPhone 11, where only the Pro and Pro Max were OLED. The iPhone 11 had to make do with an inferior LCD display. OLED screens have darker blacks and more saturated colors.
The iPhone 12 Pro benefits from a small resolution bump from 2436 x 1125 on the 11 Pro to 1170 x 2532, resulting in a pixel density of 460 per inch.
The bigger difference is how the screen is now perfectly flat. For the last few years we have all got used to smartphone screens curving slightly at their edges; at first this was a deliberate design move, with companies like Samsung making the display cascade down the side of the phone. But more recently they have curved for no real reason, and the result can cause distortion at the edges of the screen.
The iPhone 12's completely flat screen prevents that and perfectly suits the new flat-sided design of the rest of the body. Shape aside, the 12 Pro's is a superb display; bright, sharp and bursting with accurate colors. It's also smooth, responsive and everything you would expect from a $999 phone. It is also HDR compatible, ready to show off footage shot in Dolby Vision using the 12's new camera system. More on that later.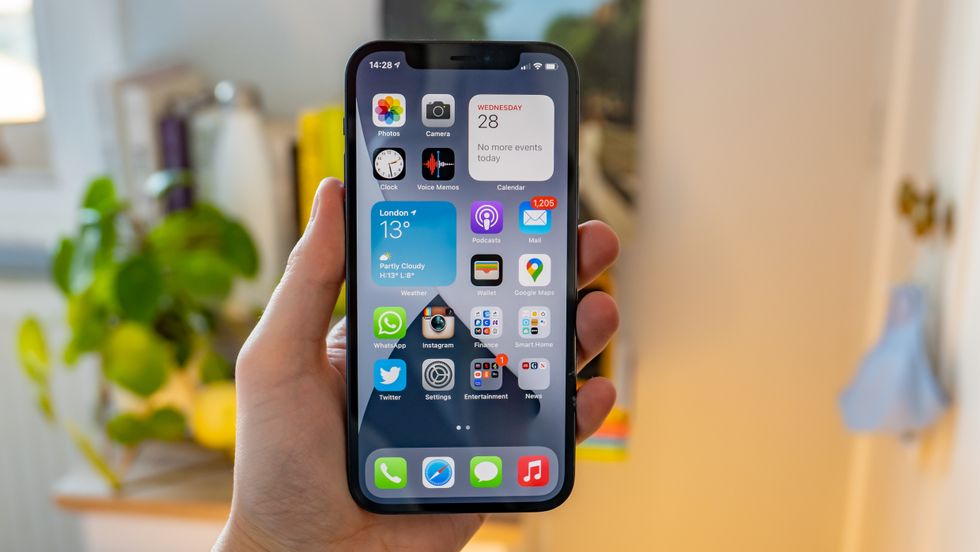 iOS 14 on the iPhone 12 ProGearBrain
Both the iPhone 12 and 12 Pro have the same 6.1-inch display, while the iPhone Mini has a 5.4-inch screen and the 12 Pro Max is 6.7 inches. With such a broad range on offer, there really is an iPhone 12 to fit every hand.

I don't have particularly large hands and found the 5.85-inch screen of my iPhone X to be the perfect fit. This means the larger iPhone 12 Pro has taken a few days to get used to, especially as the square edges make it slightly more difficult to stretch a hand across the phone to reach the top corner.
These is also a True Tone display, which is Apple's way of saying it adjusts color temperature based on ambient lighting, so will shift from a cooler, blueish white in bright light, to a warmer, orange shade in the evening.
A bone of contention is how the screen has a refresh rate of 60Hz. This has remained unchanged for years and puts Apple behind an increasing number of 90Hz and 120Hz smartphones on the market today. But, while a higher refresh rate can make scrolling smoother (as it does on the 120Hz iPad Pro), it's not a dealbreaker for the iPhone 12. I'd rather stick at 60Hz and save battery life, and it would seem Apple agrees.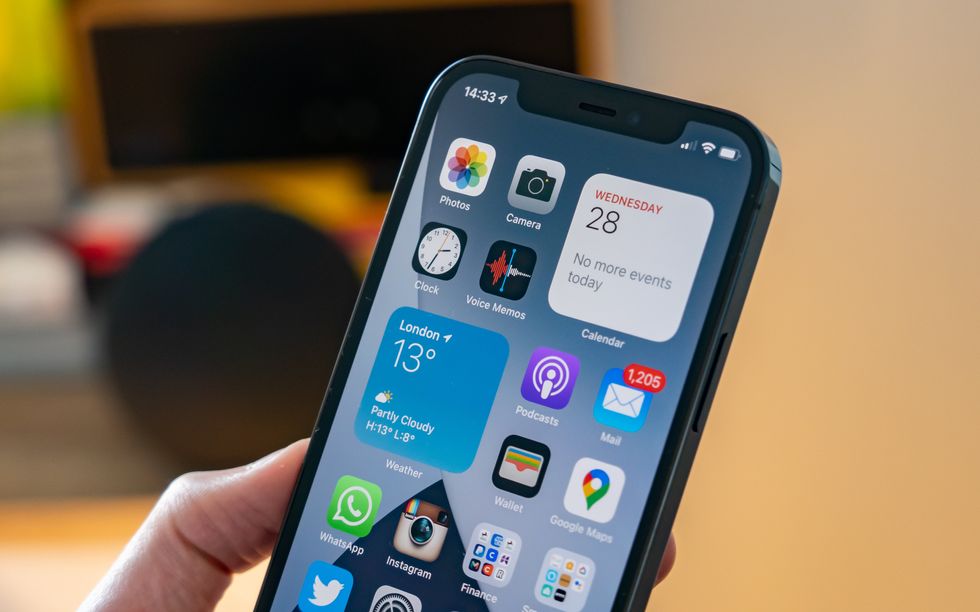 OLED display of the iPhone 12 ProGearBrain
It's a beautiful display and will feel like a solid upgrade for anyone who is coming to this from an iPhone Xs or older. If you have an iPhone 11 Pro then the jump from its OLED panel won't feel like such a leap – a theme found elsewhere with the iPhone 12 Pro.

iPhone 12 Pro review: Cameras
Aesthetically, Apple has given the iPhone 12 Pro the same three-lens rear camera module as the iPhone 11 Pro, each protected by scratch-resistant sapphire crystal. These three lenses are wide, ultra-wide, and telephoto, and the system produces 12-megapixel images.
The wide lens is the camera's main sensor and has an aperture of f/1.6. This is a slight improvement over the 11 Pro and ensures a great deal of light hits the sensor, adding detail and making for some impressive nighttime and low light photographs.
Having upgraded from the iPhone X, I really like the extra versatility of having the Pro's ultra-wide lens, while the telephoto's 4x optical zoom capabilities are also a bonus.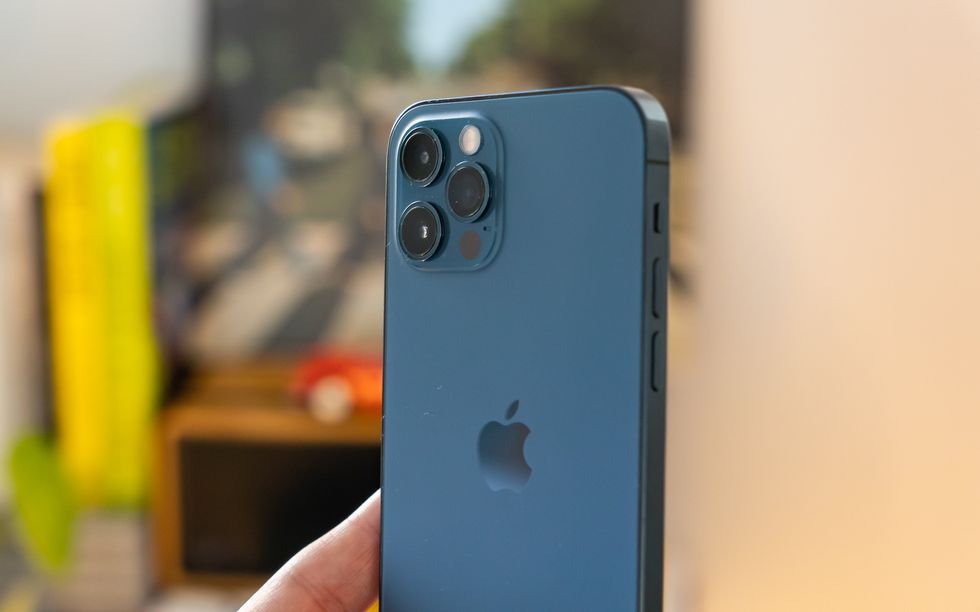 Three-lens rear camera system of the iPhone 12 ProGearBrain
New for the 12 Pro's rear camera system is a lidar sensor. You might recognize that name from the cameras autonomous cars use to see their surroundings, but here (and on the 2020 iPad Pro), lidar is used for improved augmented reality performance and camera focusing that Apple claims is up to six times faster than before. This is particularly helpful with nighttime shots and when using portrait mode, with lidar giving the camera a better idea of where the subject ends and the background begins.

I suspect use cases for the lidar sensor will become more commonplace over time, as for now better AR and low-light camera focusing don't feel like headline features.
Also new for the iPhone 12 is how night mode and portrait mode can be used at the same time. This means you get the sharp-subject, blurred-background effect of portrait mode, alongside the exposure-boosting powers of night mode. Your selfie game is also about to improve, as night mode now works with the 12-megapixel front camera too.
Some manual adjustments are available, to exposure for example, but what the iPhone has always excelled at is effortless point-and-shoot photography. The iPhone 12 Pro continues this trend by taking truly great photos, at day and night, quickly and with minimal effort. Apple's AI-powered Deep Fusion technology helps here too, working out what it is you're taking a photo of, then instantly adjusting settings to take the best shot.
Another piece of computational photography working silently in the background is Apple's Smart HDR 3, which is an evolution of what came with the 11 Pro and helps to brush away noise and unwanted grain while upping detail.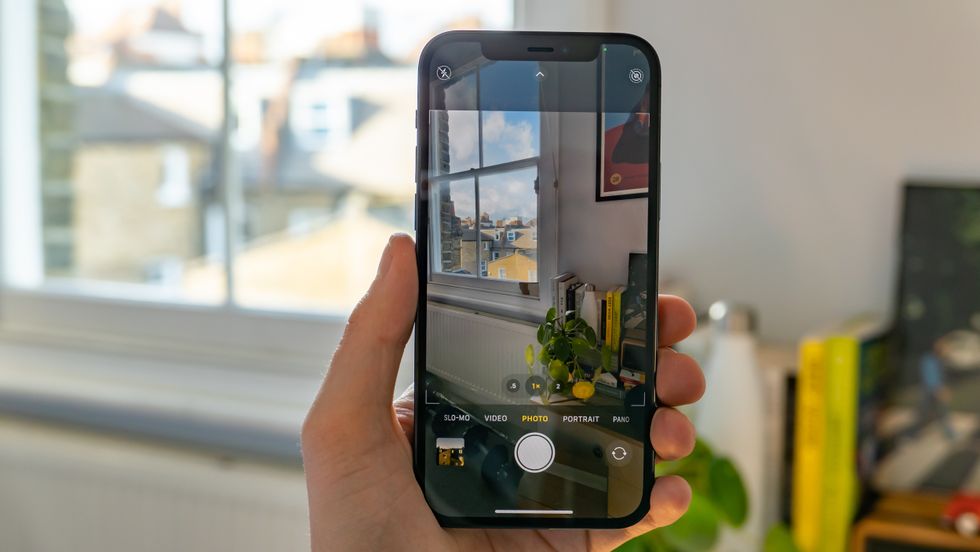 Camera app of the iPhone 12 ProGearBrain
Recent iPhones have always impressed when it comes to balancing exposure levels across a scene. No matter what, the bright sky and dark foreground shadows are always perfectly exposed without looking too artificial. It's an impressive trick that just happens, reliably, without you ever really thinking about it.

As I have mentioned already, upgrading to the iPhone 12 Pro from an iPhone that is two or three years old will feel like a big upgrade worthy of the $999 investment. But iPhone 11 Pro owners should rest easy, save their money and sit tight for another year or two. Then, when they upgrade, they too will enjoy a greatly improved experience.
The upcoming iPhone 12 Pro Max takes Apple's photograph game a step further, thanks to sensor-shift optical image stabilization, 5x optical zoom and other upgrades. If photography is the most important feature to you, more so than screen size, comfort and price, then I suggest you hold fire until that comes out in November.
iPhone 12 Pro review: Video recording and Dolby Vision
I'm going to give video recording its own section here, because things are about to get complicated. The iPhone 12 family can shoot 4K video just like everyone else, at 24, 30 and 60 frames per second. But these phones can also shoot in Dolby Vision, which is a form of HDR.
Firstly, HDR stands for high dynamic range but it isn't the same as HDR you might be familiar with from photography. Video HDR is related to the brightness of the image, as well as the number of colors it's possible for a video to show, which jumps massively from 16 million with standard dynamic range 4K video, to 700 million colors with HDR.
The easiest way to see HDR in action is to shoot some video on the iPhone 12 then head to the camera roll and play it back – at which point the screen cranks the brightness right up to cater for HDR contrast levels. On top of all this, Apple has worked with Dolby to make the iPhone 12 the first product in the world – not the first phone, but the first camera of any kind – to shoot Dolby Vision video that looks its best on a compatible HDR display, but also works at standard dynamic range on less capable displays, like a non-HDR television, or the lesser phones of friends you share your iPhone 12 videos with.
This will eventually mean effortless Dolby Vision shooting, but right now that isn't the case because the format is still relatively new as far as forms of HDR go, and it doesn't work everywhere. Videos shot on your iPhone 12 Pro won't play in Dolby Vision on Macs until macOS Big Sur comes out later in 2020, and although iMovie for iOS has been updated to edit these files, iMovie for Mac displays them as an overexposed mess. Apple may be first here with its use of Dolby Vision, but that rush has caused it to trip over its own shoelaces.
This situation will improve, however, and incompatibility issues will soon go away with software updates. For now, videos will look their best on your iPhone 12, then fall back to a lesser quality (regular 4K) when you share them somewhere, like on social media or in an iMessage.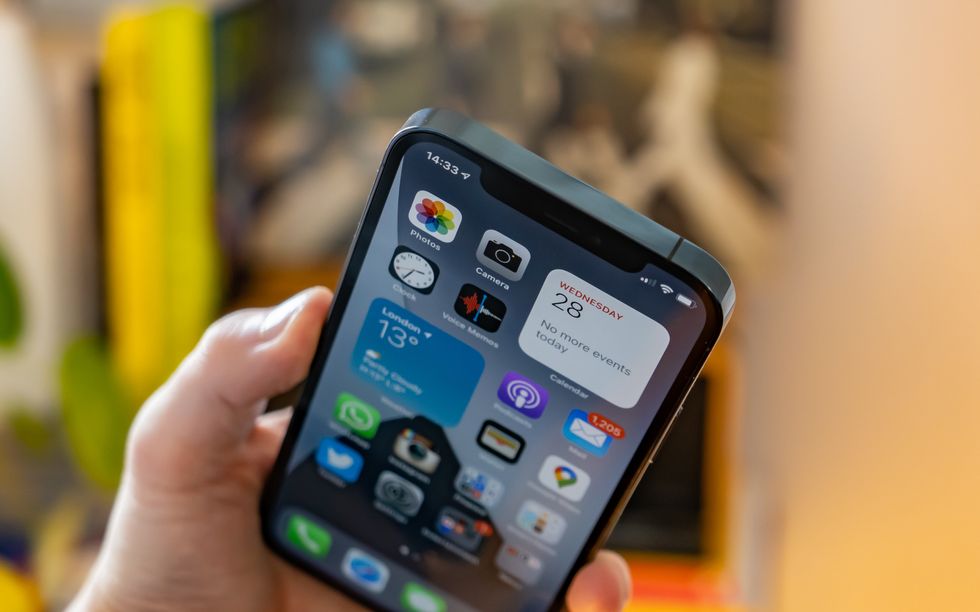 The iPhone 12 Pro has a stainless steel bodyGearBrain
iPhone 12 Pro review: Software, performance and battery life

The iPhone 12 family all come with Apple's latest iOS 14 operating system, which includes a way to add widgets to the home screen for the first time. They also all use the same new A14 Bionic processor; the 12 has 4GB of RAM and the 12 Pro has 6GB, which means it should handle app multitasking more smoothly.
All you really need to know is that the iPhone 12 Pro is really fast. It's a noticeable difference for me coming from an iPhone X, but (again), owners of a year-old iPhone 11 Pro might see less of a difference. The A14 Bionic is the first five nanometer chip in a smartphone and it is mighty fast today, and will remain quick for years to come.
That is perhaps Apple's greatest strength – the longevity of its products and how an iPhone bought today will last for many years, receiving regular software updates and working well for half a decade. The performance of the 12 Pro is instantaneous today, and should still be snappy four or five years down the line.
Your battery life will depend a lot on how much 5G you use, and if you are connected to an energy-sapping mmWave network. These aren't available in the UK, and regular sub-6GHz 5G is patchy, so I have mostly been on 4G and Wi-Fi. In this state, I'm regularly seeing around 50 percent left by the end of my working day, which means a nightly (or daily) top-up is still needed, but that usage feels about right. Heavy 5G use, especially with mmWave in the US, will tell a different story.
iPhone 12 Pro review: 5G
The iPhone finally has 5G and, well...it doesn't really matter as much as you think. The truth is, the technology has been hyped far too much and regular consumers who scroll through Instagram, listen to Spotify and stream from Netflix aren't going to notice a boost in performance.
The greatest use of 5G this year, and probably through 2021 too, will be the Speedtest app. I saw download speeds of over 200Mbps in parts of London, but my apartment is in a 5G blackspot for now, so I'll have to settle for 'only' 20Mbps or so over 4G. But that's still plenty, and there's no real difference in speed while using my regular applications.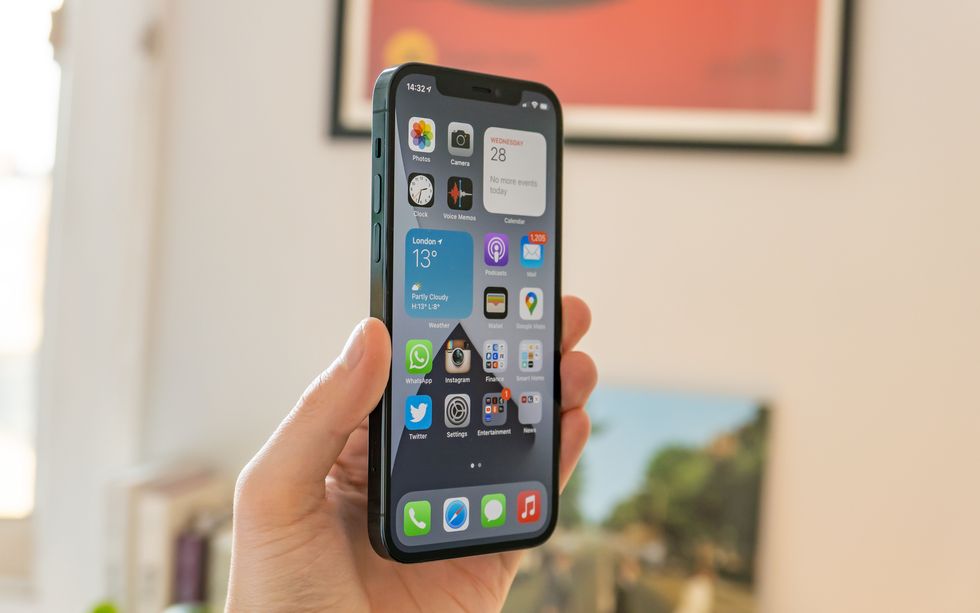 Apple iPhone 12 Pro in Pacific BlueGearBrain
HD FaceTime calls will probably look better between two people on 5G than they do on 4G, but it certainly is not a reason to upgrade your phone.

5G use negatively affects battery life, so the iPhone switches between 4G and 5G depending on what you are doing. So if you have a 5G connection but are scrolling through Twitter or reading an email, it won't actually use energy-sapping 5G.
iPhone 12 Pro review: Price
The iPhone 12 Pro is priced from $999 for the 128GB model. Doubling storage to 256GB increases this to $1,099 and the range-topping 512GB model is $1,299. The iPhone 12 Pro is offered in graphite, silver, gold and pacific blue.
Verdict:
The annual smartphone upgrade cycle is increasingly a lesson in diminishing returns, and even the iPhone isn't immune to that. Some consumers will buy the latest, greatest every year without a second thought, and that's fine. But I suggest everyone else considers the age of their phone before instinctively reaching for their credit card.

Coming from the three-year-old iPhone X to the 12 Pro is a leap into the future that I'm grateful to have made. The 12 Pro excels in almost every way, from its premium build quality and top-class display, to the upgraded camera system, iOS software, huge performance, MagSafe convenience and, to a lesser extent, 5G connectivity. It's a world-class phone, make no mistake. But it isn't intended for everyone.
The regular iPhone 12, which has many of the same features yet is $200 cheaper, is all the smartphone most people need, and the smaller iPhone 12 Mini will certainly make a compelling choice for those who want a smaller handset without missing out on flagship performance. As for the Pro, I feel it is an instinctive choice for those who are swayed by the name, design and color options as much as the improved camera. But for most I think the 12 (or 12 Mini) is the smarter option.
Pros:

Smart new design
Excellent camera system
Fast processor that will last for years
Cons:
5G not such a big deal (for now)
Might be too large for some (wait for the 12 Mini)
iPhone 12 could be better value for many