Apple has just announced the new iPhone 12 family, with four options to pick from, and all boasting 5G connectivity with a new design.
Three of the four options will be familiar to Apple fans, with the regular iPhone 12 joined by the more capable (and expensive) iPhone 12 Pro, and the larger iPhone 12 Pro Max. New for this year is the iPhone 12 Mini, which sits below the regular 12 and has a smaller display and lower price.
Read More:
For this article we are going to focus on the differences between the regular iPhone 12 and the iPhone 12 Pro, to help you work out if the latter really is worth an extra $200, or if you should go for the 12 and save yourself some cash.
iPhone 12 vs iPhone 12 Pro: Hardware, dimensions and design
The iPhone 12 and 12 Pro both share the same new, boxy design as the rest of the iPhone 12 lineup. This harks back to the iPhone 5 from years gone by, and also looks like the current-generation iPad Pro.
A key difference between the 12 and 12 Pro is how the latter has what Apple calls a 'surgical-grade' stainless steel band around its outer edge, adding a premium touch over the aluminum of the regular iPhone 12 (and 12 Mini, which is identical to the 12 in every way apart from its size and price).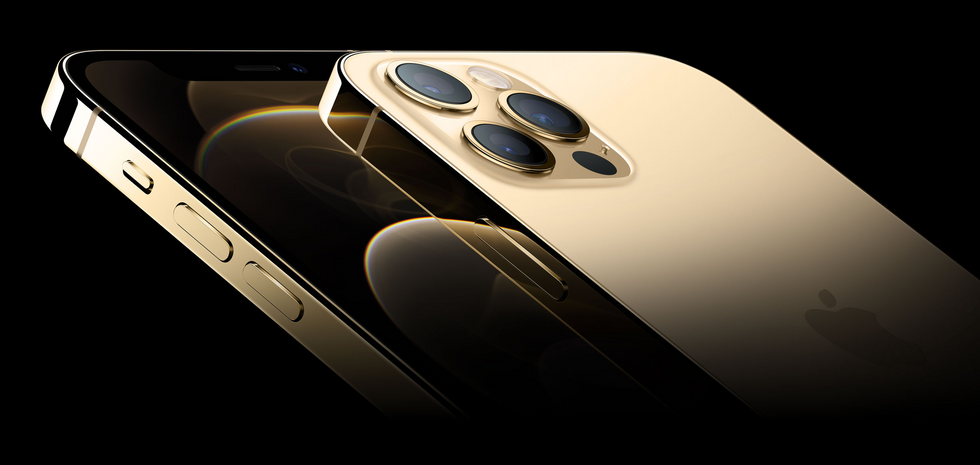 The iPhone 12 Pro and its gold-look stainless steel bodyApple
The iPhone 12 and 12 Pro have the same 6.1-inch display and their dimensions are identical to each other. This means a width of 2.82 inches, a height of 5.78 inches and a thickness of 0.29 inches. Incidentally, all models of iPhone 12 are the same thickness, including the smallest 12 Mini and largest 12 Pro Max.

As for weight, the iPhone 12 is 5.78 ounces, while the 12 Pro is slightly heavier at 6.66 ounces, potentially giving it a more premium feel to go with the stainless steel body.
All models of iPhone 12 also benefit from the new 'ceramic shield' glass front created with Corning. The rear of the 12 is glossy glass, while the 12 Pro has the same textured matt glass back as last year's iPhone 11 Pro.
Both have IP68 water and dust resistance, which means they can survive being submerged in up to six meters of water for 30 minutes.
iPhone 12 vs iPhone 12 Pro: Specifications and performance
Both the iPhone 12 and 12 Pro are powered by Apple's A14 Bionic processor. Apple says this processor is up to 50 percent faster than any other smartphone, and with a 50 percent improvement in graphical performance too.
Both also have 5G and both have wireless charging with the company's new MagSafe system for connecting magnetically to a range of new chargers, docks, cases and accessories made by Apple and other companies, like Belkin.
iPhone 12 vs iPhone 12 Pro: Cameras
This is where the biggest differences are between the iPhone 12 and 12 Pro. The regular 12 (and the 12 Mini) has a dual-lens rear camera system with 12-megapixel wide and ultra-wide cameras. These have an aperture of f/1.6 and f/2.4 respectively, with optical zooming of 2x and digital zooming of 5x.
The iPhone 12 Pro, on the other hand, has a 12-megapixel system with wide, ultra-wide and telephoto cameras. These have an aperture of f/1.6, f/2.4 and f/2.0 respectively, and the system has up to 4x optical zooming and 10x digital zooming capabilities.
Also exclusive to the iPhone 12 Pro (and Pro Max) is a Lidar sensor, as also seen on the back of the latest iPad Pro. This helps with focusing and augmented reality functions, but also means the 12 Pro is capable of taking portrait photos with Night Mode enabled, which is a first for any iPhone.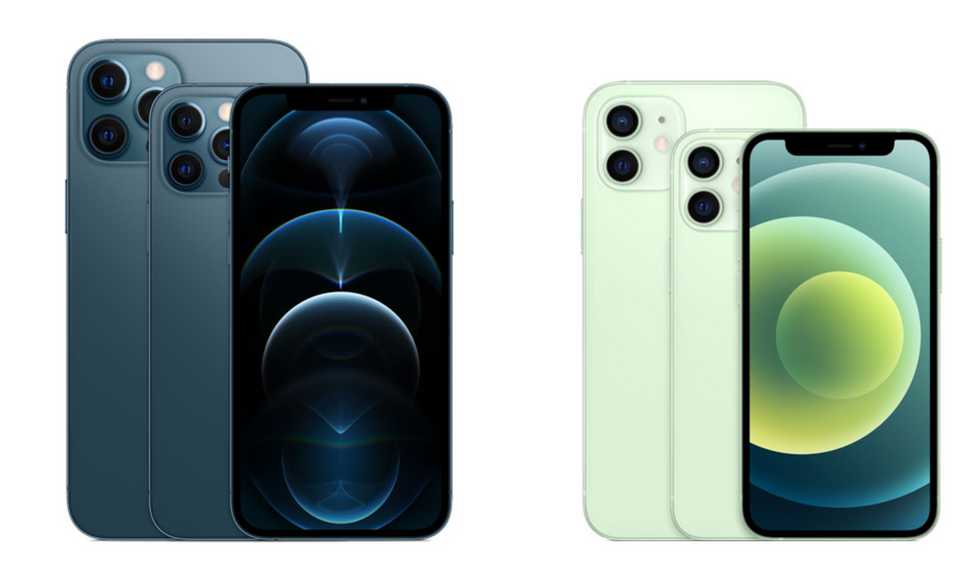 iPhone 12 and 12 Pro familyApple
The Pro also gets to take advantage of a new image format called Apple ProRAW, which the company will roll out to the 12 Pro and 12 Pro Max via a software update later in 2020. This new format, which isn't available for the iPhone 12 and 12 Mini, promises better image quality and greater editing abilities.

Video recording is also different on the 12 and 12 Pro. Both can shoot 4K video at 60 frames per second, and both can record HDR video with Dolby Vision at 30fps, but only the Pro and Pro Max can shoot HDR with Dolby Vision at the faster 60fps. The Pro also benefits from enhanced optical and digital zooming capabilities when shooting video, just as it does when taking still images.
The front cameras are the same on both the 12 and 12 Pro, with a resolution of 12MP, an aperture of f/2.2, and the ability to shoot in 4K at 60fps or HDR with Dolby Vision at up to 30fps.
Here is an image from Apple's website explaining the exact differences between the cameras of the 12 pro and the 12 Pro Max: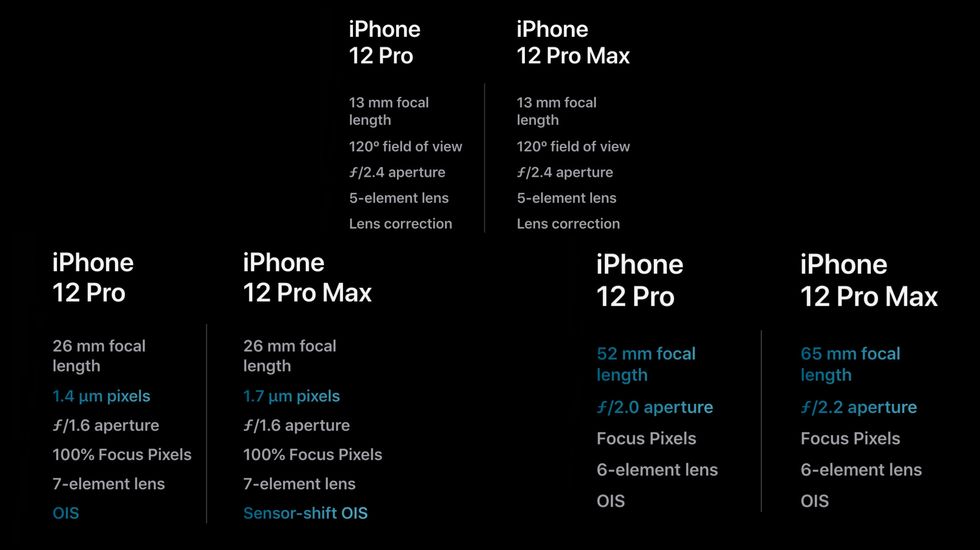 Differences between the cameras of the 12 Pro and 12 Pro MaxApple
For us, it feels like the extra $200 is only worth it if you are serious about your photography, and especially videography, which is where the iPhone 12 Pro and Pro Max should excel. Those phones also offer a more premium look and feel with their stainless steel details, and those who want a larger screen will have to opt for the 12 Pro Max, which starts at $1,099, a full $300 more than the iPhone 12. That said, we think the more compact iPhone 12 Mini is a great size and offers a no-compromise option for anyone in the market for a smaller smartphone.

iPhone 12 vs iPhone 12 Pro: Price, storage and color options

The iPhone 12 and 12 Mini are both offered with color options of black, white, green blue and red, and both have storage options of 64, 128 and 256GB. Prices start at $699 for the 12 Mini and $799 for the iPhone 12.
The iPhone 12 Pro is priced from $999 and the Pro Max starts at $1,099. Both are offered with storage options of 128, 256 and 512GB.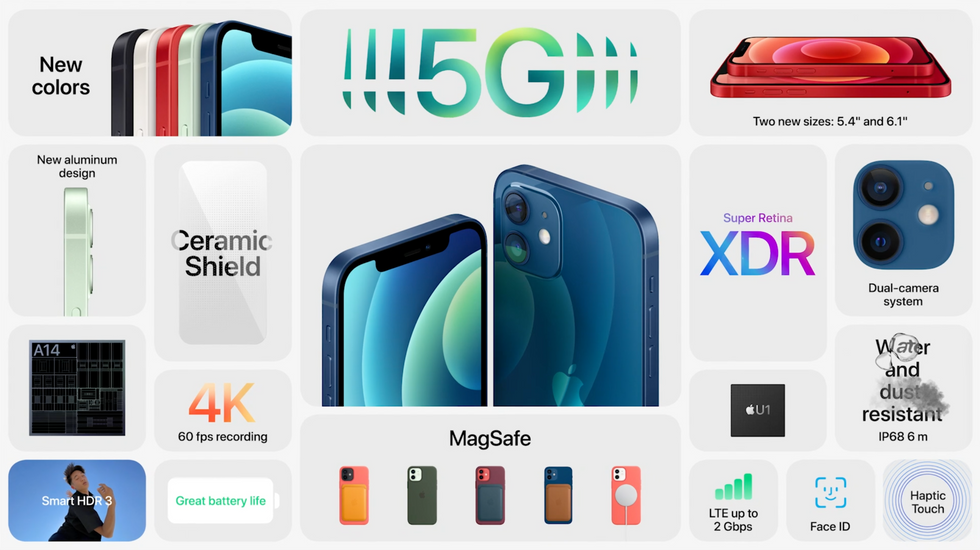 Features of the iPhone 12 and 12 MiniApple
iPhone 12 vs iPhone 12 Pro: Release date

Pre-orders for the iPhone 12 and 12 Pro kick off on October 16 and the phone ships a week later on October 23, while the 12 Pro Max opens for pre-order on November 6 and ships on November 13.