Like GearBrain on Facebook
Apple and Samsung are the two biggest names in consumer technology, and this fall they released their new smartwatches within weeks of each other. First came the Samsung Galaxy Watch, then along came the Apple Watch Series 4.
Both are touchscreen computers for the wrist, full of apps and health-tracking technology. They come in different sizes and colors, their straps and faces can be changed, and both can be bought with a cellular connection for handling calls without your phone being nearby.
Read More:

But there are fundamental differences, from their size and shape, to the software they run, their battery life, and the features they offer.
Having reviewed both, it's now time for GearBrain to talk you through the differences between these watches, and recommend which is right for you.
Unboxing Apple Watch Series 4 in less than 10 Seconds www.youtube.com
Apple Watch Series 4 vs Samsung Galaxy Watch: Design and hardware
Samsung has taken a traditional route with the Galaxy Watch, producing a device with a circular display, a rotating bezel with hour and minute markings, and a range of customizable faces which resemble mechanical watches.
The Galaxy Watch even ticks when you hold it to your ear (a feature which can be switched off), and the wearable accepts any regular watch strap, thanks to its industry-standard lugs and strap bars.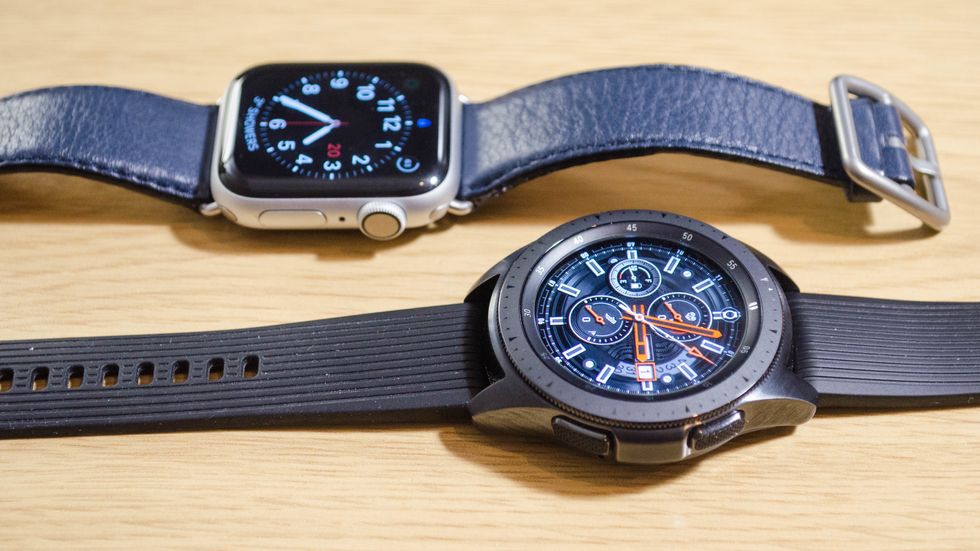 GearBrain
This is a design which is likely to attract those who want a traditional looking timepiece, and might be put off by the more futuristic look of the Apple Watch.

The Samsung, which is offered in silver, black and rose gold, looks and feels familiar to anyone used to wearing a watch, and the two size options of 42mm and 46mm (referring to the diameter of the case) help to further cement this. I own several 42mm watches and found the Samsung was immediately comfortable and familiar.
By contrast, the Apple Watch Series 4 - like all of Apple's previous smartwatches - is a more technical-looking device. While you can pick from a handful of traditional-looking watch faces, the Apple's rectangular screen lends itself to something more modern and utilitarian.

That isn't to say the Apple Watch is unattractive - far from it, thanks to the aluminium or stainless steel case options, range of colors and straps, and the slimmer, less bulky design.
But where the Samsung can be configured to look just like a normal watch, the Apple would rather you fill its face with all manner of readouts (known as complications). These include widgets displaying the weather and UV levels, upcoming events in your calendar, music, alarms, the battery level, and how much you have exercised, walked and stood up today.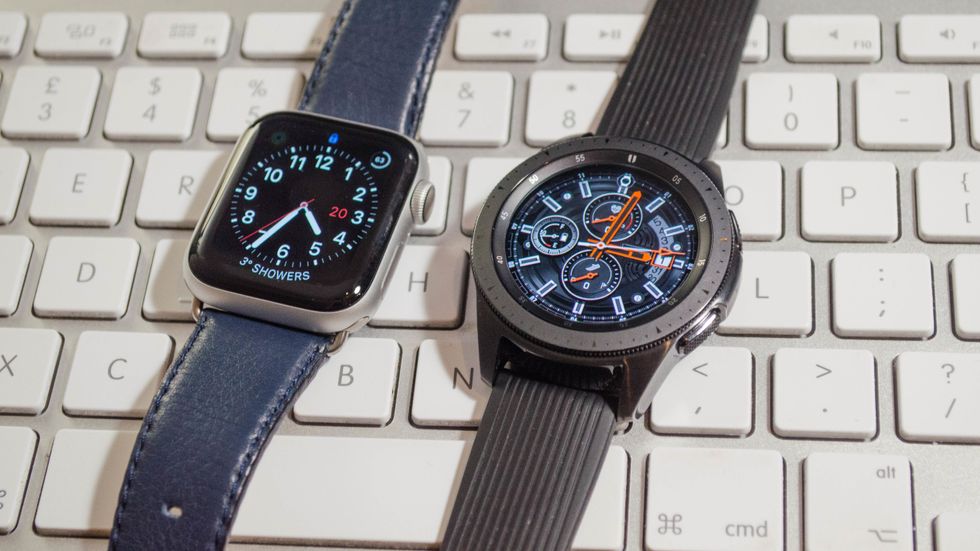 GearBrain
Simpler faces are available - some showing just the time and an attractive background - but the Apple Watch works at its best when there's a bit more going on, as each complication stayed updated during the day and can be tapped to open the app it represents.

As for the rest of the hardware and design, both watches have a heart rate sensor on the back, both are water resistant to 50 meters, and both have a speaker and microphone for making calls.
Both have touchscreens for controlling their interface, but for us the Samsung wins points with its rotating bezel, which offers a nice way to scroll through content (like messages and apps) without swiping at the small display. There are also two buttons at 3 o'clock and 6 o'clock for accessing applications and exiting back to the watch face.
The Apple Watch is navigated by touch, along with the rotating crown and side button. New for the Series 4 is how the crown produces haptic feedback as you rotate it, offering a more tactile experience than before.
Apple sells a range of straps for the Watch, and third-party replacements can be bought from a wide range of accessory makers, but these all must use Apple's proprietary connection, unlike with the Samsung.
Apple Watch Series 4 vs Samsung Galaxy Watch: Software
When it comes to software, each company has gone entirely their own way. Neither use Google's Wear OS system, as adopted by a wide range of smartwatches from traditional watchmakers. Instead, Apple has watchOS and Samsung has Tizen.

Both work in similar ways. First, the watch face doubles as the device's home screen. Next, a page showing the watch's installed applications is accessed with the press of a button, and opening any app is done with a tap of the screen.
The watch face is changed and personalised with a press of the home screen, and notifications come through with a beep, a vibration, or both.
Key differences are how the Samsung can permanently display the time on its screen, whereas the Apple Watch cannot. This, in our eyes at least, puts the Apple at a disadvantage, as the time cannot be seen without either raising your wrist, tapping the screen, pressing the side button, or rotating the crown.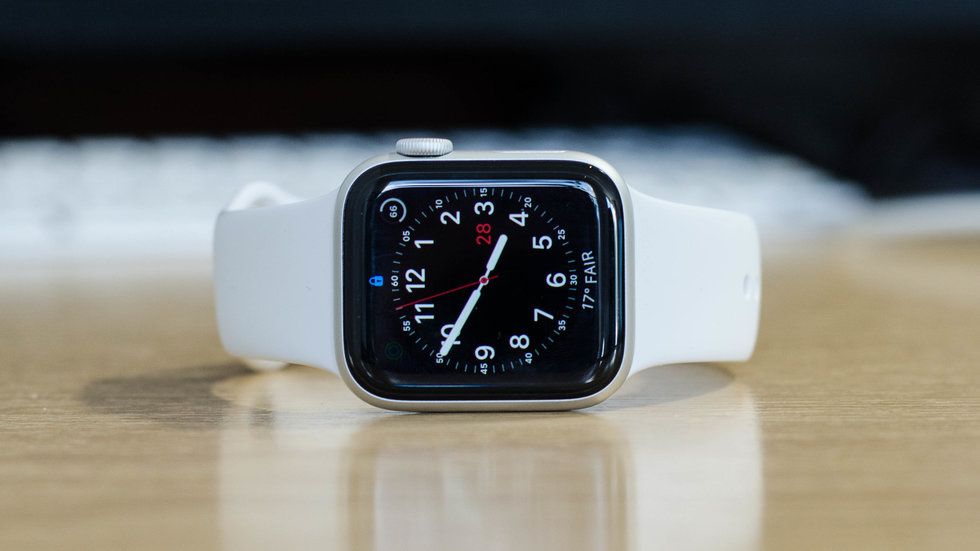 GearBrain
The Galaxy Watch also switches its screen off by default, but crucially this can be disabled - doing so affects battery life, but we found even with the time shown all day, the Samsung matches the Apple's claimed 18 hours of life per charge.

Both watches connect to a companion smartphone app over Bluetooth, for sharing fitness data collected by their accelerometers and heart rate monitors, and for connecting to the internet; if you buy the more expensive cellular version of each, they can connect to the web directly.
We like the speed and simplicity of Apple's watchOS, and how notifications from apps like Facebook, WhatsApp and Twitter display correctly and in full (something too many smartwatches trip up over). But we're also fans of how a quick turn of the Samsung's bezel shows off a set of widgets for the weather, music playback, news headlines, out fitness data, and more.

Tizen has fewer apps than watchOS, but it's difficult to complain too much as all the essentials (social networking etc) are there, and for anything more complex your smartphone is always the better tool. Smartwatches are far better suited to showing notifications and recording fitness than doing anything more intense.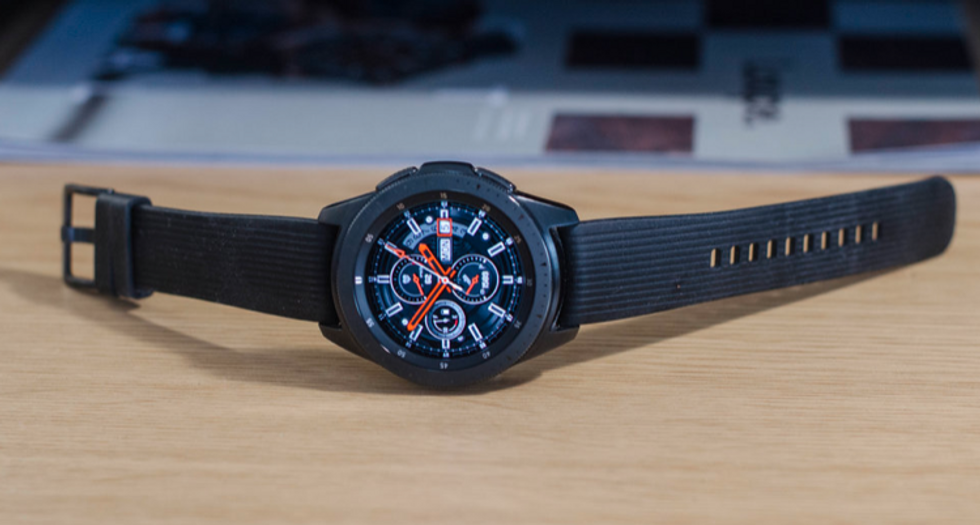 GearBrain
Both watches have a voice assistant, with Samsung's Bixby and Apple's Siri. However, as we addressed in our recent review, Bixby on the Samsung is almost useless. Asking simple questions - how tall is the Eiffel tower? - results in Bixby telling us to check our phone for the answer, and asking anything within earshot of a Samsung phone will have Bixby try and answer on both devices at once.

Siri on the Apple Watch actually works pretty well, and raising your wrist to get a quick answer on something is surprisingly useful, if not a killer feature.
A final note on software is that, while the Samsung smartphone owners get a fuller experience, the Galaxy Watch works with all Android phones, and even the iPhone. Meanwhile, the Apple Watch only works with iPhones.
Apple Watch Series 4 vs Samsung Galaxy Watch: Health, sleep and fitness tracking

Both watches track steps, exercise and your heart rate, serving up this data on the watch itself, but also in more detail on the smartphone app. Both automatically detect some forms of common exercise, like outdoor walks, runs, and cycling, and they can also be told to track swimming, rowing, yoga, hiking, interval training, and weight lifting.
However, it is the Samsung which tracks a greater range of exercises than the Apple. For example, if you tell the Galaxy Watch you are weight training, it will accurately recognize each exercise and count your reps accordingly.

The Samsung also wins when it comes to out-the-box sleep tracking - as this is something the Apple Watch cannot do, without resorting to a third-party app. The Galaxy Watch logs your sleep time and light/deep sleep cycles through the night, along with your heart rate.
Third-party apps - some free, some cost a couple of dollars - enable the Apple Watch to do this too, so it's strange that Apple hasn't made its own sleep tracker yet, especially since the Watch Series 4 has enough battery life to survive a day and night on the wrist.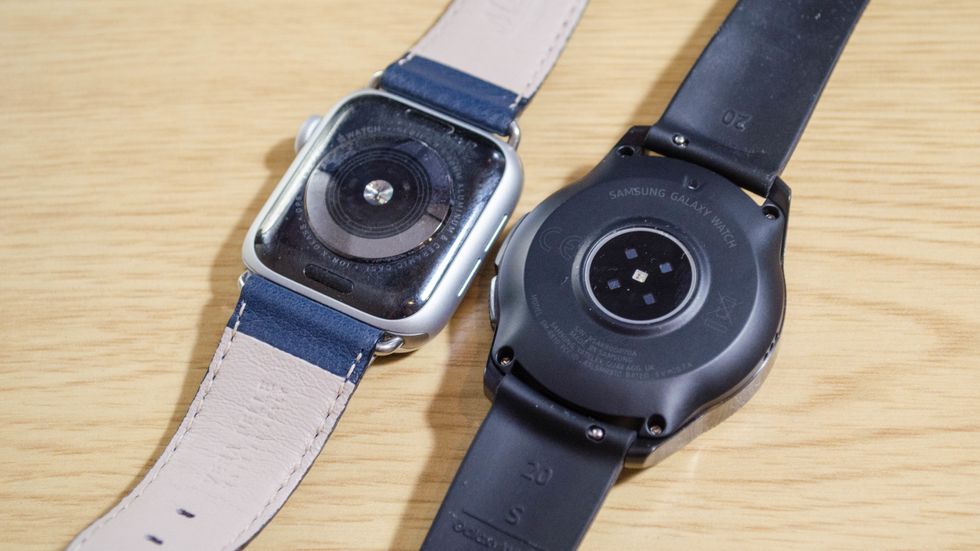 GearBrain
What the Apple Watch does well, is keep you motivated. There are reminders throughout the day to stand up and be active (for a few minutes each hour, ideally), and reminders to use the watch's Breathe app every so often. We find this system more enjoyable to use than most others, as the reminders and rewards are well-judged without becoming nagging, patronizing, or tiresome.

Finally for fitness, the Apple Watch Series 4 has a couple of aces up its sleeve. The first is fall detection, which buzzes your wrist if you fall over and don't get up, first asking if you are okay, then asking if you need to call an ambulance. If you don't move or respond, the call will be made for you and a message will be sent to your emergency contact.
The second is the ability to record an EKG (electrocardiography, or ECG). This works by combining the heart rate monitor on the back of the case and the rotating crown, which when pressed against the index finger of your opposite hand measures the electrical activity of your heart. Apple says it has approval to enable the feature in the US, and it will be switched on via a software update very soon.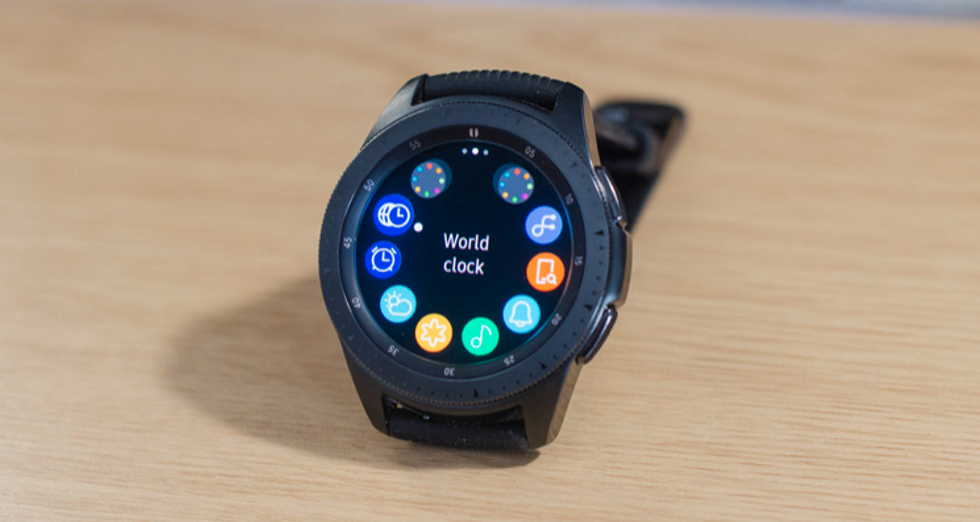 GearBrain
Apple Watch Series 4 vs Samsung Galaxy Watch: Battery life

Samsung claims the 46mm Galaxy Watch can last up to four days on a charge, and that the 42mm version with its much smaller battery is capable of three days.
We found two full days with a night's sleep monitoring in-between to be more accurate for the 42mm example. This is with the always-on display option switched off (as it is by default). Leaving this on meant anything more than 24 hours was a struggle.
The Apple Watch - specifically the 40mm Series 4 without cellular - lasts somewhere between 24 and 36 hours, depending on how it is being used. This includes a night of sleep tracking.
Both devices are powered up on wireless charging docks.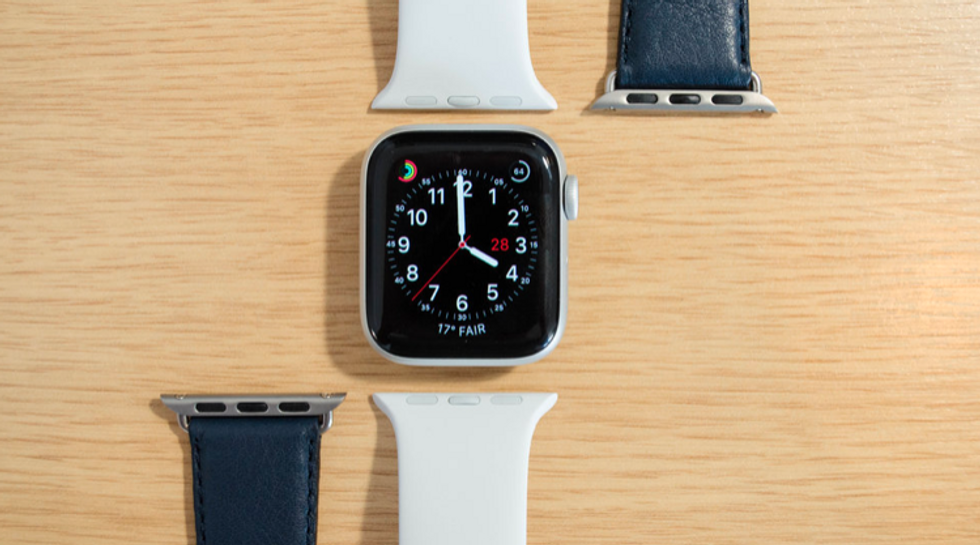 GearBrain
Apple Watch Series 4 vs Samsung Galaxy Watch: Verdict

Picking a winner is difficult, because neither one excels clearly above the other. If you own an Android, then the Samsung is the winner because the Apple Watch won't work for you; but if you own an iPhone things are a little more complicated.
The $329 Samsung offers the more traditional design, while the $399 Apple is slightly smaller. The Samsung offers more granular exercise tracking, but the Apple works with a greater range of fitness apps, and offers extras like GPS, fall detection and EKG (once enabled).
The Samsung can show the time all day long, whereas that isn't even an option with the Apple Watch, and both have access to Spotify for music streaming, notifications from all of your apps, hands-free phone calls, and customizable watch faces.
Ultimately, the app ecosystem, slimmer design, GPS and EKG make the Apple Watch Series 4 our winner, but we appreciate that this is a deeply personal decision - and if you use an Android, then the Galaxy Watch is still an excellent option for you.
To put it simply, for Android owners (and especially those with a Samsung) the Galaxy Watch is the best smartwatch for you; for iPhone users, you should go for the Apple Watch.
Hands on with LG W7 Watch
GearBrain got the opportunity to see LG unveiled a new digital watch — or what they call a time piece — a hybrid of old and new with mechanical hands laid at...
the fitness tracker buying guide video - GearBrain
Want to know how to select the right fitness tracker? GearBrain provides you with a buying guide for fitness trackers. it's a quick look on what you need to ...

From Your Site Articles

Related Articles Around the Web
Like GearBrain on Facebook