Like GearBrain on Facebook
The $329 Galaxy Watch is the latest smartwatch from Samsung and, with its new name, represents something of a reboot for the brand's wearable efforts.
It runs the company's own Tizen operating system, works with both iOS and Android smartphones, and favors a traditional watch-like design over the more technology-focused $399 Apple Watch.
Read More:

To help broaden its appeal, Samsung offers the Galaxy Watch in two sizes. The first has a 42mm wide bezel and is available in black and rose gold, while a larger 46mm model is sold exclusively in silver. All models of Galaxy Watch can be fitted with regular watch straps, measuring 20mm on the smaller pair, and 22mm on the larger model.
Naturally, the Samsung Galaxy Watch's closest rival is the Apple Watch Series 4, while competition also comes from the smartwatches of traditional watch brands, such as those housed by the expansive Fossil Group.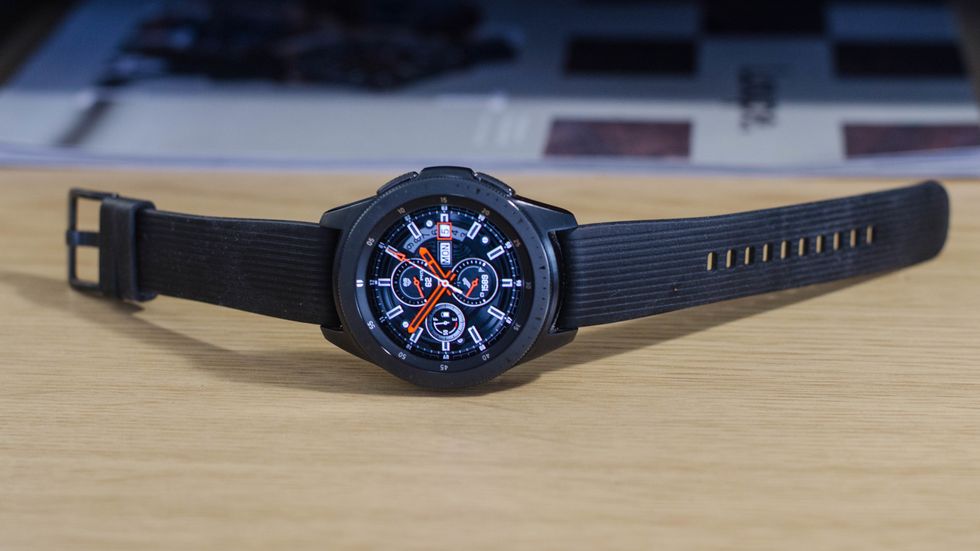 GearBrain
Samsung Galaxy Watch review: Design and hardware

From first glance, it is obvious that the Samsung is considerably more watch-like than Apple's alternative. It comes with a range of faces inspired by traditional watch design, a pair of buttons at three and six o'clock, and a rotating bezel.
The watch also features a microphone for talking to Bixby — more on that later — a heart rate monitor on the back of the case, and water resistance to 5 ATM, or approximately 50 meters.
We're reviewing the 42mm version, which is 12.7mm thick and has a 1.2-inch touchscreen display. The 46mm model is marginally thicker at 13mm, and the screen is 1.3 inches.
The differences here are small, but on the inside there is a major change when picking one size over the other: battery capacity. Despite being just a few millimeters larger, the 46mm has a 472 mAh battery cell, up significantly from the 270mAh of the 42mm model.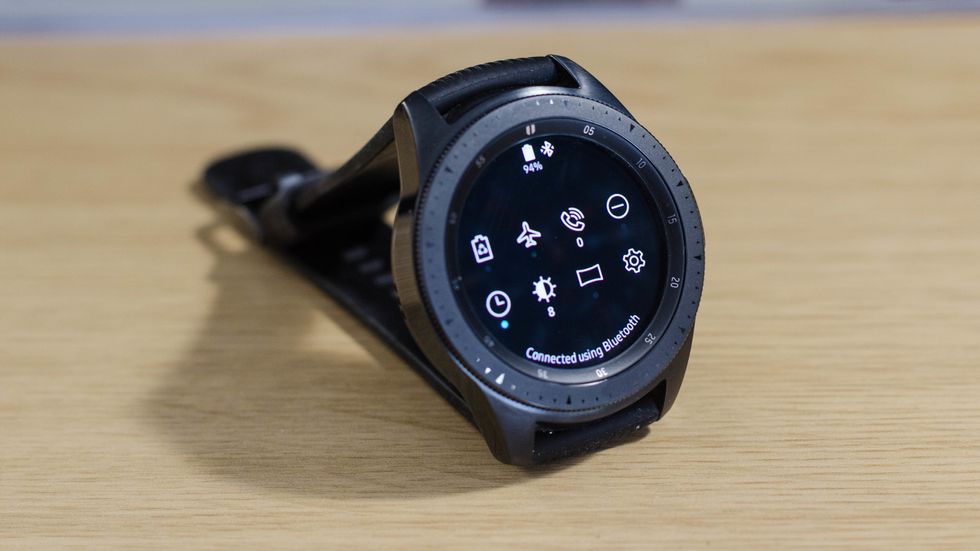 GearBrain
Personally, we're fans of the Samsung's traditional look, but you could argue that it isn't the most interesting device to look at. It is neat and practical, but lacks visual flare. However, it also doesn't look like a miniature computer on your wrist, and should fit in with most outfits — a fact boosted by the quick-release straps which can be swapped for an alternative of your choice.

Overall, the Samsung Galaxy Watch is a well-formed timepiece with a discreet and inoffensive design which should appeal to buyers who want their smartwatch to look like a watch and not a computer. It even emits an artificial ticking noise when held to your ear. Yes, really.
Samsung Galaxy Watch review: Software and performance
Instead of using Google's Wear OS operating system — like most other smartwatch makers — Samsung is using its own Tizen OS for the Galaxy Watch. This is controlled by rotating the bezel and tapping or swiping at the touch screen, then pressing one of the two buttons to go back, home, or to the applications screen.
Using the bezel to scroll is something we have praised Samsung for since it first appeared on the Gear S2 back in 2015. This system means swiping at the display less often, reducing fingerprints and making the interface easier to see and interact with.
Several aspects are similar to the Apple Watch. There is a control panel accessed with a swipe from the home screen for quickly adjusting settings like Wi-Fi, Bluetooth and screen brightness; the watch face can be changed and modified with a press of the home screen; the watch's app selection is summoned with a press of a button.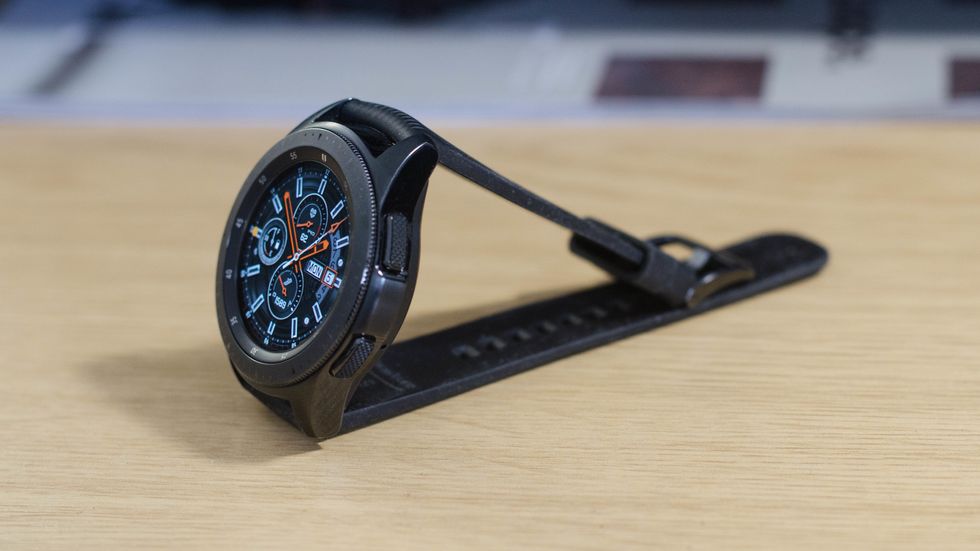 GearBrain
Samsung's software is clear, responsive and easy to use, with the option of having the time permanently displayed on the screen — something the Apple Watch still can't do. There are also more than 60,000 watch faces to pick from in the Tizen store (or you can develop your own), and a partnership with Spotify means music can be played offline from the watch's 4GB of internal storage.

Sticking with the watch's traditional look, we opted for a face which resembles a mechanical watch, complete with complications for heart rate, daily steps, battery level, and day/date. While Google Wear OS watches strip away some of these details when they switch to battery-saving ambient mode, the Samsung keeps everything in sight all day long, which we like. Again, the Apple Watch's inability to show anything at all when not being interacted with is a real shame.
The pre-installed apps are mostly as you'd expect, with messaging, calls, calendar, music playback and news headlines all present and correct. Bafflingly, there is no countdown timer installed by default, so you have to go grab that (for free) from the store and install it.
Other big omissions from Tizen include WhatsApp and Facebook Messenger; this isn't quite as bad as it sounds, as notifications from these apps still come through from your phone (and can even be replied to on the watch), but there's no way to start a new conversation, because there's no watch app.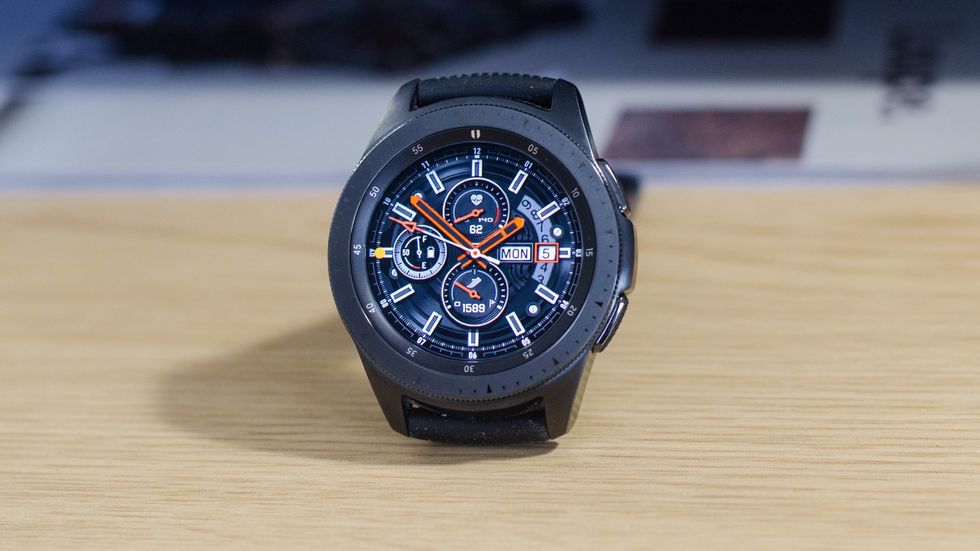 GearBrain
We quickly found that Tizen's widgets are more useful for delivering information at-a-glance than opening apps. These are found to the right of the home screen (the watch face) and can be scrolled through with the rotating bezel. These widgets include weather, a page of your recently-opened apps, information on your steps, heart rate and calories burned, your daily schedule, and music playback.

Rotating the bezel to the left shows your most recent notifications, such as text messages, emails, missed calls and alerts from your social networking accounts. As ever with smartwatches, it is worth jumping into the settings and switching off almost all notifications; you really only need the basics, otherwise your wrist will be vibrating all day.
We found Tizen doesn't always display social network conversations properly, especially those received via Instagram, which are sometimes duplicated or out of order.
Other than that, the Galaxy Watch performs well and responds quickly to inputs of the screen, buttons and bezel, which clicks satisfyingly as it is rotated.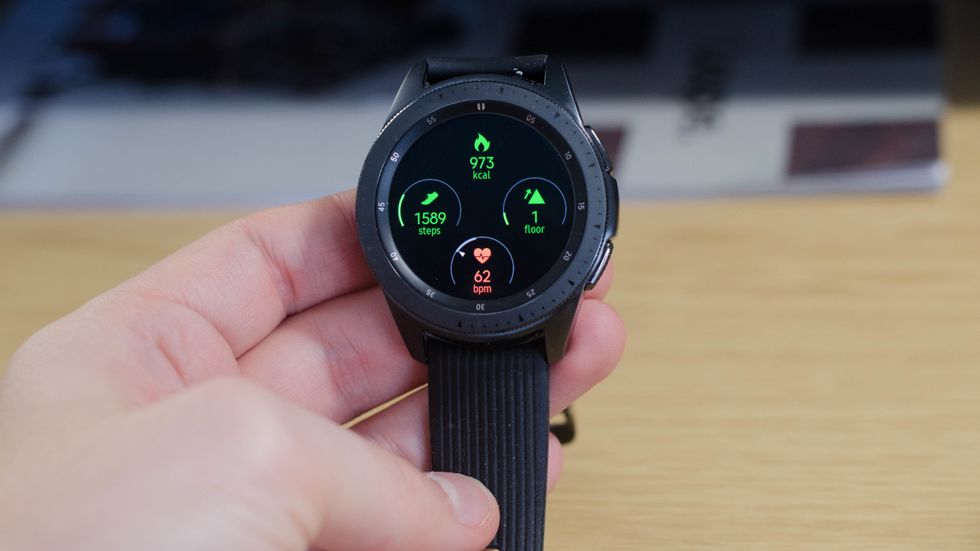 GearBrain
Samsung Galaxy Watch review: Health and fitness

The Galaxy Watch is intended to be more of an all-rounder than the fitness-focused Gear Sport from 2017, but that doesn't mean it can't serve as your faithful gym buddy. The Samsung Health app tracks running, walking, cycling, swimming, treadmill running, exercise bike use, circuit training, and the weight machine by default.
But tap on the + icon and you are greeted by dozens more options, from specific weight-lifting exercises like arm extensions and bench pressing, to pilates, pull-ups, rowing, squats and yoga. Any of these can be added to the Samsung Health home page, ready to be selected on your next gym visit. The watch is smart enough to count reps and sets, keeping count of every weight lifted.
All of this data is sent to the Samsung Health companion app, available for iOS and Android,
This app is also where the watch's sleep tracking data is found. Simply wear the Galaxy Watch at night, and it will present you with the data in the morning, including your resting heart rate and the cycles and quality of your sleep. We found the Galaxy Watch quite uncomfortable to sleep with, it being noticeably larger than our own Apple Watch.
The route of outdoor running and walks can be tracked, but this requires the GPS of your smartphone. The watch does not have its own GPS chip.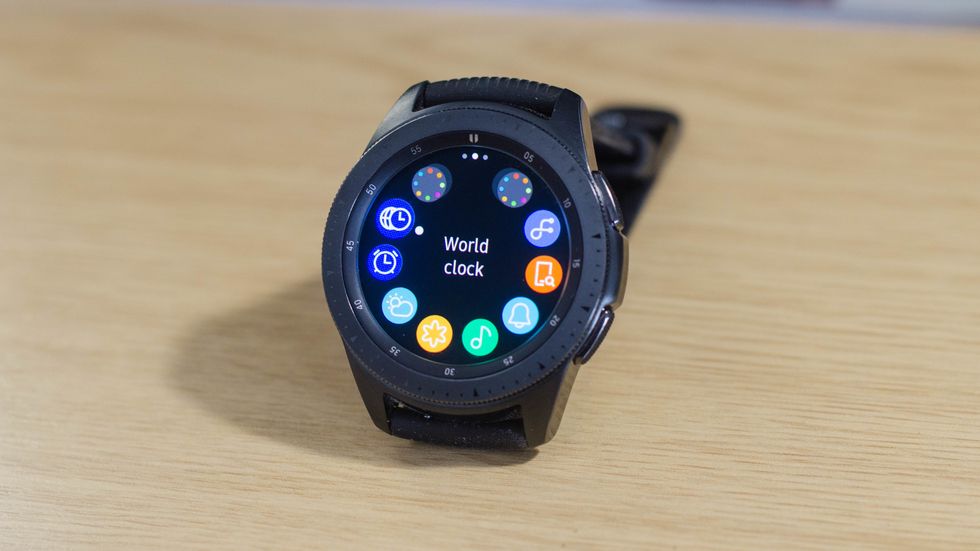 GearBrain
Samsung Galaxy Watch review: Bixby

Bixby is Samsung's voice assistant, and wants to be seen as an alternative to Apple Siri, Amazon Alexa and the Google Assistant. But it really isn't very good. We found the assistant would not hear us correctly, then wrongly tell us it didn't have an internet connection.
There is also no prioritization system for when two Bixby-enabled devices hear you at the same time. For example, saying 'Hey Siri' to an Apple Watch means only that Siri will listen and reply, with a nearby iPhone listening, but then quickly (and silently) going back to sleep when it realizes the Watch was closer to whoever spoke.
Samsung appears to have no such system, as saying 'Hi Bixby' to the Galaxy Watch caused both it and a nearby Galaxy Note 9 to wake up and listen. They then both replied, but curiously with slightly different voices. Ask Bixby to tell a joke and both the phone and watch will answer, but with different attempts at humor.

We asked Bixby on the Galaxy Watch for the height of the Eiffel Tower in Paris, but were told via a message on the screen "Please check it on device." Not only did this grammatically-poor message take a few seconds to appear, but on reaching for our phone we were greeting with nothing. After summoning Bixby on the phone, there was no record of this question being asked or answered. In all honesty, Bixby on the Galaxy Watch, at least in its current state, should be disabled and ignored. It just isn't helpful.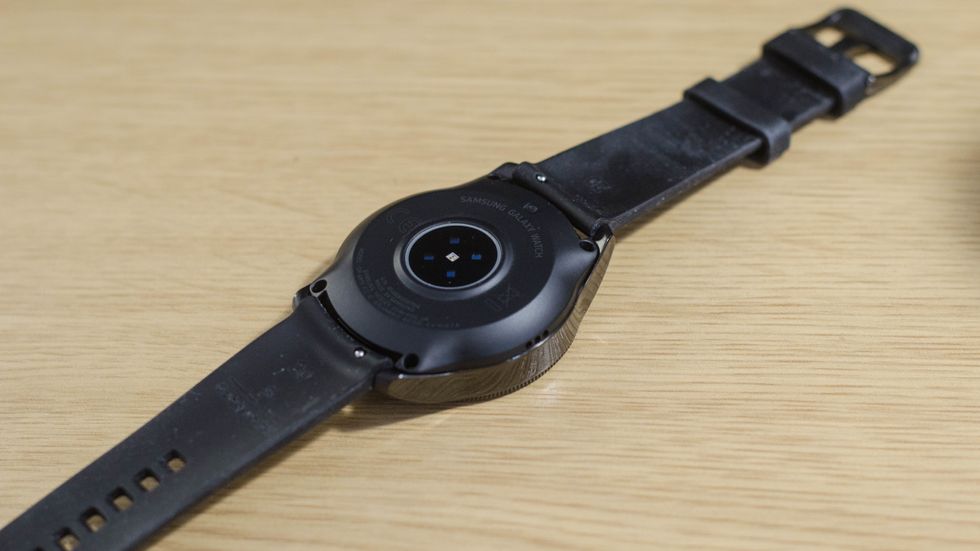 GearBrain
Samsung Galaxy Watch review: Battery life

Samsung claims the 46mm Galaxy Watch can last up to four days on a charge, and that the 42mm version with its much smaller battery is capable of three days.
We found two full days with a night's sleep monitoring in-between to be more accurate for the 42mm example. This is with the always-on display option switched off (as it is by default). Leaving this on meant anything more than 24 hours was a struggle.
This means the Samsung can stay on your wrist for a little while longer than the Apple Watch Series 4, even with the time always being displayed. The Galaxy Watch sits neatly in a magnetic charging cradle, which refills the battery wirelessly while the interface rotates 90 degrees to remain legible.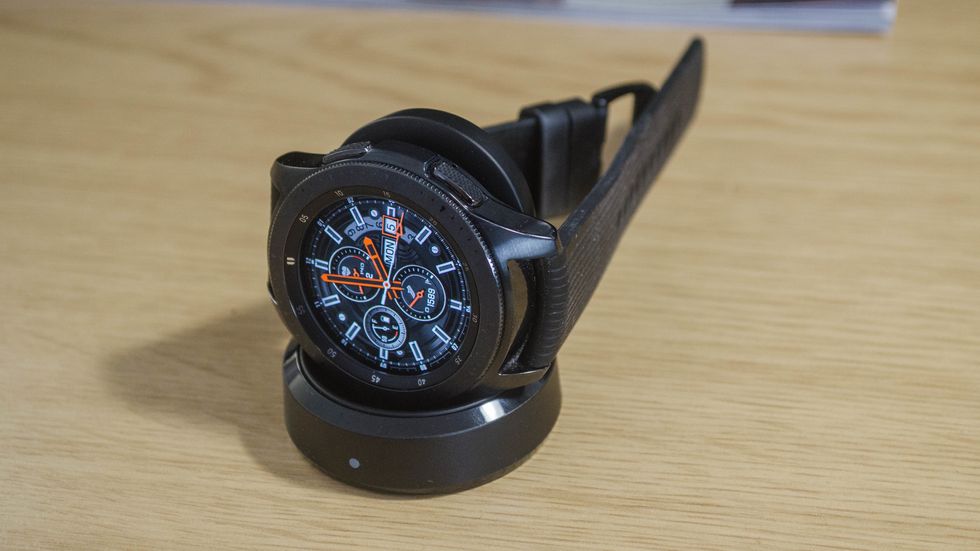 GearBrain
Samsung Galaxy Watch review: Verdict

Samsung has got a lot of things right with the Galaxy Watch. Its traditional looks will go down well with consumers who might be put off by the tech-focused look of other smartwatches, and the industry-standard straps mean customization is easy.
The watch faces are varied and attractive, while the simplicity of the rotating bezel-controlled Tizen software makes it pleasing to use. There is enough health and fitness tech here to keep all but the most hardcore gym user happy, and the Samsung Health app is really all you could ask for from a free health tracker.
It's a smart move of Samsung to offer the Galaxy Watch in two sizes (just like the Apple Watch is), and three colors with a wide range of faces means there should be something for everyone.

Bixby is close to useless, given it can't even display a two- or three-word answer to a simple question without demanding you look at your phone instead. And it's so slow that our Samsung phone had finished delivering the answer before the watch had even understood what we asked of it.
That aside, we liked the Samsung Gear Watch. The screen is excellent, Tizen feels like a fully-formed wearable operating system, and the battery is good enough — even on the smaller model.
If the Apple Watch isn't for you - or you can't justify the expense - then the Galaxy Watch is a solid alternative. As for Android users, this just might be the best smartwatch for you right now.
Pros:
Traditional design with two sizes and three colors
Tizen OS is smartly designed
Cheaper than the Apple Watch
Cons:
Woeful Bixby experience
No integrated GPS
Reserved design won't appeal to everyone
(Check out The GearBrain, our smart home compatibility checker to see the other compatible products that work with Samsung SmartThings.)

From Your Site Articles
Related Articles Around the Web
Like GearBrain on Facebook