Like GearBrain on Facebook
Apple will today (September 16) release its latest software update for the Apple Watch, called watchOS 7, bringing a range of new features including sleep tracking, new watch faces, and updates to Siri and the fitness-tracking app.
The update is free to download and install. Apple tends to release these updates (along with new versions of iOS and iPadOS) and approximately 10am PT / 1pm ET, so keep an eye out later today for the update dropping.
Read More:
watchOS 7 compatibility
These are the models of Apple Watch that work with the new update:
Apple Watch SE
Apple Watch Series 6
How to download and install watch OS 7
It's easy to install the new operating system onto your Apple Watch. Simply open the Watch app on your iPhone and tap on My Watch, then General -> Software Update. You'll then be told if the update is ready to download and install. If not, then come back later.
If it's ready, follow the prompts down download and install it. This process will require you to put your Apple Watch on charge and for its battery to be at least 50 percent full.
The biggest new features of watchOS 7
Family Setup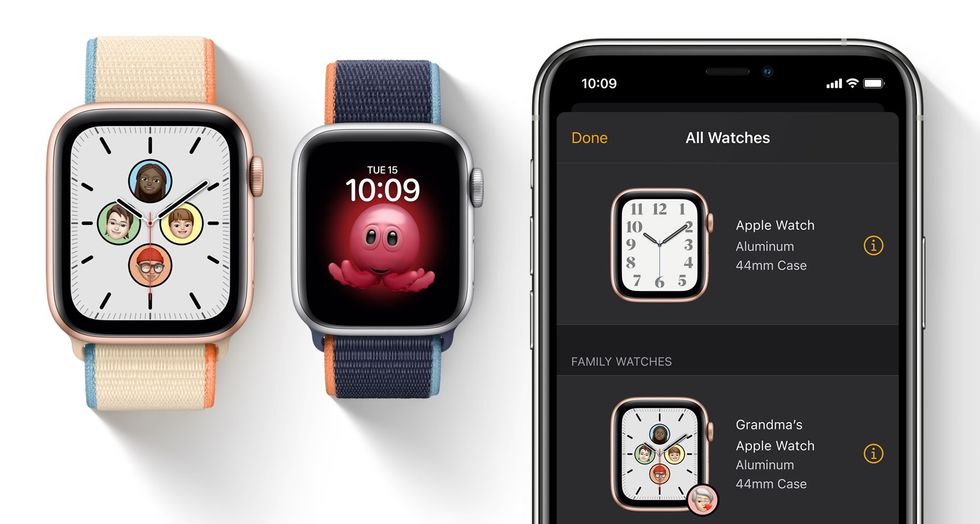 Apple watchOS 7Apple
A big new app for the Apple Watch is called Family Setup, which lets you configure a Watch for use by children. Importantly, this means they can use the smartwatch without having a phone of their own, as the setup and management is done on your iPhone.

Each person who uses a Watch attached to your account through Family Setup gets their own phone number to communicate through the Watch, so they can call and text Mom and Dad, stream music, and use Siri.
Kids can also create their own Memoji using only the Watch itself, and the activity rings normally used to track daily exercise have been optimized for kids. As parents, you can approve contacts and downloaded apps, and schedule School Time mode, where only the time is available for set hours during the day. It's also easy for family members to share their real-time location using Apple's Find My app.
Apple also suggests Family Setup could be used by older relatives too, who want the fitness tracking and safety features of a Watch, like fall detection, but don't want the added complexity of an iPhone.
Sleep Tracking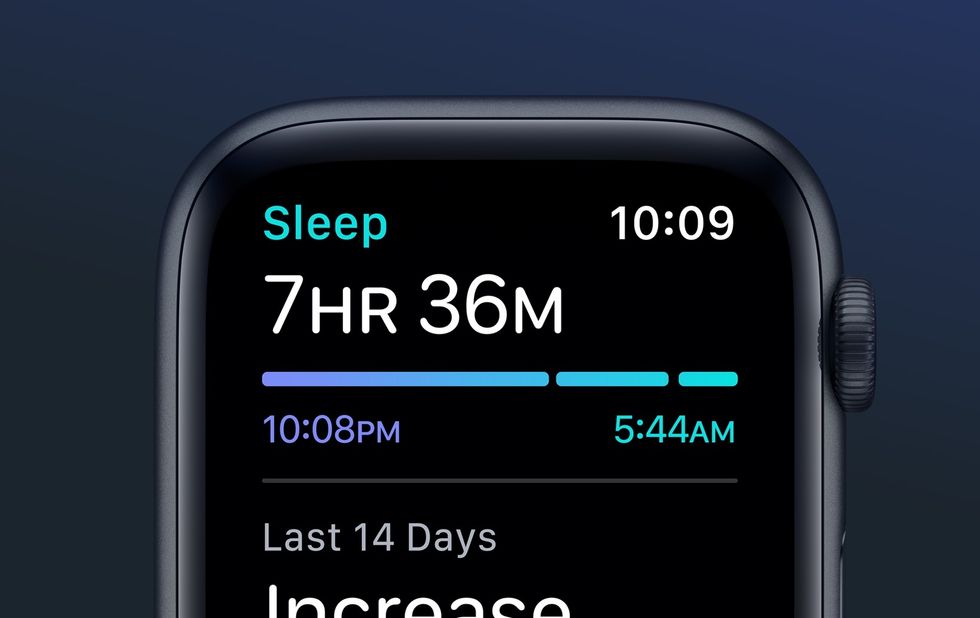 Apple watchOS 7Apple
This may sound surprising, but watchOS 7 brings native sleep tracking to the Apple Watch for the very first time. Until now, Watch owners could use a wide range of third-p[arty sleep apps, but now Apple finally offers its own.

Do Not Disturb is automatically enabled when you fall asleep. Your sleep is then tracked through the night, and the Watch will then wake you up at your desired time. A report of your sleep is shown in the Sleep section of the Health app for iPhone.
To make sure it lasts the night, your Apple Watch will ask you to charge the battery if it falls below 30 percent in the run-up to bed time.
Watch Faces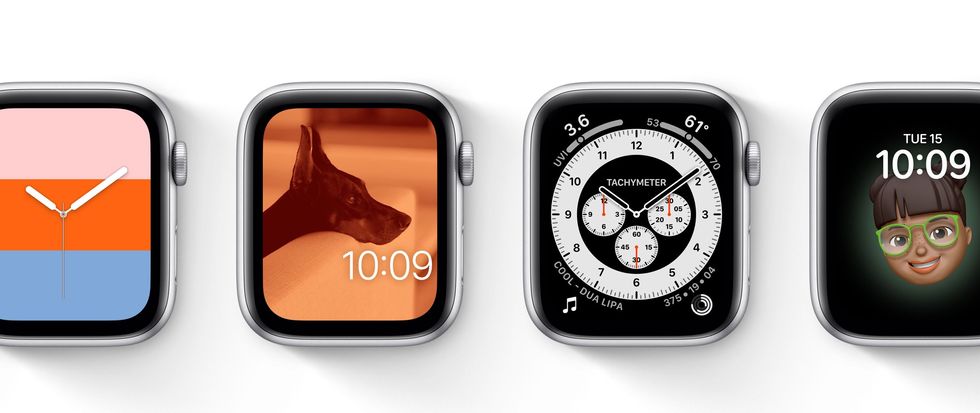 Apple watchOS 7Apple
As ever, the new watchOS brings with it a wide range of new watch faces to pick from and personalize. This year, Watch users can share faces with each other by testing or emailing them, and there are many more complications on offer, including a whole set dedicated to surfing.

There's also a face designed to look like a vintage motorsport watch, complete with tachymeter for measuring average speed. You can also add your Memoji to a watch face, but we suspect this is aimed at kids more than anyone else.
Fitness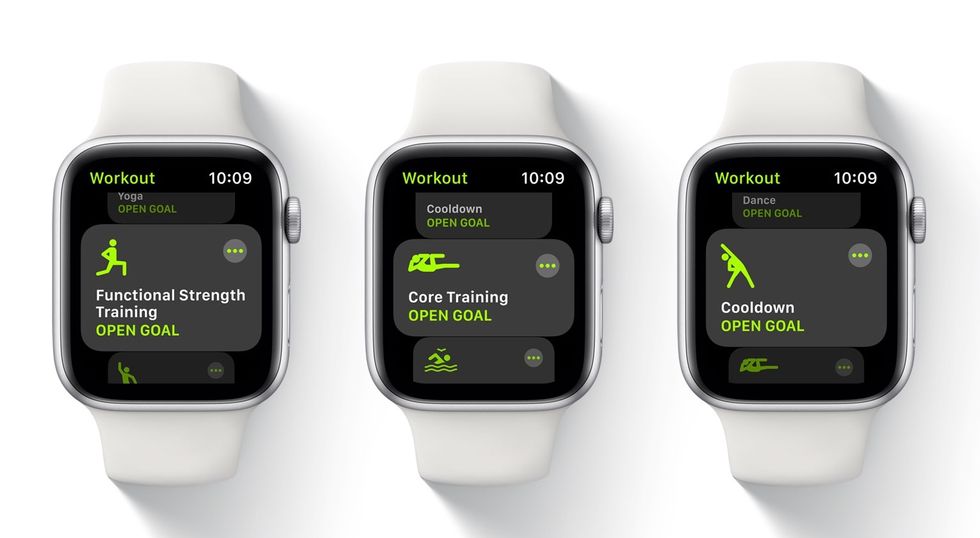 Apple watchOS 7Apple
There are four new workout options with watchOS 7. These are Functional Strength Training, Dance, Core Training and a post-workout cool-down.

Cycling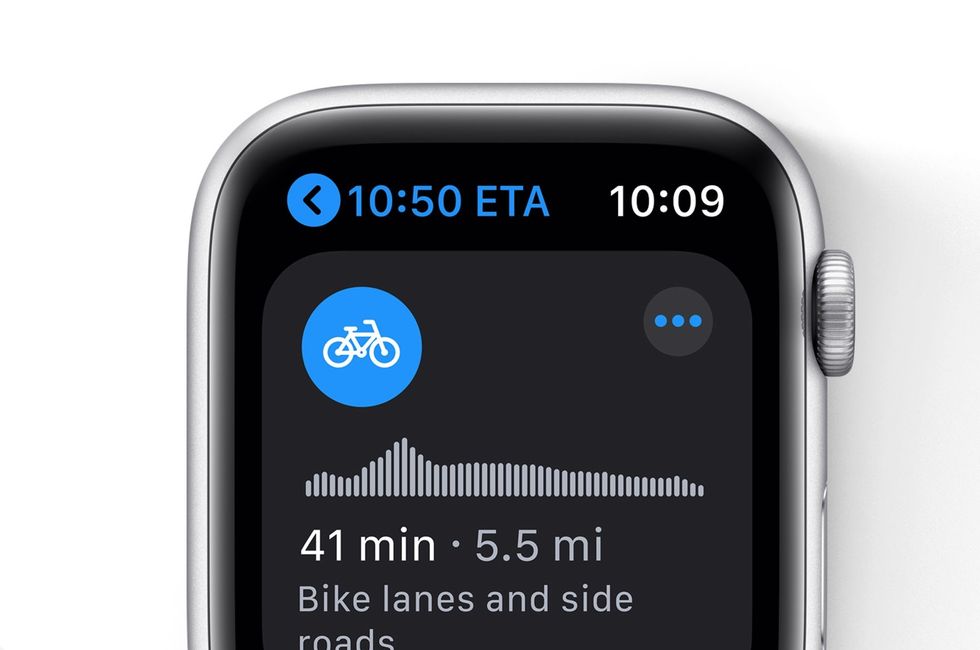 Apple watchOS 7Apple
Cyclists will be pleased to see that, just like in the new iOS 14 for iPhone, the Maps app for Apple Watch now has cycling routes. These include elevation change data, bike lanes and information about busy roads you might want to avoid.

There are also prompts to show when you need to dismount and push your bike through a pedestrianized zone, or when you need to take the stairs.
Hand washing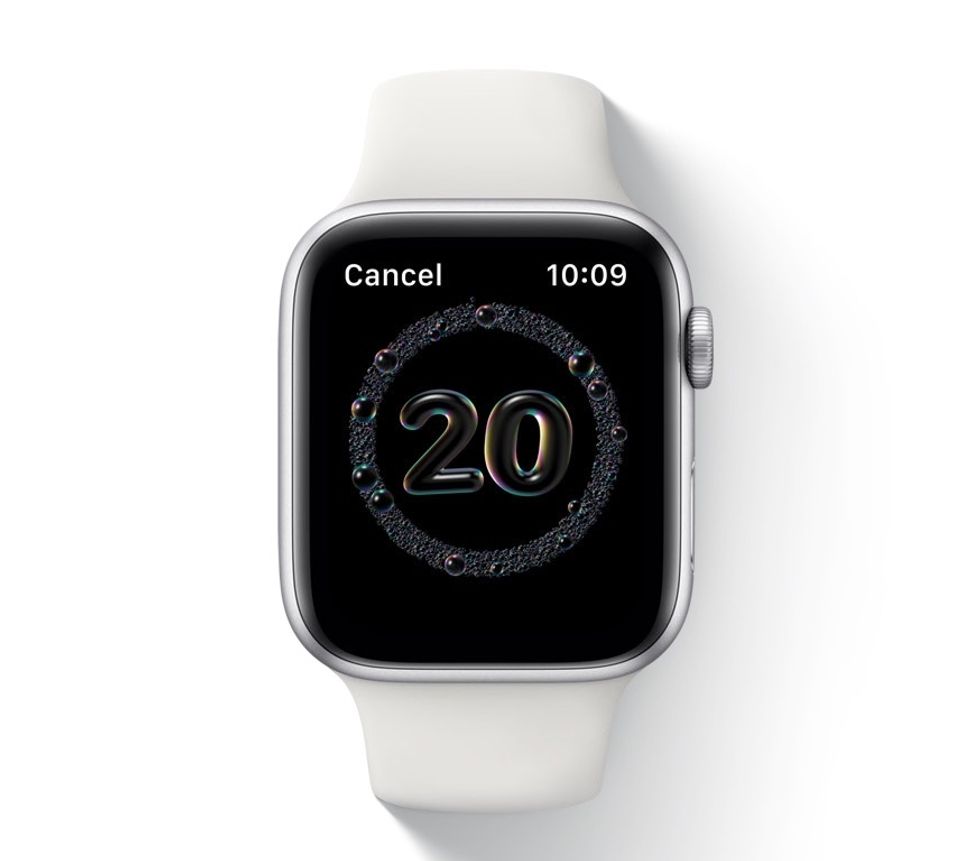 Apple watchOS 7Apple
This being 2020, the Apple Watch now recognizes when you are washing your hands. It uses the accelerometer and even the microphone to work this out, at which point a 20-second timer appears on the screen and begins counting down.

The Watch can also be set to remind you to wash your hands every time you get home, based on your GPS location.
Translation with Siri
Just as the iPhone gains a new Translate app with iOS 14, the Apple Watch has a new translation tool too. This works with Siri, which serves up a written and spoken translation whenever you ask. At launch 10 languages are supported.
Introduction of The GearBrain, The First Compatibility Find Engine for Smart Devices www.youtube.com
From Your Site Articles
Related Articles Around the Web
Like GearBrain on Facebook