Like GearBrain on Facebook
Apple's new software for iPhone, iPad, Watch and Apple TV will come out of the beta development stage and be available for everyone to download and install later today (September 16).
The new software was announced at the company's WWDC event back in June, and arrives just ahead of the new Watch Series 6, out this week, and iPhone 12, expected later in the fall.
Read More:
Which models of iPhone are compatible with iOS 14?
Apple is historically good at making sure its newest software is available on devices that are several years old. iOS 14 is no exception with iPhone compatibility stretching all the way back to the original iPhone SE and the iPhone 6S, as well as the seventh-generation iPod touch.
Here is the full list of models of iPhone and iPod touch compatible with iOS 14:
iPhone 11, 11 Pro and 11 Pro Max
iPhone Xs and Xs Max
iPhone Xr
iPhone X
iPhone 8 and 8 Plus
iPhone 7 and 7 Plus
iPhone 6s and 6s Plus
iPhone SE (1st and 2nd generation)
iPod touch (7th generation)
When will iOS 14 come out?
Apple said at its new Watch Series 6 event this week that iOS 14 (as well as updates to the iPad, Watch and Apple TV) will land on September 16. These updates tend to go live at round 10am PT / 1pm ET, but that time isn't set in stone.
You may also find Apple's servers are very busy when the update arrives, so it can be better to wait a few hours, or until the next day, to ensure a quicker download.
How to upgrade your iPhone to iOS 14
The easiest way is to open the Settings app then tap on General -> Software Update. Once iOS 14 is available, you'll be able to download and install it from here.
The download is quite large (measuring 3.86GB for us on an iPhone X and almost 4GB of an iPad Pro), so you may need to delete a few things to make space. You can read more on how to do that here.
The biggest new features of iOS 14 for iPhone:
A redesigned home screen with widgets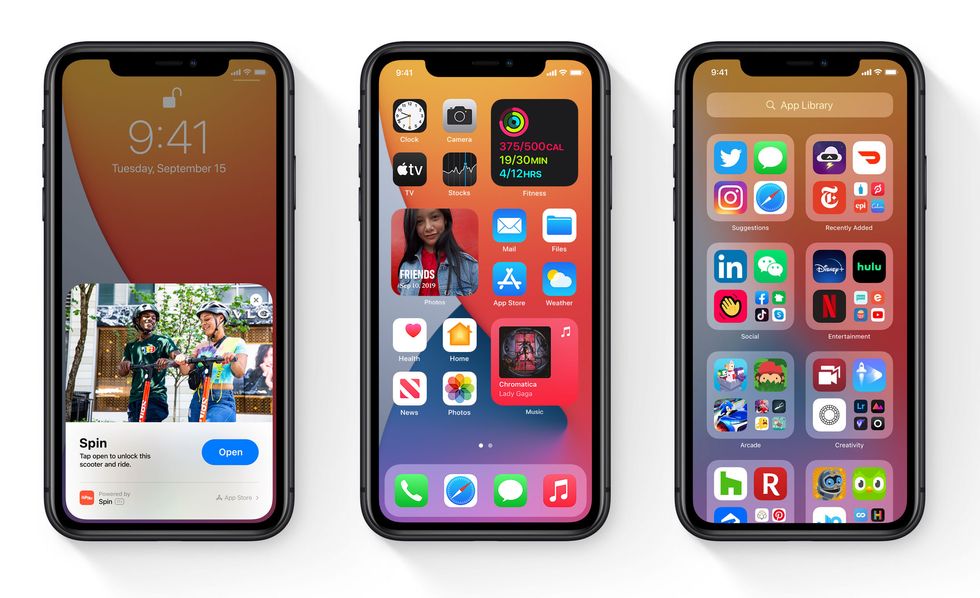 iOS 14 home screen with widgetsApple
iOS 14 makes some of the biggest changes ever seen to the home screen of the iPhone. No longer just a grid of app icons and folders, the home screen can include widgets of various sizes, showing live information from apps like Weather, Stocks Photos, Calendar and Notes.

You can fill up several pages with apps, folders and widgets (or dedicate a page to each). Having used the iOS 14 beta since July, we've found that having three widgets and 12 app icons on our home screen helps us focus on which apps are important, and which can be moved to a different screen, or even deleted entirely.
To the right of the home screen is a new page called App Library. This has a search tool and also groups your apps into categories, which are automatically populated by iOS. Tap on the search box and you can find an app by typing, or scroll through a new alphabetical list of all apps installed on your iPhone. Yes, we know a lot of this will be very familiar to Android users.
Home and HomeKit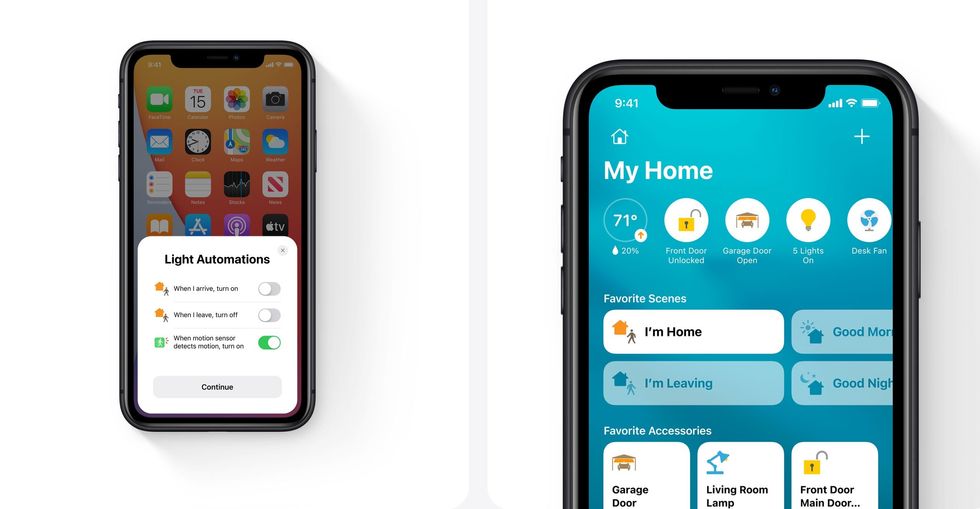 Home app in iOS 14Apple
An update we're pleased to see at GearBrain is the new Home app with iOS 14. This includes a range of new visuals for controlling your smart home devices, setting scenes and setting up automations automatically suggested by the app.

The new Home app lets you set your smart lights to gradually adjust throughout the day, changing their temperature to match outside lighting and your circadian rhythm. Home in iOS 14 can also now be used to set activity zones for your smart security cameras, and uses tagged people in your Photos app to recognize when a friend rings your HomeKit-connected doorbell.
When someone rings, Siri on your HomePod will announce who is there (providing they are recognized from a tagged photo in your Apple photos library).
Messages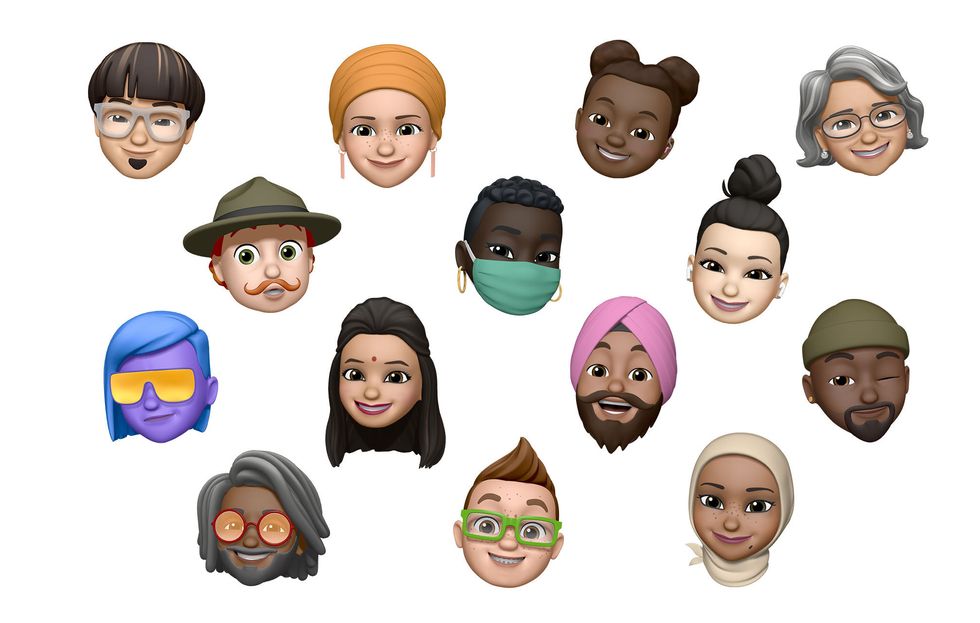 New Memoji options in iOS 14Apple
Although nothing groundbreaking, the Messages app has a range of new upgrades with iOS 14. These include pinned conversations (so you can keep your most important contacts at the top of the chat list), a way to create group photos for your group chats, mentions for getting someone's attention in a group chat by typing their name in a message, and inline replies – again, to help with group chats.

Users of WhatsApp will know all about most of these features, but Apple's Messages is still very popular in certain regions, including the US, so it's good to see it keeping up with the competition. And, of course, there's a bunch of new Memoji styles to pick from – including a face mask. Very 2020.
Maps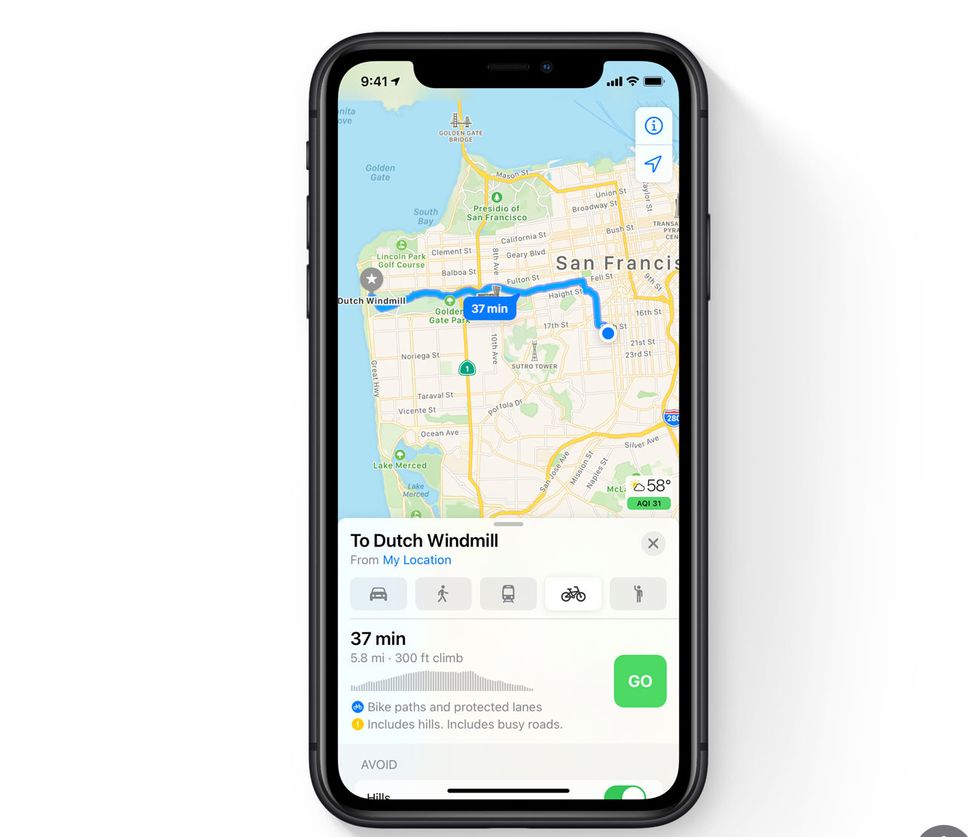 Cycling options in the Maps app of iOS 14Apple
The big updates here are cycling directions that take into account bike lanes, elevation, busy streets, stairs and steep passages. There's also electric vehicle routing, which helps to include charging stations on your journey.

Translate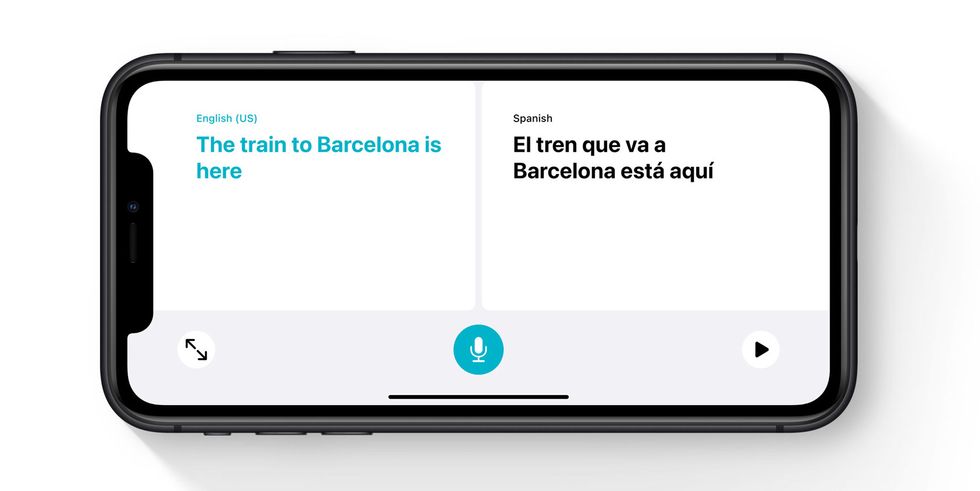 New Translate app in iOS 14Apple
An all-new app comes with iOS 14, called Translate. As you might expect, this turns your iPhone into a real-time interpreter for translating, both audibly and on-screen, between 11 different languages.

You can also pick to download languages for offline use (handy when you don't want to rack up a huge data bill while abroad), and there's an 'attention mode' designed to help you get someone's attention by expanding the translation of what you're trying to say.
Compact call notifications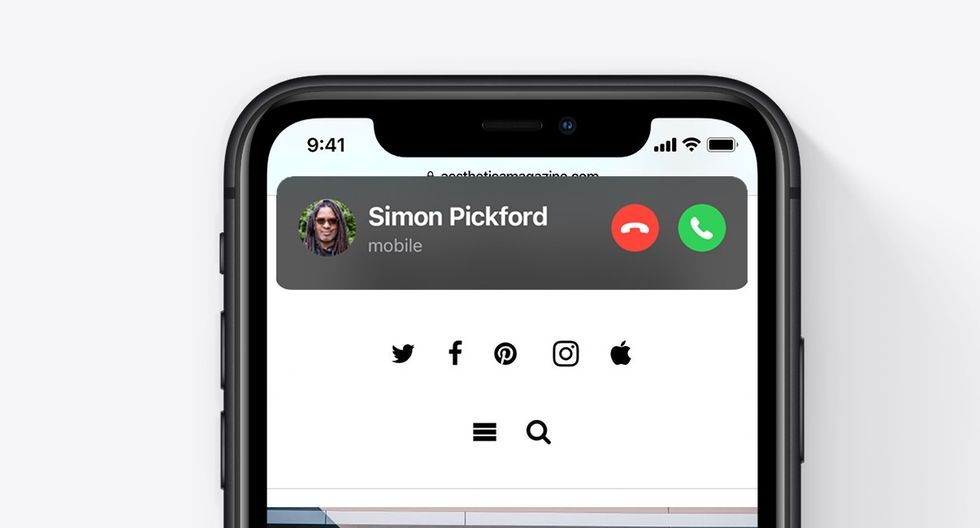 Call notification in iOS 14Apple
A small update, but one iPhone (and iPad) users will appreciate. Previously, an incoming call would take up the entire display; now with iOS 14, calls appear as drop-down notifications at the top of the screen, just like other messages.

The notifications include the familiar green and red buttons for accepting or declining the call, reminding us how there really was no need to fill the screen.
AirPods and Spatial audio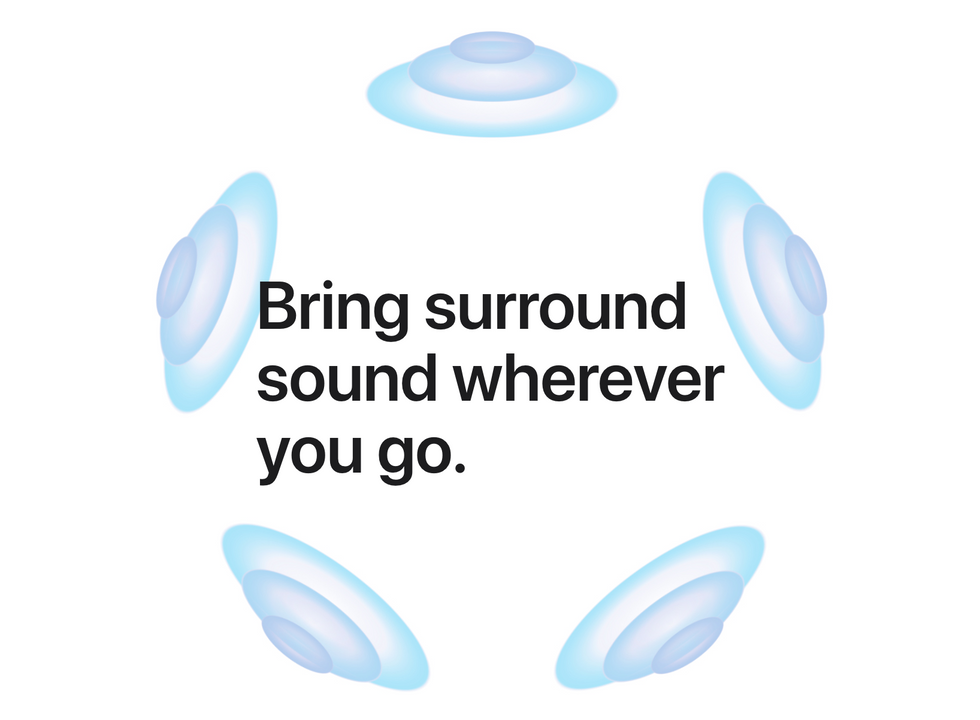 Spatial Audio is for AirPods Pro onlyApple
As we wrote about earlier this week, iOS 14 includes a new firmware update for the AirPods Pro that enables a feature called Spatial Audio. This gives the earphones a Dolby Atmos-style surround sound experience (when watching content that supports it), but also performs some other clever audio tricks.

Difficult to explain, the system adjusts audio frequencies in each ear to give the illusion that sound is coming directly from your iPhone or iPad, even if you turn away or move the screen. We're very interested to see where Apple gives with this, as we think it could be used for future augmented reality applications, and even as a way to locate lost items using the company's upcoming AirTags, used to hunt down lost possessions.
iOS 14 also introduces a system where AirPods audio automatically switches depending on how you use your devices. End a call on your iPhone and pick up your iPad to watch a movie, and the AirPods will automatically switch from one to the other, for example.
Lastly for AirPods, iOS 14 now has a low-battery notification for when the earphones fall to 10 percent.
App Clips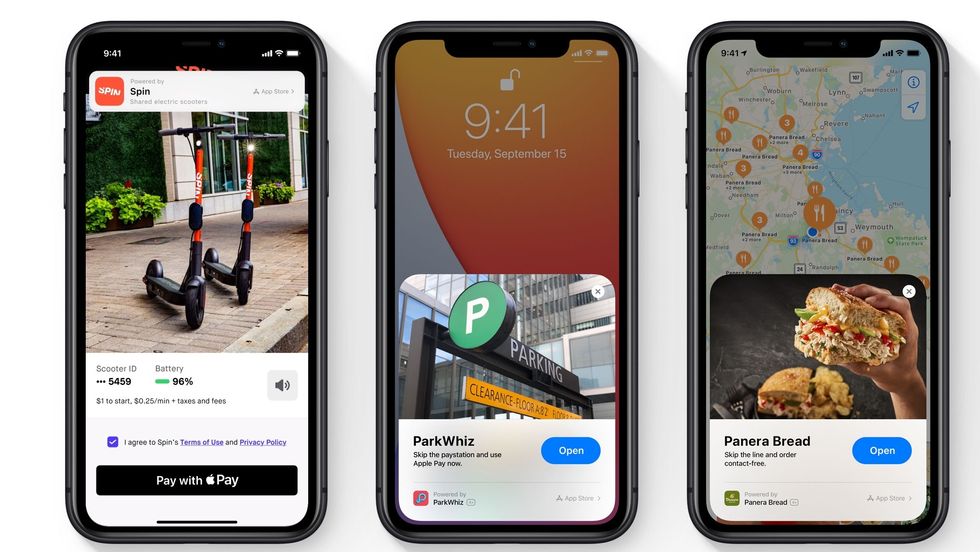 App Clips in iOS 14Apple
App Clips are essentially miniature versions of iOS applications. Say you want to hire an electric scooter but don't have the necessary app. You can download a small App Clip that includes just the features of the app you need to make a payment and hire the scooter; no account setup or any other steps to go through.

App Clips can also be used to quickly pay for parking without downloading the entire app, or ordering food online for collection. How Apple Clips matures will be in the hands of third-party developers, and hopefully we'll see more of this when the new iPhones are announced in a few weeks' time.
Siri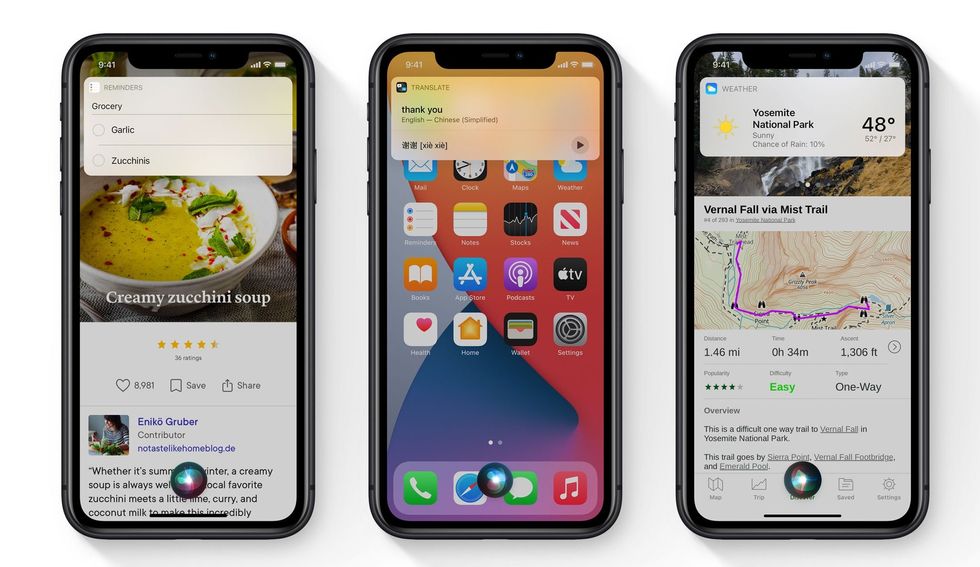 Redesigned Siri in iOS 14Apple
Still feeling like an unloved child, Siri hasn't taken the fight to Alexa and Google Assistant in the way we expected it to. Nevertheless, for iOS 14 Apple has rolled out some useful new features.

Like phone call notifications, Siri no longer takes up the entire display when it is summoned. Instead you get a small Siri icon at the bottom of the screen to show the assistant is listening, and its answers appear in notification windows too, meaning you can still see the app you were using underneath.
Apple also claims Siri now has 20 times as many facts than three years ago.
Car keys in Wallet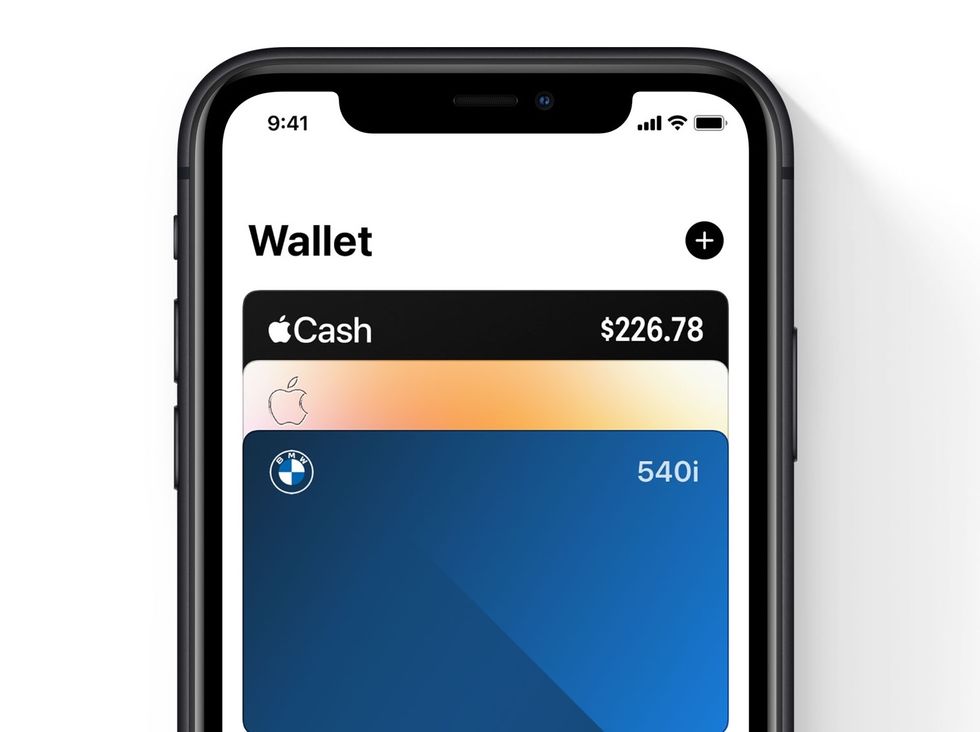 A digital car key stored in the iOS 14 Wallet appApple
Starting with iOS 14, the Wallet app can now be used to hold digital car keys. Only the new BMW 5-Series is capable of this for now, but no doubt more manufacturers will get involved and allow owners to start their cars by simply having their iPhone nearby.

These digital keys can also be shared with others via iMessage, making it easy to let friends and family drive your car without giving them the physical key.
Those are our highlights for iOS 14, but there is much more besides. You can see a full list of what's new on this page of the Apple website.
Like GearBrain on Facebook