Like GearBrain on Facebook
Audi today revealed its latest electric car, called the A6 e-tron Concept, at the Shanghai auto show. Although described as a concept vehicle not for sale, Audi says the car shown here is 95 percent of what customers will get once the A6 e-tron goes into production in 2022 or 2023.
Despite the name, Audi says the car isn't an electric replacement for its A6 sedan range, but will instead be sold alongside piston-powered versions of the A6. The new car is built on the new PPE (Premium Platform Electric) platform, which is modular, scaleable and will be used as the foundations for a whole range of electric cars from Audi.
Read More:
The platform can be adjusted in size and configuration to work with sports cars, sedans and SUVs. Using the PPE system will simplify things for Audi, as it currently builds electric cars on a range of platforms. The e-tron GT uses the same J1 underpinning as its Porsche Taycan sibling, while the Q4 e-tron SUV sits on Volkswagen's MEB platform.
Audi says the A6 e-tron has a pair of electric motors creating all-wheel-drive and producing a combined 468 horsepower.
The car uses an 800-volt architecture, as will be commonplace across all vehicles built using the PPE platform, and this means fast charging – Audi claims up to 186 miles of range can be added to the 100kWh battery in just 10 minutes. The company also said today how the battery can be charged from five to 80 percent in under 30 minutes. Range will be over 400 miles, Audi says, putting the A6 e-tron on par with the Tesla Model S Long Range and its 412 miles of range.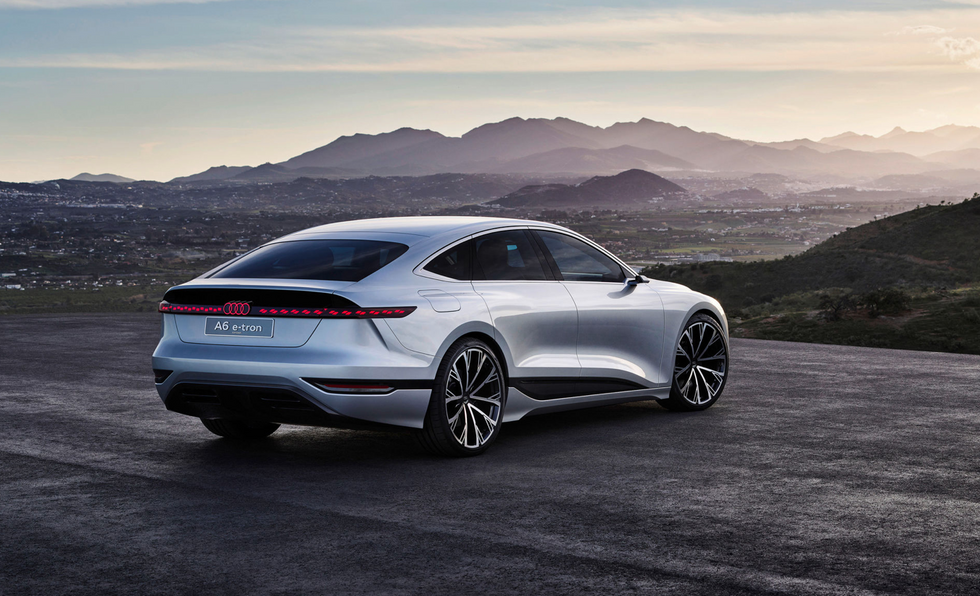 The A6 e-tron has a range of over 400milesAudi
Audi hasn't shown off the interior yet and isn't sharing many details about performance, other than stating a 0-62mph (100km/h) time of less than seven seconds for the entry-level model. The company also said how higher-performance variants will cut this time to "well under" four seconds.

Because this is a concept car, Audi has let loose when it comes to toys and technology. One key feature that may (or may not) make the production car is an outwards-facing projection system. Four high-resolution LED projectors, integrated into the corners of the car, generate turn signal projections, while other projectors display warning symbols on the ground, for example to warn an approaching bike rider that a door is about to open.
Audi goes on to say how projectors in the headlights could be used for entertainment too. The company said: "If, for example, the Audi A6 e-tron concept is parked in front of a wall during a break to recharge the battery, the driver and passengers can pass the time playing a video game projected onto it. Instead of a small screen in the cockpit, they'll see their respective game's virtual landscape projected onto the wall in XXL format...players control the game via smartphone."
We think this is a fun idea and a clever use of projector technology, but we also wonder how expensive these components would cost, not only to fit on a new car but also to replace after an accident.
From Your Site Articles
Related Articles Around the Web
Like GearBrain on Facebook