Like GearBrain on Facebook
Tesla may have enjoyed a few years of relatively little competition, aside from the occasional Nissan Leaf, Chevy Bolt, and Renault Zoe. But things are about to change — and quickly.
Automakers with centuries of combined experience are preparing to release a huge range of electric cars over the next few years, as billions of dollars, euros, pounds and yuan is pumped into battery-powered vehicles.
August 2020: This article has been updated to reflect vehicles that have been delayed in 2020 due to the coronavirus pandemic, and new EVs now on the horizon.

Read More:
The market will be flooded with EVs of all shapes and sizes, from city cars and sedans, to luxury limos, SUVs and even a scattering of plug-in supercars, too.
Here is a brief look at the electric cars we can expect to see in the near future.
Audi e-tron GT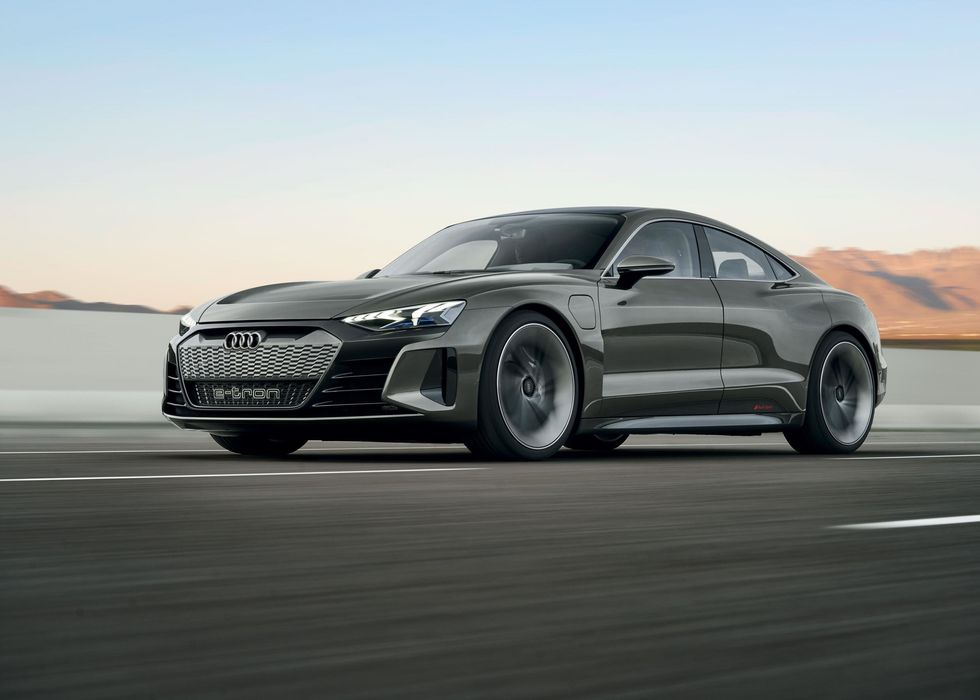 The e-tron GT is expected in 2020 Audi
E-tron is the name Audi currently gives to all of its electric cars, starting with the e-tron SUV which launched in 2019. Next up will be e-tron SUV Sportback later in 2020, and then in 2021 we can expect to see the e-tron GT.
A sports saloon, the GT is expected to share some of its components (not least an 800V charging system) with the Porsche Taycan, due the same year. From the Audi we can expect to see around 250 miles of range, two motors providing all-wheel-drive, and likely in the region of 600 horsepower.
Only shown as a concept for now, we expect to see Audi soften the GT's lines and creases before it lands in dealerships sometime in 2021 or 2022.
Honda e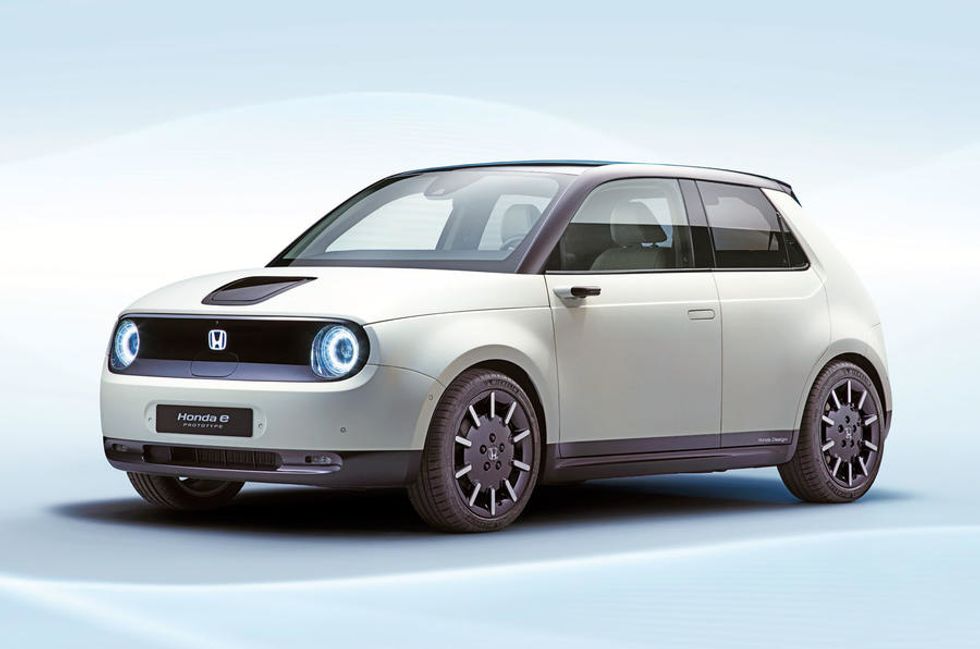 The e will go into production in Europe in 2020 Honda
First shown off a retro concept car back in 2017, popular demand meant Honda is about to put the adorable car, simply called the e, into production towards the end of 2019.

The range will be in the region of 125 miles, and although small the car is likely to be pitched as a compact but tech-heavy and luxurious item, as Honda looks to position itself as the Apple of EVs.
As of August 2020, the Honda is now available, but only in Europe for now. If the compact car is a success there, however, Honda may well bring the e to the US in the first half of the next decade.
Mini Electric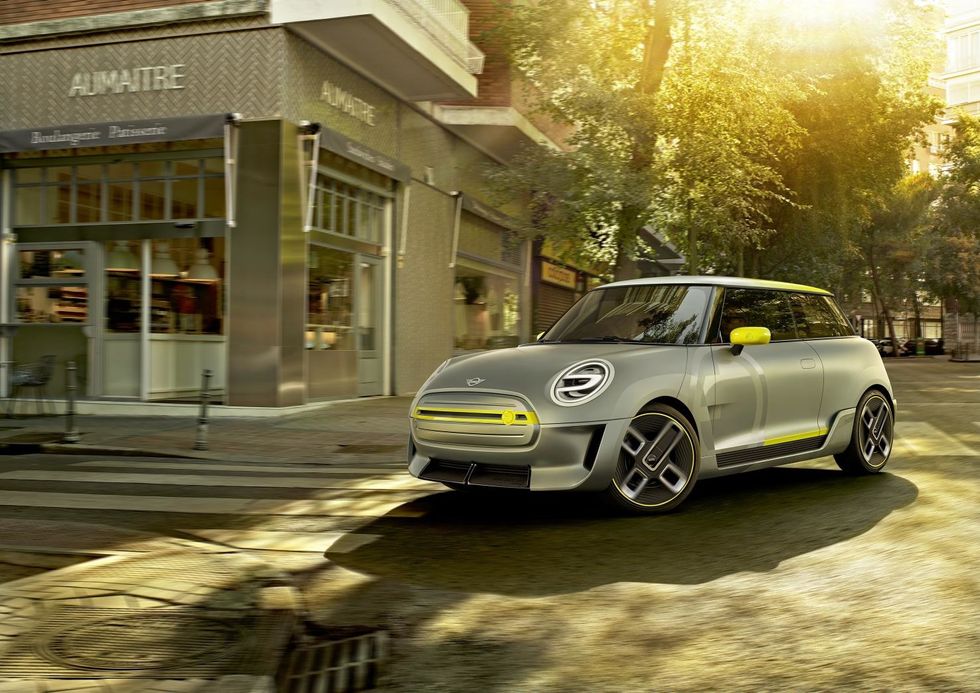 The electric Mini will be based on the BMW i3 BMW
A decade after BMW began experimenting with a small fleet of electric Minis in the U.S., the company is almost ready to go mainstream with its latest take on the Sixties' icon.

Called the Mini Cooper SE, the car shares some of its components — including its electric motor — with the BMW i3, and range is expected to be around 150 miles.
The Mini E went on sale in Europe during the summer of 2020, and will soon be available in the US too, priced from $29,900.
Volkswagen ID.3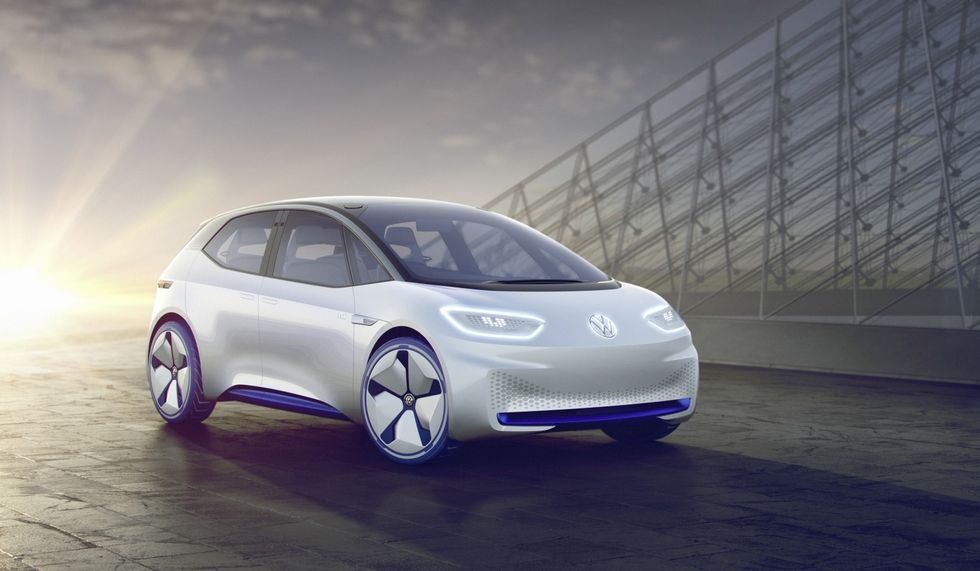 The ID.3 is VW's first all-electric car from its new ID range Volkswagen
Volkswagen has been teasing its first mass-produced electric car for a couple of years now, and finally the order books for the ID.3 are open. The car is similar in size to the company's every-popular Golf hatchback, but with a thoroughly modern design and a range of up to 260 miles, as measured by the WLTP standard.
European deliveries will kick-off towards the end of 2020, but the U.S. will have to sit this one out, as Volkswagen of America has decided an electric hatchback is not something its buyers will be interested in in large enough numbers. Thankfully, VW has plans for dozens more electric vehicles over the coming decade, many of which will be sold in the US.
Porsche Mission E Cross Turismo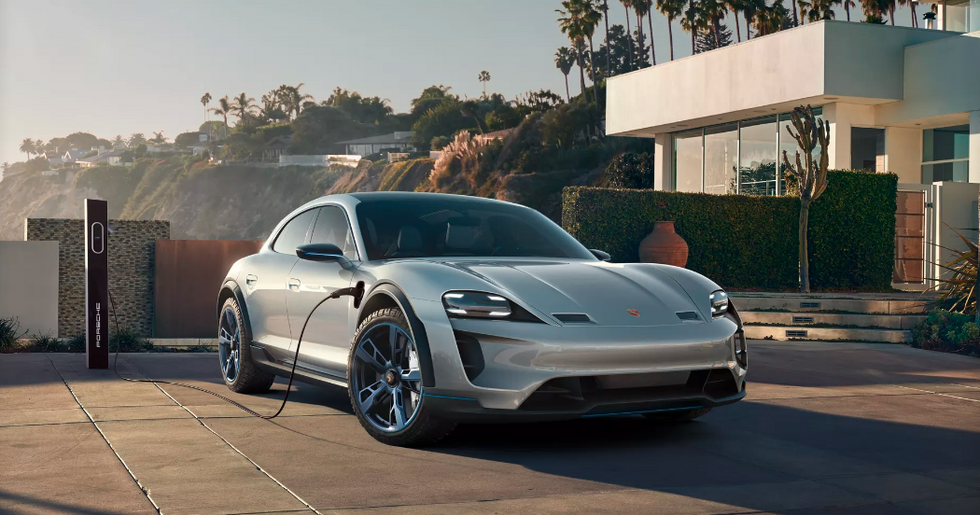 A concept for now, the Cross Turismo should arrive in the next couple of years Porsche
Based on the same platform as the Taycan, the Mission E Cross Turismo has only been presented as a concept for now, but Porsche says it will go into production sometime after the Taycan, likely in 2021 or potentially 2022 due to delays stemming from the coronavirus pandemic.

The Cross Turismo sits a little taller than the Taycan. But offers similar performance and hopefully a similar range of around 310 miles from a charge.
BMW Vision iNext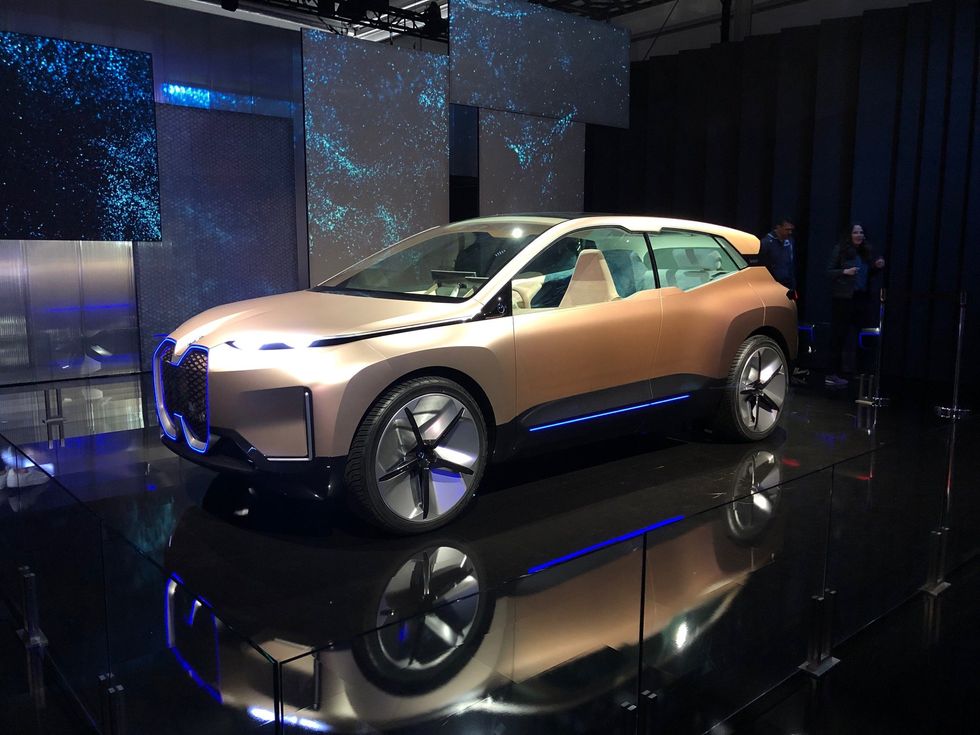 BMW Vision iNext concept GearBrain
Very much a concept for now, the iNext is what BMW thinks the future of the electric SUV might look like. The car features innovations like back-lit and touch-sensitive fabric which reacts when you tap and swipe at it.

In February 2019, BMW released photos of the iNext undergoing winter testing in Sweden, ahead of its expected launch sometime in 2021. BMW claims the car will be capable of 400 miles of driving between visits to the charging stations, well above what any other electric car is currently capable of.
Mass production of the iNext will begin at BMW's Dingolfing, Germany factory in 2021, and the car is claimed to feature advanced autonomous driving systems, and connected car services.
In the meantime, BMW is also working on an electric version of it X3 mid-size SUV, called the i3X. This car launched in the summer of 2020, but is not destined for the US market.
Rivian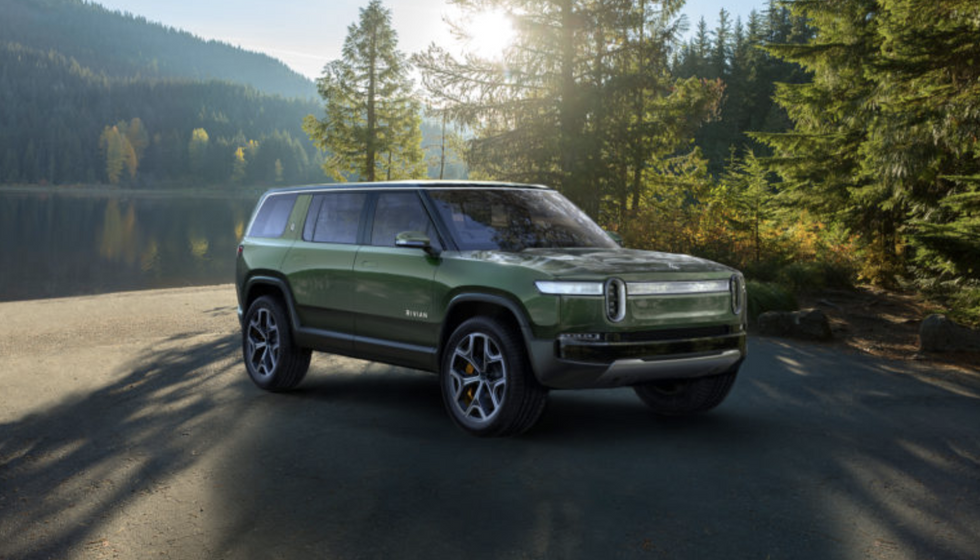 The R1S SUV has a claimed range of 400 miles Rivian
Rivian, a startup based in Michigan, is hoping to find a niche in the market by producing electric cars with genuine off-roading capabilities. It is working on the R1s SUV and the R1T pickup truck.

Available with various battery sizes, the largest is 180kWh (80 percent larger than the biggest sold by Tesla) and offers a range of up to 400 miles, Rivian claims. The huge batteries are protected against off-roading damage with Kevlar and carbon fiber.
Despite their large size and chunky design, Rivian claims the R1T and R1S can both hit 60 mph in three seconds and pass 100 mph in a supercar-bothering seven seconds.
Mass-production was due to start in 2020, but has been delayed until 2021 due to the coronavirus pandemic. However, the company raised an extra $2.5 billion of investment in the summer of 2020, ensuring that 2021 target will be met. Prices are to start from around $60,000 after incentives. Deposits can be placed now.
Ford has invested $500 million in Rivian, and together the two companies will produce a Ford-branded electric pickup truck.
Byton M-byte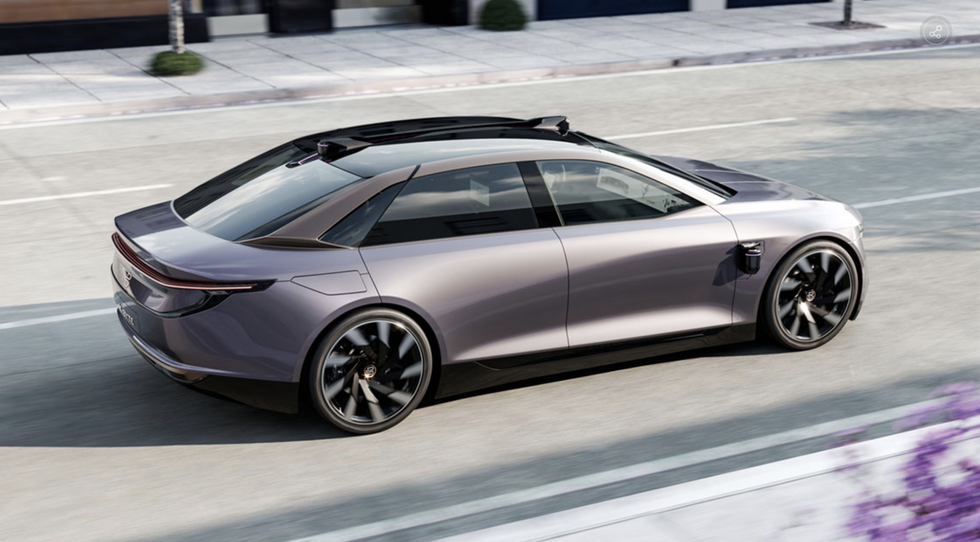 The M-Byte is due to go into production in late-2019 Byton
Hoping to success where Faraday Future has so far failed to do, Byton wants to produce a direct rival to Tesla, but by offering even more technology. Its first car, the M-byte, will have a hugely futuristic interior, featuring a massive 48-inch dashboard touch screen which stretches the entire width of the cabin.

The car will have a second touch screen between the front seats, and a third attached to the front of the steering wheel. It is important to note that these are not concept gimmicks; the car shown off at CES in January in 80-90 percent ready for mass production, Byton said.
Starting at $45,000 and offering a 250 mile range (a pricier model will have 325 miles of range), the M-byte was due to go on sale at the end of 2019, but this didn't happen. Then, once the coronavirus pandemic hit, Byton announced in July 2020 that it would suspend its business for six months, with all production staff furloughed until further notice.
Lagonda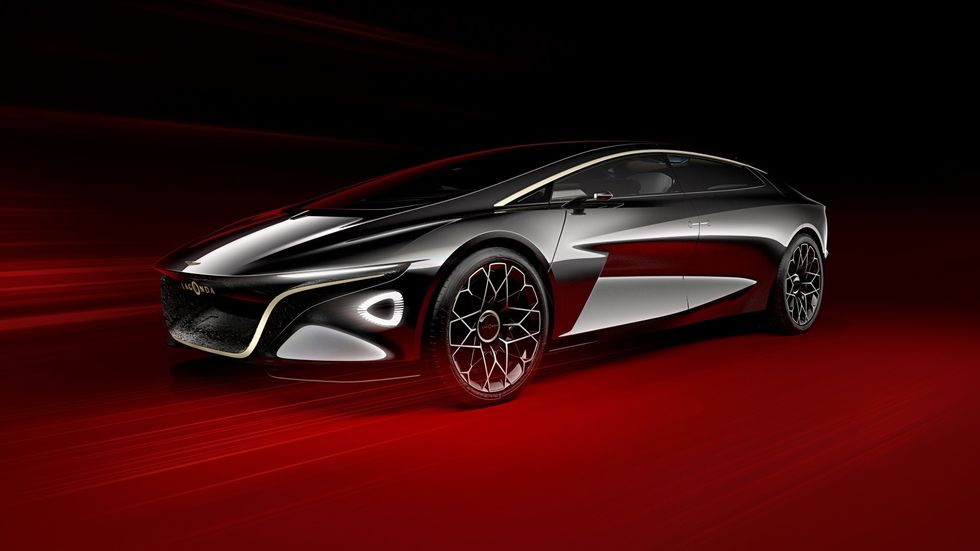 The revived Lagonda name will be used by luxurious electric limosAston Martin
The Aston Martin-owned Lagonda brand was due to be brought out of hibernation in 2021 with the launch of a new line of luxurious electric limousines. The first was supposed to be based on the Vision Concept, which was first shown at the Geneva Motor Show in March 2018, with more models to come later.

However, plans to start production in 2023 were halted in January 2020, when Aston Martin investor and Canadian billionaire Lawrence Stroll announced delayed for the Lagonda relaunch until at least 2025. Stroll increased his investment in Aston Martin in 2020, took on the role of chairman and outed CEO Andy Palmer. The brand will now focus on its new SUV, the DBX, in a bid to improve its precarious financial position before considering any investment in electrification.
Tesla Model Y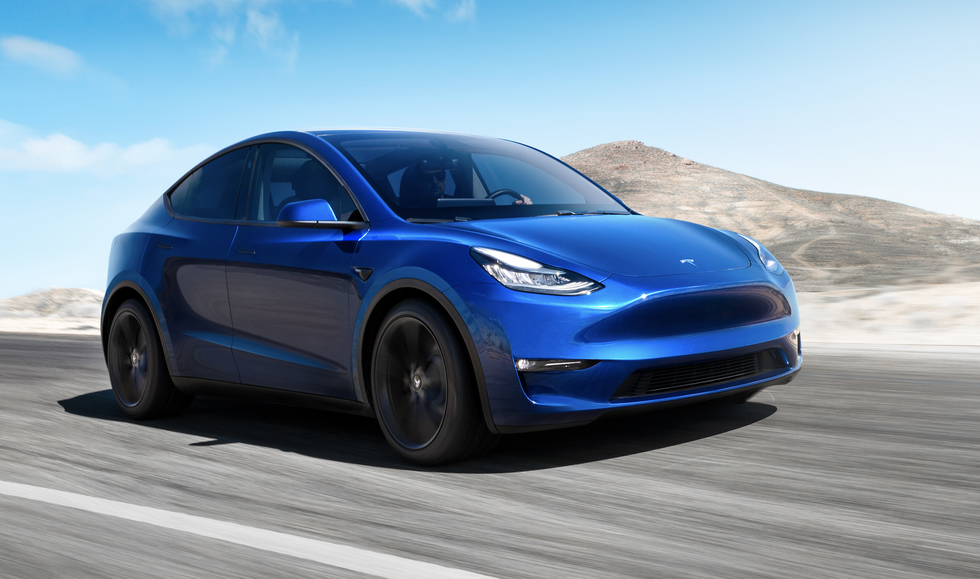 Tesla says the Model Y will go into production at the end of 2020 Tesla
Announced earlier in 2019, the Model Y is a compact SUV based on the same platform as the Model 3 - just as the Model X is based on the Model S, but on a slightly smaller scale.

Tesla says range will be up to 300 miles, while a Performance version will have a 0-60 mph time of 3.5 seconds. Production began in 2020 and deliveries were well underway by the summer.
Tesla Roadster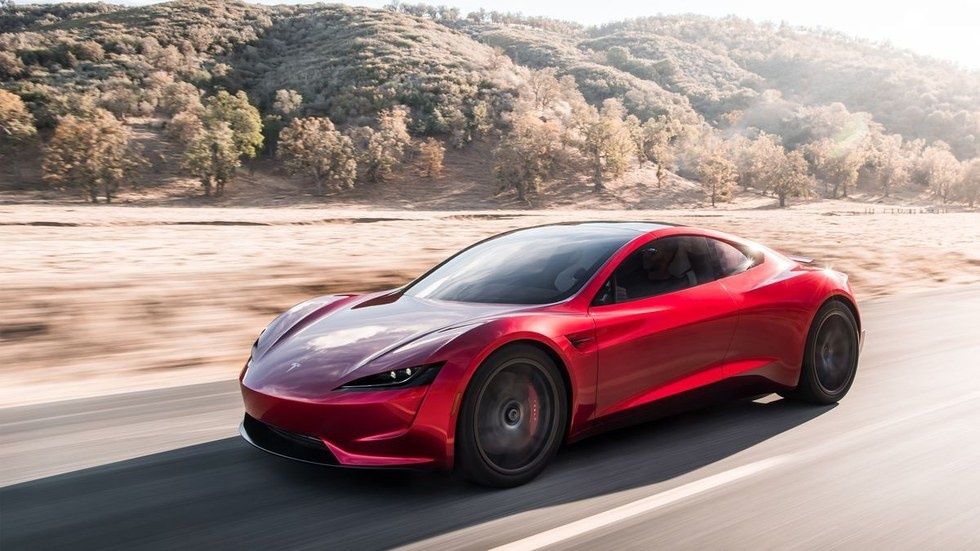 Elon musk describes the Roadster as a 'smackdown' to the supercar establishment Tesla
Another Tesla due at the start of the next decade, the Roadster was described at launch in 2017 by Tesla boss Elon Musk as a "hardcore smackdown' to the gasoline-powered supercar establishment.

Musk promises a 0-60mph time of under two seconds, a top speed of 250 mph, and a range of over 400 miles - figures which sounded impossible in 2017, but which are quickly becoming attainable by other EV startups. What's most remarkable is Tesla charging just $200,000 for the Roadster, when other electric supercars have prices five or ten times higher.
Again, however, we have to mention Tesla's habit of missing its own production goals – and in May 2020 Musk hinted at the Roadster being delayed until at least 2022, putting it behind more pressing projects like Model Y production, the new Berlin gigafactory, the Tesla Semi, and the Tesla Cybertruck, due in 2021.
Tesla Cybertruck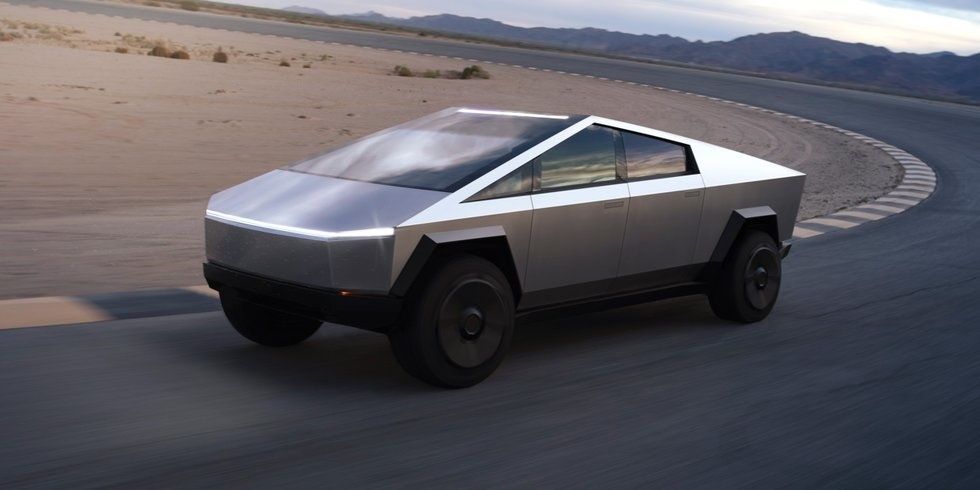 The Cybertruck is to be priced from under $40,000 Tesla
Revealed in 2019, the radical, steel-bodied Cybertruck pickup is claimed to have a range of up to 500 miles and a 0-62mph time of as little as 2.9 seconds in the most expensive three-motor version. Prices for lesser models will start at below $40,000, Tesla says.

Production is said to start in late-2021, but we wouldn't be surprised to see this delayed due to the pandemic's dramatic slowing of the auto industry in 2020.
Automobili Pininfarina Battista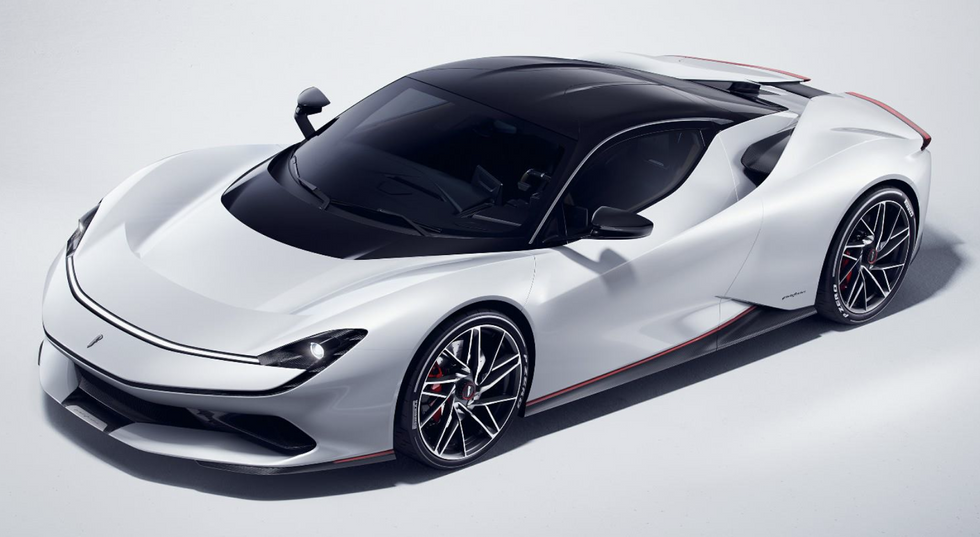 The electric Battista has a claimed 1,900 horsepower and will cost $2m Automobili Pininfarina
Our belief in Tesla to match its own performance claims with the Roadster was bolstered in early 2019 by the unveiling of the Battista, by Automobili Pininfarina. This car has 1,900 horsepower, a sub-two-second 0-60 mph time, and a claimed range of 280 miles.

Just 150 examples will be built, split evenly across the U.S., Europe and the rest of the world, and they are priced from $2 million. Buyers are expected to spend significantly more tailoring the car to exactly how they want it.
Lotus Evija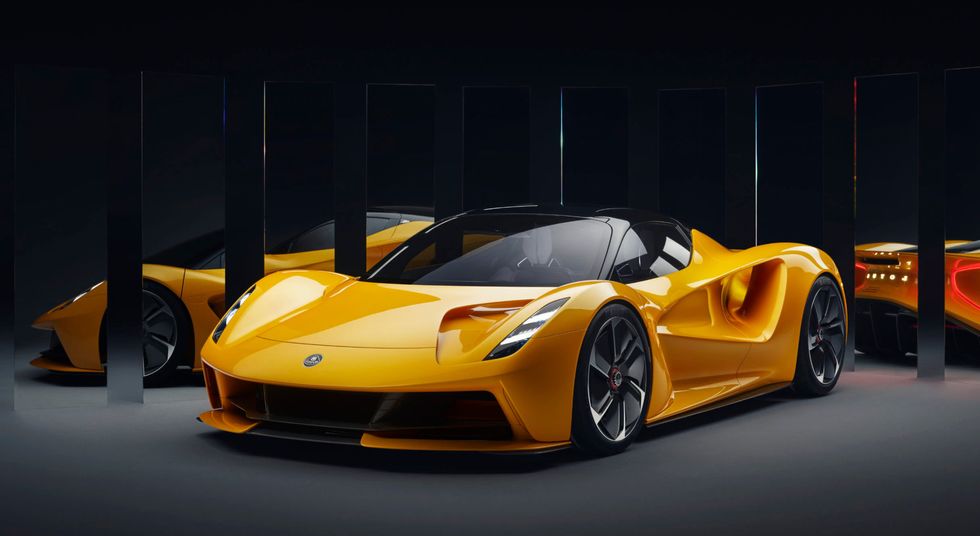 The Eviya is due in 2021Lotus
Another all-electric hypercar is due to land in the next couple of years is the Evija by Lotus, the English sports car company. Announced din July 2019, the Evija is to be the most powerful production car ever, with 2,000 horsepower a four-motor all-wheel-drive system, and a range of 215 miles.

The price will be high, of course, and just 130 examples will be built. What we're most interested in is how Lotus, a company famed for making its cars as light as possible, can stick to this DNA when the huge batteries demanded by such a high-performance car are inherently very heavy. Production is due to begin in late-2020 ahead of deliveries starting in 2021.
Polestar 2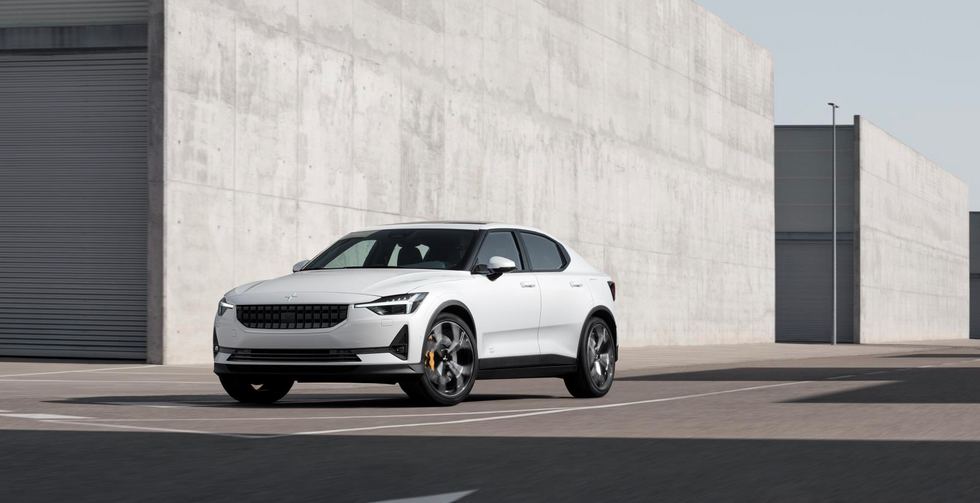 The electric Polestar 2 features an infotainment system built entirely on Android Polestar
The Polestar 2 is the first car to feature an infotainment system and dashboard display which runs natively on Android, Google's mobile operating system.

Shown off at the Geneva International Motor Show in January 2019, the car is the second to come from Polestar, a division of Volvo. While the original Polestar was a hybrid, the Polestar 2 is an all-electric family sedan with a claimed range of 275 miles.
The 2 is now on sale, priced from $59,900 in the US.
Volvo XC40 Recharge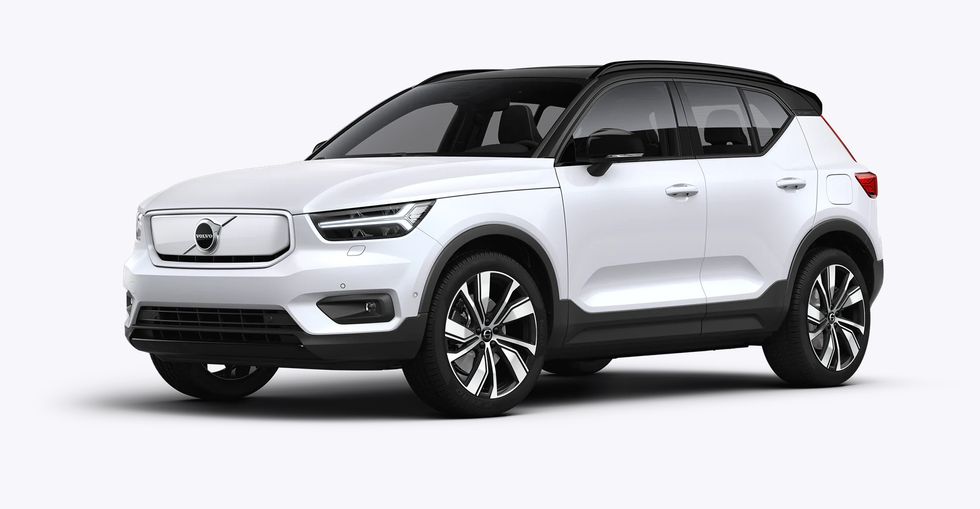 Volvo XC40 Recharge electric SUVVolvo
Volvo's first electric car, the XC40 Recharge is an all-electric version of the existing XC40, instead of an new car built from the ground up. The car will share its electrical hardware with the Polestar 2, as both companies are owned by Chinese automotive giant Geely, and it will be followed by a similarly electrified version of the larger XC90 SUV.

XC40 Recharge buyers can expect in the region of 400 horsepower and a range of around 250 miles. It will be priced under $48,000 after the federal EV tax credit is taken into account.
Jaguar XJ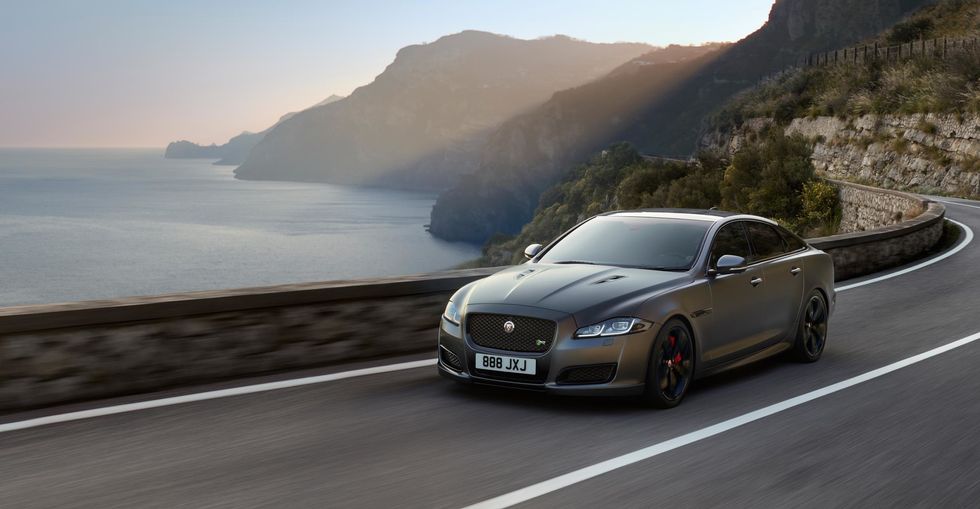 The outgoing XJ, pictured, is expected to be replaced by an all-electric model in 2020Jaguar
Finally, Jaguar is expected to launch an all-new version of its XJ luxury sedan in 2020, and it will be powered by a drivetrain related to that of its first electric car, the I-Pace. However, due to the pandemic of 2020, the electric XJ could now be delayed until the following year.

The car is expected to square up to the Tesla Model S, Porsche Taycan, and Audi e-tron GT. The new XJ will be the first car is used Jaguar Land Rover's new MLA platform, which will also be used to underpin the next generation of Range Rovers and Jaguar's upcoming (but yet to be formally announced) J-Pace SUV.
Ford Mustang Mach-E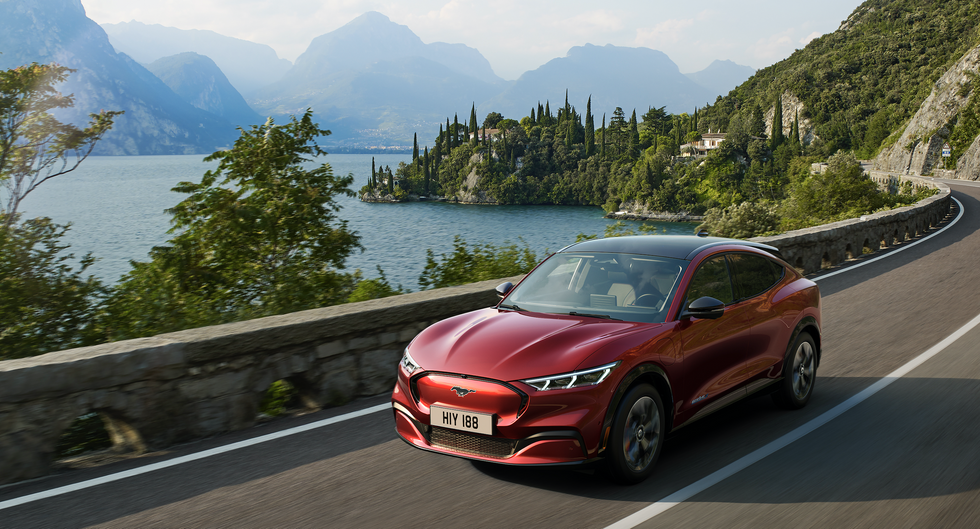 The Mach-E has a 300-mile range and is due later in 2020 Ford
Revealed in late-2019, the Mustang Mach-E is Ford's first mass-produced electric car. It takes styling cues from the company's iconic Mustang pony car, but takes the form of a crossover SUV. The car promises 300 miles of range, has a huge 15.5-inch touchscreen display in the dashboard reminiscent of a Tesla Model X, and will be priced from just under $45,000, to $60,500 for the sporty GT model.

Power output for the regular model range from 190 kW to 248 kW (258 to 337 metric horsepower), while the GT gets an uprated front motor to bring total power to 342 kW, which is 465 metric horsepower.
The Mach-E is priced from $43,895 in the US and the first deliveries are expected to arrive in late 2020. A configurator is available on Ford's website now, and orders can be placed with a $500 deposit.
GearBrain Road Trip Gadget Guide www.youtube.com
Like GearBrain on Facebook