Like GearBrain on Facebook
Video Doorbells are an essential connected device for today's smart home, not only notifying you when someone is at the door, but letting you connect remotely from anywhere in the world — as long as you have an internet connection. Smart video doorbells do a good job of keeping an eye on the outside of our home — especially when no one is home — and are growing into one of the key pieces of smart home security system. GearBrain has tested many smart video doorbells, finding a few to be easy to setup, with others a little more complicated. Recently August Home sent us their 2nd generation smart video doorbell, the August Doorbell Cam Pro, and here are some updates we found.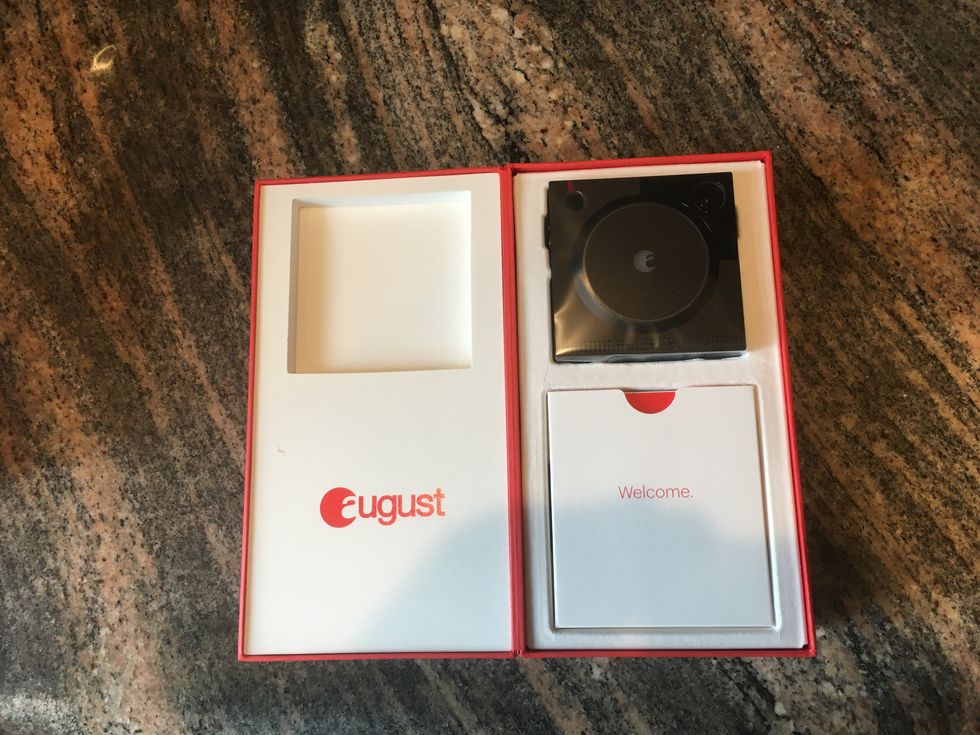 August Home's Doorbell Cam ProGearBrain.com
August Doorbell Cam Unboxing

August Doorbell Cam Pro is the latest smart video doorbell from August Home. Like its predecessor, the August Doorbell Cam, the new Doorbell Cam Pro has HD video (640x480p), 120 field of view (FOV), two-way communication, color night mode, motion detection and on-demand replay in case you miss any visitors. The camera also works with other August smart locks and devices that connect through the August Home app.
Installation
In our previous review of the August Doorbell Cam, we mentioned the installation proved harder than other video doorbells. You had to use dolphin holders to connect the wires — which were not easy — and there were also two mounting brackets that were difficult to install. We are happy to report August Home has improved the installation process with the Doorbell Cam Pro. Dolphin holders aren't required to connect your wires and the mounting brackets are much easier to setup and attach.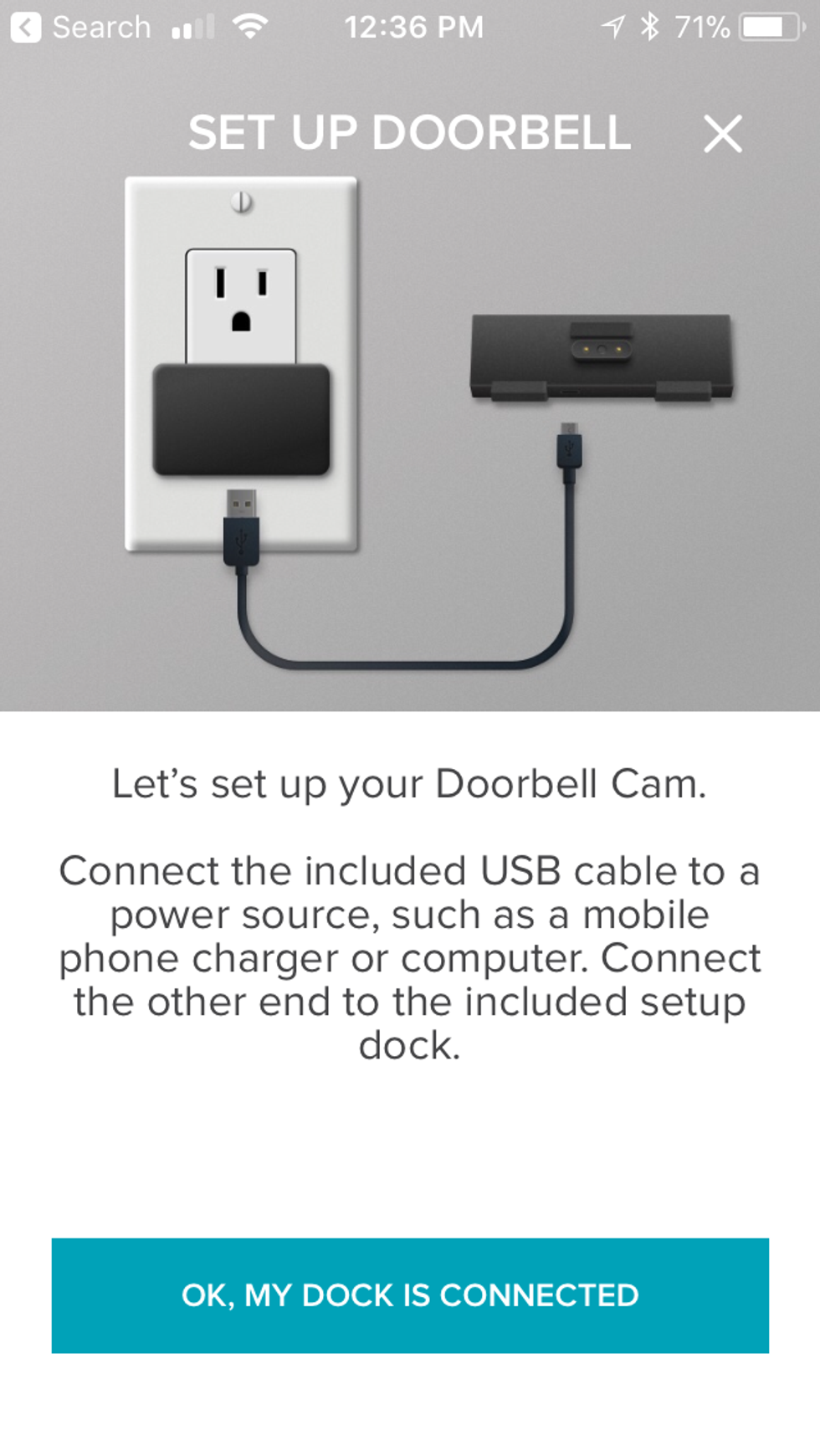 Need to charge August Doorbell Cam Pro before installing. New step in August Home app.GearBrain.com
To install the Doorbell Cam Pro, start by charging the device. Take the USB charging dock, which is inside the box, and and plug it into a smartphone charger — this will allow you to connect to the camera during setup without it having to be on the side of your house, making installation run more efficiently.

During charging, go to the August Home app and follow the "setup up a new device" instruction. If the Doorbell Cam is your first August Home device, you can go to either App Store (iOS) or Google Play (Android) to download the app. If you currently own an August Home product, just go into your August Home app and open settings. There, select "Set up a new device," and choose August Doorbell Cam, then 2nd Generation August Doorbell Cam Pro.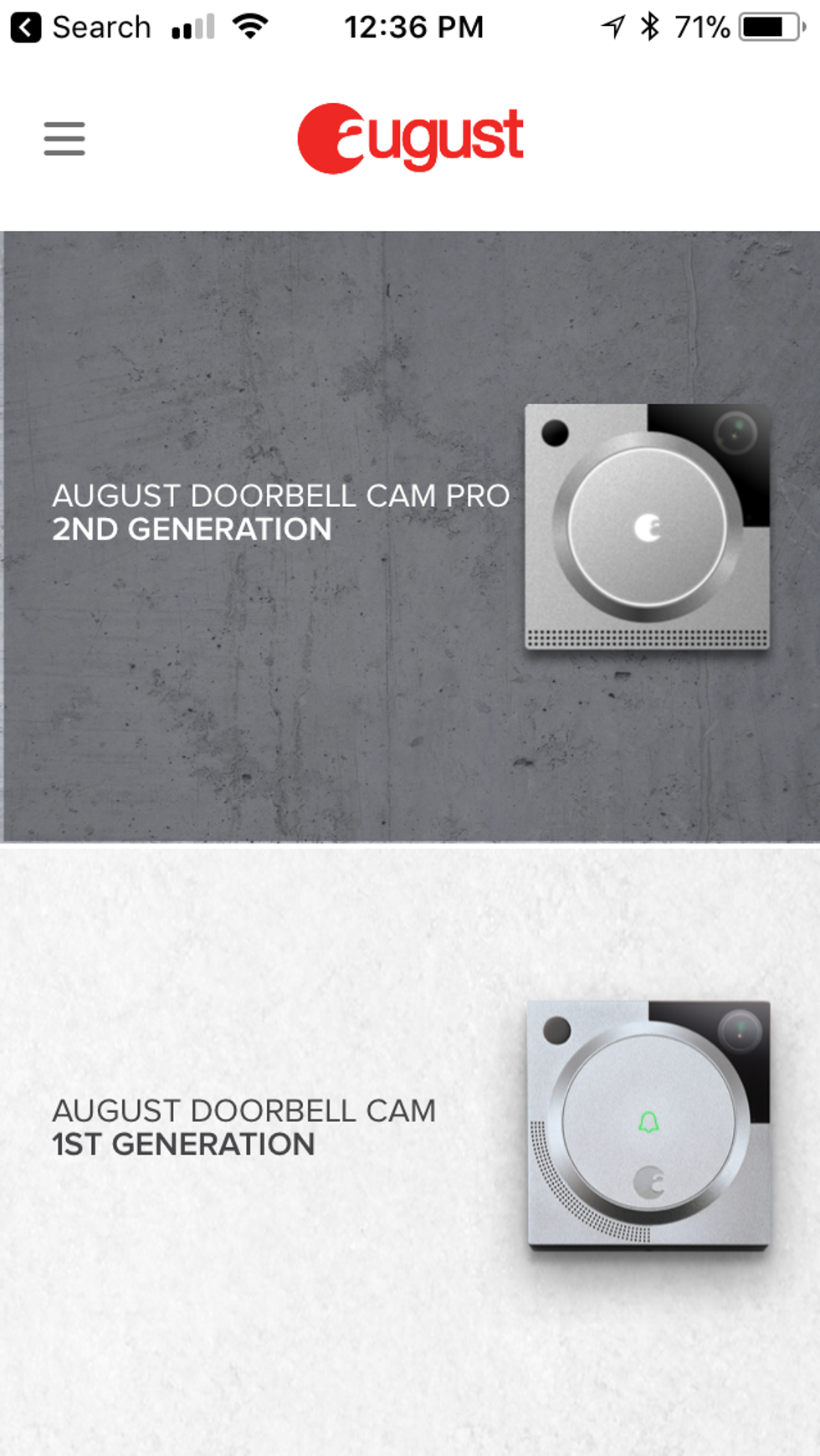 August Home app for Doorbell Cam Pro installationGearBrain.com
GearBrain found the Doorbell Cam Pro's new setup instructions much easier to follow than those of the 1st Generation camera. While we had some Wi-Fi connectivity issues, there were fixed relativity quickly. Pairing the Doorbell Cam Pro with our home Wi-Fi took about 3 to 5 minutes — which seemed a little long. Then we had to go through a firmware update — another 3 to 5 minutes. We also checked the Wi-Fi signal at our backdoor (which you should do to make sure you have a strong enough signal power the video) and it was good. August recommends a signal strength between -66 and 0dBm for good video performance.

August Doorbell Cam Pro vs 1st Gen Doorbell Cam
What's different from original Doorbell Cam to August's new Doorbell Cam Pro? Besides an improved installation process, August has added more upgrades to its mobile app. You can now adjust motion sensitivity, two-way communication has improved, and even though there's a delay when speaking to others, (about 3 seconds due to the connection to the cloud), the sound is very clear and you can easily adjust volume levels.
The new Doorbell Cam Pro also comes with a flood light, an interesting addition. For our test house, we have an outside light above the August Doorbell Cam Pro, and were curious why you'd need a floodlight on a video doorbell if had a light above the door already. We asked August Home.
"The main reason is that the image with a night vision camera produces tones of gray that are not very clear," says a spokesperson. "For example, if you are using the camera as a security tool, which many people are, you can't see the "bad guy's" hair and eye color or clothing. With the floodlight, you can. Additionally, the floodlight also works as a deterrent for potential crimes as it is triggered by motion and purposefully lets the would-be bad guy know that he is being recorded and watched."
Another new mobile feature is the ability to control the chime. Doorbell Cam Pro is compatible with mechanical doorbells, and when someone pushes the Doorbell Cam Pro, the chime will ring through your phone as well as your indoor chime. In the August Home app, you can choose which chime you want to hear and control the volume of the chime that rings. If you have several family members connected to the Doorbell Cam Pro — and they have the doorbell chime on their smartphone — it can get a little loud when someone comes to your door and everyone's smartphone in the house starts ringing. We like the ability to tone this down.
Integration in your smart home

August Home Doorbell Cam Pro works with on either 5GHz or 2.4 GHz Wi-Fi connection. We preferred the 2.4 GHz connection as the lower frequency travels farther through walls in our test house. We recommend you test the Wi-Fi and Bluetooth signal where you plan to install your Doorbell Cam Pro using the August Home app.
If your Wi-Fi signal is not strong, consider adding August Connect or a Wi-Fi extender. While both devices will boost the wireless connection of your Doorbell Cam Pro, we do recommend August Connect if you're using August devices. It integrates nicely, and with the August Smart Lock on our door and an August Connect inside nearby (within 15 feet of the lock), we got a strong wireless signal.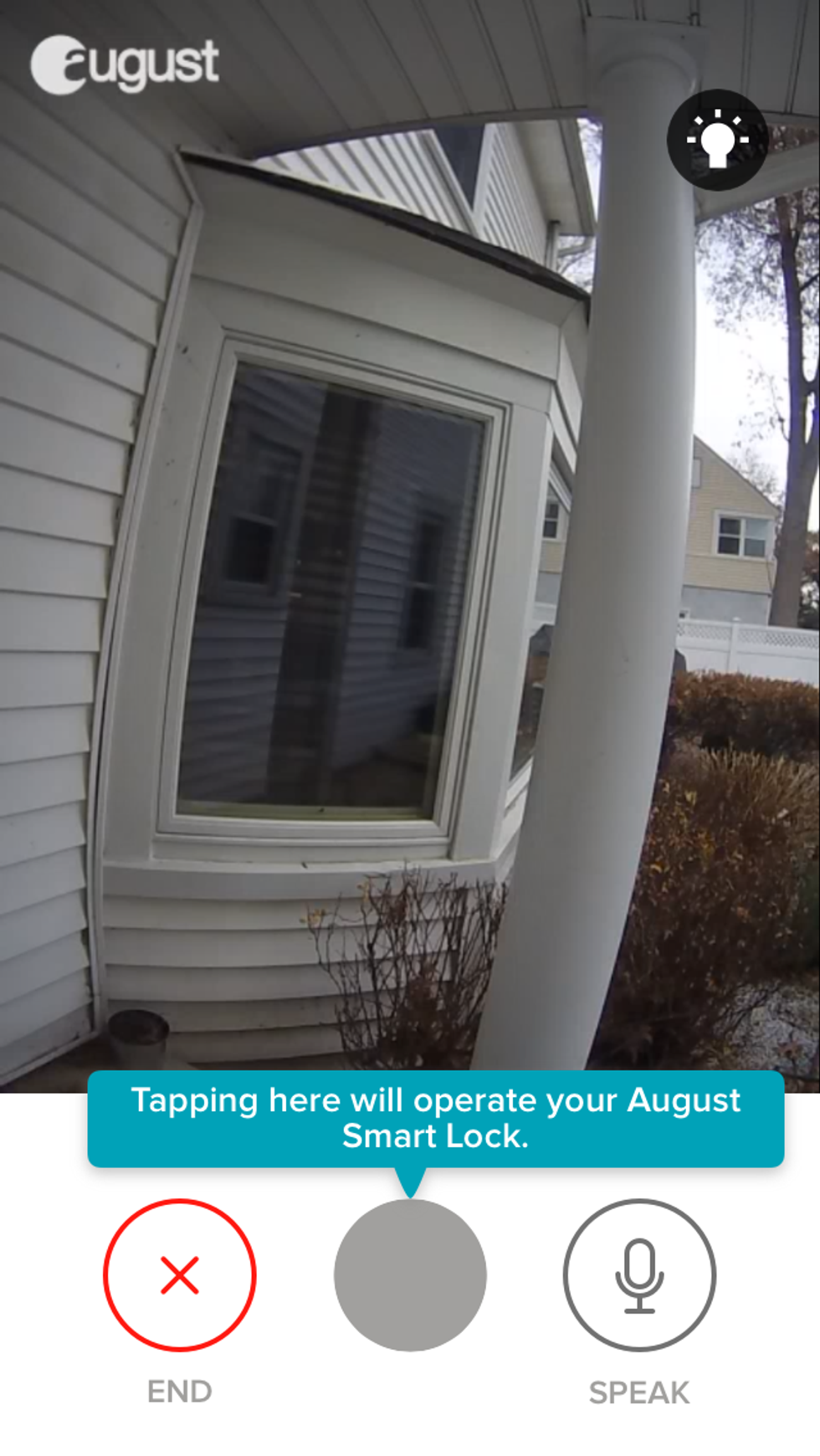 You can easily unlock your August Smart Lock from the Doorbell Cam Pro screen in the August Home app.GearBrain.com
We also liked how easily the Doorbell Cam Pro worked with August smart locks. When someone rings your Doorbell Cam Pro, you can see who is there and talk with them through the August app. On the app screen, next to the talk button, is a icon for your August smart lock. To open the door for the visitor, just hit the August Smart Lock symbol on the screen and your lock will unlock. On other smart video doorbells we've tested, you had to open another app on your smartphone just to control your smart lock.

The August Doorbell Cam Pro retails for $199 and is available on August Home's website as well as Amazon, Best Buy, Walmart and other major retailers. It's is compatible with Nest and Amazon Echo Show. Using the Amazon Alexa app, you need to enable the August Home skill to allow your Echo Show to show video from your August Doorbell Cam Pro. This allows you to operate the device hands-free while working in your home.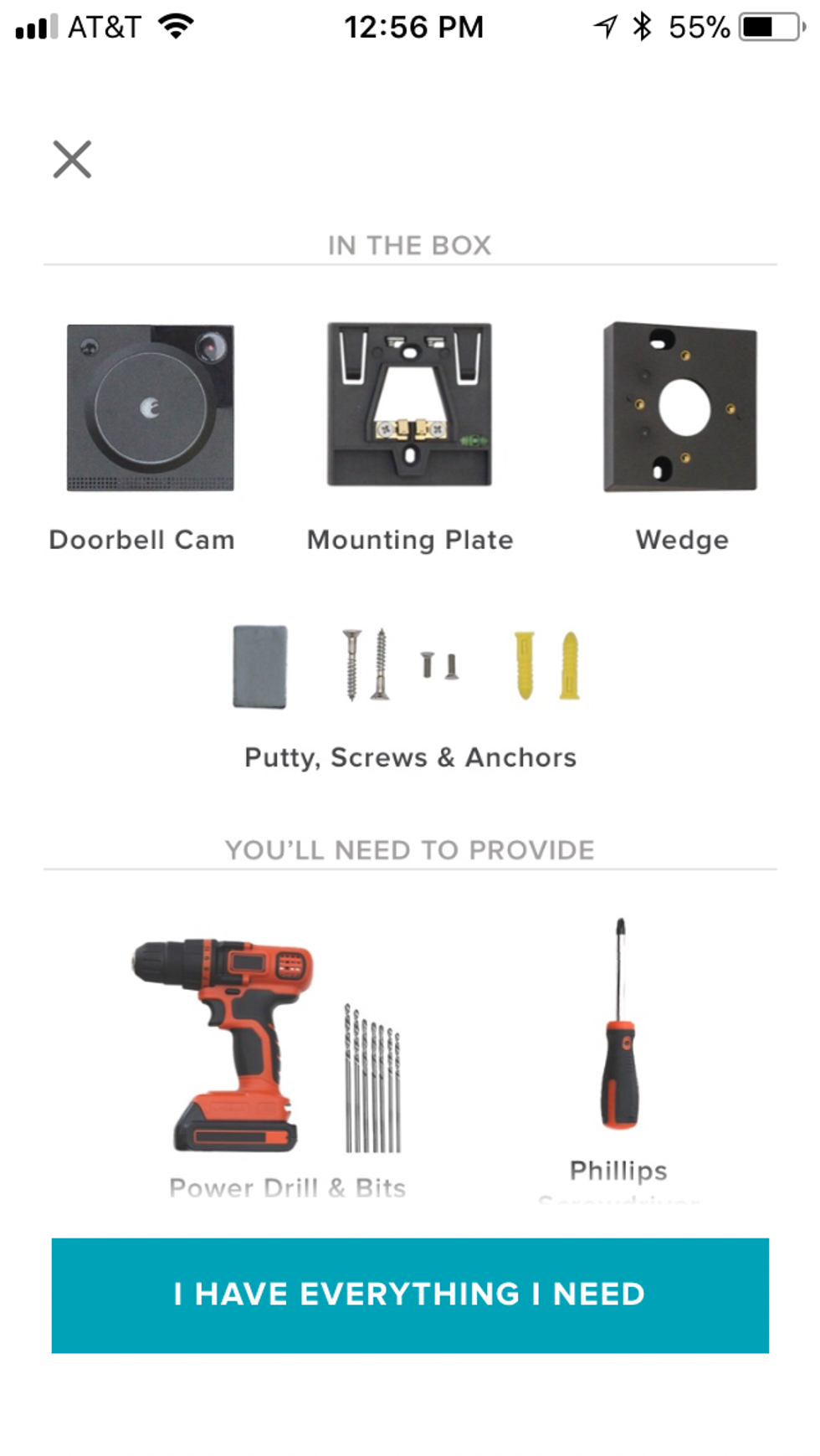 Installing August Doorbell Cam Pro is a lot easier than the 1st Generation Doorbell Cam. You also don't need a lot of tools.GearBrain.com
Summary

The 2nd Generation August video doorbell, Doorbell Cam Pro is a nice upgrade from the 1st Generation. There is improved night mode (color & HD), motion detection & alerts, two-way communication and a simplified installation process. We were a little surprised the field of view (FOV) for this 2nd Generation didn't increase, as many of the competitor smart video doorbells have a larger FOV. Also, keep in mind you will need to get an August video recording subscription if you want to replay recordings of your videos up to 30 days — but it's not a requirement.
If you currently own an August Smart Lock, and are in the market for a smart video doorbell, you will not find a better companion video doorbell than the Doorbell Cam Pro — plus the integration with August Home products makes it a no brainer.
If you don't own an August Smart Lock, and this is your first smart video doorbell, we still think the August Doorbell Cam Pro is one to consider. Keep in mind you need to ensure you have a good Wi-Fi signal near the smart video doorbell — and you can't unlock your door remotely from the August app unless you use an August lock. However, you will be able to see who is there and talk with them day or night.
Specifications
Dimensions: 2.9x2.9 inches
Weight: 1.04 punds
1 Lithium ion battery included
Voltage: 3.7 volts
Warranty: 1 year manufacturer
12-24VAC wired powered mechanical chime required
Wi-Fi Internet Connection (802.11 b/g/n 2.4GHz or 5GHz)
Bluetooth ready smartphone
iOS (9.0 higher) and Android (5.0 or higher)
Pros: good integrations, motion detection, 2-way communication and floodlight.
Cons: video storage fees, FOV, spotty Wi-Fi connection and only works with mechanical doorbells.
[PS7LXS1518771410]
Like GearBrain on Facebook