Smart home company Awair has announced a new air quality monitor called the Element.
Borrowing its design from both the original Awair and Awair 2, as well as the Awair Glow C, the new product offers the same features as the former, but with the more playful look of the latter.
Read More:
Smaller than the regular Awair, the new Element still features the same LED dot-matrix display which gives your air a score out of 100, next to a simple bar graph showing the levels of each variable it measures.
These include temperature, humidity, CO2, VOCs and PM2.5 particles. The display can also show the time, and if any of those variable changes suddenly, the readout will flash a message to warn you.
The Awair Element ditches the wooden, squared-off look of the Awair 2 flagship, and instead opts for a light gray plastic finish with rounded corners and a softer, friendly aesthetic.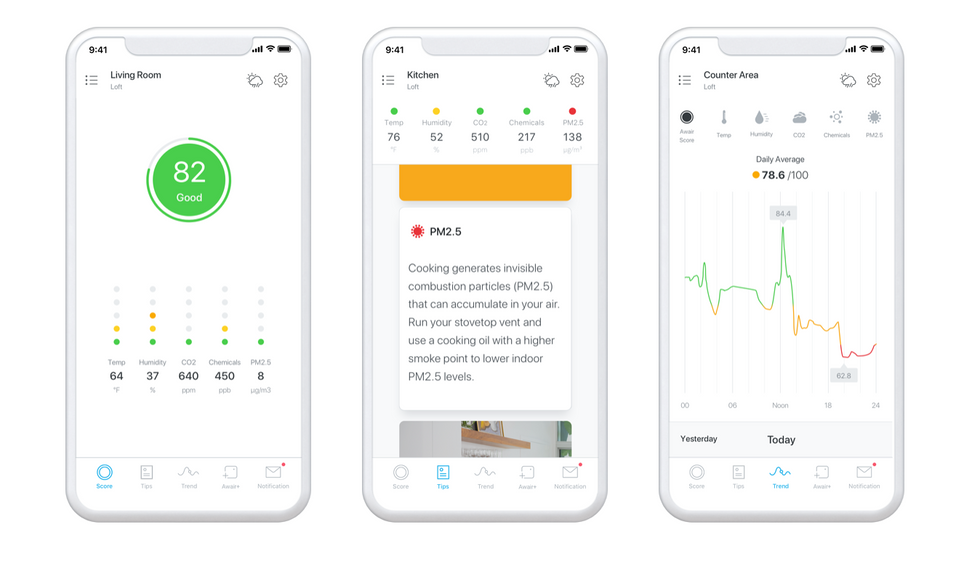 The Awair app is available for iOS and AndroidAwair
As well as working in isolation as an air quality monitor, the Awair Element can also control some of your smart home devices via its connection to your Wifi network. The device can be configured to activate a dehumidifier if humidity levels rise beyond a certain level, for example, or turn down the thermostat if the room gets too warm.

The Awair Element works with Google Home, Amazon Alexa, Ecobee Thermostat, and Sensi Smart Thermostat. Both Ecobee and Sensi Smart Thermostats can respond to Element's air quality readings and can control your HVAC system.
Like the rest of the Awair range, the company's app can be used to tell the Element which room of the home it is in, and what you want to achieve — such as improved concentration in the office, or better sleep in the bedroom.
At $149, the Awair Elements is $50 cheaper than the year-old Awair 2, and $50 more than the Glow C, which offers fewer measurements but also doubles as a smart plug.
At this price, the Elements represents decent value and means readers should only consider the more expensive model if they really want its wood finish over the gray plastic Element.
Awair 2nd Edition Air Quality Monitor