Like GearBrain on Facebook
American Greetings came to CES pushing the latest device they believe fits today's digital society: greeting cards. Yes, the 111-year-old company made its first appearance at the Mecca of all things digital to remind people that a simple slip of a paper is really the world's first social media.

"Greeting cards are still a very relevant messaging and communications device," says Christine Rich, director of engagement marketing for the Cleveland, Ohio-based American Greetings. "For folks looking for a meaningful connection, there's nothing like a greeting card."
Before you argue we're in post-paper society, consider this: Wiping your mouth after dinner on an iPhone is not advised, and I've yet to encounter a wrapped present enrobed in pixels. Even print book sales rose 2.8 percent from 2014 to 2015, according to Nielsen, which likes to keep track of these things.
People, it seems, like the feel of paper in their hands. And why not? Paper, at its best, is a tactile material—rarely cold, often rough, there's even a rustle as you brush your fingers along its surface. If you truly need the digital sell, paper is the thinnest device you'll find today, it doesn't need recharging, and its screen is shatterproof.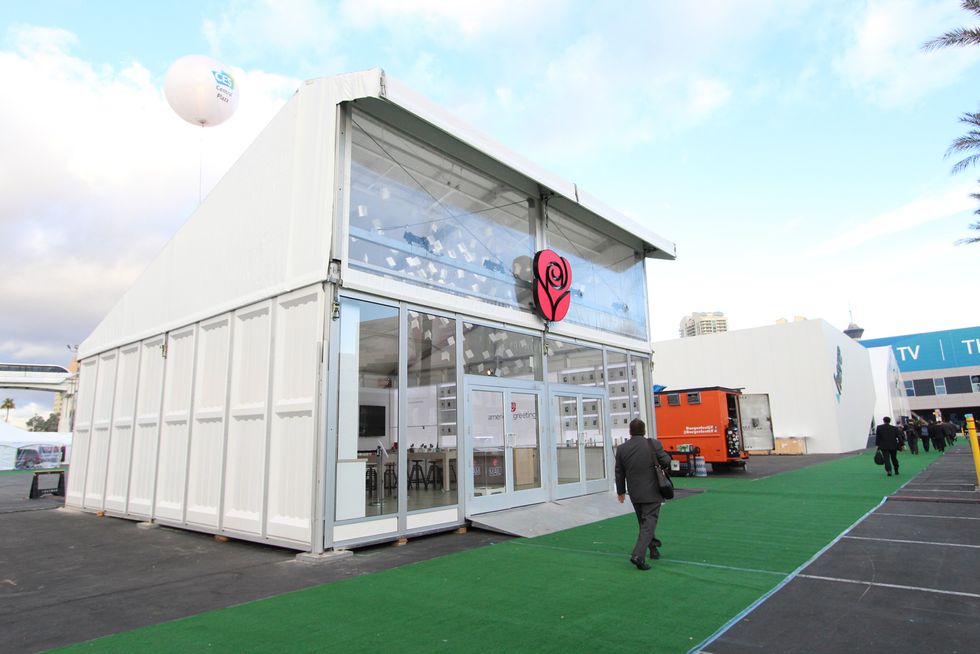 American Greetings outside the Las Vegas Convention Center at CES
American Greetings set up shop in a small tent on the Central Plaza at the Las Vegas Convention Center at CES on Thursday. For those who have never been to CES, this was like a little escape pod in a sea of shiny, buzzing tools. Inside, tables of greeting cards—15,000 to be exact—are lined up, with markers, ink stamps and stickers beckoning conference goers to write something that didn't need a keyboard, a touchpad or a stylus to draft. Actually, American Greetings cleverly supplies those—you probably know them as pencils.
People can write cards, get expert hand-letterers to draft greetings (yes, these people exist) or get a professional to craft your missive if a case of writer's block hit hard. And if you really needed an online experience, you can get your card-writing recorded onto a 30-second clip—and share that online.
There are 10 different designs for the cards, all created exclusively for CES, which will not be sold in stores. American Greetings is even mailing the greeting cards you write on site, and supplying the postage. (That would likely require stamps, stickers you put on a card to send in the mail. And yes, they're made of paper too.)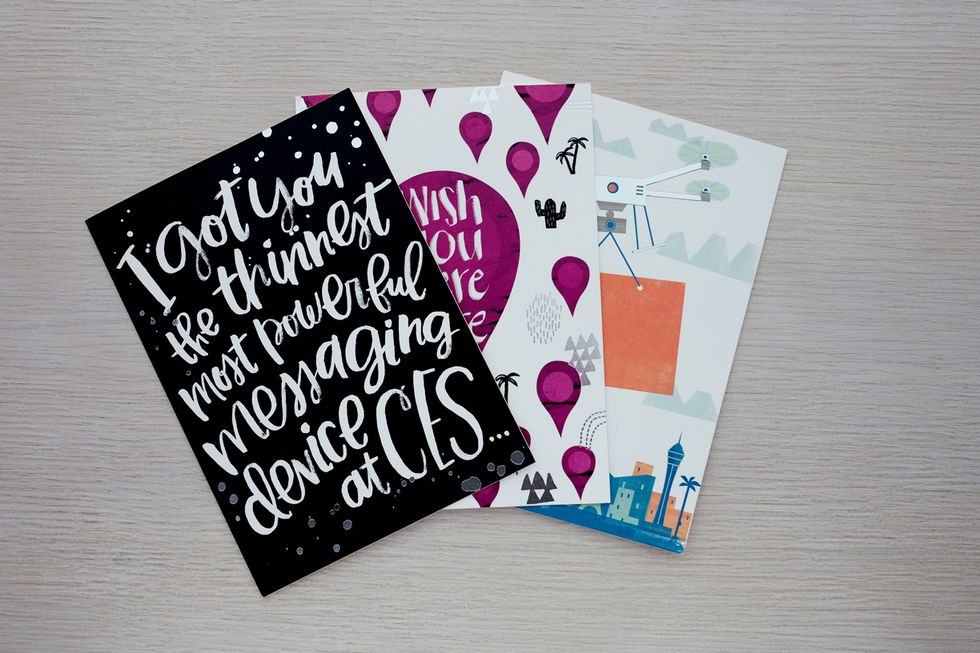 A sample of the cards American Greetings designed just for CES.
Don't think you need to send a card? You're probably wrong. There's likely a birthday coming up of a best pal, or a loved one. Your sister/brother/mother/father/cousin/roommate from college would love to get an update about your life. And trust me, you owe someone, somewhere a thank you note. And no, a text message does not cut it. Never. (Really. No, really.)
So if you're not heading to CES before the close of the show Sunday, there's likely a drug store or card shop somewhere close to your home where cards can be found. If you can afford a cup of coffee, you can pluck down for a paper-crafted missive. No, it's not you, beaming into the next room via digital projection. It's better. It's a physical artifact, you physically touched, then sent to someone who filled your thoughts for a moment in time. And — it will never eat up your data plan.
Related Articles Around the Web
Like GearBrain on Facebook