Pet owners always want the best for their furry friends. From top-notch toys to the finest foods, when your pet is your "baby," you'd do anything for them. So, when new gizmos bring high-tech into the pet world, it makes sense to see what's out there. While pets don't know much about modern gadgets and connected conveniences, if we see something that's both fun and functional, we're all about giving it a whirl. That's where smart dog and cat feeders come in to play.
These connected pet food bowl will take the guesswork out of feeding, and the worry out of leaving pets home alone for a stretch without something to eat. We can't be home 24 hours a day, seven days a week no matter how much we love our furry friends. A pet feeder, then, is a safety net for pet owners who are out of the house a lot, whether they're at work or school.
These smart dog and cat feeders are popular and pet-friendly, and when you find the one that makes both you and your pet happy, feeding time is not only smarter, but more satisfying.

Read More:
PetSafe Smart Automatic Pet Feeder for iPhone and Android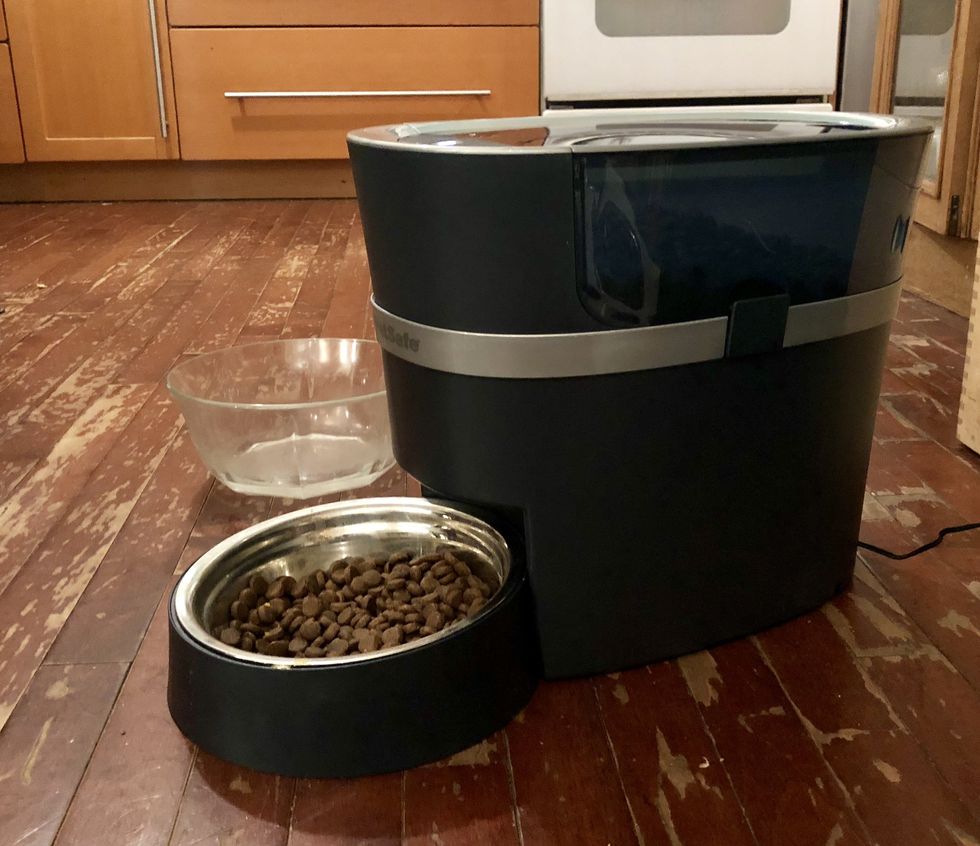 You can use both dry and semi-moist food with the PetSafe Smart Automatic Pet Feeder
GearBrain
GearBrain reviewed the PetSafe Smart Automatic Pet Feeder, finding it worked well for dog owners. The $195 connected bowl is customizable, smart phone app-connected and easy-to-clean, doing an overall great job in terms of function, safety, and portion control. You can set up to 12 meals ahead of time, from when you want your pet to eat to how much they'll be served. Both dry and semi-moist food can be filled into the feeder, making it a nice option for pets with discerning palates. No matter the size of your pet, the device will be able to handle the content of chow — from a mini 1/8 cup portion to a hefty 4 cups per pop. The app keeps you in the loop with alerts as to when mealtime is and when your pet has eaten. It's not cheap, but the cost is worth the convenience.
Sure Petcare Microchip Pet Feeder Connect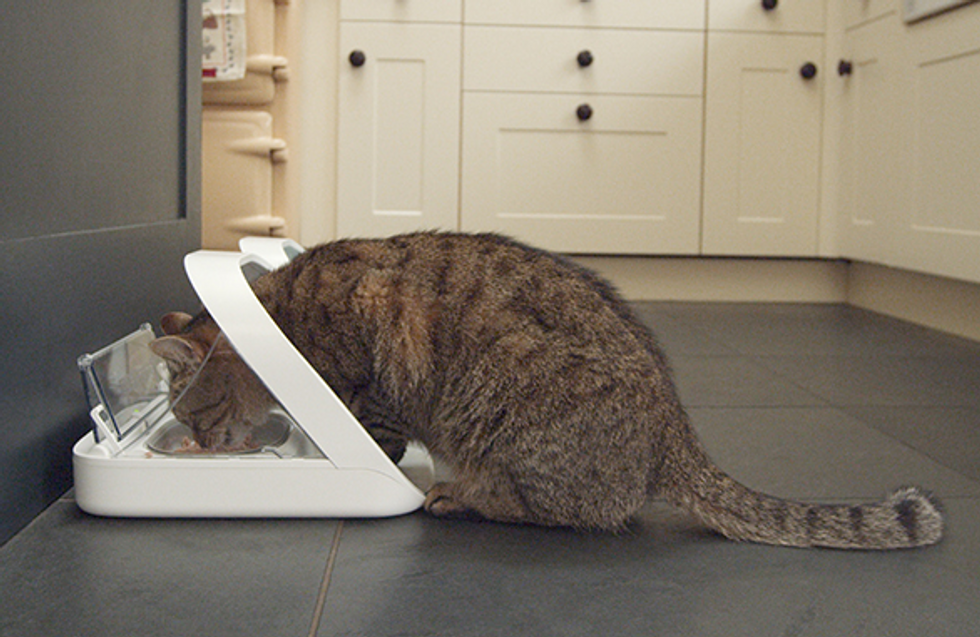 A microchip reader in the Sure Petcare's Pet Feeder Connect lets you know exactly which pet is eating, and how much
Sure Petcare
Plenty of us have our pets microchipped in case they go missing or for medical reasons. But why not put this handy chip to use for feeding? It's already inside your pet, so you're halfway there. Now all you need is Sure Petcare's Microchip Pet Feeder Connect and mealtime is as modern as ever. App-connected from the hub and super-accurate, this futuristic feeder not only looks cool, but is compact and convenient. Particularly useful for a multiple pet household, the smart bowl knows which pet has stepped up to the plate (so to speak), and monitors how much they're supposed to get and how much has been consumed. No more stealing Fido's food when the gadget only opens when the right pet is in place and if it's time for them to eat. When not in use, the bowl stays sealed, keeping food fresher. Built-in scales allow for accuracy, and the easy-to-clean parts make post-mealtime a snap. You can pre-order the $160 smart feeder now.
Furbo Dog Camera (and Treat Dispenser)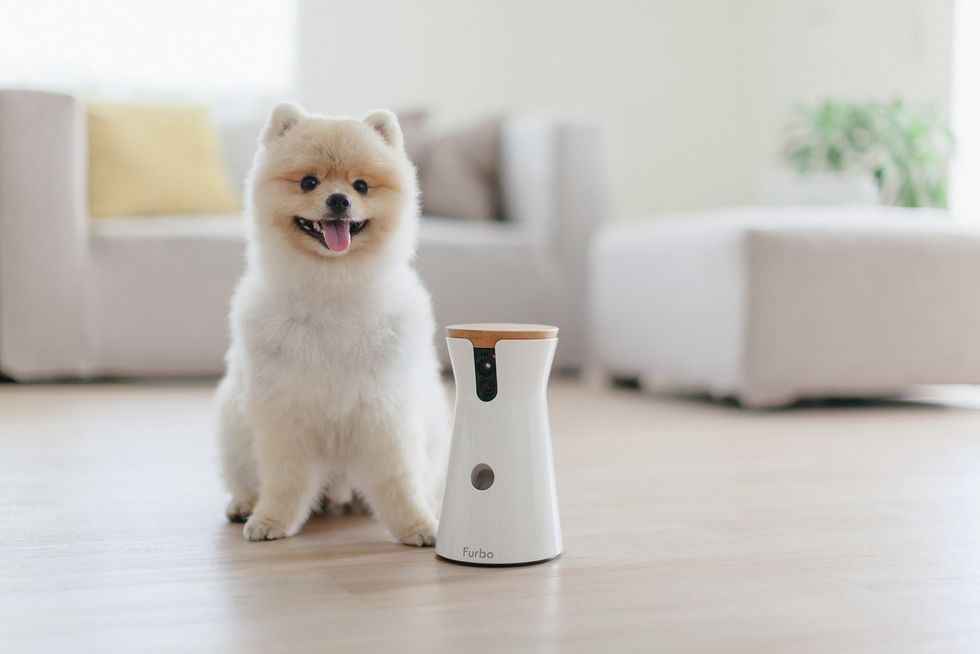 Furbo doubles as a camera and a food dispensary, delivering treats or kibble throughout the day
Furbo
We all miss our pets when we're not home, but scrolling through old photos of them in our smartphone album just isn't the same as the live love we get from seeing wagging tails and playful panting. Or in the case of cats, snuggling on the sofa for the day's seventh nap. But with Furbo Dog Camera, not only will you see your pet via the app, but you can talk to them too. And your pet's favorite part? The treat dispenser for the "Who's a good boy?" factor. Set up is a snap and the device is sleek and simple. Plus, connect with Amazon Alexa so you can sneak out the door without being detained while your furry friend gets fed. Fun to use and a great way to keep tabs on your pet. While normally $249, the smart dispenser is now on sale for $199.
PetKit FRESH Metal Smart Digital Feeding Pet Bowl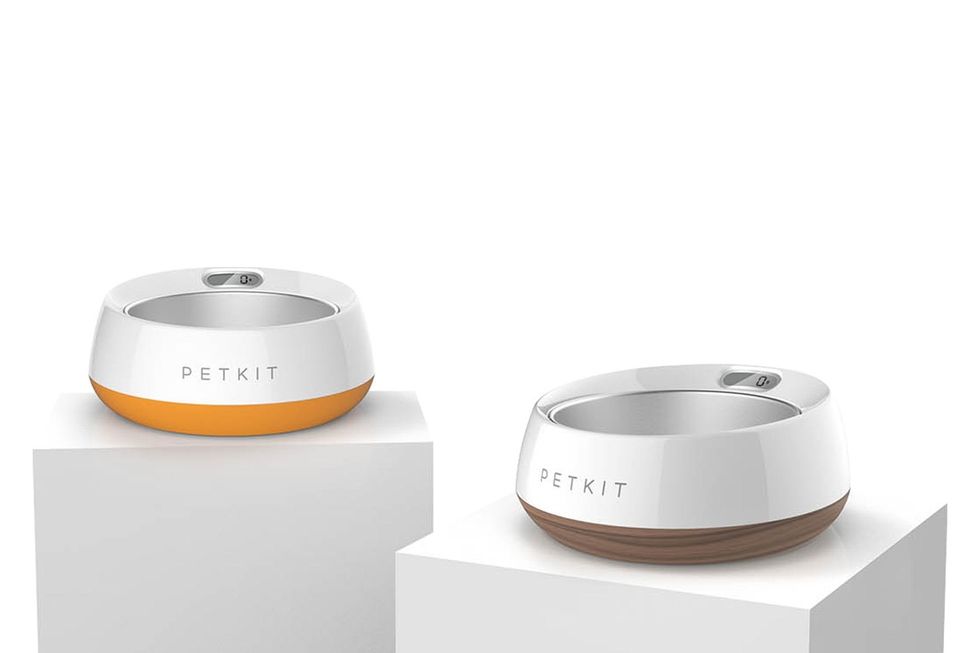 The PetKit smart feeder can be paired with the company's pet tracking device
PetKit
Not only is the PetKit FRESH Metal Smart Digital Feeding Pet Bowl ergonomically designed and anti-microbial, but it can be paired with the PETKIT P2 Activity Tracking Device. So, if you're monitoring your pet's health in terms of calories in and out, this bowl works double duty. There's a built-in scale so you don't over- or under-pour the kibbles, and the skid-proof bottom surface means the bowl won't budge…even by the biggest beast. Dishwasher safe for everyday cleaning means this bowl will be sparking even after all the slobber. For those on a budget, the $43 price is also surely going to appeal.