Before setting out on your own to build a smart home, it is worth stopping and considering if a little smartness can be added to the household appliances and devices you already own.
This is where the smart plug comes in. These plug into a wall outlet, then into them you plug a 'dumb' device like a lamp, a portable heater, an air conditioning unit, or anything which starts working the moment it is plugged into an outlet.
Read More:
The plug is then connected to your Wi-Fi network using a smartphone app, and once set up, you can control the plug from your phone - or by speaking to a voice assistant like Alexa, Siri, or the Google Assistant.

This means you can switch devices on and off from your phone, whether you are at home or on the other side of the world. Such a setup is convenient for switching on lamps and heaters, but also means you can check on the status of products like hair straighteners, making sure they are off after you left the house in a rush.
Smart plugs also come with scheduling features, where you can use the smartphone app to set when they switch on and off each day - you might want a lamp to come on for a few hours each evening, for example.
Smart plugs bring smartphone control to non-smart devicesTP-Link
Lastly, many smart plugs and switches tap into smart home automation platforms like IFTTT (If This, Then That). Once set up, you can have a plug switch on when a movement sensor is triggered, for example, or have a heater fire up when the room temperature falls below a certain level.

Smart plugs can be bought with one, two or multiple outlets, where each can be individually controlled by the phone app, or by speaking to a voice assistant. Prices start very low indeed, with some multi-pack options from Amazon working out at less than $10 per plug. As such, it doesn't take much of an investment at all to add useful smartness to a huge range of wall-powered household items.
Smart switches

The smart switch name used to refer to plugs too, but now generally refers to switches, of both the wired and wireless variety. Wireless switches are like those sold by Philips Hue for controlling smart lights; they can be stuck to the wall, or placed anywhere around the home and used as a wireless remote.
Wired switched like those from TP-Link, Leviton, Wemo and Belkin fit on the wall, either over the top of existing switches, or in place of them. These give extra control over your light fittings.
More advanced options, like the Brilliant Home Control Switch, include touch screens and act more like central smart home control units than a mere light switch. Striking a neat balance between the simple and the feature-packed is the $199 Orro Switch, below, which looks like a regular wall switch, but includes a subtle touch display.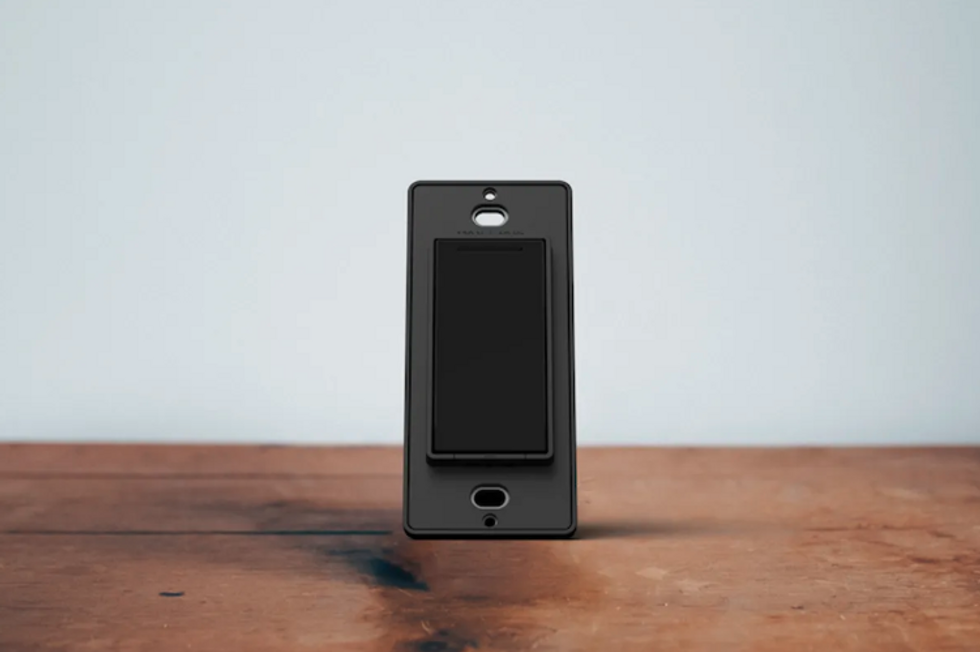 The Orro smart switch has a subtle display on its frontOrro
With all that dealt with, here are five questions you should ask yourself before buying your first smart plug or switch:

1. Smart switch or smart plug - what's the difference?
As we outlined above, a smart plug attaches to a wall outlet, and then you plug any AC powered device into it. This then connects to your Wi-Fi to give you control via a smartphone app.
A smart switch can be wired or wireless, but tends to be used to control your existing light fittings (whether they have smart light bulbs installed or not). More complex smart switches can control more aspects of your home, and even act as a video intercom system.
2. What are the ergonomics like, and how big is the smart plug?
Some smart plugs are quite large, and may well obstruct an adjacent wall outlet. This can be a particular challenge in countries which use larger three-pin plugs, like the UK and Hong Kong, but the smaller US configuration lends itself to more compact smart plugs.
Either way, it is working trying to find photos of the smart plug you want, showing how large it is and how it looks when attached to the outlet, before making your purchase.
Smart plugs come in various shapes and sizes, so if space is a concern then you should hopefully find a plug that works best for you. If you are not limited by space, then some larger options include extra features like a physical on-off button (useful when you don't want to reach for your smartphone, or some members of your household want an app-free option). Some also include a USB outlet for charging devices like smartphones or game console controllers.
The ultimate way to save space is to install a wired, in-wall smart outlet. Devices like this $33 option from TP-Link replace your dual-socket wall outlet with one which connects to your Wi-Fi, giving your control via smartphone or voice assistant over whatever you plug in.
3. How many smart outlets do you need?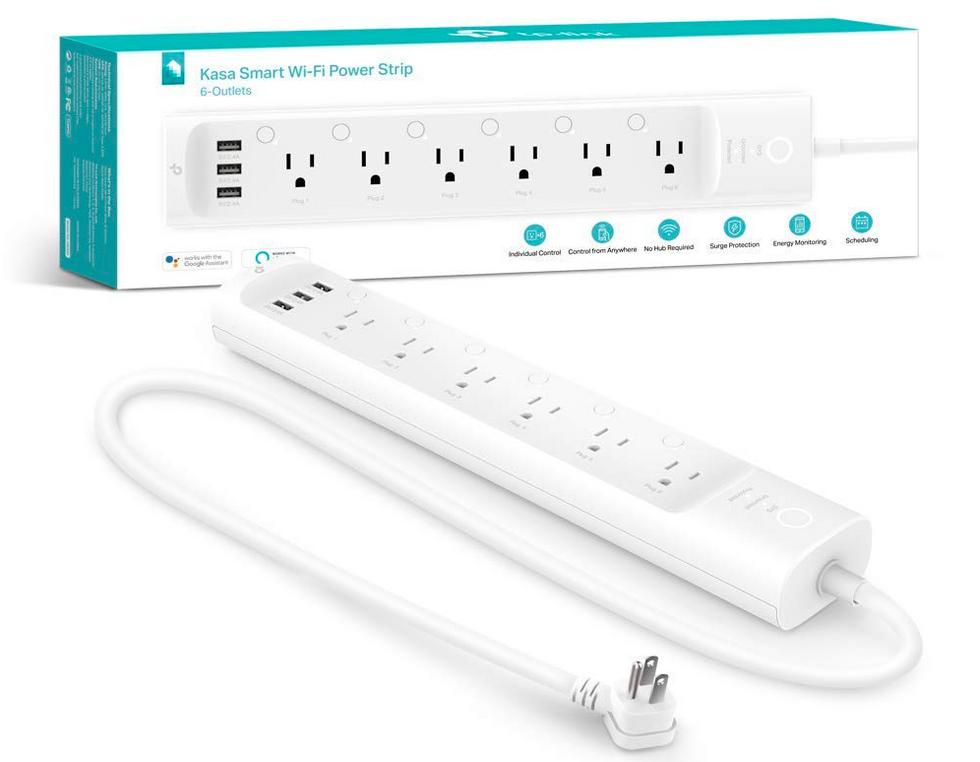 This Kasa power strip gives smartphone control to six devicesTP-Link
If you need to power a lot of devices in one space, try a smart power strip. Some, like this $28 option from Teckin, offer power for four devices (each of which can be controlled by your phone or voice assistant), plus four USB ports and a master on/off button.

A lot of cheaper smart plugs (which often come from brands you may be less familiar with) come in multi-packs, offering four for between $30 and $40. This offers excellent value for money, as options from bigger names like TP-Link can cost in the region of $17 each.
Ultimately, you should seek to strike a balance here between total cost and what features you want. Cheaper smart plugs might be controlled by smartphone apps with fewer features, but if all you want is on/off control, then that could work well for you. If you want to
4. What smart home systems is the plug or switch compatible with?
This is fast becoming an increasingly important question, as the biggest smart home names - like Google Nest and Amazon - start to limit how their devices interact with others'.
Generally speaking, most smart plugs work with Amazon Alexa and the Google Assistant. That way, if you have a smart speaker with either of those, you can switch the plug on or off by speaking. For example, you could say: "Alexa, switch on the desk lamp" if you have a lamp plugged into a smart plug called 'desk lamp'.
Many also offer support for IFTTT, but with Google's Nest division effectively killing support for IFTTT later this summer, we urge that readers think carefully before buying a plug. There is no way of knowing for sure, but a plug maker like Belkin, Wemo or TP-Link could one day decided to also move away from IFTTT; if that happened, any IFTTT control you relied upon would no longer work.
This is theoretical for now, but given Google's plans for Nest (which will kill IFTTT interaction) it is worth bearing in mind.
5. What are its extra features, and will you find them useful?

Some smart plugs do very little - which is perfect if all you need is a way to power a device on and off from your phone. But others offer quite a bit more, too.
Added extras (which generally mean a higher price) include USB ports for charging up a smartphone or other device, a physical button for taking manual control of the power supply, surge protection, and waterproofing making it safe for outdoor use.
When it comes to switches, there are lots of options (and prices) to consider. Some switches, like the $300
Brilliant Home Control Switch
, combines a video intercom system with Alexa, and a color touchscreen display.


Unboxing in less than 10 seconds - Brilliant Home Control Switch www.youtube.com