Many of us have become used to staring at our smartphones for them to unlock, whether that be with a camera system, retina scanner, or Apple's Face ID.
But now our pets are going to be asked to do the same to access their food bowl. Called Mookkie, the smart pet bowl comes from Milan-based Volta and will be on display at the CES technology show in Las Vegas next week. The device has been shortlisted for a CES 2019 innovation award in the smart home category.
Read More:
When a cat approaches, the camera scans their face then uses artificial intelligence to identify them. If this is your cat - and not one which has wandered in through the cat flap - then the bowl will open up, revealing their food.
At the same time, the Wi-Fi connected food bowl sends a notification to the companion smartphone app, where you can view video footage of your cat tucking into his or her meal. The camera's lens is wide enough to present a complete view of the food bowl, so you can see exactly how much is left via the smartphone app.
We can see this being useful in a couple of ways. Firstly, it prevents the neighbor's cat from stealing food which isn't theirs, while keeping it fresh and away from flies and other insects. The Mookkie smart pet bowl could also help you manage the diets of different pets in your home.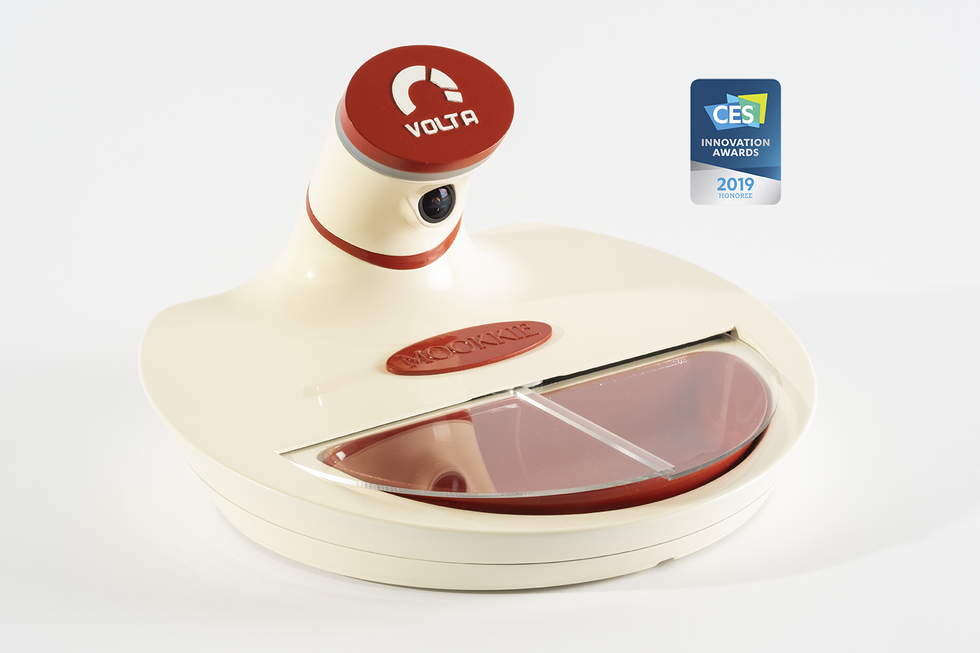 Volta
Google Assistant integration means you can manually open and close the food bowl with voice commands — handy when your cat doesn't quite understand what to do. Orders for more food can also be placed by speaking to the voice assistant.

This all sounds good in practice, but we wonder how reliably the facial recognition system will work. It could also be a challenge to have your cat stay still long enough for the camera to scan their face and pair them with the bowl's AI in the first place. Then, of course, you'll need to teach them to stand still in front of the bowl for a moment before it opens.
Pre-orders for the $189 smart pet bowl open soon, with the first deliveries expected to begin in September.