Pet doors are getting a smart upgrade, with a souped up entrance and exit that opens from their collar — and even records dogs as they run in and out for play or whatever else takes them outside. Called the Pet Portal, the $2,999 device comes courtesy of myQ, owned by Chamberlain Group, and known for its smart garage solutions.
A specialized collar worn by a dog controls the panel, which is embedded in a professionally-installed custom door. The smart door works by sliding open after reading the sensor around a pet's neck. It's designed so other pets, like cats, can sneak past as well and creatures outside, like squirrels and raccoons, can't come in either.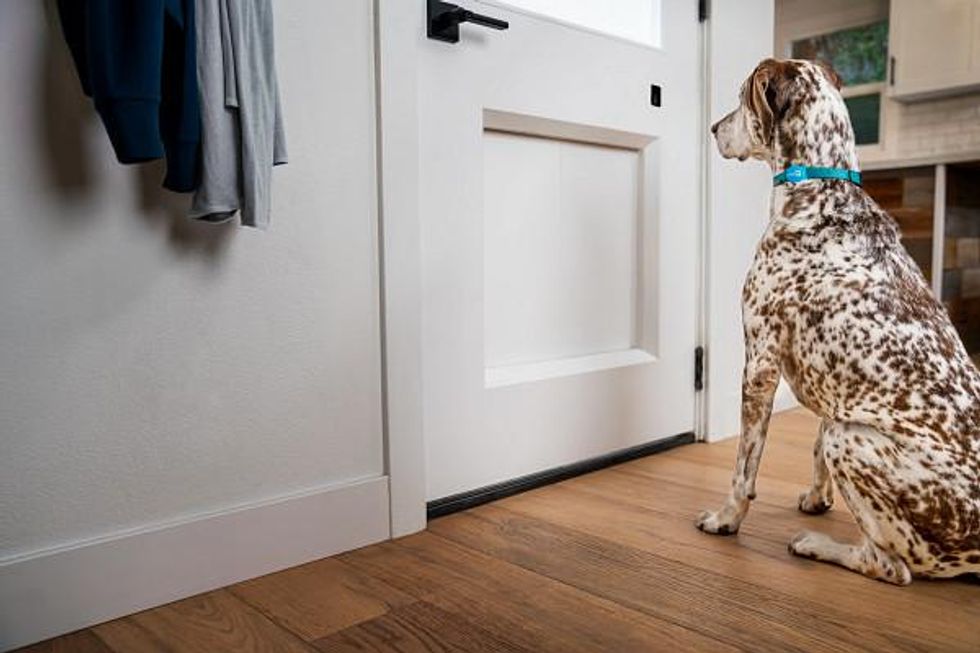 The door will work for dogs in a variety of sized, from those ranging between 10 to 90 poundsChamberlain Group
The smart pet device will work, said myQ, for dogs that are between 10 pounds and 90 pounds, and the door is fitted with a camera and audio system that lets owners not only record their pets moving in and out of the house, but also speak to their dogs and listen as well.
Pet owners can also access controls for the door through the myQ Pet Portal app, where they can also create alerts, and even specific settings for how a pet can go through the door. A report is also available in the app about how many times a pet goes inside and out.
"A bright spot for many people in a challenging 2020 has been adding a furry friend to the family. But as COVID-19 restrictions begin to lift in 2021 many dogs will experience a dramatic change in their routine," said Beril Altiner, director of product marketing for the Chamberlain Group, in a statement. "The myQ Pet Portal can help alleviate some of the stress and expenses that might come along as schedules change. It's a secure and convenient way to make sure your dog can go outside when they need to, while also giving you access to your best friend anytime through your smartphone."
The door can be pre-ordered now, with pricing starting at $2,999.
Key by Amazon in-Garage Delivery Bundle | Chamberlain myQ-G0401 - Wireless Smart Garage Hub and Controller, Wi-Fi & Bluetooth with Ring Indoor Cam HD Security Camera with Two-Way Talk, White