Two new biometric locks — one for the front door and one for a locker — are now available from BenjiLock by Hampton.
The front door deadbolt lock is meant to be on the outside of a front door and uses fingerprint sensors to allow you to open the deadbolt. Home owners can also unlock the device through a digital keypad, and a metal key as well. But the biometric key works even without the lock connecting to Wi-Fi and Bluetooth, and runs off four AA batteries. Up to 10 fingerprints can be stored inside, just like the company's new bike lock, as well as 25 user codes. And these can be added after the lock is installed.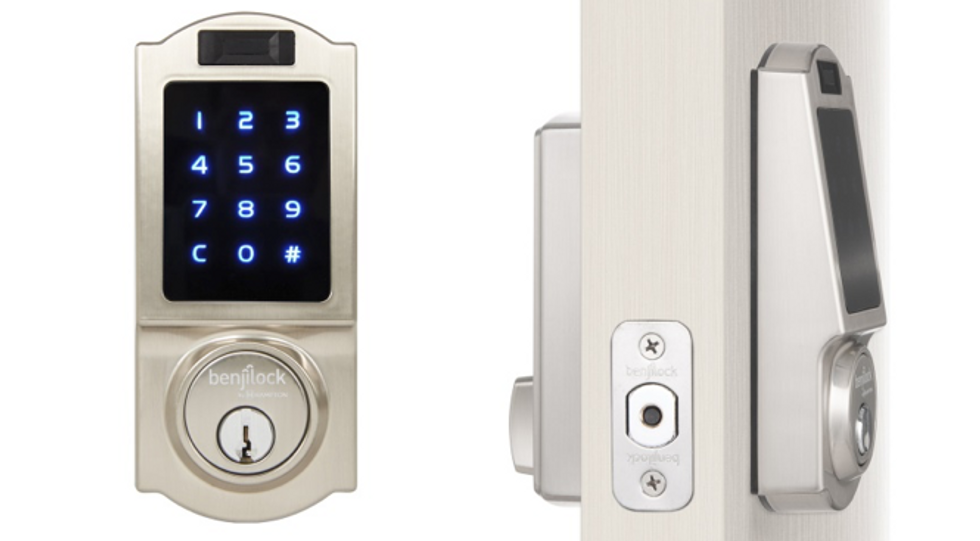 A new biometric front door lock from BenjiLock by Hampton can store up to 10 fingerprints insideBenjiLock by Hampton
You can pick up the lock in two different finishes, a satin nickel and a bronze, and both versions can now be purchases from the company for $159 each.

"Many consumers want a next-generation keyless door lock, but are wary of connecting it to Wi-Fi or Bluetooth," said Kim Kelley, president and CEO of Hampton Products in a statement. "We combined the innovative BenjiLock fingerprint sensor technology with our industry-best security hardware to develop a high-tech deadbolt that homeowners can control without an app or home network. Consumers can install the BenjiLock By Hampton Door Lock on virtually any door inside or outside the home – putting the key at their fingertips."
The BenjiLock by Hampton Fingerprint Sport Lock is a padlock style device, and also opens directly via a fingerprint. It can be used on gym or school lockers, and is small enough to carry in a backpack, gym bag or even a pocket. Like the bike and door lock, the Sport Lock can hold up to 10 fingerprints, so multiple people can share the lock if they want.
It's powered by rechargeable lithium batteries and can hold up to six months of use on one charge. People can now buy the lock online in red, black or white for $29.99, and get a USB charging cable with the device.
BenjiLock By Hampton 43MM Fingerprint Padlock, Matte Black