Like GearBrain on Facebook
In 2015 the Apple Watch had only just launched, Android Wear showed serious promise and Pebble was still in business.
That's also the year Blocks, a modular smartwatch, arrived on the scene, earning $1.6 million through a Kickstarter campaign. The goal was to produce a smartwatch with a strap were each link — or block — could change the capability of the device.
After years of delays, the watch is finally on sale. The basic model, known as the Core, is $259 with a black or stainless steel finish, and a black or red strap.


Two blocks can be fitted to the strap at onceBlocks
The Core runs Android 8.0 Orea and includes most standard smartwatch features, like fitness tracking, a two-day battery life, music control, the ability to manage incoming calls and texts without reaching for your phone, and even Amazon Alexa for controlling smart home gadgets and appliances. The watch is compatible with Android smartphones and iPhones.
For an additional $35 each, buyers can add the following extra features — the core idea of Blocks — each of which is contained in its own block:
Environmental sensor - monitors local temperature, air pressure and humidity
Heart rate monitor - measures your pulse at intervals through the day, or constantly during exercise
LED - a bright LED light which can be used as a wearable torch
Smart button - a button which can be configured to open an app or perform a function
GPS - to track location and provide navigation
Battery - an extra 95mAh battery pack to extend life by 25 percent
Any two of these can be fitted to the Core at a time — one on either end of the strap — and in the future Blocks hopes to roll out two extra waves of accessories. These include an air quality monitor, a fingerprint sensor, a module for gesture control, an ECG machine, a SIM card slot, a camera, an NFC chip for contactless payments and a bone conduction speaker so you can make calls by pressing a finger against your ear.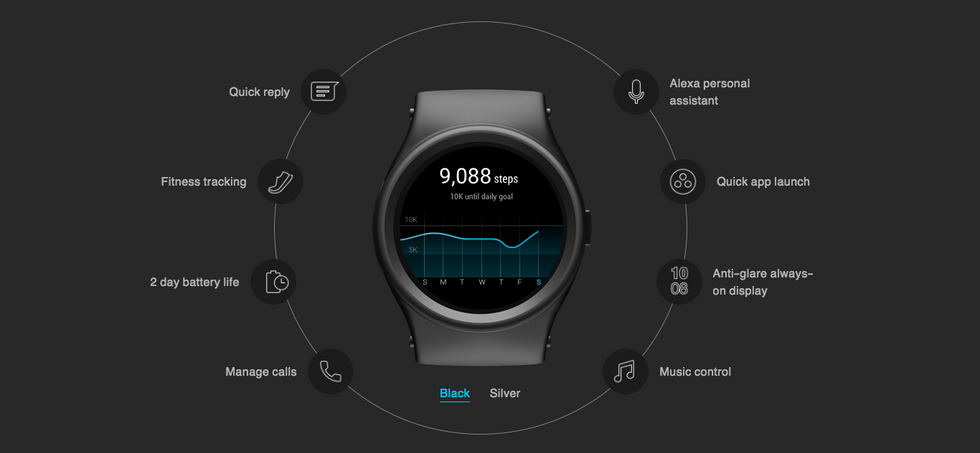 The Core includes Amazon Alexa and runs Android OreoBlocks
In 2015 this sounded like the work of science fiction. But in 2018 many of these extra features are already found on smartwatches costing less. A fully-loaded Blocks watch already costs $469, and for that you don't get NFC or a cellular connection — and there's no telling when the second and third wave of accessories will become available, if ever.
We wonder if Blocks might find success in niche corners of the wearables market, or away from the consumer space altogether. Industry applications could see Blocks produce hyper-specific modules for use by an individual company, for example — in a production facility, on a farm, or in the delivery sector where a parcel-scanning module could be produced and given to UPS drivers.
Blocks is an interesting concept and anything which adds diversity to the technology industry is a good thing, but modularity is an uphill battle. Google canned its Project Ara modular smartphone and Finnish company Jolla never hit the mainstream with its own modular handset. The road ahead for Blocks and the modular smartwatch looks equally challenging.
Like GearBrain on Facebook