BMW has finally revealed the production version of its convertible i8 hybrid supercar.
A year after showcasing its concept at the BMW stand, the new i8 Roadster debuted at the Los Angeles Auto Show, with a sale date of early spring, 2018.
The roofless roadster launched alongside an updated version of its hard-topped sibling. Both produce more power than the original i8 — with both more energy efficient thanks to battery technology advances that have come into play since the first i8 arrived back in 2015.
The two cars feature a turbocharged 1.5-liter petrol engine powering the rear wheels (an engine related to the Mini Cooper S), and a pair of electric motors which drive the front wheels. Electrical power has jumped from 131bhp to 143bhp — meaning total power output stands at a healthy 374bhp.
The i8's electric-only range has also been increased from 23 to 30 miles. That means most cross-city commutes are more likely without ever tapping into the engine.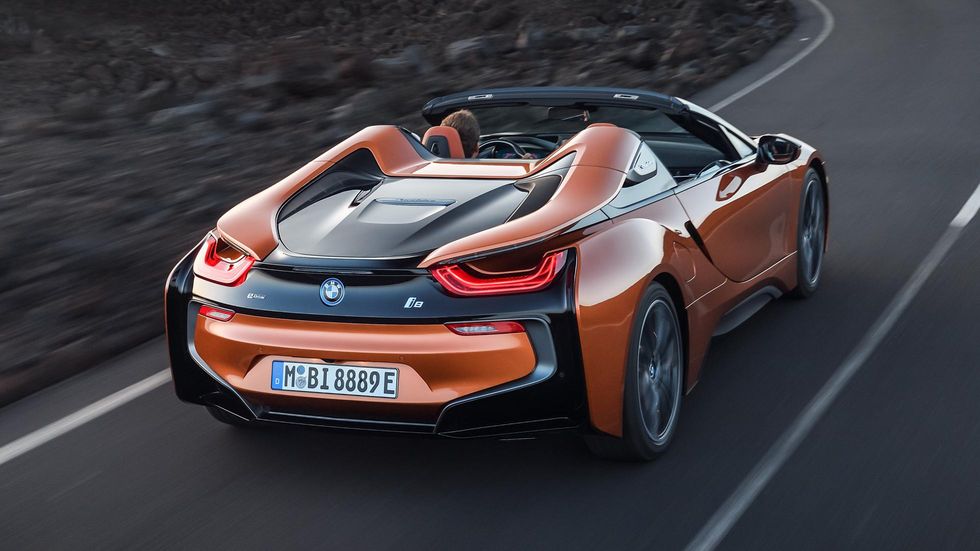 In losing its roof, the Roadster also says goodbye to its small rear seatsBMW
Silent city-center driving, however, poses risks to pedestrians, who fail to hear an approaching electric car. To help prevent accidents in these situations, BMW is offering an optional pedestrian warning buzzer — which emits a turbine-like sound when driving below 18mph.

Thanks to the car's stiff carbon-reinforced plastic core, the i8 Roadster needed little in the way of strengthening when the roof was removed. This means it weighs just 60kg (132 lbs) more than the 1,595kg (3,516 lbs) hardtop. The Roadster accelerates from zero to 62mph (100km/h) in 4.6 seconds. The hardtop takes 4.4 seconds. Both have a top speed of 155mph.
To accommodate the Roadster's electric folding roof, BMW removed the car's tiny rear seats, providing space for the roof and extra storage. Posers will be pleased to hear the Roadster retains the original car's upwards-opening doors.
US prices have yet to be revealed. But with the regular i8 starting at $143,400 we expect to see the Roadster hit somewhere around the $157,000 mark.