Like GearBrain on Facebook
The iPhone X isn't the only gadget to get wireless charging this year, as BMW has shown off a scaled-up version of Apple's AirPower pad, for topping up the battery of its electric and hybrid cars.
Designed to sit on the floor of your garage, the giant charging pad is claimed to refill the battery of BMW's 530e iPerformance plug-in hybrid in 3.5 hours.
Power is delivered at a rate of 3.2kW, which is broadly similar to what you can expect from plugging the car in at home - but come on, who wouldn't opt for the wireless option if offered?
Drivers are guided into place with lines on the car's dashboard display, which turn green once the car is parked precisely above the charge pad. Charging then starts automatically after the ignition is switched off.
The wireless car charger will be launched by BMW in early 2018, but sales will be limited to owners of the aforementioned 5-Series hybrid for now.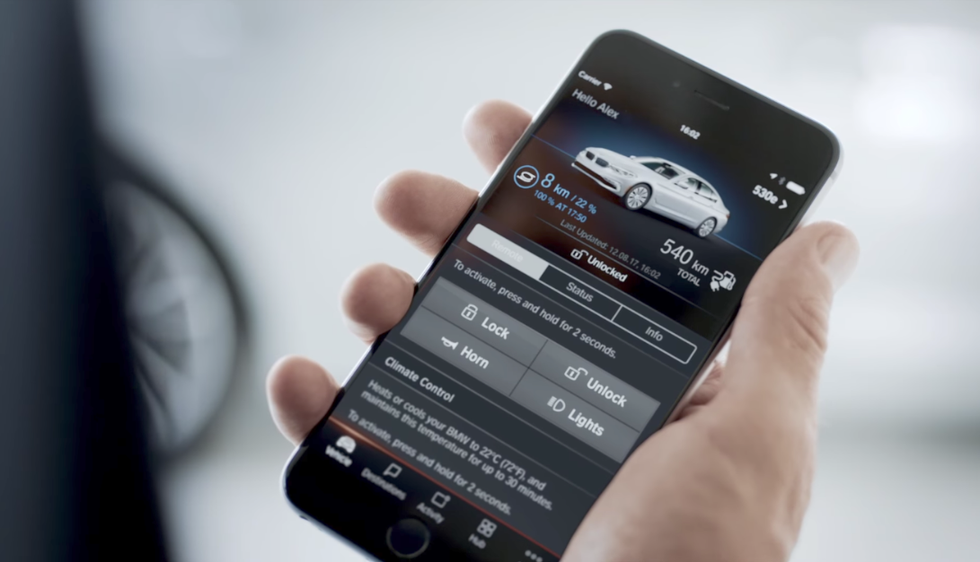 Charge status can be checked on the app, or by asking AlexaBMW
Thankfully, similar versions of the charging pad will be offered to owners of plug-in hybrid versions of the 330, 740 and X5 later in 2018, as well as the i3 electric city car and i8 hybrid sportscar. It isn't clear if one charger will work on all electric or plug-in hybrid BMWs at launch, although this will undoubtedly be the company's end-goal.

A demonstration video (below) shows the charger in action on a car registered in Germany, where the charger will launch first. Hybrid BMW drivers in the US and Canada will have to wait a few more months, as the technology is still undergoing testing and evaluation here, BMW North America has said.
BMW is one of the front runners when it comes to bringing consumer technology to cars. As well as the upcoming wireless charging, BMW already offers wireless phone charging and Apple CarPlay, and a smartphone app with Alexa support for checking a battery or fuel level, locking doors, flashing lights and more. The app can even be used to remotely drive the 5-Series into a parking space with no one sitting in the car.
Alexa voice commands, remote control driving and wireless charging. Who said traditional car makers can't match Tesla for innovation?
From Your Site Articles
Related Articles Around the Web
Like GearBrain on Facebook