Boeing has revealed a concept for a plane capable of flying at 'hypersonic' speeds, and which could be developed for military or commercial use in the coming decades.
Shown off at the American Institute of Aeronautics and Astronautics conference in Atlanta this week, the futuristic plane could be made a reality in 20 to 30 years, Boeing said.
Read More:
The company also said this concept is just one of several hypersonic vehicles Boeing is working on for potential use in the future.

'Hypersonic' is generally used to describe vehicles capable of flying at Mach 5.0 or above, which is just over 3,800mph, or roughly seven times faster than today's commercial airliners. It is also 2.5 times faster than Concorde, the first and only supersonic commercial plane which was retired from service in 2003 with no replacement.
Kevin Bowcutt, senior technical fellow and chief scientist of hypersonics at Boeing, said: "We're excited about the potential of hypersonic technology to connect the world faster than ever before. Boeing is building upon a foundation of six decades of work designing, developing and flying experimental hypersonic vehicles, which makes us the right company to lead the effort in bringing this technology to market in the future."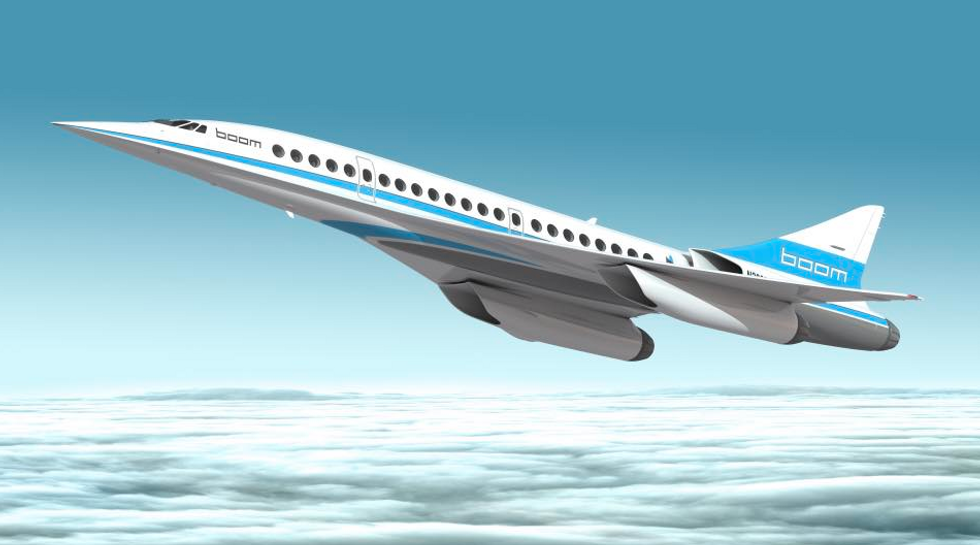 Boom is a startup with plans for a Mach 2.2 Concorde replacement Boom Technology
The company is hesitant to say exactly when hypersonic flight could become a reality, but suggests: "It's possible a hypersonic passenger vehicle could be airborne in 20 to 30 years."
Speaking to FlightGlobal, the company added: "One big reason we don't have this quite yet is that we still have many technical and regulatory challenges to overcome before we make hypersonic flight a reality, not to mention the market that needs to develop to make a business case for the average person to be able to afford hypersonic flight."
Despite it now being 15 years since Concorde's last flight, there is still widespread interest in speeding up commercial air travel. Boom, a four-year-old Colorado startup, is currently designing a 55-passenger aircraft capable of Mach 2.2 (1,450mph) and is targeting 2023 for a commercial launch. Virgin Atlantic has placed an order for 10 aircraft from Boom, while a further 66 have been ordered by other unnamed parties, the startup claims.
Meanwhile, Elon Musk's rocket company SpaceX says it wants to blast passengers on suborbital flights across the globe at up to 18,000mph, transporting them "anywhere on Earth in under an hour" for the price of an economy ticket.
SpaceX president Gwynne Shotwell said at a TED talk in April that "this is definitely going to happen...within a decade, for sure".