Like GearBrain on Facebook
Byton, one of the most promising electric car startups to come out of China in a bid to rival Tesla, has halted operations for six months.
Starting today, July 1, all production staff in China will be furloughed and most of Byton's operations will be paused. Only a small number of employees will remain to keep core business operations ticking over.
Read More:
Byton has around 800 employees in China and the move comes after more than 200 workers were furloughed at its US headquarters in Santa Clara, California. The company showed off the production-ready version of its first car, an electric SUV called the M-Byte, at the CES technology show in early 2019, with plans to begin production in the middle of 2020.
The problems for Byton here are two-fold. First, like many others in the auto industry, the company has been impacted by the coronavirus pandemic, which essentially shut down much of the global automotive production, sales and delivery industry, with temporary closures from suppliers, to factories and dealerships.
Secondly, Byton and others in China were already faced with a steep drop-off in demand for new electric cars, after government subsidies were taken away in the summer of 2019. These had previously created healthy discounts on electric cars, and helped get dozens of domestic EV startups off the ground. Now though, a large-scale consolidation is likely, especially as legacy US and European brands are increasingly investing in EV models, and find themselves in a better position to weather the coronavirus storm.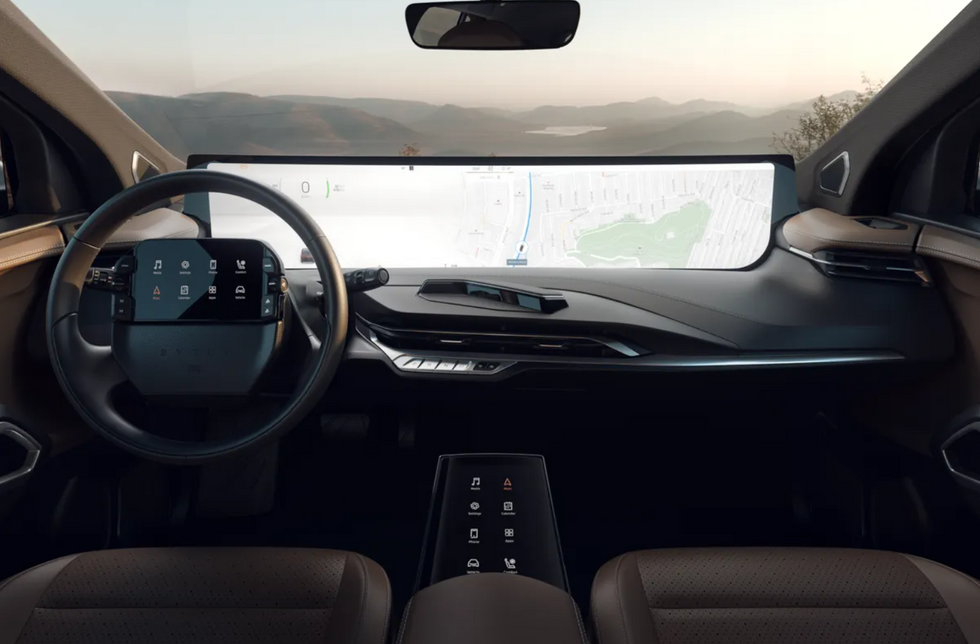 The M-Byte features a huge 48-inch dashboard displayByton
Speaking first to The Detroit Bureau before issuing a statement more widely, Byton said: "The company is going to suspend operations on July 1 for six months...the board of directors and top management are looking to find a way to move the company forward."

Best known for its enormous 48-inch dashboard display stretching across the entire width of the cabin, the Byton M-Byte was due to go into production in the middle of 2020. Deliveries were due to arrive in China later this year, before expanding to the US and Europe in 2021. As of January 2020, the company had 60,000 reservations in its order book and capacity to produce 300,000 vehicles per year at its newly completed factory.
The company showed off a concept of its second car, called the K-Byte in the summer of 2018, and planned to launch three models of electric car by 2022.
Byton's uncertain situation is all the more alarming for the rest of the nascent Chinese EV industry, given its successful background. The company was founded in 2017 by former BMW executives Carsten Breitfeld (who was behind the i8 hybrid) and Daniel Kirchert. Funding first came from Chinese telecom Tencent and Taiwanese manufacturing giant Foxconn, with money later pumped in by First Auto Works, China's oldest state-owned car maker.
Many Chinese EV startups will likely now be wondering, if well-funded Byton with its first car ready to roll is forced to hit the brakes for six months, right as production was due to begin, what hope is there for everyone else?
Nulaxy Bluetooth Car FM Transmitter Audio Adapter Receiver Wireless Hands Free Car Kit W 1.44 Inch Display - KM18 Black
From Your Site Articles
Related Articles Around the Web
Like GearBrain on Facebook