Like GearBrain on Facebook
Two years on from showing off its first concept car, Chinese startup Byton is now ready to put its M-Byte electric vehicle into mass production.
The three-year-old firm will begin production of the M-Byte at its Chinese manufacturing facility in the middle of 2020, with the first cars going on sale in China before the end of the year. The company will then begin delivering the M-Byte in the US and Europe in 2021 and beyond. Byton has capacity to build up to 300,000 vehicles per year, and has currently 60,000 pre-orders to fulfil.
Read More:
Expected to be a key rival of Tesla, Byton wants to be seen as a technology firm as much as a car manufacturer. To that end, the M-Byte'a biggest talking point - it's huge 48-inch dashboard display - will has been homologated for legal road use. So too has a touchscreen display fitted to the car's steering wheel, a first of any vehicle.
Byton has previously shown off how the displays will work, and how drivers and passengers are logged into the vehicle via facial recognition cameras. But for CES 2020 the company expanded on this, demonstrating how the user interface can be customized however the driver wants, showing local weather forecasts, stock prices, or photos of their family.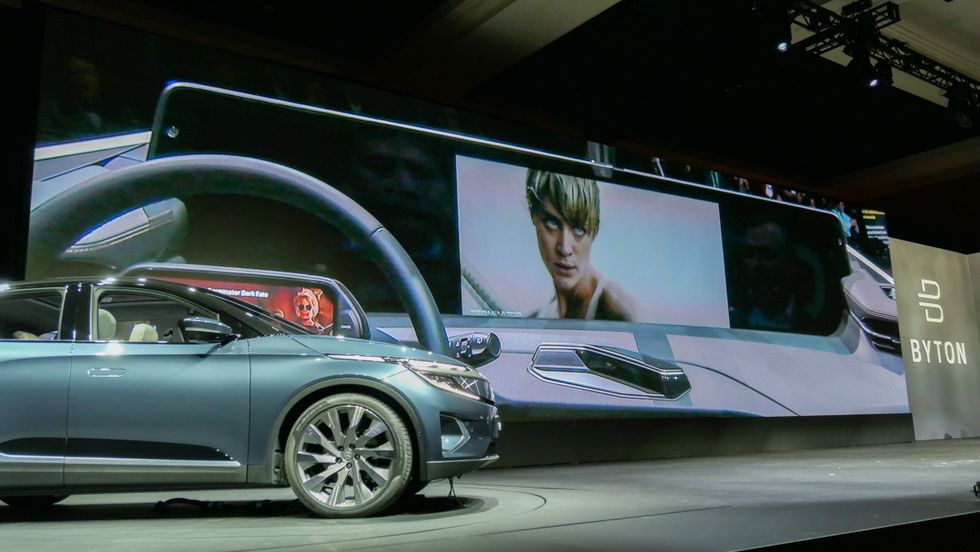 A deal with CBS and Access brings TV and movies to the Byton displayGearBrain
To help build on what software Byton itself has made for the display, the company today launched a software development kit (SDK), which developers can use to create applications specifically for the Byton display and operating system. Byton used its CES press conference to show how integration with Garmin means drivers and passengers can view movement and sleep data collected by their wearable device on the car's display.

Perhaps more useful in the real world is a partnership between Byton and CBS, who will create an app for watching TV and movies on the screen - but only while parked, of course. With this, and Tesla's inclusion of Netflix and YouTube apps to watch while parked and/or charging, it looks like the car dashboard is about to become a key battleground for entertainment companies through the 2020s.
Speaking of charging, Byton announced that its cars will work with the Electrify America charging network, giving them access to 3,500 high-speed DC chargers at 800 stations across the country. The cars will also have access to 36,000 other chargers across the US, and all will be accessed using a single user account. Byton says it has secured its dealer and distributor licenses in the US, and California will be a key market for the company once US deliveries of the M-Byte begin in 2021.
Two options of M-Byte will be offered in the US, with batteries sizes of 72 and 95 kWh, and with range estimates spanning from 267 to 342 miles.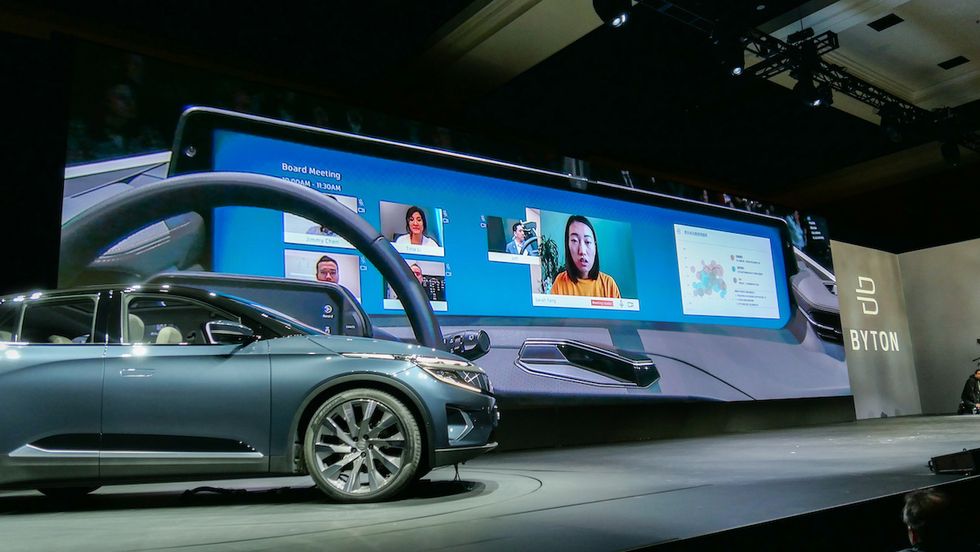 Video conferencing on the M-Byte's 48-inch dashboard displayGearBrain
As for Europe, the company says has a target entry price of €45,000.

Another company to partner with Byton is AccuWeather, whose app shows hyperlocal weather forecasts for the route a driver has entered into the car's navigation system. The hope here is to give driver's a heads-up of what to expect on their route, and potentially reduce accidents by warning them about rain and snow on the road ahead. Other partners to have committed to creating content for the Byton system include Access, Aiqudo, CloudCar, Road.Travel, and Xperi.
Adding further emphasis on how the car can be used as more than a means of transport, Byton demonstrated at CES how the M-Byte can offer work and productivity tools, like video conferencing which makes use of the display and in-car cameras - which can also be used to snap road trip selfies, naturally. Byton says it will announce its video conferencing partners at a later date.
In-car technology includes Amazon Alexa and smart home integration, over-the-air software updates, and a 4G network which buyers will be able to have upgraded to 5G once the technology is available.
Byton chief executive Daniel Kirchert said on stage: "Consumers are now more looking at their car as a natural extension of their mobile devices...In a world where Tesla has taken its prominent place, people tell me they are ready to choose another option for a premium electric vehicle. Byton is ready to be that alternative."
From Your Site Articles
Related Articles Around the Web
Like GearBrain on Facebook