Like GearBrain on Facebook
We have quickly become used to cars with cameras facing outwards; generally called dash cams, these keep a watchful eye on the road ahead and provide invaluable evidence in an accident.
But cameras will soon be installed to keep an eye on you, the driver, too. These will include facial recognition software to cue up the right playlist, but also to log who was driving the car, and when.
Read More:
Driver-facing cameras will also be used to monitor your concentration levels, interjecting if the system thinks you look tired, or are distracted. They will also watch the passengers of autonomous taxis.
Dual Dash Cam, VAVA Dual 1920x1080P FHD Front and Rear Dash Camera (2560x1440P Single Front) for Cars with Wi-Fi, Night Vision, Parking Mode, G-Sensor, WDR, Loop Recording
The car is seen by many as a tool of freedom. But, as this decade progresses, the car will be watching us more closely than ever before. Some examples of cameras watching vehicle drivers were on display at the CES technology show in Las Vegas last week, and here's a closer look.
Byton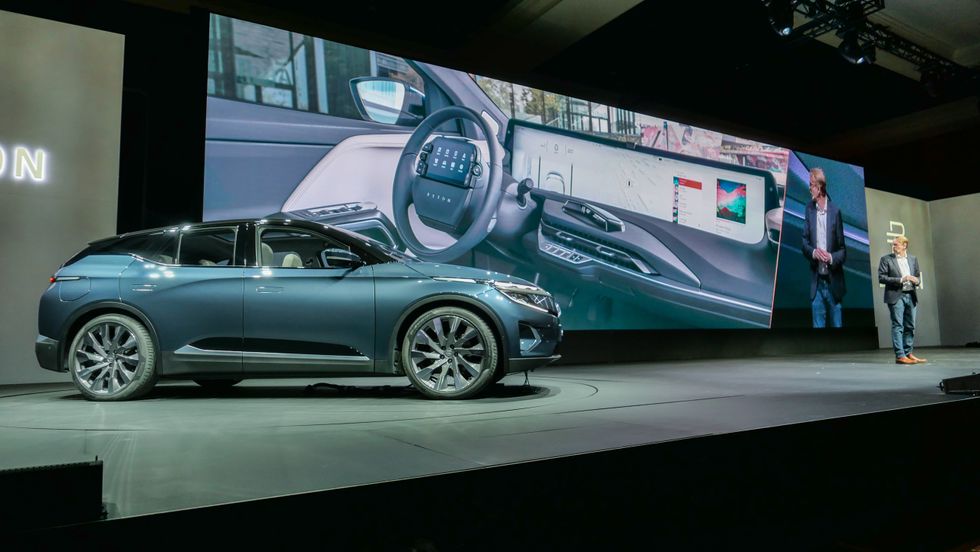 The Byton M-Byte recognizes its driver and passengersGearBrain
Electric car startup Byton's use of cameras and facial recognition starts before you even buy a car. Potential customers who have configured their own M-Byte car on the Byton website can opt into a system which recognizes them when they walk into a Byton store, automatically retrieving the configuration they created online.

Once they have bought a new Byton and taken delivery, the car can be set up to recognize the driver and every passenger, using facial scans as a form of biometric authentication. Each member of a family can create their own Byton profile, which is linked to their music playlists and other digital content served up in the car. For the driver, the system greets them when they enter the car, then displays their calendar events on the huge 48-inch dashboard display.
Read More: Smartphone on wheels: Byton invites developers to create apps for its car
Faraday Future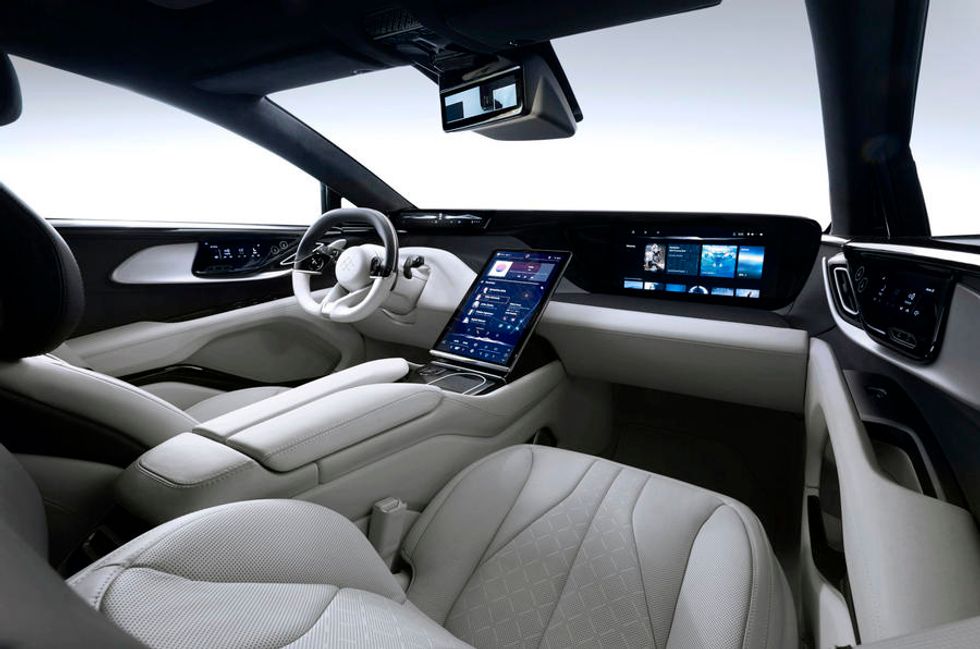 The interior of the Faraday Furure FF91 features facial recognition Faraday Future
Another electric vehicle startup to put facial recognition in front of the driver is Faraday Future. The company's upcoming FF91 uses the technology to recognize the driver and every passenger, then adjust seat settings, cabin temperature and music volume to their pre-set preferences.

As well as face scanning, the FF91 uses voice recognition and the person's weight, as calculated with a sensor in the seat, to determine who is sat behind the wheel.
Extending things further, Faraday Future also says the FF91 will recognize the driver's facial expressions and mood, which the car then uses to "auto-prompt an experience to match, using music, temperature, scent, content, massage and more," the company says. Facial recognition data is "saved natively and securely in the vehicle," Faraday adds.
Read More: Faraday Future FF91: First ride in the EV that almost didn't happen
Harman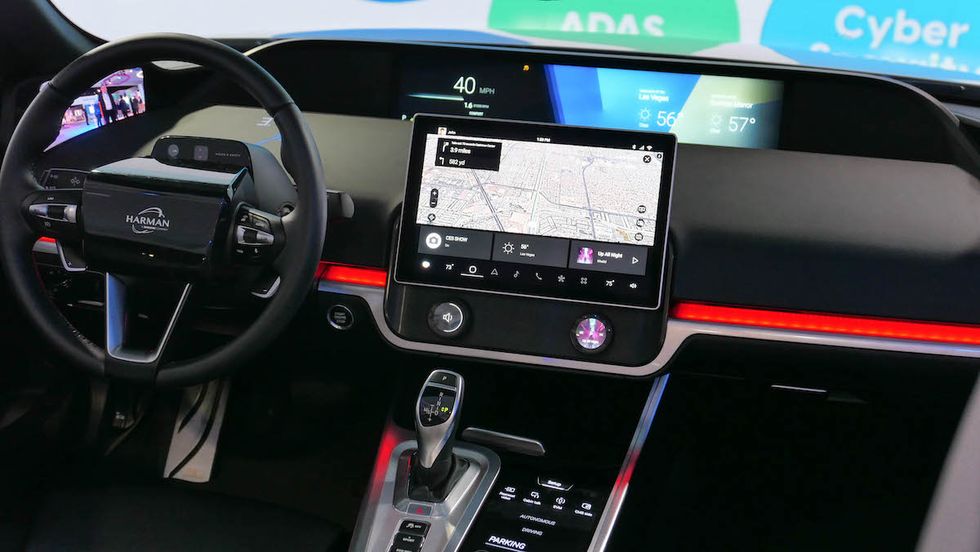 Harman's connected car concept features a driver-facing cameraGearBrain
Harman used the CES 2020 tech show to demonstrate how facial recognition could be used to keep tabs on who is driving a certain car. In a demonstration given to GearBrain, we were shown what happens when a teenage son drives his mother's car without permission.

Although the car lets him start it up and drive, an alert is sent to the owner's smartphone to warn them of a potential case of driving a vehicle without permission.
Harman spoke previously at CES 2019 about facial recognition technology in cars, where a camera would recognize the driver and adjust vehicle settings accordingly. The company has also previously said how such technologies could identify if a driver is tired or distracted, and help with the handover of control between an autonomous car and a human driver.
Bosch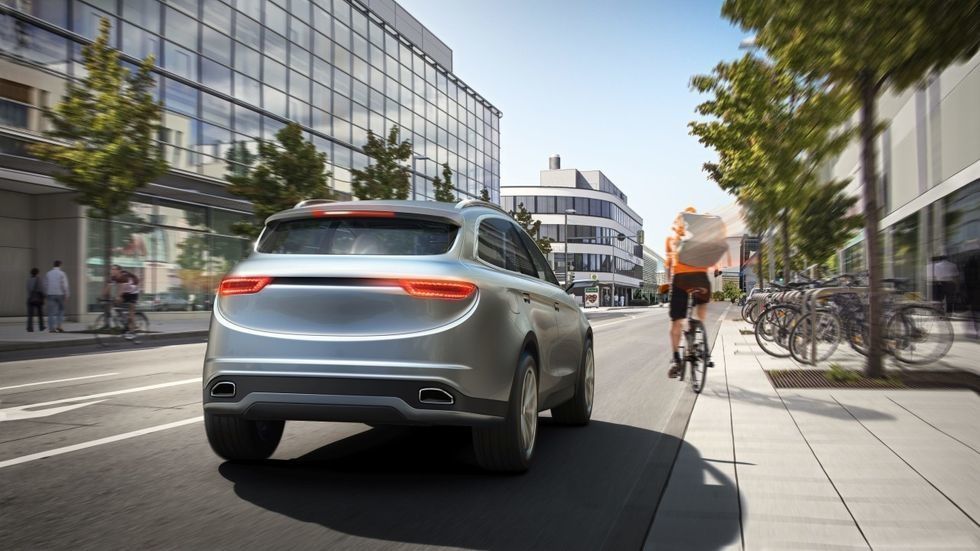 Bosch says AI and cameras are needed for autonomous cars Bosch
Bosch is also using cameras to work out when best to switch between computer and human driver. At CES 2020, the automotive parts supplier explained how it would use cameras and other sensors in partnership with artificial intelligence to work out if a driver is paying attention.

This, the company says, will be key for the operating of Level Three and Four autonomous cars, which are expected to sometimes hand control back to the driver when they encounter a tricky situation, like complex roadworks. In this case, the system would work out if the driver is paying attention; if they weren't, then the car would give them more notice before expecting them to take control.
If the human is already watching the road, the system will determine that less notice is needed before handing back control of the vehicle.
Beyond keeping an eye on the driver, these same monitoring systems can be used to understand what passengers are in the vehicle. In turn, this helps the car's safety systems arm the airbags and seat belt tensioners accordingly. When applied to ride-share vehicles like cars operated by Uber and Lyft, Bosch says the cameras and sensors could notify a passenger if they get out and leave something behind, like a bag or coat.
Read More: Why Bosch's driver monitoring AI is a crucial step towards autonomous cars
Cerence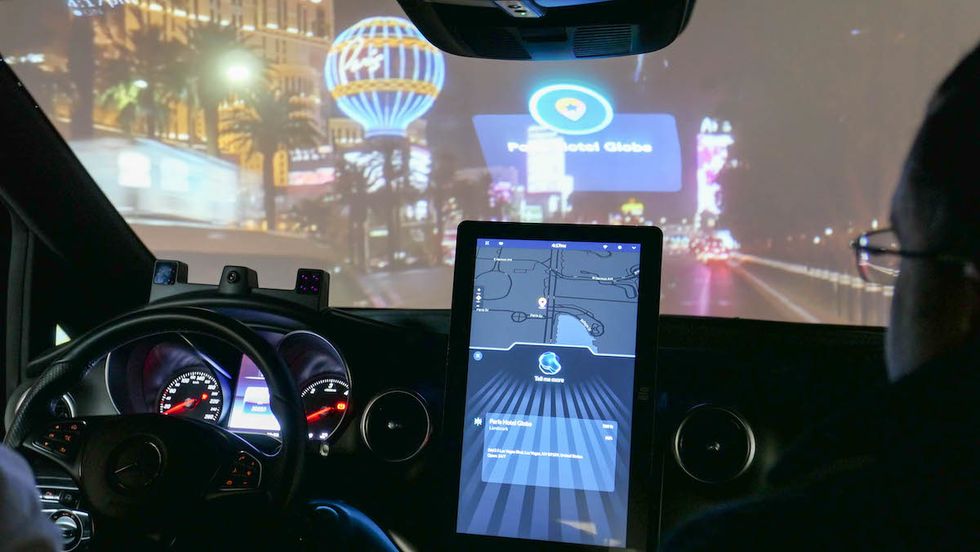 Driver-facing camera monitors eye movement and gazeGearBrain
Cerence, formally known as Nuance, used CES 2020 to show an upgrade to its concept connected car system. Central to this technology is a camera which watches the driver, recognizes their face, and tracks their eye movement.

Here, voice commands and eye movement are used to control certain vehicle systems. For example, glancing to the side and saying "close that window" will shut the window the driver is looking at in that moment. The driver can also glance at a building or other point of interest outside and ask "what's that?" to hear some information about it, read out by the car's voice assistant.
Volvo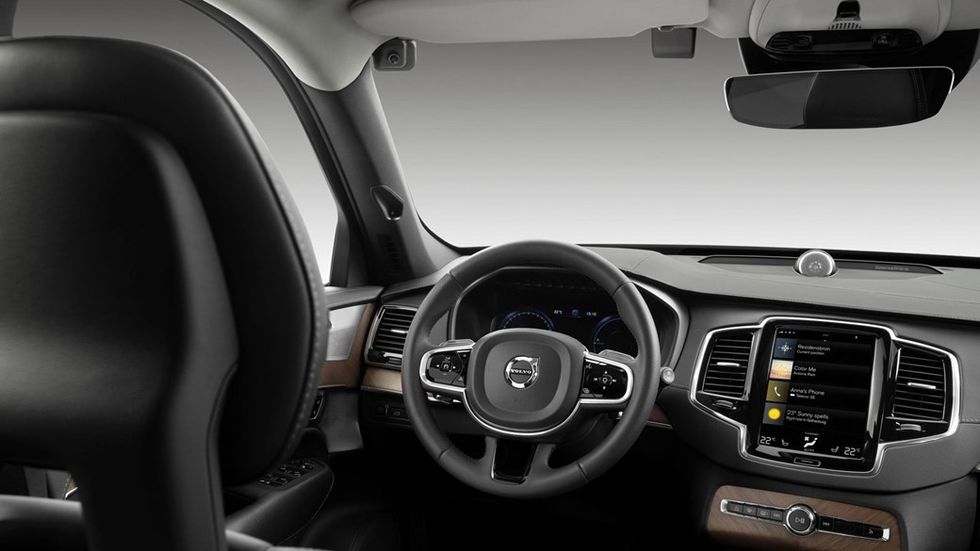 All Volvo cars to have driver-monitoring cameras this decadeVolvo
A standard-bearer of car safety for decades, Volvo announced in 2019 how it plans to fit all of its new cars with driver-facing cameras and other sensors to detect distracted driving. To be rolled out during the early 2020s, the camera and sensors will look for signs of distraction, such as a driver who is looking at their phone, intoxicated, or generally not paying attention to the road.

The system can at first alert the driver, but Volvo says it will also have the power to reduce the car's speed, or even slow down, park and call Volvo's assistance service.
Tesla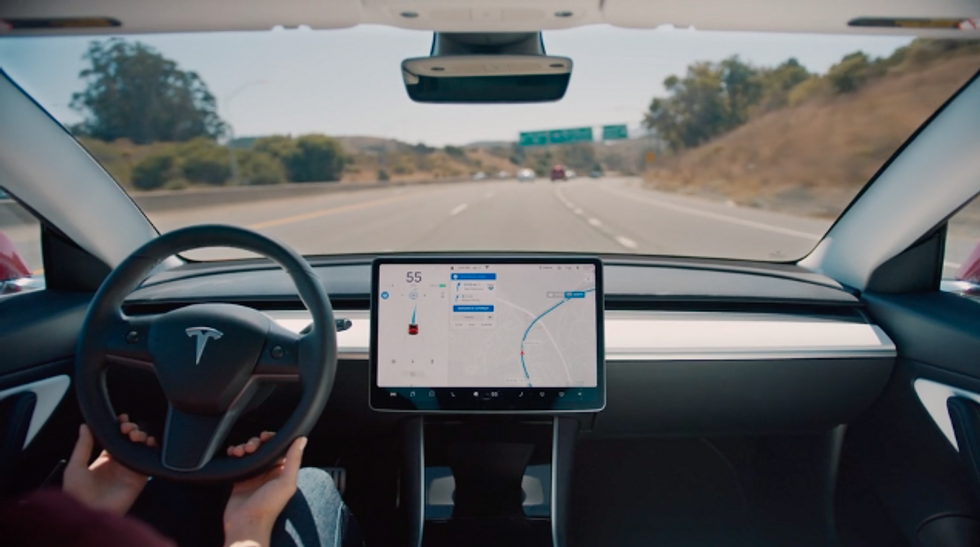 Tesla Model 3 has a camera in its central mirror Tesla
Finally, Elon Musk confirmed in 2019 that a small, concealed camera fitted above the central mirror of the Tesla Model 3 is to keep an eye on passengers when (or if) Tesla launches its driverless taxi service.

When asked on Twitter what the camera is for,
Musk replied
: "It's there for when we start competing with Uber/Lyft and people allow their car to earn money for them as part of the Tesla shared autonomy fleet. In case someone messes up your car, you can check the video."
From Your Site Articles
Related Articles Around the Web
Like GearBrain on Facebook