It would be fair to say Faraday Future has had an on-off relationship with CES, the world's largest technology show. First, it turned up to the Las Vegas show in 2016 with a wild, Batmobile-style concept car which was later found to have been built in a matter of weeks because the company's actual show car wasn't ready.
A year later, the FF91 arrived, and was blasted across a huge stage in an act of showboating that promised quicker acceleration than the most powerful Tesla.
Then things started to go terribly wrong for Faraday Future. An electric car startup at first thought to be a front for Apple's secret automotive division, Faraday quickly became swamped in controversy, lawsuits, and a widely held belief that the FF91 would never actually go on sale.
Now, with a new CEO at the helm in the form of former BMW exec Carsten Breitfeld, Faraday Future is back at CES. Or rather, it's back in Las Vegas. The company has no booth or official presence at the tech show. Instead, it is in town to give passenger rides in an example of the FF91 which it claims is production-ready.
To demonstrate its authenticity, the car was driven to Vegas from FF's headquarters in San Francisco - a distance of 250 miles - and arrived with a claimed 110 miles of range remaining.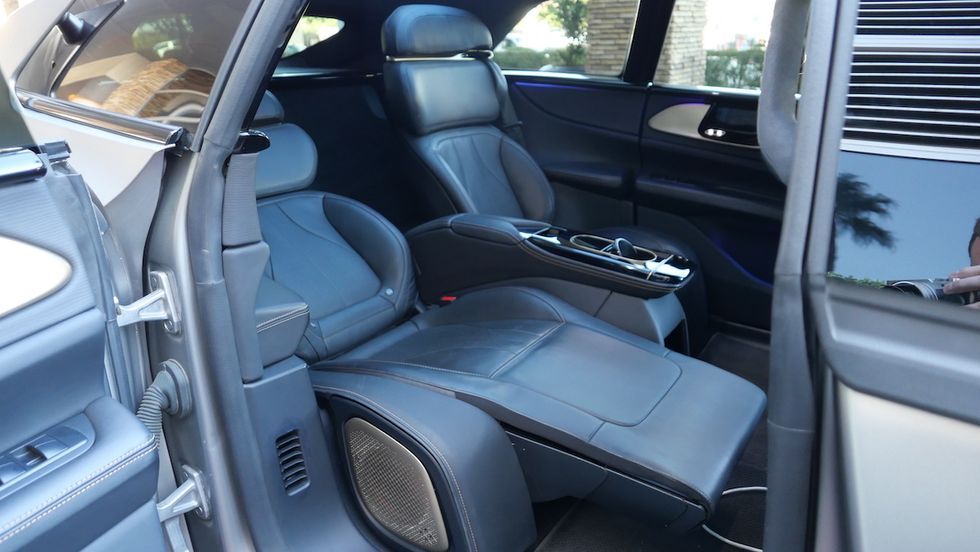 Reclining airline-style rear seats are a USP of the Faraday FF91GearBrain
Interior

Now it's time for GearBrain to step into the first class cabin-style back seat, and experience the FF91 for the first time. We chose the back seat, because this is Faraday's party piece. The company wants to separate itself from everyone else by offering a range of electric cars with unparalleled rear space, complete with reclining seat backs and footrests.
It certainly feels like a seat from the expensive rows of an airplane, but the build quality - at least on the road-legal but pre-production car we rode in - fell some way short of an equally-priced luxury limo from the likes of Bentley, BMW, Mercedes or Jaguar. We can't be too critical of a pre-production car which was likely hand-built and is expected to lack the fit and finish of the final product. But even still, the overall design gave us little to get overly excited about - especially baring in mind this car's circa $200,000 price tag.
Where a similarly sized car from the aforementioned companies would feature beautifully quilted leather, knurled chrome or stainless steel, soft pillow-like headrests, and gadgets like drinks coolers, the FF91 is found lacking.
Touchscreens and user interface
In its defence, there is a touch screen display on the door, where each passenger can adjust their seat and start the massage system. However, the position of this display feels awkward, and quickly falls out of reach if the seat is reclined.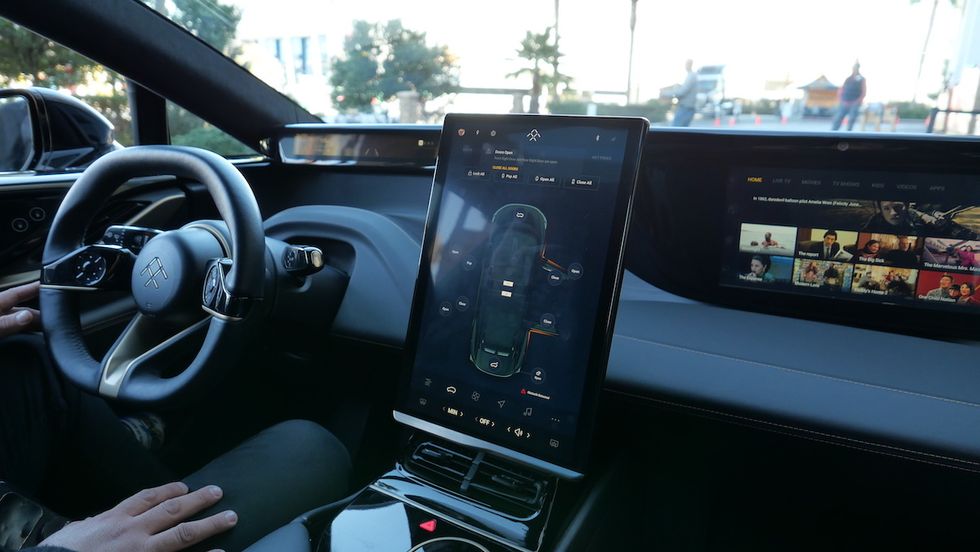 The FF91's dashboard features three computer displaysGearBrain
The centrally-mountable and detachable tablet found between the rear seats of a Bentley, BMW or Audi makes much more sense, even if it has to be shared between two passengers. There are also no seat-back displays for watching TV in the FF91, and the plastic centre console with its cup holders falls well short of where a car of this price should be - even in pre-production guise. On that note, CEO Carsten Breitfeld said the car we rode in was more than 90 percent reminiscent of the car Faraday hopes to deliver to buyers in 2021. Let's hope the interior design is spruced up a little between now and then.

Up front, the FF91 has a Tesla-style portrait-orientated touch screen in the center of its dashboard, with an entertainment display in front of the passenger, and a digital instrument cluster and head-up display for the driver. The central mirror doubles as a video feed from a camera on the back of the car, just like that on recent Land Rovers.
Performance and ride impressions
While we can't offer a deep-dive into every nuance of the FF91's ride quality and handling characteristics, our brief ride around Las Vegas unearthed a few key details. First, the FF91 rides reasonably well - as it should for a luxury $200k limo - and we can imagine the airline-style rear seats being a great place to be for long journeys.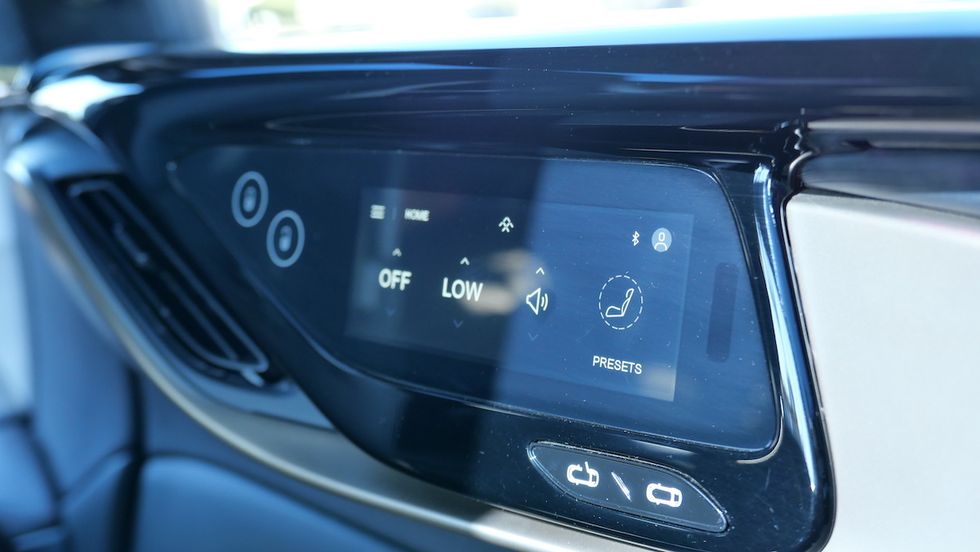 Each passenger gets a touch screen controller in their doorGearBrain
But the car's accelerative performance left us disappointed. Sure, it feels fast in the same way almost all electric cars do. But it didn't feel like the 1,050 horsepower Faraday Future claims the car is capable of. Nor did it feel like a car capable of sprinting to 60mph in a claimed 2.2 seconds, despite our driver's best attempts on a quiet Vegas backroad. Faraday Future may well have achieved those stats elsewhere, but the car we rode in lacked the ballistic acceleration of the Porsche Taycan Turbo and Tesla's Performance models.

That said, a luxury limo like this plainly doesn't need to embarrass a Bugatti at the lights, so there's really no need for Faraday Future to get stuck in a 0-60 battle with Tesla and others.
Other impressions include a fair bit of wind noise, and a cabin which wasn't half as quiet as we're sure buyers spending $200,000 would expect. This is likely down to the car being pre-production, and we'll have to save any further thoughts until we get to try out the finished car, potentially in 2021.
Faraday Future is back from the brink, but it still has a long way to go if it is to actually sell the FF91, and progress onto the smaller FF81 and FF71 models in the pipeline.