Like GearBrain on Facebook
As has become the norm for the CES technology show, car companies showed up in force in las Vegas this week.
The North hall of the Las Vegas Convention Center featured new vehicles from auto makers as diverse as Audi, Honda, Volkswagen, Byton and Nissan.
Read More:
We also saw a surprise electric car from Sony, Mercedes revealed a concept vehicle inspired by the film Avatar, and it was announced that Alexa voice control will be coming to Rivian electric and Lamborghini supercars.
And, because it wouldn't be CES without some far-out concepts, Hyundai announced a partnership with Uber and unveiled a flying taxi concept.
Here are our automotive highlights from CES 2020.
Sony Vision-S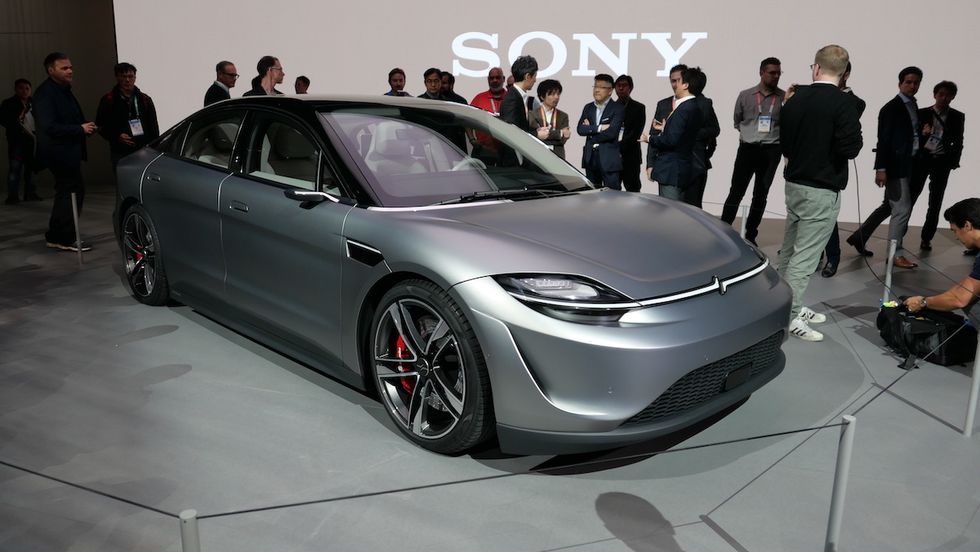 The Sony Vision-S was one of the biggest surprises of CES 2020GearBrain
Perhaps the biggest surprise of CES 2020 was that Sony has made a car. Called the Vision-S, the electric car was one of the few genuine surprises to come from the Las Vegas tech show. Although just a concept for now, the car was built to show off Sony's sensors and in-car infotainment technologies.

Intended to offer a "glimpse into the future of mobility," the car uses a new EV platform developed by Magna Steyr, the vehicle production company who makes the Jaguar I-Pace among others. Inside, the dashboard is dominated by a huge computer display spanning its entire width, and there are cameras for wing mirrors. Sony says the car's sound system uses "object-based spatial audio technology".
The car is powered by a pair of 268-horsepower electric motors which give it a 0-62mph time of 4.8 seconds and a top speed of 149mph. A total of 33 sensors are embedded in the car, including Sony's own CMOS image sensors, plus solid state Lidar to enable autonomous driving.
But, despite the Vision-S looking like the real deal, Sony has not reveal any plans to put the car into production.
Alexa voice control comes to Lamborghini and Rivian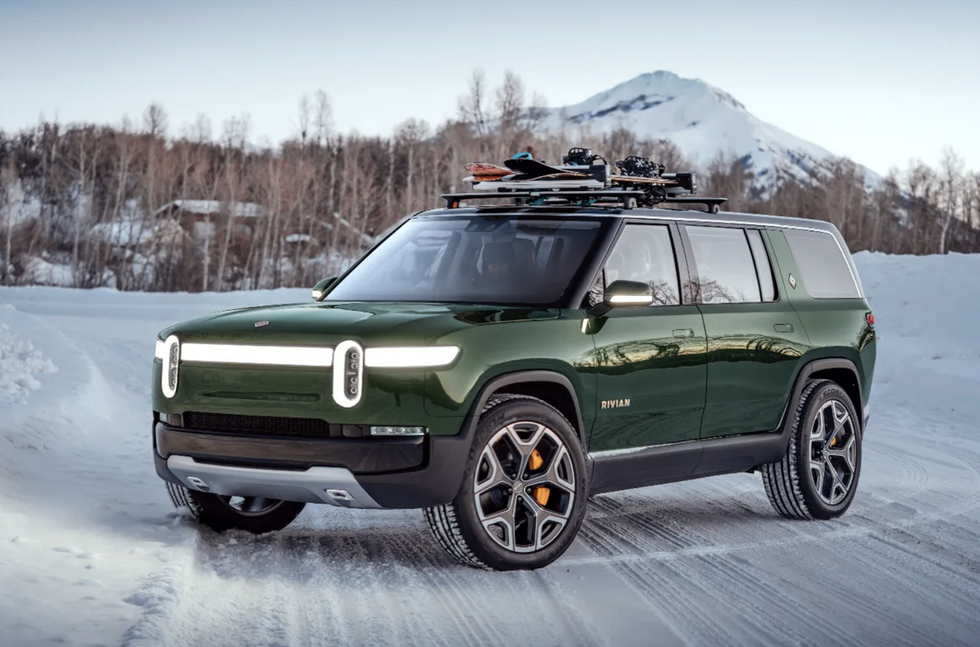 Rivian and Lamborghini to add Alexa voice controlRivian
It's hard to think of two car companies further apart than Lamborghini and Rivian, but what they have in common is how they will both offer Alexa voice control before the end of 2020. This includes the features you might expect, like asking the assistant to make a call and set up the navigation system, but Alexa will also have access to the climate control, windows and other core functions.

This is an interesting development for Alexa, and comes after Google announced its Assistant will control similarly broad functions in the upcoming Polestar 2, which runs its entire system on Android.
And while Lamborghini getting involved is somewhat unusual, Rivian's involvement here isn't a surprise, as Amazon is an investor in the electric truck maker.
Hyundai to build flying taxi for Uber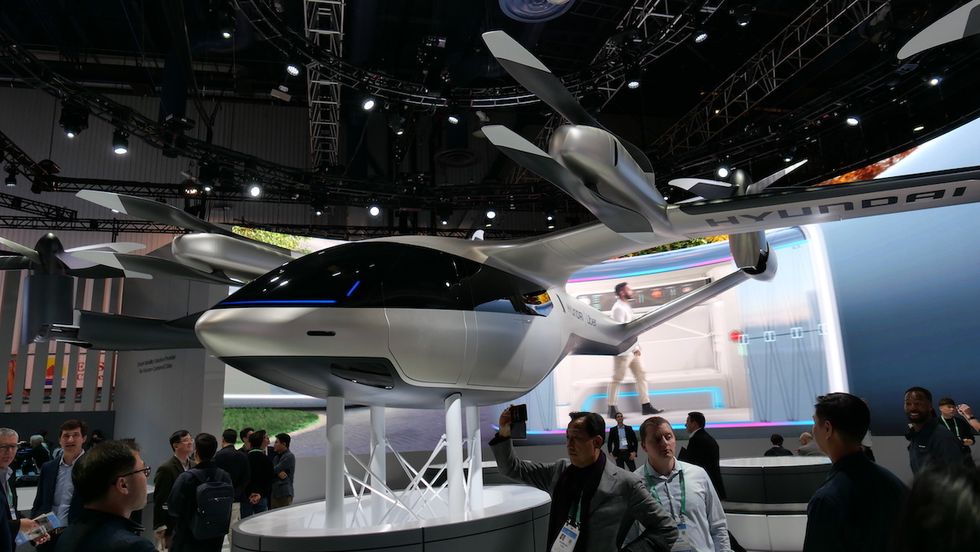 The Hyundai-built Uber flying taxi can take four passengersGearBrain
Electric flying taxis are no strangers to CES, but this year's show still managed to produce a surprise, as Korean car maker Hyundai revealed plans to build such a vehicle for Uber.

Called the Uberdai, the electric plane has space for a pilot and four passengers inside its fuselage. It has a range of 60 miles, a top speed of 180mph, and is intended to fly at an altitude of between 1,000 and 2,000 feet. Uber and Hyundai have plans for the vehicle to fly autonomously in the future, although we imagine that is still many years away.
As with most other concepts like this, the point of the Uberdai is to offer a fast way to transport people across busy cities, soaring quickly and quietly above the gridlocked roads below, and landing at purpose-built miniature airports on rooftops.
Faraday Future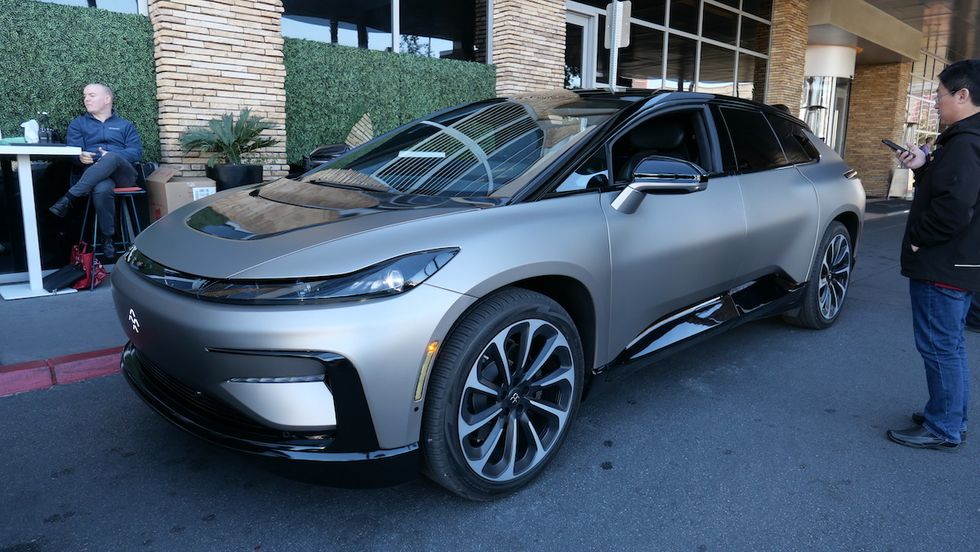 Faraday Future says the FF91 is finally ready for productionGearBrain
Remember Faraday Future? Once thought to be a front for Apple's secret car project, the electric vehicle startup has had a bumpy few years to say the least. But now, finally, it showed off working examples of its FF91 car in Las Vegas this week.

Although the company didn't have a presence at CES itself, Faraday Future gave passenger rides in the FF91, and GearBrain was among those invited to take a ride - which you can read more about here.
Faraday Future says the FF91 shown in Vegas is more than 90 percent reminiscent of the cars customers will actually buy, and that it hopes to begin mass production later this year. But with prices of $120,000 to over $200,000, we wonder if the company will sell enough to become real player in the EV market.
Mercedes Vision Avtr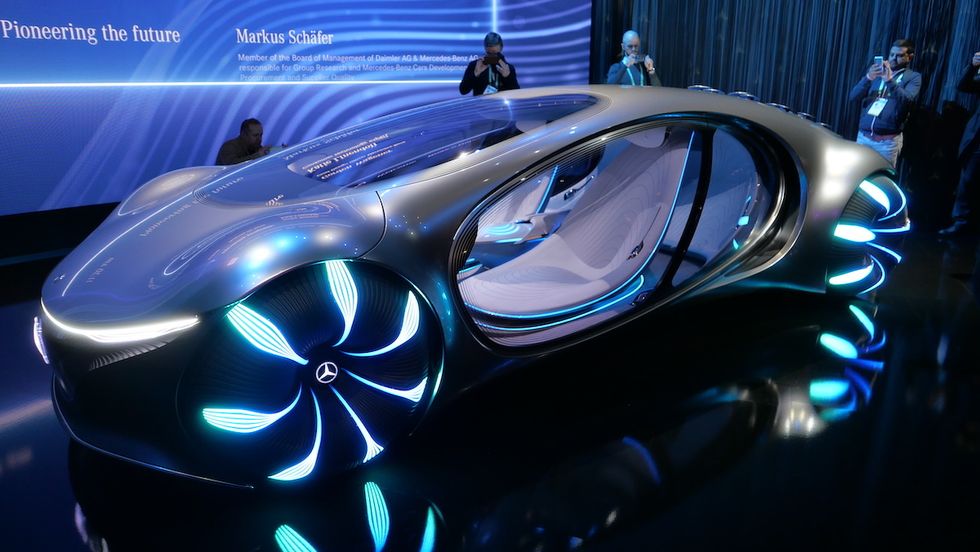 The Mercedes concept draws its inspiration from the Avatar movieGearBrain
As far as tie-ups go, this is a bit of a strange one. Mercedes has worked with producers of the movie Avatar to create a new concept car called the Vision Avtr - a name which is both short for the movie title, and stands for Advanced Vehicle Transformation.

The car is powered by an electric motor in each wheel hub making a combined power output of 350 kW. Mercedes claims a range of over 430 miles from the 110kWh battery, and a charge time of as little as 15 minutes.
However, this being a concept, these numbers should all be taken with a pinch of salt. The car will never actually go into production, but some of its design could lend itself to future electric cars from Mercedes.
Byton M-Byte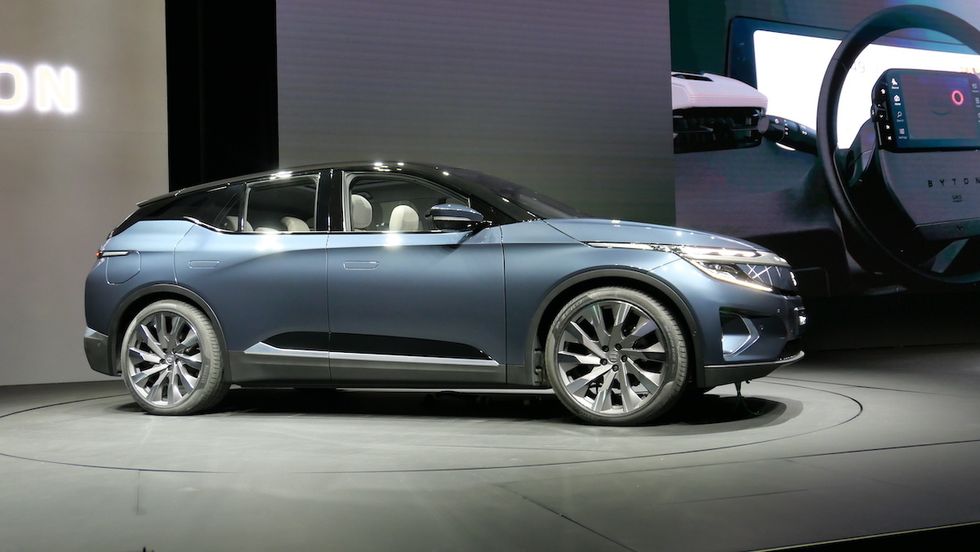 The Byton M-Byte is going into production later this yearGearBrain
Two years on from showing the M-Byte as a concept car at CES 2018, Byton used the 2020 show to reveal a production-ready version. The huge 48-inch dashboard display remains, and so too does a touch screen mounted to the steering wheel - a feature unique to this car, and something we're surprised to see make it through global homologation rules.

Byton also used CES 2020 to announce a partnership with ViacomCBS, which will result in a catalogue of movies and TV shows being accessible through that huge display (when parked or charging, of course). A software development kit (SDK) is also now available, as Byton looks to get app developers onboard.
Fisker Ocean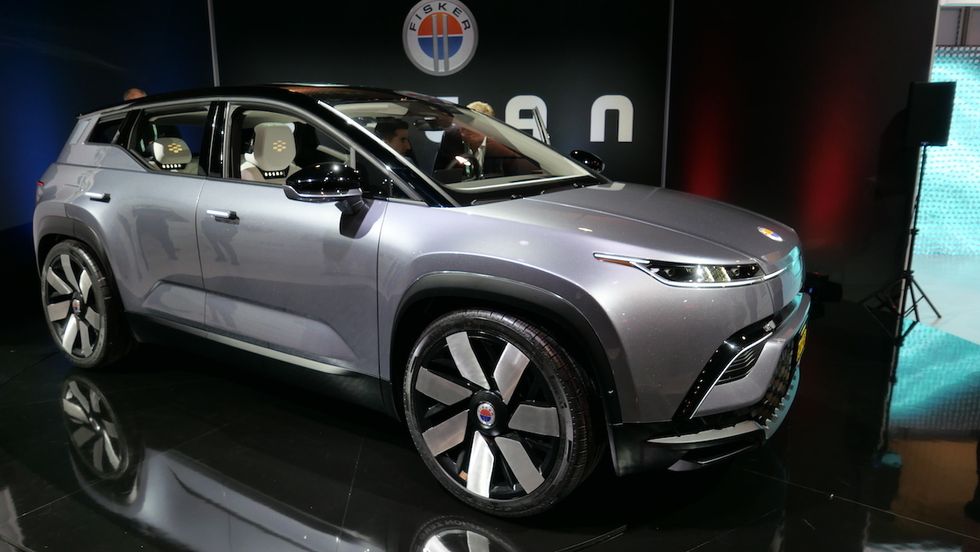 Fisker's first electric car, the OceanGearBrain
Car designer Henry Fisker used CES 2020 to reveal his company's first all-electric car, the Ocean. You may recognize the Fisker name, as Fisker Automotive produced a hybrid called the Karma, but that car's failure caused the company to go bankrupt in 2016. The Karma has since been revived by a Chinese company called Karma Automotive, which now calls the car the Revero. Confusing, we know.

Back to the new Fisker Ocean, and we have an electric SUV with a starting price of $37,500 (or $379 a month) and an estimated range of between 250 and 300 miles, while solar panels on the roof should take those numbers slightly higher.
The car will have access to VW's Electrify America high-speed charging network, and a higher-price performance version will have a 0-60mph time of 2.9 seconds.
Fisker claims the Ocean is the "world's most sustainable vehicle," thanks to using recycled carpets made from fishing nets, a fully vegan interior, and surfaces made from polycarbonate polyurethane. Fisker says the Ocean should go into production in late 2021 or early 2022.
Bosch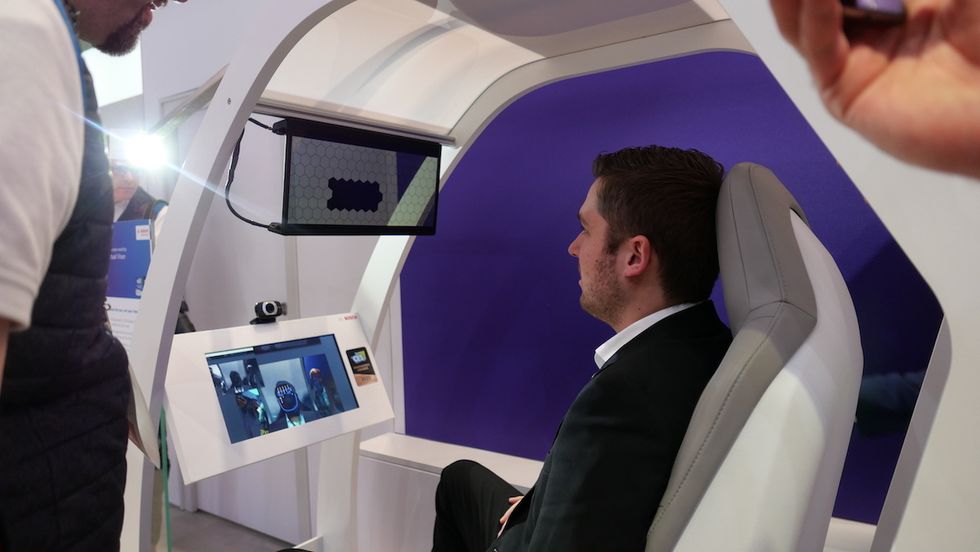 The sun visor adjusts as the driver moves their eyesGearBrain
As well as announcing a new AI-powered driver monitoring system for semi-autonomous vehicles, Bosch used CES 2020 to show off a concept called the virtual sun visor. Instead of being a solid piece of plastic or fabric, the visor is a transparent LCD display which instantly and automatically blocks out the sun as it moves across the sky, and as the driver moves their eyes.

The result is a sun visor which gives you a much better view of the road ahead, as only a small section of the transparent display is made opaque to block the sun. It's a smart concept and one that seems to work fairly well. We'll be interested to see if Bosch can improve it enough to make car manufacturers interested in buying it.
Audi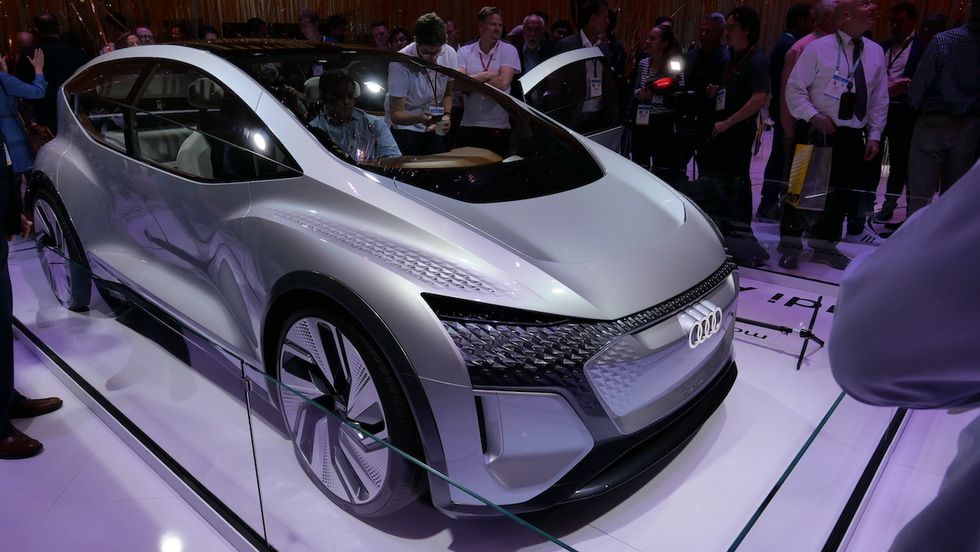 The AI:Me is Audi's vision for an autonomous city carGearBrain
The star of Audi's stand at CES 2020 was the AI:Me, an autonomous concept car. Designed to ferry people around large cities while taking up a small amount of road space, the Audi AI:Me features a homely interior with extensive use of wood and soft fabrics.

Generous use of glass in the car's construction means the interior is bathed in natural light, in a bid to make riding in the autonomous car as pleasant as possible.
Audi wants to one day produce a car like the AI:Me and give it Level Four autonomy, which would enable it to drive itself in most situations with no human input at all. We don't know yet if such a car will come to fruition, but we certainly hope future Audis borrow some of the AI:Me's futuristic design.
From Your Site Articles
Related Articles Around the Web
Like GearBrain on Facebook