Comcast has some surprises for those who use Xfinity's video and internet streaming remotes. These Easter eggs are live now.
There are fun graphics, curated content, videos and playlists tie to characters like the Trolls and the Minions. All you need to do is say the specific phrase in the Xfinity X1 or Xfinity Flex voice remote to activate these Easter Eggs.
Here's the full list:
• Looking for a pick-me-up? Say "happy stuff" into the voice remote, and you'll hear suggestions for TV shows, movies, songs, and more to lift your spirits.
• Play Quiz Xfinity with your favorite movie quotes. Try saying "Phone home," "Yo Adrian!" "Show me the money," "On Wednesdays we wear pink," "May the Force be with you"' and more into your voice remote to be connected to favorite movies on X1 and Flex.
• Have you ever instantly fallen in love with the music during a movie or show, but don't know the song or band playing? Simply speak into your voice remote and say, "what song is this?" and the details will appear right on your screen.
• Say, "Pizza stuff" to bring up videos on how to make pizza, or watch episodes or movies where pizza plays a key supporting role, including the pizza toss in "Breaking Bad."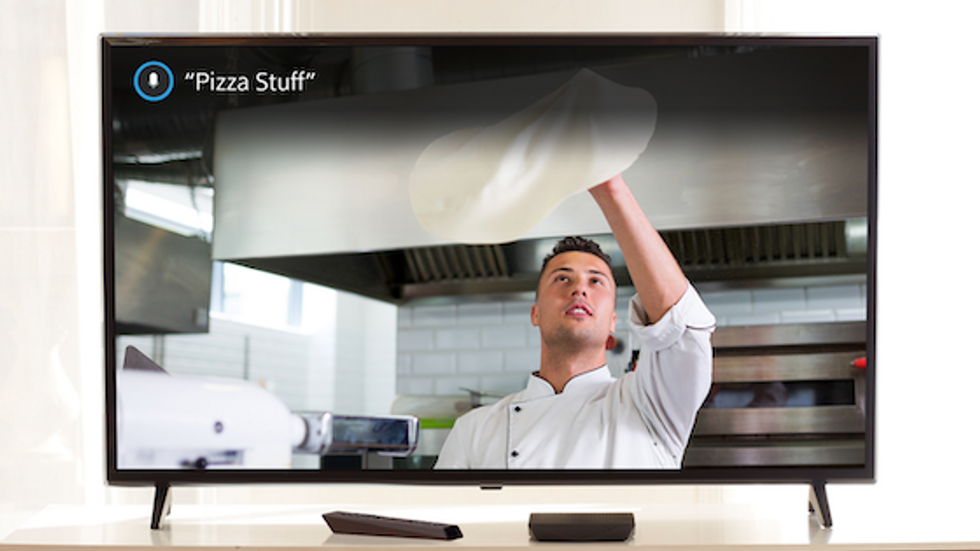 Comcast launches Easter Eggs for the holiday weekend, including one called "Pizza stuff"Comcast
• You can now listen to your favorite Troll's character's playlist on X1. Say "Poppy's Playlist," "Branch's Playlist," "Queen Barb's Playlist" or "Tiny Diamond's Playlist" into the voice remote to pull up the music curated by a Troll.

• If you're a gamer, try entering the famous Konami Code into your remote for a fun, 8-bit-inspired Xfinity graphic.
• Don't know what the Konami code is? Say, "80s stuff" into the voice remote to find a fun collection of the greatest content from that decade.
· Saying "Kitties on YouTube" or "Puppies on YouTube" brings up baby animal cuteness with a selection of videos for an instant happiness boost.
• For a fun surprise from the Minions say, "Disco" into the voice remote
• Say, "Surprise me" to see a random movie or TV show.
• "Give me a compliment" gets you some flattery, plus show and movie ideas.
• Saying "Fitness" or "Exercise" will access workouts from Gaiam, Grokker, FitFusion, Daily Burn, TouchFit and many more.
• You can find lost objects by saying, "Xfinity Mobile, find my phone," and we'll call your device. Or you can say, "Xfinity Home, find my keys," and customers can find objects, such as keys, purses and more, that are connected to their Tile device, all through the voice remote.
• Finally, say, "the Inside Guide," and a new collection of helpful tips will come up, with ideas on making the most of days at home by staying in shape, learning a new skill or discovering a new favorite TV show.
Fire TV Cube, hands-free with Alexa built in, 4K Ultra HD, streaming media player, released 2019