Like GearBrain on Facebook
How many times do you have to tell you kids to get off their smartphone/tablet so you can speak to them? Are you tired of them spending more time playing an online game with their friends than speaking Grandma and Grandpa when they visit? According to Common Sense Media, more and more kids are watching more online videos today. With the holidays coming up and school on vacation, this could be a problem for some families. Thanks to Comcast, they are introducing a new tool for parents which can help solve this problem as well as offer a lot of flexibility to control their kid's screen time or online access just in time for the holidays.
Based on customer feedback on having more control over their children's screen time when connected to their home Wi-Fi network, Comcast launched a new Xfinity xFi scheduling tool for subscribers today. This new scheduling feature builds upon xFi's most popular "bedtime mode" and was created as a result of high customer demand to better manage screen time. Parents can now set up 30 different screen time schedules per profile, so all the devices a child uses – like tablets, smartphones or gaming consoles – can be paused during family holiday activities, or daily routines like homework, after school tutoring, instrument practice, family game night, and more.
Xfinity xFi appComcast
The children's advocacy organization Common Sense found that 69 percent of kids have a smartphone by age 12 and the number of tweens and teens watching videos online every day has more than doubled since 2015 – creating more digital distractions this holiday season. With this feature, parents will have the flexibility to schedule specific time for screen time to empower parents with more tools during the holidays. Using the Xfinity xFi app, parents can also instantly pause Wi-Fi access for all or just a few connected devices, set up a specific time allowance for Wi-Fi usage, easily onboard new devices gifted during the holidays, and set up parental controls on the content their kids are viewing online.

"The xFi bedtime mode feature really resonated with our customers, and we heard from them that they wanted more precision and control in managing their kids' screen time schedules. As a father of four, I know that screen time is one of the biggest painpoints for parents," said Dave Puckett, Vice President, xFi & Digital Security, Comcast. "That's why we created this new xFi scheduling feature, to empower parents with a simple tool to be more involved in when and how their kids use the Internet."
To set up this feature, customers simply need to:

Open the xFi app on their Android or iOS device, or go to the xFi digital dashboard online.
Go to the individual child's profile.
Click "Create a Downtime Schedule".
Choose an icon like bedtime, homework, or dinner, to help identify their schedule.
Select the days of the week and the start and end time for scheduled offline time.

Xfinity xFi is a simple, digital dashboard for Xfinity customers to personalize, troubleshoot, monitor, and control their home Wi-Fi network. In addition to the parental control features like pausing Wi-Fi and bedtime mode, xFi provides content filters that ensure younger children can only access age-appropriate content, websites, and apps, and real-time alerts when a new device connects to the home Wi-Fi network.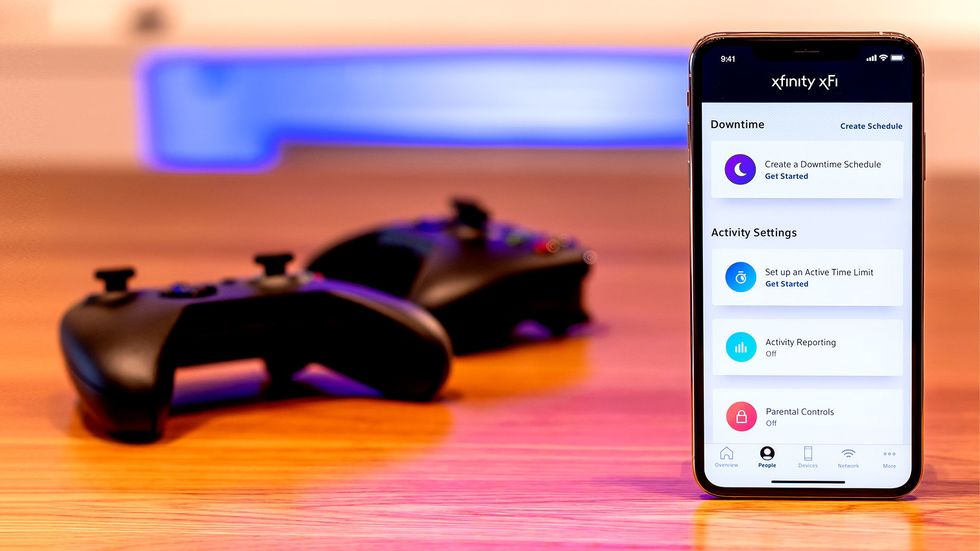 Xfinity xFi scheduling feature controls online usage for all connected devices in the home.Comcast
Xfinity xFi can be accessed via the xFi mobile app (iOS and Android), website, or on the TV with the X1 voice remote. The service is available at no extra cost to the more than 17 million Xfinity Internet customers who lease a compatible Xfinity gateway.

If you are a Comcast Xfinity subscriber and you want to cutdown on your children's online usage and/or screen time, you have to consider this new scheduling tool. It's easy to setup and will give you the flexibility to provide a healthier and quality holiday season for you and your family. It might also help your kids become a little bit more social which is not a bad thing for all.
Check out The GearBrain, our smart home compatibility checker to see the other compatible products that works with Comcast's Xfinity Home X1 Platform.

From Your Site Articles
Related Articles Around the Web
Like GearBrain on Facebook