We all know we should eat healthily, sleep well, and actually use that gym membership we blindly pay for every month. But it's all too easy to blame traffic, long work hours, or bad weather to put off a trip to the gym.
To help fix this, there is a wide range of smartphone and smartwatch apps which talk you through exercises you can do at home. Many don't even require you to own any gym equipment, instead using bodyweight or household objects to get you into shape.
Some of these apps are free, some have monthly subscriptions, and others offer a combination of both.
Aaptiv - iOS (plus Apple Watch) and Android

Aaptiv
This is an audio-based fitness app with over 2,500 training sessions led by certified personal trainers. The sessions, which can be downloaded to listen to offline, are designed to be accessible for beginners and equally useful for daily gym-goers.
Workout types include running, rowing, strength training, circuit training, plus stretching, yoga and meditation. The shortest sessions take just seven minutes to complete. There are specific training programs for goals like completing 5km and 10km runs, plus half and full marathons.
Aaptiv adds 30 new classes every week and there are dedicated sessions for indoor and outdoor running, and HIIT (high intensity interval training) classes. Unlike most fitness apps, Aaptiv includes licensed music rather than the same old royalty-free tracks some others use.

Aaptiv offers a 30-day free trial to new users, then is priced at $14.99 per month or $99.99 annually. New customers can get 60 percent off, which works out at just under $6 a month. Alternatively, there is an option to unlock lifetime membership for a one-off payment of $399.99.
8fit - iOS (plus Apple Watch) and Android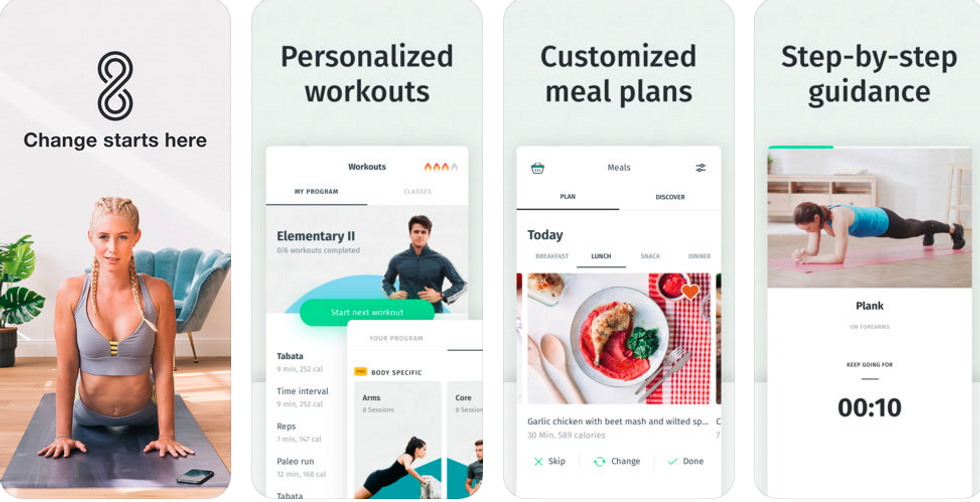 Urbanite
Similarly to Aaptiv, 8fit helps you train at home without any equipment. Available in six languages, 8fit workouts use video tutorials and take between 15 and 20 minutes to complete.
Their difficulty ranges from complete beginner to fitness fanatic, with the opportunity to leave feedback on how challenging and enjoyable you found each workout, to help tailor the experience to your abilities.
There are exercise plans for specific goals, like losing weight, gaining muscle, or upping your general fitness levels, and paying subscribers gain access to a comprehensive nutrition guide and weekly meal plan to complement their workout routine. The meal plans also include shopping lists and recipes, and there's a system for logging every meal you consume outside of the plan. This all adds up to make 8fit a one-stop-shop for health and fitness.

A wide range of 8fit's workout sessions are free, while the rest — and the meal plans — are part of a $25 per quarter or $60 per year subscription
Freeletics Bodyweight - iOS and Android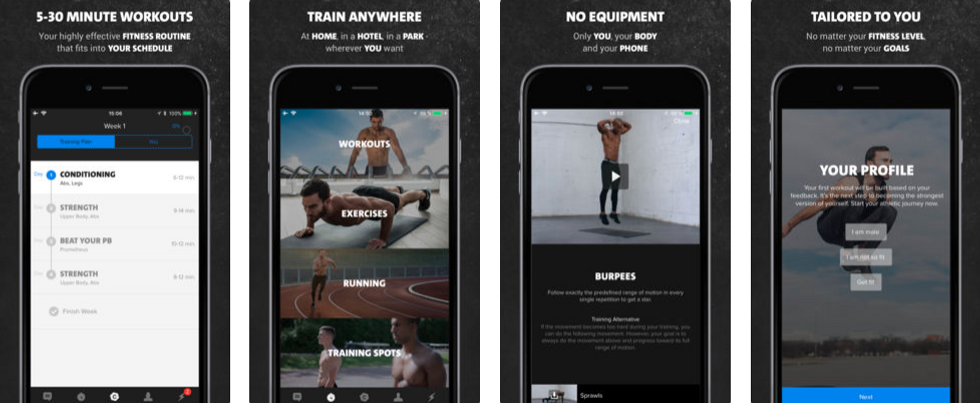 Freeletics
The entire focus of this app is to exercise with nothing but your own bodyweight. The exercises all follow the HIIT format and there are over 900 workout variations to pick from.
Sessions last between 10 and 30 minutes, and cover all users from newbies to professionals, with video tutorials to help you train the right way. You can find exercises based on which muscles you want to train, and there's a dedicated section for working out in small spaces, like the hotel room on a work trip.
All exercise videos are free to access, while subscribing unlocks a virtual coach which provides a weekly fitness plan based on how many times per week you are available to workout, and what you want to achieve. Subscription starts at $34.99 per quarter for a personal coaching plan, or $89.99 for six months of coaching and a nutrition plan.

Sworkit - iOS (plus Apple Watch) and Android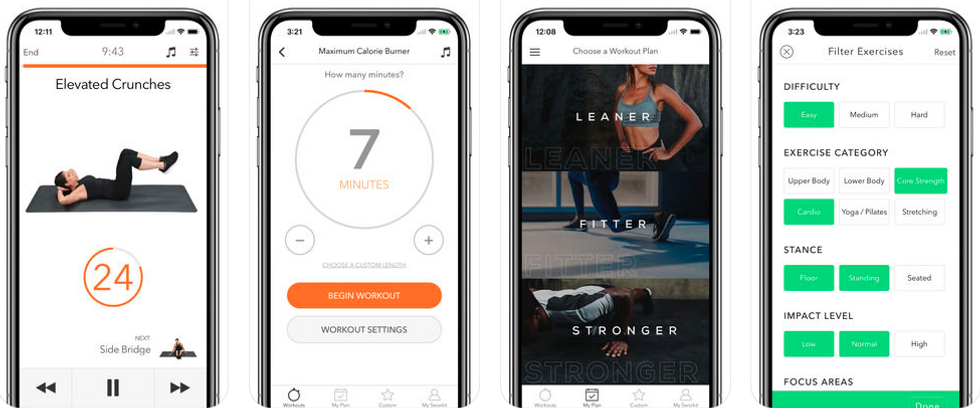 Nexercise
Sworkit offers workouts ranging from five to 60 minutes in length, and lets you build your own to train exactly the way you want. Each exercise includes a video to show how it should be done, and sessions can be tailored based on how much time you have to exercise.
You can also pick how intense each session is, which parts of your body it exercises, what the impact level is (to help work around any injuries you might have), and whether it is a standing or seated session.
A six-week program is designed to help amateurs get started, and can be adjusted to help them get leaner, fitter or stronger. Once you have got to grips with the basics, custom workouts can be created to focus on your goals and avoid any exercises you don't enjoy. The app includes over 100 workouts made up of 300 exercises.

Sworkit costs $29.99 per quarter or $79.99 annually, and both plans come with a 30-day free trial which can be cancelled at any time, effectively giving you the first month for nothing.
Daily Yoga - iOS (plus Apple Watch) and Android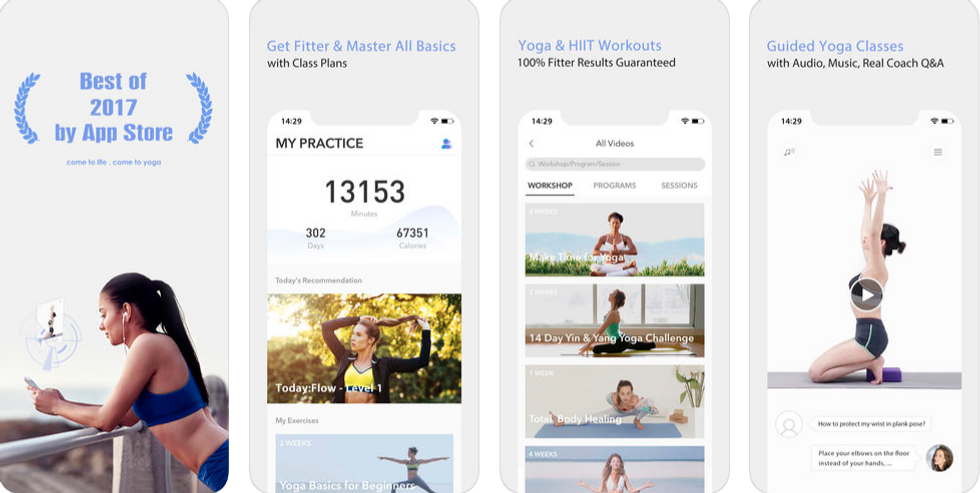 Daily Yoga Software Technology
While some fitness apps - like 8fit - include yoga sections, Daily Yoga offers a more complete package. The app has over 500 postures (each with its own video tutorial), 200 guided classes for yoga, pilates and meditation, and over 50 workout plans for yogis of any experience level.
You can pick what you want to get out of the app — such as getting toned, boosting mindfulness, increasing your overall health, or just becoming a yoga expert. Pick one of these and the app guides you through every session with your goal in mind.
The app begins with a two-week course aimed at complete yoga beginners, and offers a Q&A function with experts if you need a specific question answering. A rewards system adds an element of competition, and you can compare progress with your friends within the app.
Subscription costs from $9.99 per month, up to $69.99 for a year's access. Alternatively, lifetime access can be bought for a one-off payment of $399.99.
We liked how the two-week beginner's course can be accessed for free with no commitment, and this is followed by seven days of free access to the entire app when committing to a discounted $5.99 monthly subscription.