Like GearBrain on Facebook
Comcast has a new xFi Pod for its Xfinity Internet customers, and has doubled the speed of the original xFi Pods up to 500 Mbps, depending, of course, on what speed someone has signed up for at home.
The company knows people are leaning more heavily on their home internet connection, and have seen demand for the original Pods actually double since Covid-19 started to spread intensely across the U.S. in March, 2020, and people began to work — and even go to school — from home. Comcast launched these in 2018, a way to extend the Wi-Fi coverage in subscribers' homes.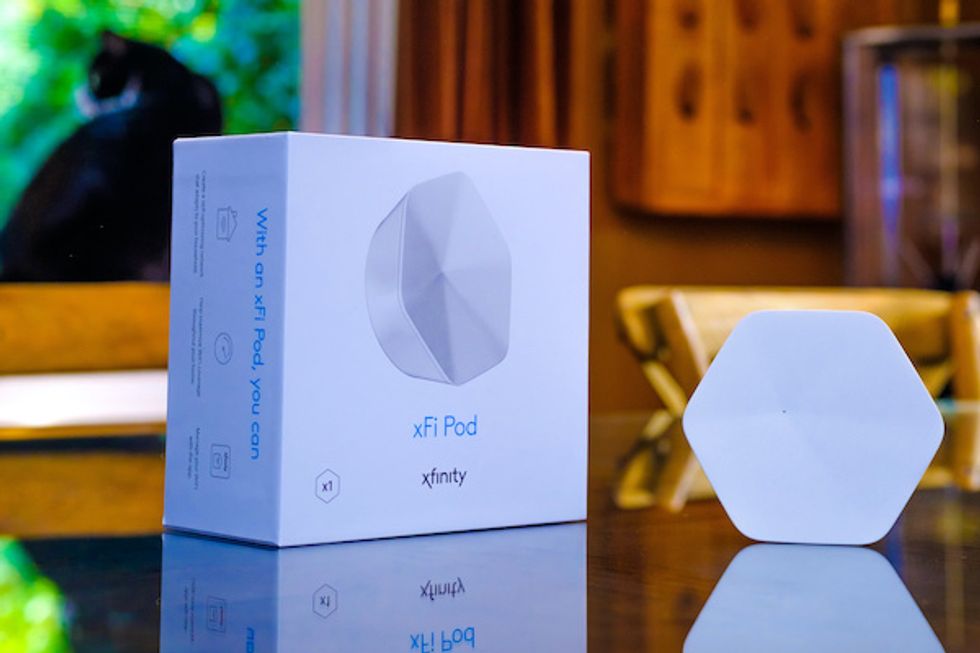 Working and attending school from home has put more demand on people's Wi-Fi need Comcast
The new updated xFi Pods have a tri-band Wi-Fi radio, designed to connect to more devices at high speeds, and they also works with people's existing xFi Gateway. There are two ethernet ports as well, so people can connect their devices directly if they choose. The new Pods also retain the same white, hexagonal shape as the originals, and they're small enough to plug into an outlet.

Wi-Fi extenders are necessary for those who live in spaces where Wi-Fi signals can be obstructed. People may think they only need these devices if they live in a large home, but even small spaces can create Wi-Fi issues if there are twisting hallways or even plaster walls.
Adding the xFi Pods to an existing Xfinity account just requires downloading the Xfinity iOS or Android app, clicking on the Account tab, picking the Pods in the option and walking through the setup. Once linked, the Pods will be able show their connection status in the app, and which Wi-Fi devices are connected and how, such as through the Pods themselves or through the Gateway. People can also pause the Wi-Fi link in the app if they choose.
The new xFi pods are available now on Xfinity's site or in Xfinity stores, at $119 for one, or two for $199, plus shipping and handling.
Check out The GearBrain, our smart home compatibility checker to see the other compatible products that works with Comcast's Xfinity Home X1 Platform.
Introduction of The GearBrain, The First Compatibility Find Engine for Smart Devices www.youtube.com
From Your Site Articles
Related Articles Around the Web
Like GearBrain on Facebook