Like GearBrain on Facebook
In a world of animated robots, Cubelets is a definitely a downshift. They don't purr. They don't look like something recognizable. True building blocks, Cubelets requires someone to take a step towards them to engage. That choice, however, is worth it. Packed with sensors, motors, batteries and lights, Cubelets are the wooden blocks of the 21st Century, still basic in their form, but with a lot of digital function. We spent some time with The Discovery Kit, to see what we could create on our own.
Getting started
Cubelets require very little prep to start playing with them. You pull them out of the box, and they gravitate towards each other, held to one another by magnets. There isn't an app to download, you don't need to watch a video, and there's nothing to construct.
There are three different kinds of Cublets: Sense, Think and Act. Sense blocks are always black and do things like knowing if something is close or far, Act blocks are clear and do things like move the robot with wheels, or provide light, while Think blocks are different colors and do things like block information from one side of the robot to the other.
For example, the battery, which is blue, is a Think block — and one that has to always be attached to a robot. The battery flips on and off, and when low, can be recharged through a USB cord enclosed in the box.
We had five Cubelets in our Discovery Kit, a battery, a brightness Cubelet, a drive Cubelet which has wheels, a distance Cubelet and a brightness Cubelet. The kit also comes with two Brick Adapters, which lets you connect Cubelets to LEGO bricks, and a Bluetooth Hat, which lets you connect your creation to apps. (This is optional — you don't have to download apps to make Cubelets work, but you can if you want to expand what you'd like to do.
Building blocks
Because the bricks are so simple, the robot combinations are endless. Turn the blocks around 180 degrees, and the robot does something different. There are a few starter projects to help get comfortable with them, but mostly these blocks begin for some downtime, when a child can relax, not worry about a peg going into the wrong hole, and just play.
Having them attach magnetically means they're ridiculously easy to construct and take apart. Educators may like to know there are also 50 lesson plans you can access, for free.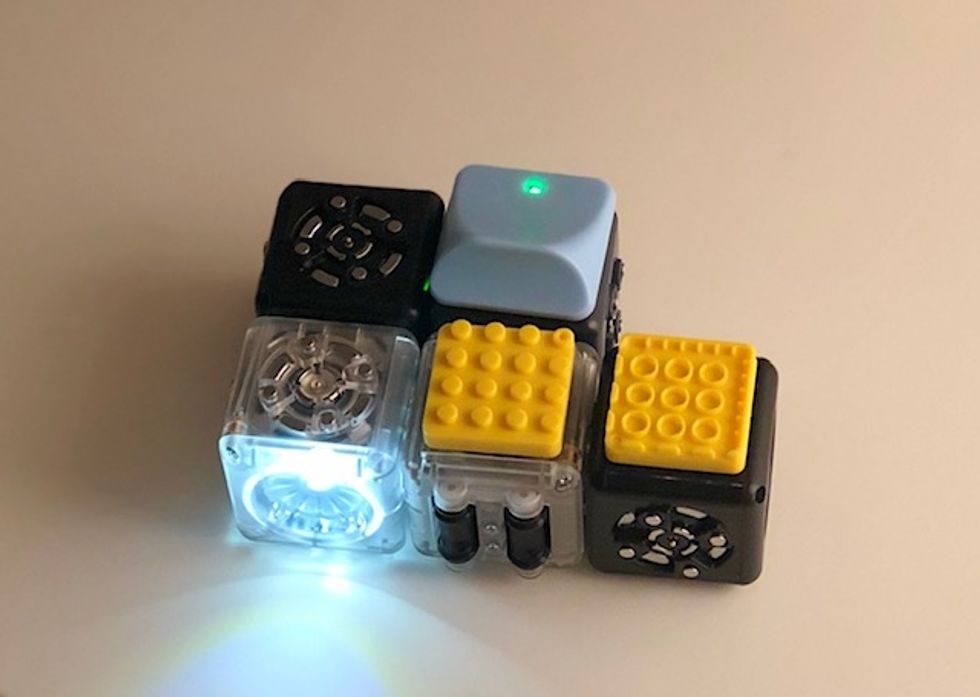 GearBrain
Those free lessons are a nice add as Cubelets are an expensive toy. The Discovery Kit costs $139.95, and additional blocks range in price from $25 up to $55 for one piece. That said, Modular Robotics, the company behind Cubelets, is currently donating $10 for every kit purchased to a Donors Choose campaign that includes Cubelets through December 25, 2018.
Should you buy them
The blocks are really endless fun — and really support the ability to invent without boundary. There's hardly and prep needed to start using them, not even coding skills. And yet, the experimentation of using Cubelets, that idea of if I add this, then what happens to that, is very much at the core of what coding requires.
The price, at $140, seems tough to digest when the same price can essentially buy a kit that builds a robot that can roll, make noises or respond to commands. That's essentially what makes Cubelets are worthwhile toy to consider — a toy that lets you invent your own toy, and your own play.
Pros:
Extremely simple to use
Encourage invention
Incredibly durable
Cons:
Price
You're likely going to want to buy additional Cubelets for projects
Older children may find the toy too simple
From Your Site Articles
Related Articles Around the Web
Like GearBrain on Facebook