Mercedes-Benz parent Daimler has beaten Tesla to the punch, revealing an all-electric semi-articulated truck with a range of 220 miles and the ability to haul 11 tons of cargo — just 1.8 tons less than its diesel equivalent.
The announcement comes three weeks before Tesla is due to reveal an electric truck of its own, dubbed the Tesla Semi.
Company boss Elon Musk had originally scheduled the reveal of his first truck for October 26, but delayed the event to focus on removing so-called bottlenecks from the Model 3 production line.
Revealed at the Tokyo Motor Show, the Daimler truck is called the E-Fuso Vision One and is powered by a 300 kilowatt hours battery in its top configuration, three times larger than the biggest option fitted to Tesla cars.
Given the truck's size and modest range, it is likely to begin life in Europe and Japan, home of Daimler subsidiary Mitsubishi Fuso, which recently showed off a smaller all-electric truck of its own.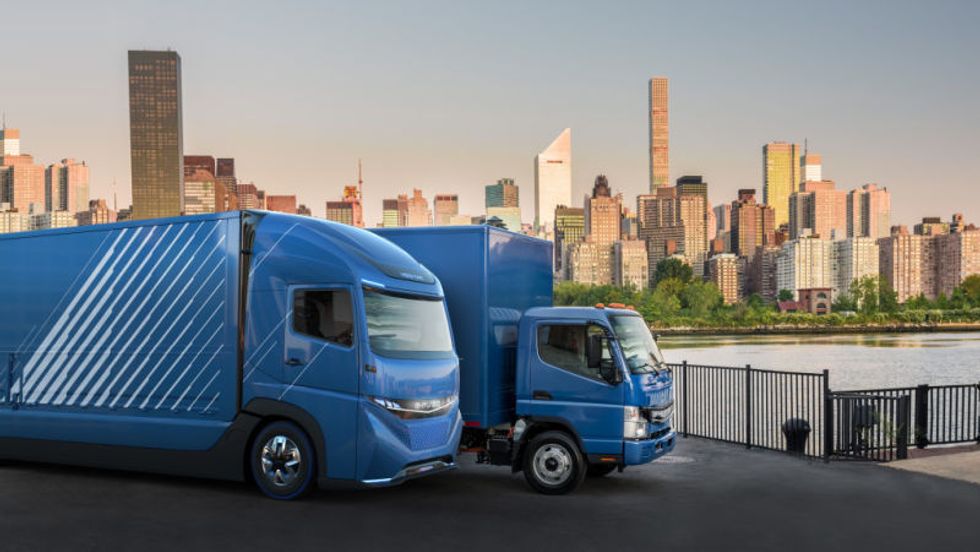 Electric truck is a modern take on the Japanese originalDaimler
Although Daimler failed to mention North America during the launch of the Vision One, promotional images of the electric truck appear to show New York City in the background. While connecting local towns and cities is possible, battery technology has some way to go before electric trucks are capable of making long-haul journeys across the US.
Daimler claims the charging infrastructure in Europe and Japan should soon be enough to make driving the truck feasible. But, given the truck is just a concept for now, it could be several years before a production version goes on sale - by which point charging infrastructure across many countries will have improved dramatically.
As for the Tesla Semi, the launch event has been put back to December 16 while Tesla working on getting the Model 3 production line up to speed.
Footage claiming to be of the Tesla truck shows it silently driving on the streets of California. The truck is rumored to have a range of between 200 and 300 miles, but other details are scarce.