Tesla Model 3 owners have been warned: Let their smartphone run out of battery and they could be locked out of the car.
Elon Musk's latest electric car can be unlocked and driven with the tap of a card, or simply with their smartphone in their pocket. But new instructions now explain why drivers should never leave home without both their phone — and the card, which works like a hotel room key.
Not available on the more expensive Model S and Model X vehicles, the unlock system is unique to the Model 3, a car delivered without any traditional key or fob at all and starts at $35,000.
As revealed by a Model 3 user manual uploaded to the web, drivers can tap one of the two hotel room-like key cards provided with the car to get in and start driving. Tap the card towards the top of the car's B pillar between its front and rear doors, and you have 15 seconds to get in and switch the car on by pressing the brake pedal.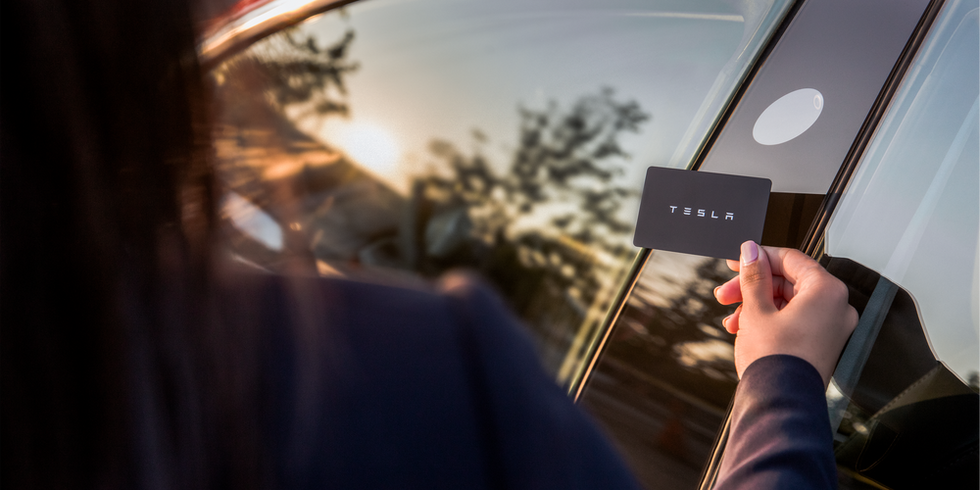 Unlocking a Model 3 is like opening a hotel roomPhoto via Tesla
Fail to press the pedal within 15 seconds, the car can still be unlocked inside by tapping the same RFID card on a space between the two front cup holders.

For many drivers that may sound sci-fi enough. But as an extra technological flourish, the card can authenticate a smartphone running the My Tesla app, which then becomes the key. Once the app is downloaded to your iPhone or Android device, logged into and set up, the Model 3 unlocks whenever the phone is nearby, locking again when the phone moves away.
No more rummaging around in your bag for the keys or running back inside because you forgot the fob — if your smartphone is in your pocket or bag, the Model 3 will unlock and work the moment you stand by the door.
Called 'Walk Up Unlock' and 'Walk Away Lock', the features require Bluetooth to be enabled on your smartphone and for the Tesla app to be running in the background. Force-quit the app, and you'll need to re-launching it. Plus, if you log out of the app you need to authenticate the phone again using your key card.
Tesla also warns that drivers must carry the card and their phone together, because if the phone battery runs out (or is lost or stolen) and your card is at home, there is no way back into the car. The Model 3's technology is certainly fun and convenient, but could land you in a world of trouble if that phone goes missing. So until Elon Musk starts embedding keys under our skin (because of course he will), it's best to keep that key card to hand.