Like GearBrain on Facebook
The original Mavic was DJI's first folding drone, which took much of the power and features of its flagship Phantom, but slotted them into an incredibly compact package. Instead of filling a backpack, it could almost slip into a coat pocket. Then along came the Mavic Air and its ingeniously compact controller, complete with folding smartphone cradle and detachable joysticks.
Now, we have the Mavic 2. Or rather, we have the Mavic 2 Pro and Mavic 2 Zoom. Physically almost identical to each other, the former has a Hasselblad-branded camera with a large 1-inch sensor and HDR video recording, while the latter has 2X optical image zooming, but no HDR or Hasselblad smarts.

Read More:

Here we are reviewing the Mavic 2 Zoom, which we suspect will be the more popular of the two among consumer drone pilots. The Zoom costs $1,249 and the Pro costs $1,449 - both serious investments, but as ever with DJI drones, the significant outlay returns a highly sophisticated device packed to the rafters with quality features which take time to learn and master.
The at-a-glance stats for the Mavic 2 Zoom include a flight time of up to 31 minutes, 4K Ultra HD video recording at 30 frames per second (or lower resolutions at 60 and slow-motion 120fps), a top speed of 44 mph, object tracking and avoidance, live Full HD video transmission to your smartphone from up to five miles away, and a wide range of autonomous flight modes.
​DJI Mavic 2 Zoom review: Hardware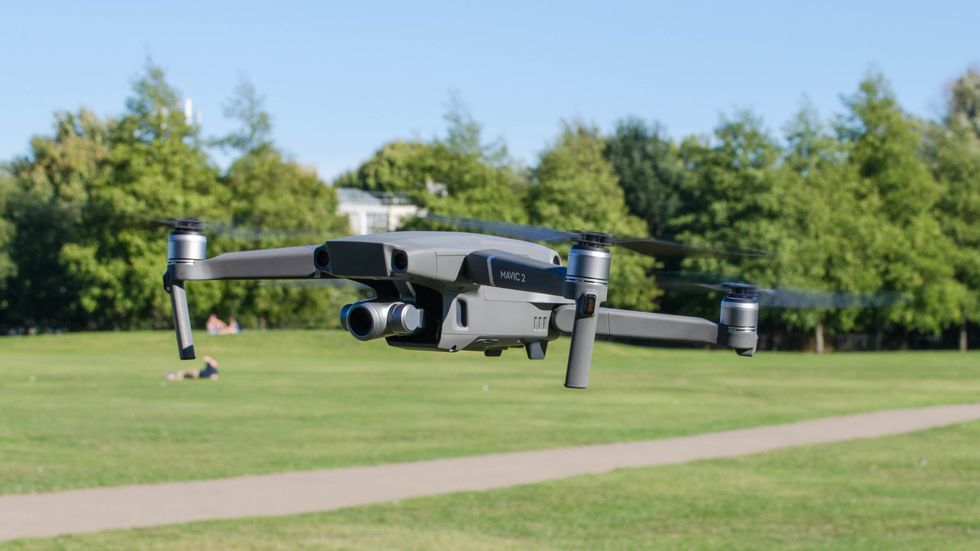 GearBrain
DJI says the second-generation Mavics have been redesigned to lower drag by 19 percent compared to their predecessor, meaning their small increase in weight to 905g is offset by extended flight time.

Unchanged is how the drone ingeniously folds up to take up very little space in your bag. All four arms fold up to sit snugly against the body, while the rotors also fold up (or you can use the quick-release mechanism), and there is a detachable cover to protect the delicate camera gimbal when you're not flying.
The Mavic 2 feels instantly more business-like than the slightly toyish Mavic Air, while the controller has extra buttons which can be configured to quickly enable certain features, and there is a digital display for key stats like speed, altitude and flight mode. Below this, the controller grips your smartphone, which through the DJI app is used to dig deeper into the control system and show a map, flight course, and live broadcast from the camera.
New for the Mavic 2 are extra sensors on the top and rear for enhanced object avoidance, plus a pair of downward-facing LEDs which light up when you come into land - something which looks particularly cool during a dusk landing. DJI also claims the Mavic 2 is quieter to fly than the original, but as with any DJI drone it is still fairly loud at low altitude.
DJI Mavic 2 Zoom review: Software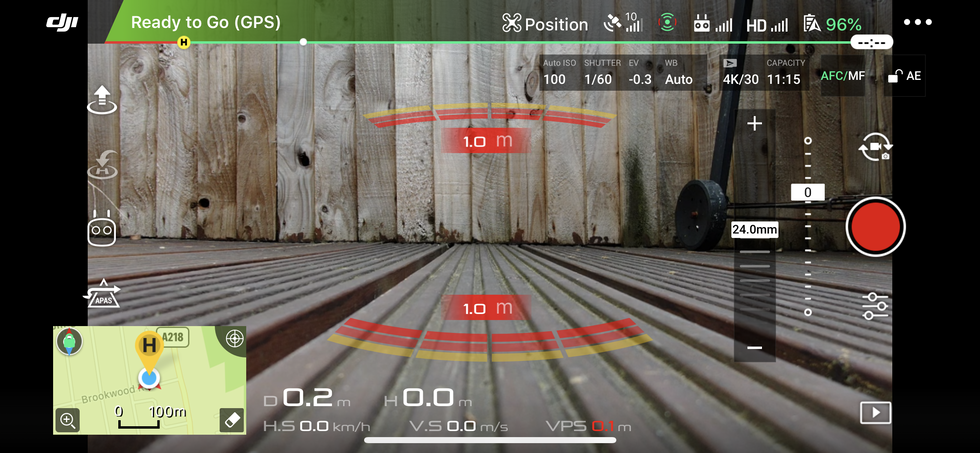 GearBrain
Settings up the Mavic 2 for the first time employs the same simple process as other DJI drones. This involves charging the batteries, downloading a free app to your phone (iOS or Android), connecting your phone to the controller (via the included Lightning, USB or USB-C cable) and switching everything on.
The app, along with status lights on the drone and controller, make it clear when everything is connected properly and the drone is ready to fly. But before your first flight there are several pages of flying advice to flick through, and a brief walk-through of the in-flight user interface.
This is where anyone new to drones, and DJI quadcopters in-particular, could start to feel overwhelmed. A lot of new features have been added over the years, and the interface (while logical to DJI veterans), presents an awful lot of information at once. There are also several menus and submenus to wade through, and not everything works until you take off.
We think DJI could benefit from offering a beginner mode for first-time flyers, stripping away all of the extra features and giving newbies the opportunity to get to grips with the basic flight controls before tackling anything more advanced.
Drones like the Mavic 2 are serious pieces of equipment and must be treated as such. For example - and rather unbelievably - this drone can fly to a maximum altitude of 19,000 feet (yes, really), and fly up to five miles from its controller. Of course, flying so high is all kinds of illegal so the app restricts the maximum altitude to 400 feet by default.
Laws vary by country, but general guidelines for drone flight include keeping the aircraft away from buildings and people, within sight at all times, and well away from airports. The app will alert you if you stray into a no-fly zone, of which there are many scattered across major cities - and even in rural areas to protect infrastructure or keep you away from remote airfields.
DJI Mavic 2 Zoom review: Camera and video quality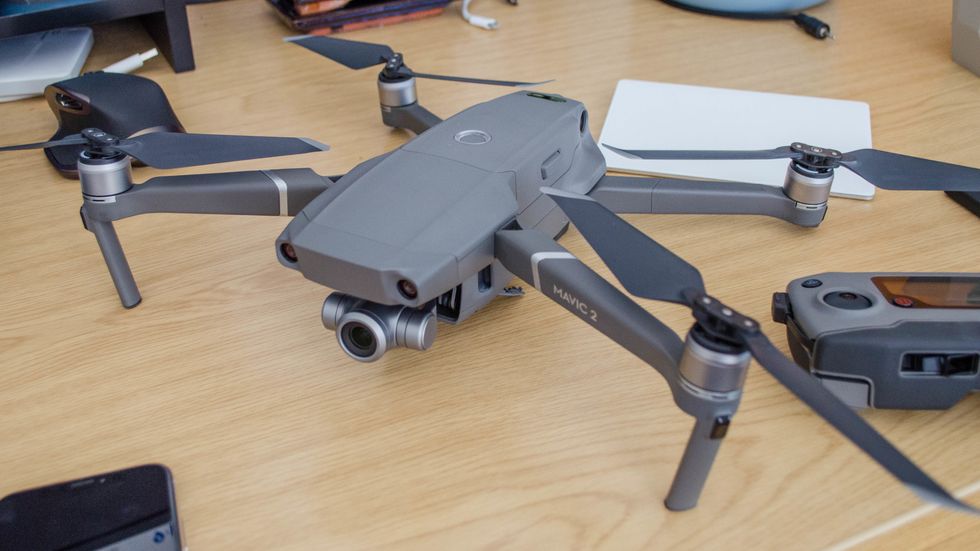 GearBrain
The camera is of course the Mavic 2 Zoom's unique selling point. It has a 12-megapixel sensor with a focal length of between 24 and 48mm (which gives it 2X optical zooming capabilities). As well as 2X optical zoom, it also offers 4X lossless digital zoom; this is achieved by lowering the image quality from 4K to Full HD, then using the extra pixels to zoom in without losing any quality.
Zooming in obviously gets you closer to your subjects without flying the drone any nearer, which can come in handy if noise is an issue, or flying the drone closer is going to be tricky. Zooming also creates a nice blurred background, adding some cinematic shine to your videos and a greater sense of speed when panning past a subject.
A scroll wheel located below your right index finger is used to control the zooming, just as a second wheel on the left can be rotated to raise and lower the camera. Once you get the hang of it, this extra control feels entirely natural.
One thing to bear in mind is keeping your subject in focus. Sometimes we would fly around without realising the part of the scene we were aimed at was out of focus; tapping on the phone screen tells the camera where to focus, which is does in a heartbeat.
Example of a Dolly Zoom, produced by DJI: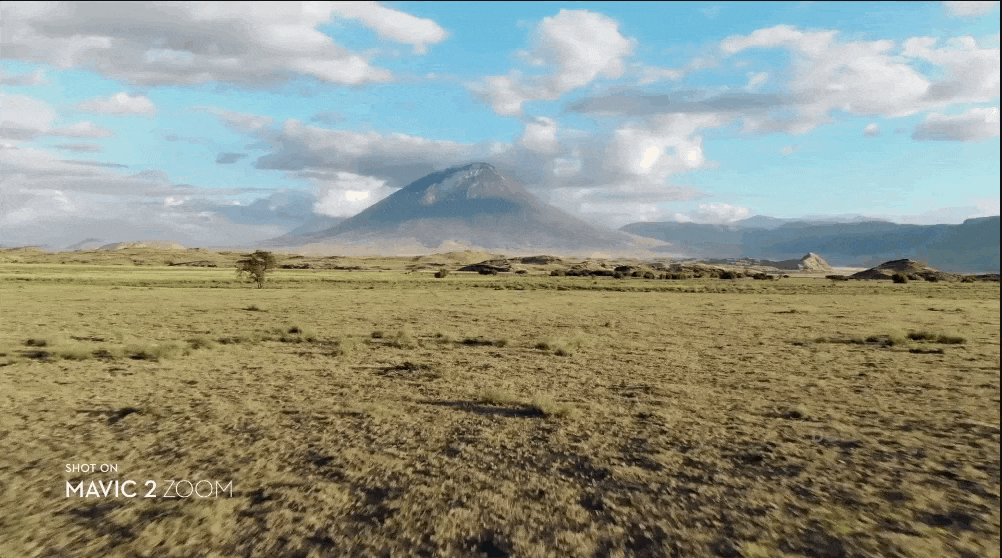 DJI
The new zoom system means the Mavic 2 is capable of performing a Dolly Zoom, where zooming in and flying backwards keeps your subject the same size while the background is magnified, Hitchcock-style.
A second new feature, which is available on both versions of the Mavic 2, is Hyperlapse, which shoots a timelapse video while the drone moves. You can set it to fly from one predetermined point to another, circle a target, or take manual control and switch on 'cruise control' to keep the speed steady. Hyperlapse videos shoot an image every two seconds, and ideally you need 100 to 150 images to get a good video, which takes around five minutes as the drone flies itself very slowly across the sky.
The results are very impressive, and reminiscent of something you'd see on an episode of Planet Earth, with clouds whizzing across the sky, or traffic moving on fast-forward below, while the drone moves slowly forwards.
Other shooting modes, like Asteroid and Boomerang, return here after debuting on the Mavic Air. One final autonomous shooting mode is 'Super Resolution Photos', where a 48-megapixel image is taken by snapping a bunch of photos and stitching them all together.
All of these effects are produced by the drone itself, so when you come to transfer your video files from the SD card to your computer, they are all ready to go - no processing on the PC required.
As with all DJI drones, the camera's gimbal system keeps the picture remarkably steady no matter how quickly you fly and change direction. When hovering the picture is so stable it's easy to mistakenly think footage has been paused when viewing it on your laptop, until you see cars moving on the streets below.
Finally for the camera, you can enter manual mode and tinker with the exposure, white balance and other variable to get the exact shot you want. It's doing this that makes you realize the Mavic 2 Zoom is as much a flying camera as it is an aircraft. We get equal joy from flying the drone like a model aircraft as we do hovering stationary for a couple of minutes to frame the perfect shot, or set up a Hyperlapse.
DJI Mavic 2 Zoom review: Flight performance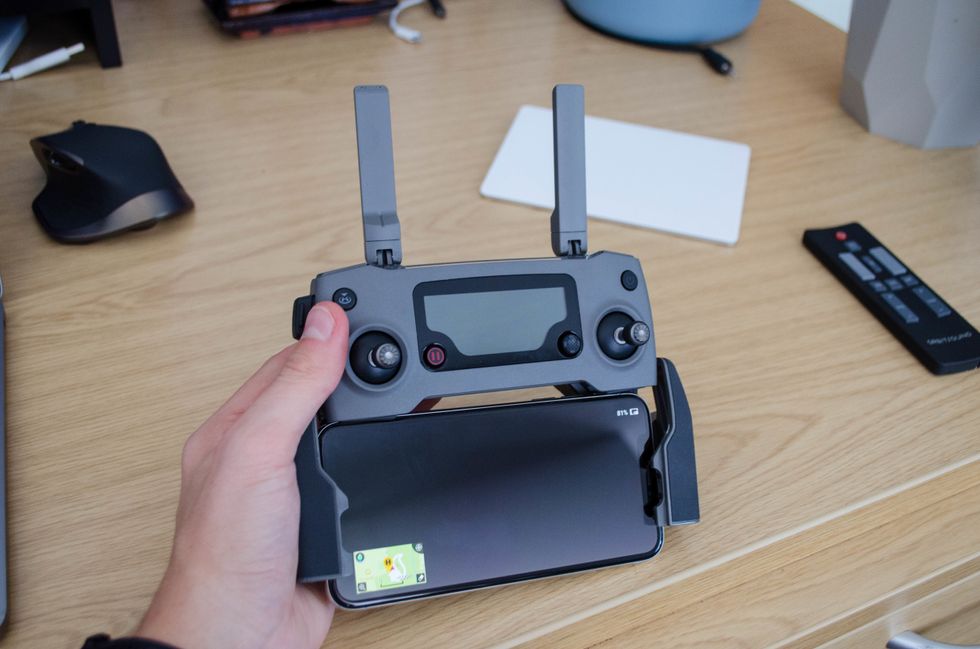 GearBrain
Once you get over the complex app and huge adjustability on offer - which can be somewhat daunting to the amateur pilot - DJI drones are very easy to fly. Their stability is hugely impressive, and although the noise and power demonstrated at takeoff can feel intimidating (along with the price and the fear of doing something wrong/accidentally illegal), it doesn't take long to get into your stride.
The default flight mode keeps all of the drone's safety systems switched on, so it will simply refuse to fly into objects, stopped a few feet short and issuing warning through the phone app. Enabling Sport mode gives you more control, upping the top speed and allowing you to fly as close as you like to objects.
Although it removes the safety net, the greater speed and agility of Sport mode is addictive, as the drone launches up into the sky, then streaks past at full speed - until you realise how small a seemingly large park becomes when flying at almost 45mph.
One of our favorite features is how the Mavic can follow you, or almost any moving object. Enable ActiveTrack 2.0, tap on yourself when in view of the camera, and walk or run away - the drone will faithfully follow, keeping you right in the middle of the shot. Walk towards the drone and it will back up - at which point you should of course raise your hand, convincing anyone nearby that you are some kind of drone Jedi, making it backup with your mind…
It would be reckless to brand the Mavic 2 as "uncrashable", and DJI itself describes it as having "omnidirectional obstacle sensing", but - Sport mode aside - you are in very safe hands.
As for battery life, DJI claims up to 31 minutes, but once you have taken off, fiddled with the camera settings and decided what you want to do - then of course landed again before the battery gets dangerously low - 25 minutes is a more reasonable estimate. We feel this is still impressive, considering the Mavic's compact size.
Below is some footage shot at dusk. The camera does well at dealing with noise, but without HDR it struggles to balance the exposure of the setting sun against the shadows.
DJI Mavic 2 Zoom review: Verdict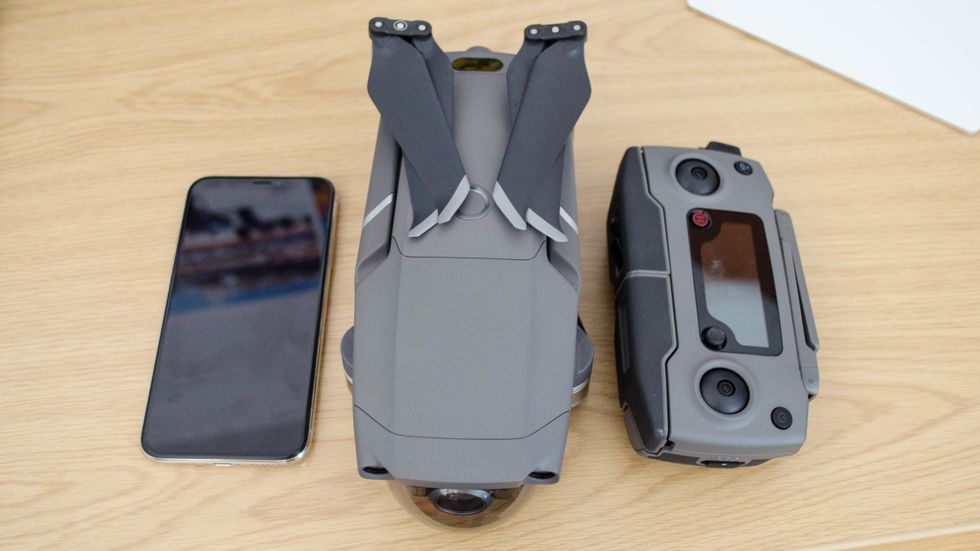 GearBrain
As with all DJI drones, the Mavic 2 is expensive and likely complicated for the novice flyer. But scratch below that intimidating surface and you quickly realize just how capable this drone is - and how much you get for your money.
The fold-up design of the drone and remote is excellent, setup is quick and easy, and the performance is really all you could want from a quadcopter at this price point. The enhanced obstacle avoidance and object tracking are welcome upgrades which work smoothly and reliably, while the ability to zoom adds a new dimension to what drones have been capable of until now.
Ultimately, there are enough functions here to satisfy the most creative of consumers, and when using the Mavic 2 it often feels like the only limit is that of your own creativity.

Like GearBrain on Facebook