Like GearBrain on Facebook
DJI is by far the most popular drone maker, but it might surprise you to learn just how many different models the Chinese company sells.
There are four tiers of drones sold by DJI, called Consumer, Professional, Enterprise and Agriculture. We will be sticking with the Consumer tier for this article, and within that we'll be looking at the Mavic range of folding drones. We will save the Phantom and FPV (first person view) series for another day.
Read More:
The Mavic range is surprisingly large, with it including nine distinct models as of April 2021. Some of these are older drones still sold alongside their successor, such as the Mavic Mini and the Mini 2. The Mavic Air and Air 2 are also sold in unison, and so too are the Mavic Air and DJI's latest drone, the Air 2S.
For the sake of brevity – and our own sanity – we'll be looking more closely at the Air 2S, Mini 2, Mavic Pro 2 and Air 2.
DJI Air 2S vs Mini 2 vs Mavic Pro 2 vs Air 2: Design, dimensions and weight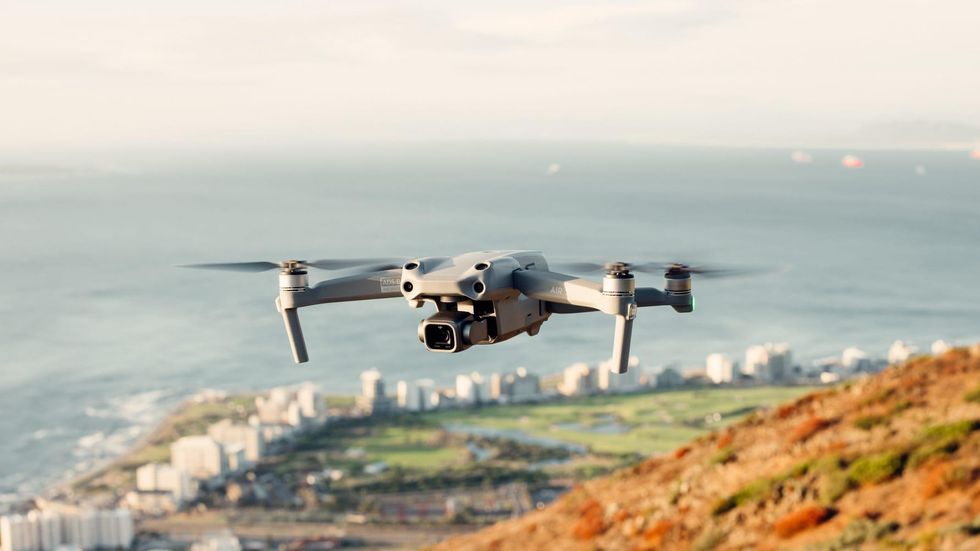 The new DJI Mavic Air 2S DJI
All four of these drones share the same folding design. This means the four arms fold inwards towards the body, making the drone remarkably compact and almost small enough to fit into a large coat pocket. The rotors are also easy to remove, and they too fold in half for easy storage and transport.

The Air 2 and Air 2S are identical in terms of size, measuring 183 x 253 x 77mm when unfolded. The newer Air 2S is slightly more compact when folded up, measuring 180 x 97 x 77mm compared to the Air 2's 180 x 97 x 84mm. The Mini 2 lives up to its name and is the smallest of the bunch, measuring 159 x 203 x 56mm when unfolded and 138 x 81 x 58 when folded.
The Mavic 2 Pro is comfortably the largest of the four, measuring 322 x 242 x 84mm when unfolded and 214 x 91 x 84mm when folded up.
There are also large differences when it comes to the weight of these drones. The Mini 2 is under 249g (DJI doesn't state a specific figure), which means it can be used without the owner registering with the Federal Aviation Administration, so long as they are flying for fun and not using the drone for any commercial activity. The Mini 2 is under half the weight of the 570g Air 2 and the 595g Air 2S. The Mavic 2 Pro is easily the heaviest, at 907g.
DJI Air 2S vs Mini 2 vs Mavic Pro 2 vs Air 2: Battery life and top speed
Despite their different sizes and capabilities, flight time is broadly the same across the DJI Mavic range. The Air 2S, Mini 2 and Mavic 2 Pro all have a maximum flight time of 31 minutes, and the Air 2 beats this slightly with 34 minutes.
Those figures all depend on various factors, including how the drone is flown, which flight mode is being used, and how windy it is during the flight, as the drones use more energy to keep themselves stable in gusty conditions.
There are large differences when it comes to the top speed of each drone. The Mini 2 has a top speed of 22mph in normal mode and just under 36mph in sport mode. The Air 2 and newer Air 2S can both hit 42.5mph in sport mode, and the Mavic 2 Pro has a top speed of 44.7mph.
DJI Air 2S vs Mini 2 vs Mavic Pro 2 vs Air 2: Camera and resolution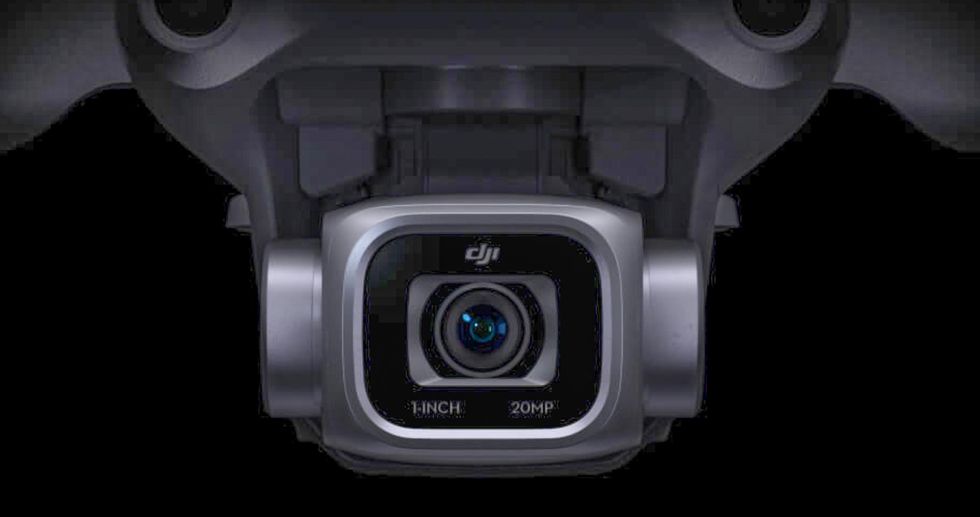 Camera and gimbal mount of a DJI Mavic droneDJI
Flight time and top speed are more useful factors when comparing drones, but what really matters is the camera fixed to their nose.

Attached to a three-axis gimbal, the cameras of all DJI drones produce high-quality video and photos that are remarkably smooth and stable, thanks to how the gimbal automatically moves to stabilize the camera no matter how the drone is moving, or being blown by the wind.
All of these drones use CMOS imaging sensors, which are used to create a digital image, but some are larger than others. Generally speaking, a larger sensor captures more light and produces better images and video. The DJI Mini 2 has a 1/2.3-inch sensor, while the Air 2 has a 0.5-inch sensor and both the Mavic Pro 2 and new Air 2S have a large 1.0-inch sensor.
All four drones can shoot 4K video, but at different frame rates. The Mini 2 and Mavic 2 Pro are limited to 4K at 30 frames per second (or 2.7K at 60fps), whereas the Air 2 and Air 2S can manage 4K at 60 frames per second. The Air 2S takes things a step further with the further option of 5.4K at 30fps.
If you want high frame rate, slow-motion video, the Air 2S and Mavic 2 Pro can record 1080p Full HD at 120fps.
As for photography, the Mini 2 has a maximum resolution of 12 megapixels. The Air 2S and Mavic 2 Pro can each shoot 20MP photos, and the Mavic Air 2 wins this particular contest with a maximum resolution of 48MP. However, the larger image sensor of the newer Air 2S means its photos will generally be of a higher quality than the Air 2, despite being half the resolution.
DJI Air 2S vs Mini 2 vs Mavic Pro 2 vs Air 2: Obstacle sensing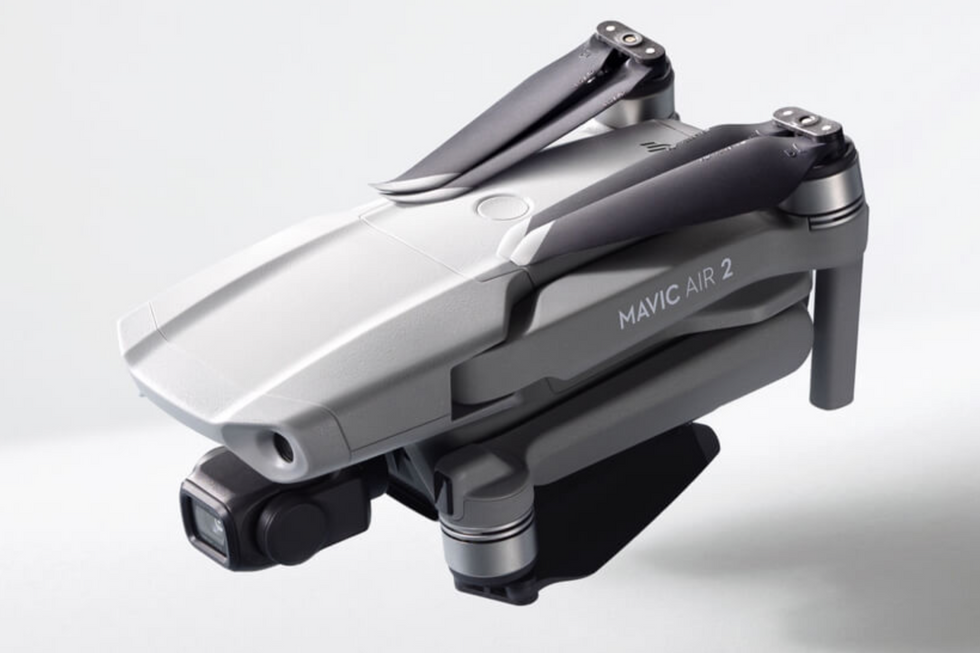 All of DJI's Mavic, Mini and Air drones feature the same folding design DJI
Another key component for any drone, especially if flown by an amateur pilot, if obstacle sensing. DJI drones are able to spot obstacles and, depending on how you have yours configured, will either stop and await your next command or navigate around the obstacle.

As you might expect, the smallest and cheapest option here, the Mini 2, has the fewest obstacle sensors. It has only a pair of sensors pointing downwards and designed to work at distances between 19 inches and 32 feet.
Next is the Mavic Air 2, which has downwards sensors sensitive to distances between four inches and 26 feet. These are joined by forward- and backward-facing sensors that work at distances between 13 inches and 77 feet.
The Air 2S and Mavic 2 Pro both have a full suite of obstacle sensors facing forwards, backwards, upwards and downwards (plus sideways for the Mavic 2 Pro). Despite the 2 Pro having more sensors, it is the newer Air 2S that has the more sensitive system, working at distances between four inches and over 90 feet.

DJI Air 2S vs Mini 2 vs Mavic Pro 2 vs Air 2: Price
Despite a lot of DJI's drones looking very similar, and in some ways them sharing a lot of the same flight and photography features, their prices vary significantly. Much of this is down to the technology on board, including the motors but also the obstacle sensors, processing power, ability to transmit live video to the controller and smartphone app, and flight modes.
The Mini 2 is priced at $449, while the Air 2 is $799, the Air 2S is $999 and the Mavic 2 Pro is $1,599.

From Your Site Articles
Related Articles Around the Web
Like GearBrain on Facebook