Like GearBrain on Facebook
We recently compared the new DJI Air 2S with three other members of the folding Mavic family. Now it's time to take a closer look at DJI's flagship Phantom drone, to see how it stacks up against the Air 2S and Mavic 2 Pro.
Here we have the three best members of DJI's Phantom, Mavic and Air product families. Their prices range from $999 to $1,599, with the Phantom 4 Pro V2.0 and Mavic 2 Pro both costing the latter. But their designs differ significantly, and there are further differences when the camera, features and flying capabilities are taken into account.
Read More:

DJI Phantom 4 Pro V2.0 vs Mavic 2 Pro vs Air 2S: Design, dimensions and weight

The Phantom is by far the largest and bulkiest of these three drones, and it also doesn't fold up like the other two do. The Phantom 4 Pro V2.0 has the same square design as all previous members of the Phantom family, measures 289.5 x 289.5 x 196mm and weighs 1,375g.
The rotors can be removed but the camera gimbal cannot, and due to its delicate nature it is best to put the Phantom in a purpose-made bag when traveling. The drone comes with a piece of plastic to cover the lens and hold the camera in place when not in use.
Meanwhile, the Mavic 2 Pro measures 322 x 242 x 84 when unfolded, giving it a slightly larger wingspan than the Phantom, but folds up to just 214 x 91 x 84mm when not being used. The Air 2S is the newest member of the DJI family and is 183 x 252 x 77mm, then shrinking to 180 x 97 x 77 when folded. It weighs the least by quite some margin, at 595g.
The Air 2S is by far the most portable of these three drones, but that doesn't automatically make it the best. A larger drone can be more powerful and carry a larger battery, and is less likely to be blown off course when flown in windy conditions.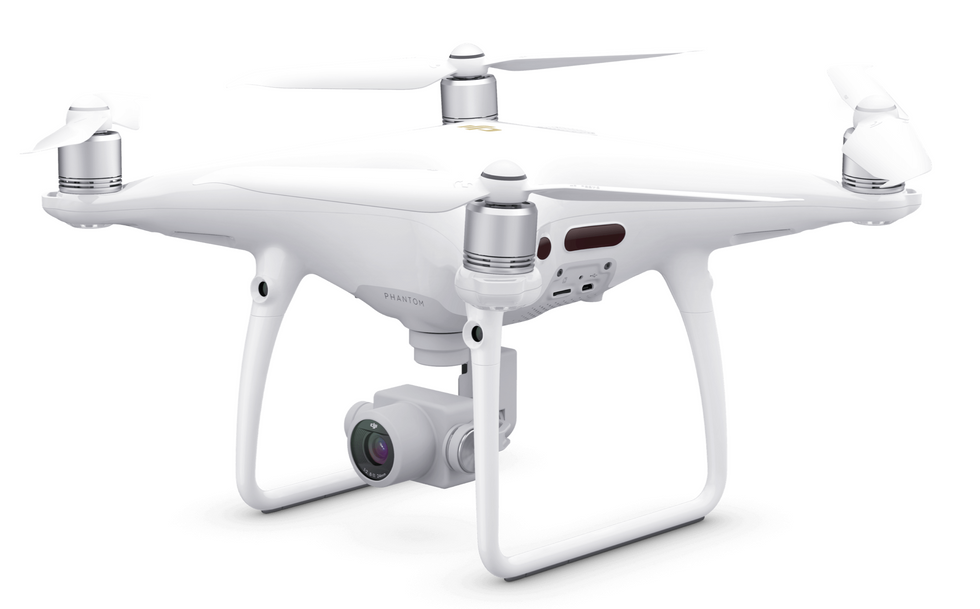 The Phantom is a versatile drone but cannot be folded like other models of DJIDJI
DJI Phantom 4 Pro V2.0 vs Mavic 2 Pro vs Air 2S: Flight time and maximum speed

Despite their different sizes and capabilities, all three drones have near-identical flight times. The Mavic 2 Pro and Air 2S are both rated at 31 minutes, but DJI gets to that figure when flying the Air at 19.4km/h (12mph), and a brisker 25km/h for the Mavic 2 Pro. When hovering, the Air is rated at 30 minutes and the Mavic is rated at 29 minutes. All of these stats are based on windless conditions, and pilots should be reminded that increased wind speed reduces battery life and flight time.
The Phantom 4 Pro V2.0 has a claimed flight time of 30 minutes at a constant 20km/h or 28 minutes when hovering with no wind.
As for top speed in Sport mode, the Phantom and Mavic can both reach 72km/h (44.7mph), and the Air 2S is slightly slower at 68.4km/h (42.5mph).
The Air 2S is the quickest when it comes to ascent and descent speed, managing six meters per second in both directions, compared to the slower Mavic (5m/s ascent, 3m/s descent) and the Phantom (6m/s ascent, 4m/s descent).
DJI Phantom 4 Pro V2.0 vs Mavic 2 Pro vs Air 2S: Camera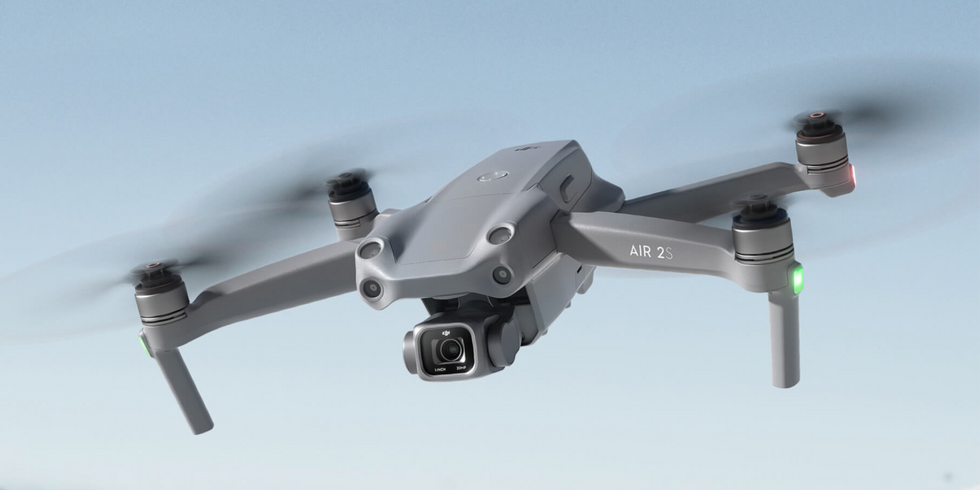 The Air 2S is DJI's latest droneDJI
The most important component of any drone is the camera. All three of these quadcopters have cameras attached to a three-axis mechanical gimbal that is automatically stabilized on the tilt, roll and pan axis. The gimbal of the Phantom can be adjusted manually for pitch, while the Mavic 2 Pro can be adjusted for tilt and pan, and the Air 2S includes tilt, pan and roll control, but at a slightly slower 100 degrees per second, compared to 120 for the other two drones.

The cameras themselves all feature a large 1-inch CMOS imaging sensor with a maximum photo resolution of 20 megapixels. The Air 2S stands apart here for having larger 2.4um pixels capable of capturing more light and detail. It also has a higher video bitrate of 150Mbps compared to 100Mbps for the Mavic and Phantom.
Their maximum video quality differs slightly, with the Mavic 2 Pro recording 4K at 30 frames per second, while the Phantom and Air 2S can manage 4K at 60fps. The Air can also shoot at 5.4K resolution, but limited to 30fps. All three have an ISO range of 100 to 3200 (auto) and 6400 (manual) for video and 100 to 3200 (auto) and 12800 (manual) for still images.
Their electronic shutters have a speed ranging from eight seconds to 1/8000th of a second, but the Phantom stands out here by also having a mechanical shutter option that has a speed range of eight seconds to 1/2000th of a second. The mechanical shutter of the Phantom eliminates rolling shutter distortion which can occur when capturing fast-moving options, or when flying quickly.
Also unique to the Phantom is how it can take photographs while recording video. However, these images are limited to a resolution of 4096 x 2160, compared to the maximum size of 5472 x 3648 when taken without video being shot. This maximum resolution is the same as the Mavic and Air when in photography mode.
Something the Phantom misses out on is the HDR mode of the Air 2S, which includes HDR Panorama images measuring up to 3323 x 8000 pixels.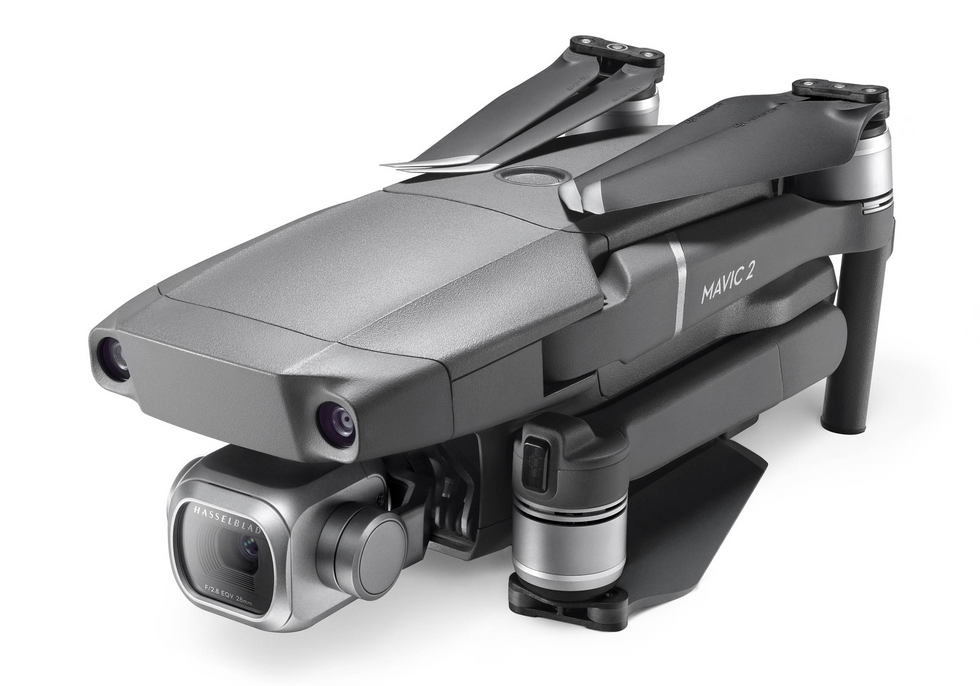 The Mavic and Air both fold up for easy storage and travelDJI
DJI Phantom 4 Pro V2.0 vs Mavic 2 Pro vs Air 2S: Internal storage

The Mavic and Air both have 8GB of internal storage, but when shooting 4K video you should really be recording onto a much larger SD card, so the Phantom's lack of internal storage, and therefore reliance on a memory card, shouldn't really be an issue.
DJI Phantom 4 Pro V2.0 vs Mavic 2 Pro vs Air 2S: Obstacle sensing
Despite having the joint highest price of the three drones, the Phantom has the fewest obstacle sensors. It can sense forwards, backwards and to the sides, while the Mavic also includes upward- and downward-facing sensors. Confusingly, and despite being the newest drone here, the Air 2S misses out on side-facing obstacle sensors.
DJI Phantom 4 Pro V2.0 vs Mavic 2 Pro vs Air 2S: Price
DJI's latest drone is also the most affordable of the three featured here, at $999. This is $200 more than the similar but older Mavic Air 2, but represents a considerable saving on the Phantom 4 Pro V2.0 and Mavic 2 Pro, which each cost $1,599.
For us, despite the iconic status of the Phantom's design and the handful of small features that separate it from its peers, those differences don't add up to the extra $600. If you have $1,600 to spend on a drone, we feel the Mavic 2 Pro's folding design is a major benefit over the Phantom, and the only real shortfall is 4K video recording being limited to 30fps instead of 60.
At $999, the Air 2S seems expensive compared to DJI's other compact drones, but the flight performance and camera specifications of this drone are more than a match for the far more expensive Phantom and Mavic; as such, we think the Air 2S is the DJI drone to buy right now.

From Your Site Articles
Related Articles Around the Web
Like GearBrain on Facebook