Like GearBrain on Facebook
An unannounced DJI device has surfaced online just hours before the drone company is due to make a new product announcement.
Called the Osmo Pocket, the leaked product is a pocket-sized action camera attached to an equally small stabilization gimbal. The device will likely be sold as a cheaper version of DJI's Osmo Mobile 2, a larger stabilization system.
Read More:

The new product has leaked to such an extent that a report by Drone DJ includes photos of the Osmo Pocket itself, along with images of its instruction booklet, which contains lists of features and what's included in the retail box. As leaks go, it's a fairly comprehensive one.
As per the instruction booklet, DJI describes the Osmo Pocket as "a handheld gimbal camera that combines mobility and stability in one device. It shoots sharp 12 MP still photos and stable video up to 4Kp60 [4K Ultra HD at 60 frames per second]. The onboard touch screen displays a live feed from the camera and can control camera and gimbal movements."
Like DJI's drones, the camera has 'intelligent modes' including ActiveTrack, Panorama, and Timelapse.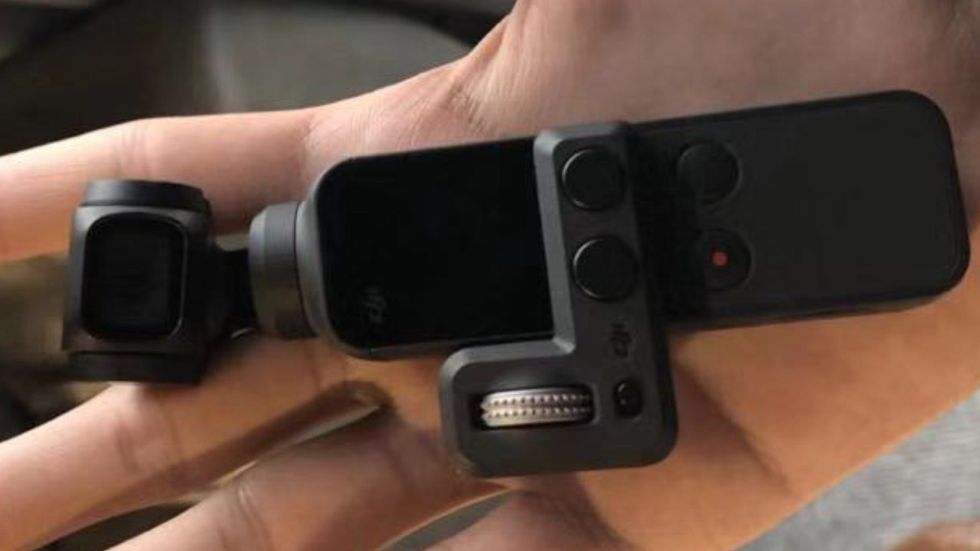 The small camera and gimbal will rival GoPro's Hero 7Drone DJ
If the rumored price of $399 turns out to be accurate, then the DJI Osmo Pocket will cost the same as GoPro's flagship Hero 7 action camera, which is regarded as having some of the industry's most impressive video stabilization software. It will be interesting to see which product comes out on top - the more compact GoPro and its software, or the larger DJI and its hardware.

According to several reports by Drone DJ, the Osmo Pocket has a 1/2.3 sensor, which is a little smaller than the one-inch sensor used by the DJI Mavic 2 Pro drone.
The device appears to have buttons for starting and stopping video recording, along with controls for moving the motorized gimbal. These all sit roughly where the user would place their thumb, as they do on the larger DJI Osmo Mobile 2.
DJI is expected to officially announce the Osmo Pocket at a media event called Because Life is Big, which kicks off in New York today (November 28) at 2pm EST.
Like GearBrain on Facebook