Like GearBrain on Facebook
We live in a golden age for smartphone cameras. The iPhone X, Samsung Galaxy S9 and Google Pixel 2 all have truly outstanding photography and videography skills, with their Ultra HD hardware and impressive auto-correction software.

But, while efforts to include optical and digital image stabilization shouldn't go without credit, video smoothness is an area for vast improvement. Anyone who has tried to shoot video with a smartphone in a moving vehicle, or while walking briskly, can relate to this. The results, although beautifully lit, correctly exposed and in glorious Ultra HD, usually contain far too much movement.
This is where the DJI Osmo Mobile 2 comes in. Using the same technology employed by DJI's drones to keep their cameras stable in flight, the Osmo Mobile 2 is a gimbal for your smartphone. The premise is simple; fitting your phone to the Osmo will give you silky-smooth video, even if you are walking, jogging, or in a car.
DJI Osmo Mobile 2 review: Hardware
Made from a high-strength nylon, the Osmo is lighter than its magnesium and plastic predecessor. There is a certain mass to it, given weights are used to keep your phone stable, but it is well balanced and light enough to hold for extended periods of time. Where you hold the Osmo is nicely contoured to make it comfortable to grip, and its controls are within easy reach of your thumb.
The rubberized grip to secure your phone is simply pulled apart then springs back into place, clamping your phone firmly by the edges. I used an iPhone X with the Osmo 2 and did not need to remove it from its case. There is no physical connection between phone and gimbal; instead, they hook up via Bluetooth.
DJI sells a range of accessories to make the Osmo Mobile 2 more useful, including a tripod, extension rod and a base for sitting it on flat surface. There is a standard 1/4-inch screw mount underneath for fitting the Osmo to any tripods you already own.
Osmo's controls include two buttons, a joystick and a slider. One button starts and stops recordings (although you could also just tap the on-screen icon), and the other is the power button which has three extra features. Press once while recording to horizontally lock the phone in place, meaning no matter how the gimbal is moved, the phone's camera will stay pointing in one direction; press the button again to unlock this.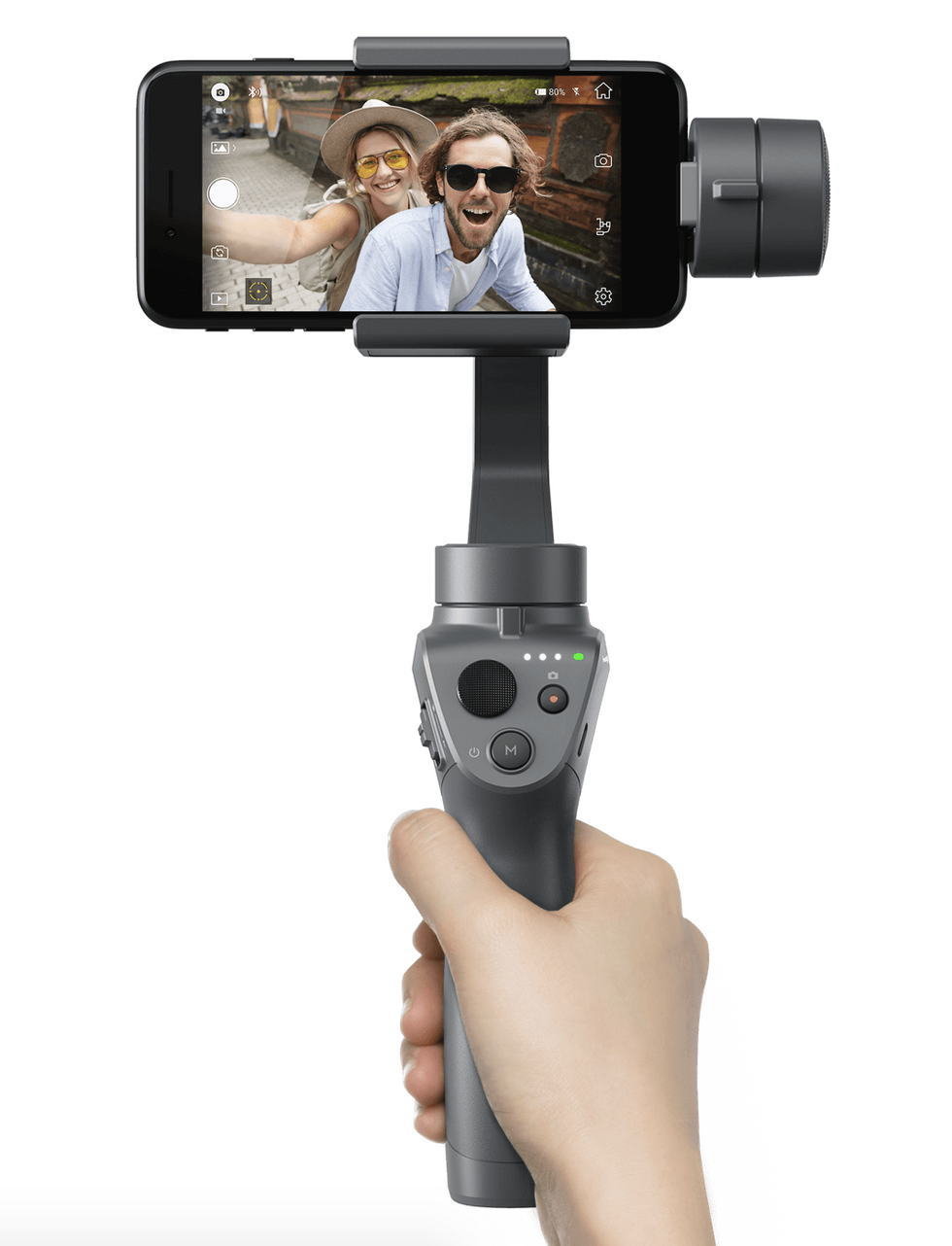 The Osmo Mobile 2 uses drone technology to keep your videos stable and smoothDJI
Two quick presses of the button returns the phone to the straight-ahead position, and three presses switches to the front-facing camera; unfortunately, you cannot switch between cameras while recording in the DJI Go app. Considering I'd expect this gimbal to be used by content producers making live footage for social media, not being able to switch cameras in the same take is a frustrating shortfall.

The joystick is used to move your phone around in the direction you push it. This creates some lovely, smooth panning shots which once mastered can add a touch of Hollywood class to your smartphone movies. By default, the joystick only moves the phone up, down, left and right. Dig into the DJI Go app's settings and you can change this so that the phone will move in any direction, including diagonally.
Another setting you might want to adjust is the inversion of the joystick. I suspect almost everyone will want to leave it as normal for shooting with the rear camera, then switch to inverted for filming with the front-facing camera, so that left moves the shot to your left instead of the camera's left. However, another frustration here is that you cannot have one camera inverted and one not; you have to go into the settings and adjust each time you switch camera.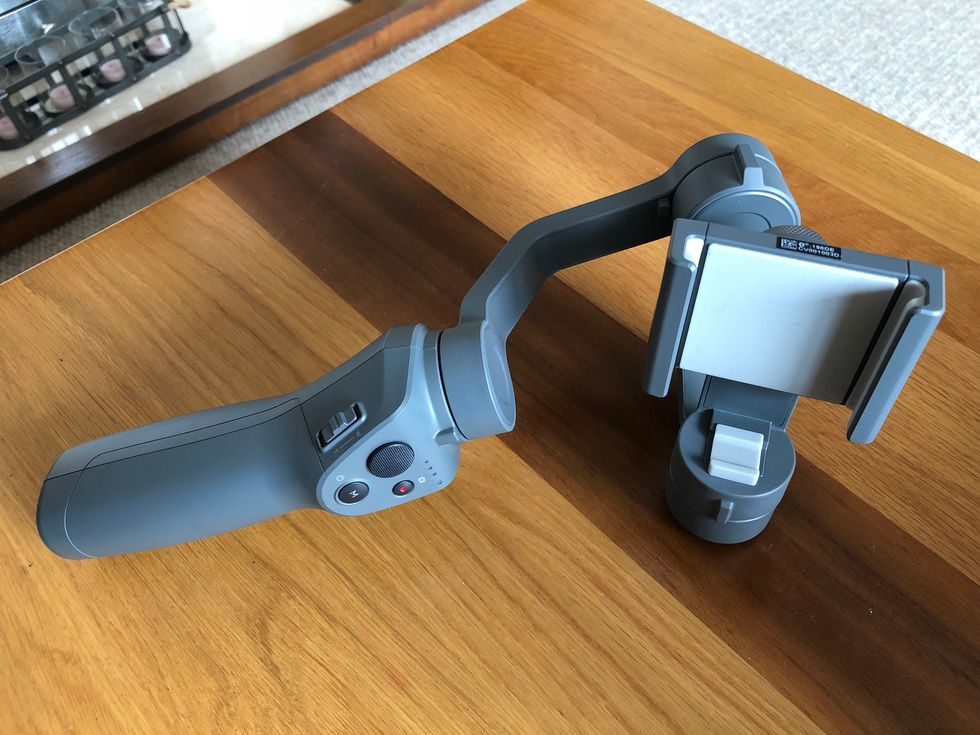 The Osmo grips any smartphone with a spring-loaded, rubberized clampGearBrain
The zoom slider does as you would expect — but only when you are shooting with the DJI app. It doesn't work in your phone's regular camera app, but the DJI's record button does — at least on my iPhone X — and the gimbal's stabilization system works constantly while powered on, no matter which app you are using.
Finally, you can position your phone in either landscape or portrait, meaning your Snapchat and Instagram stories will be treated to a new level of buttery smoothness. However, the Osmo cannot switch between these on the fly. Instead, you have to turn a dial to unlock the phone mount, rotate the mount 90 degrees, then lock the dial again — and you have to switch off the gimbal and detach your phone each time you do this, then recalibrate the gimbal so that it is nicely balanced.
The Mobile 2's shortfalls are easy to work around, and we suspect these are examples of DJI leaving itself with features to add to the third-generation Osmo Mobile at a later date.

DJI Osmo Mobile 2 review: Software and Performance

The Osmo Mobile 2 can be used without DJI's application, called DJI Go, but you'll want to download the free app to get the most out of the device. This is where you can calibrate the gimbal (necessary for every device you attach to it, because every phone weighs a different amount), and take advantage of DJI's artificial intelligence for object tracking.
Using AI, the Osmo can be told to track an object by drawing around it on the screen. I found this feature is very easy to enable and set up, but the gimbal's ability to keep the object in frame varies depending on what the object is, and how it is moving. Slow to medium speed objects moving a good distance away work best, or objects which take up a large amount of the frame, such as your face while shooting a selfie video.
When the AI lost track of an object, I was surprised by how quickly the app locked back onto it again once it comes back into frame.
What I'm saying is, it works, but don't expect the camera to be able to follow a ball kicked across the garden, or your dog chasing after a stick - unless they are both well away from the camera and remain mostly in frame.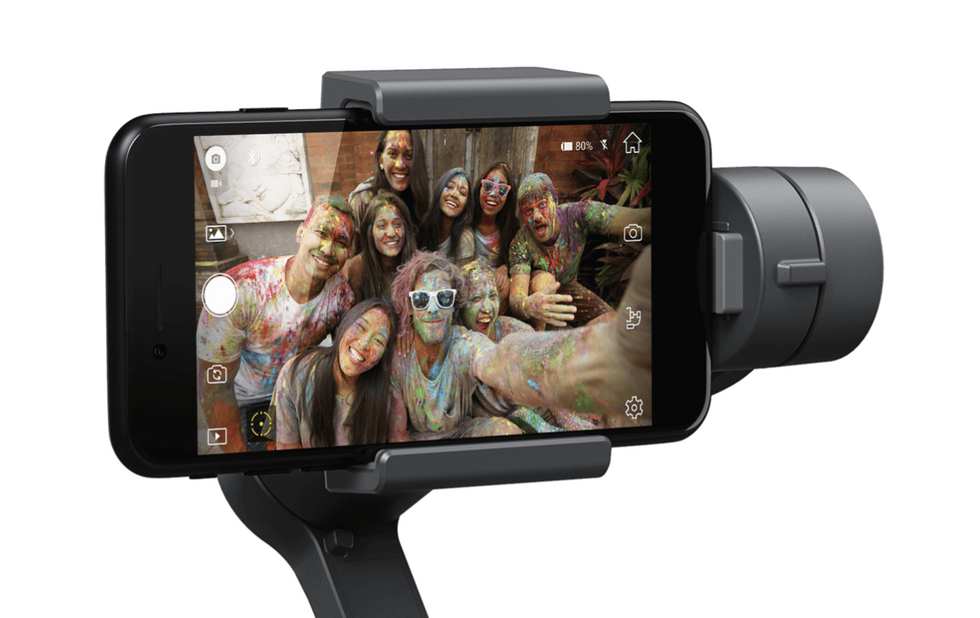 The DJI Go app is used to control the OsmoDJI
Using any smartphone gimbal takes some getting used to, and I found the most important thing to be aware of was the speed at which the system works. It is worth remembering that there will be a small delay between you moving the grip and the motorized gimbal catching up, then pointing your phone in the right direction. It's only a second or two, but requires some patience to hold the grip steady for a moment while your phone turns to the right direction.
It is also important to know the gimbal's limits, because if you ask too much of it it will crash jarringly against its limits of travel, like a car steering wheel unexpectedly hitting the lock stops. While it does an excellent job at moving the phone smoothly and cancelling out your jerky movements, it cannot defeat the laws of physics and there is certainly a learning curve to navigate before you get the results you want. At first, pointing your phone in exactly the right direction can be a challenge.

Once you have cracked this, however, using the Osmo Mobile 2 comes naturally — and the results are very impressive. The juddering of footsteps is almost completely removed and unintentional movement is smoothed out nicely. Walking through your home with the Osmo produces video which looks like it was shot on a skillfully flown drone, which shouldn't be too surprising given this gimbal technology is the same as that used by DJI's Mavic and Phantom drones.

If you are filming a quick bit of footage to show your friends, then they probably won't appreciate the improvements the Osmo brings, but for anyone wanting to take their video production more seriously - but wants to retain the simplicity of a smartphone camera - the Osmo can make for a powerful and useful companion.
The device charges via an included microUSB cable, and there is a full-size USB port on the back for charging your phone if needs be. Unfortunately there is no way to connect a microphone to the Osmo, which is a shame given buyers will likely want to improve their audio as well as producing smooth video. DJI claims the battery life is a huge 15 hours and my testing would suggest this is accurate.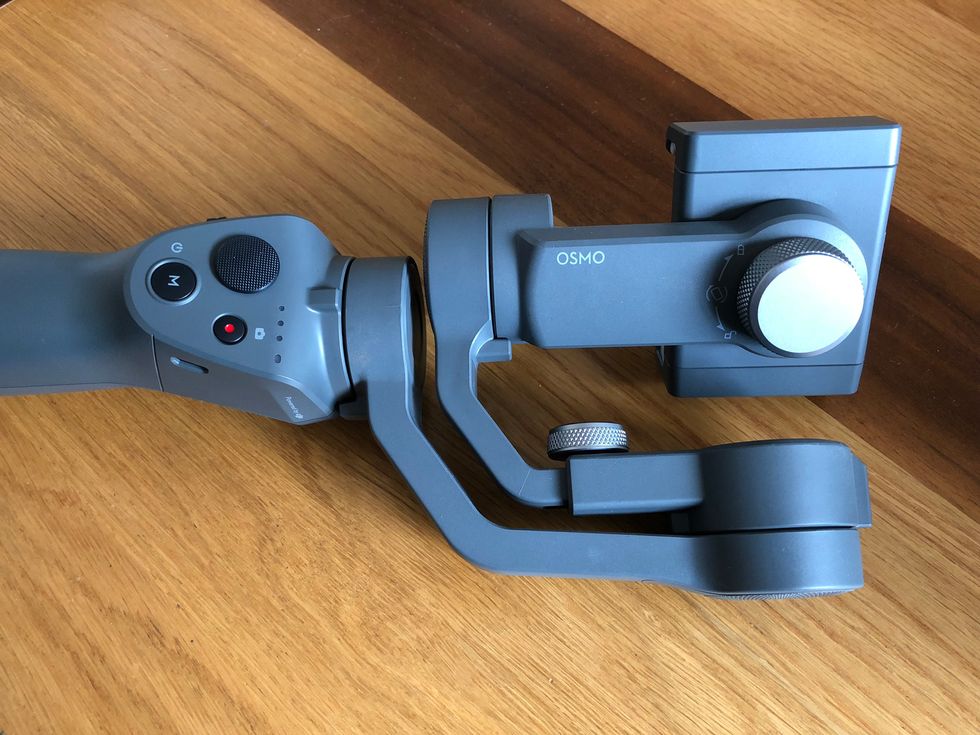 Switching to portrait requires detaching your phone and recalibrating the gimbalGearBrain
DJI Osmo Mobile 2 review: Conclusion
For creative types who want to take their video production to the next level, but are happy to stick with the camera of a smartphone, the DJI Osmo Mobile 2 makes a lot of sense. At $130, I think the Mobile 2 represents good value, especially when you consider the original was more than twice as much, at $300. In the right hands, adding a gimbal to your smartphone can produce excellent results. And because it accepts a wide range of phones with its simple grip mount, you can invest in the gimbal now, safe in the knowledge that it will work with all of your future phones.
At this price the DJI Osmo Mobile 2 is almost an impulse purchase and I think a lot of people will consider buying one next time they are in the Apple Store or browsing Amazon.
Of course, where a smartphone (which already has a degree of image stabilization, although no where near as good) can slip into your pocket, the Oslo Mobile is much larger and will need carrying around all day when you use it. I also wonder if some places - like museums and concert venues - might begin to object if everyone suddenly arrives with an Osmo in their hand, just like they did with selfie sticks a couple of years ago.
For those who know they will get good use out of it, the Osmo Mobile 2 is hard to ignore. It's a very well thought-out device which, once you have navigated that learning curve, produces incredible results for a relatively modest outlay.
Treat yourself. Your social media videos will thank you.
Pros:
Creates smooth and stable video
Easy to use
Long 15-hour battery life
Cons:
Switching between portrait/landscape require recalibration
There's a learning curve to get great results
No microphone options

From Your Site Articles
Related Articles Around the Web
Like GearBrain on Facebook