Like GearBrain on Facebook
With many parents looking to homeschool their children for the coming academic year, Google has added a set of new features to the Assistant, in a bid to make learning more accessible to families. The first is a tool called Family Bell.
Rolling out over the next few days to Google and Nest smart speakers and displays, as well as those made by others, this feature, along with others, are designed to make homeschooling simpler for parents and children alike, while also helping to keep a child's education on track when out of the classroom.
Read More:
The most significant new feature here is called Family Bell, which works by bringing some order to your days by mirroring the old-fashioned school bell — ringing out to signify a new lesson, lunch recess, and the end of the school day. You can set up multiple bells for each homeschooling day, and as well as sounding like a school bell, the Assistant will read out the name of each bell when it goes off.
To get started, say: "Hey Google, create a Family Bell" to your smart speaker or display. Google says the feature works on all Assistant-enabled speakers and displays (including those from Lenovo and JBL), plus the Google Assistant app for iOS and Android.
However, the feature is limited to English in the UK, US, Canada, Australia and India for now, and it is rolling out gradually through this week. So if you can't see the feature just yet, try again in a couple of days.
Instead of speaking, you can open the Assistant smartphone app, then tap on your profile picture or initials in the top-right, and head to Assistant Settings -> Assistant -> Family Bell. You can then tap 'Add a bell', enter how you want it to work, and tap 'Create new bell'.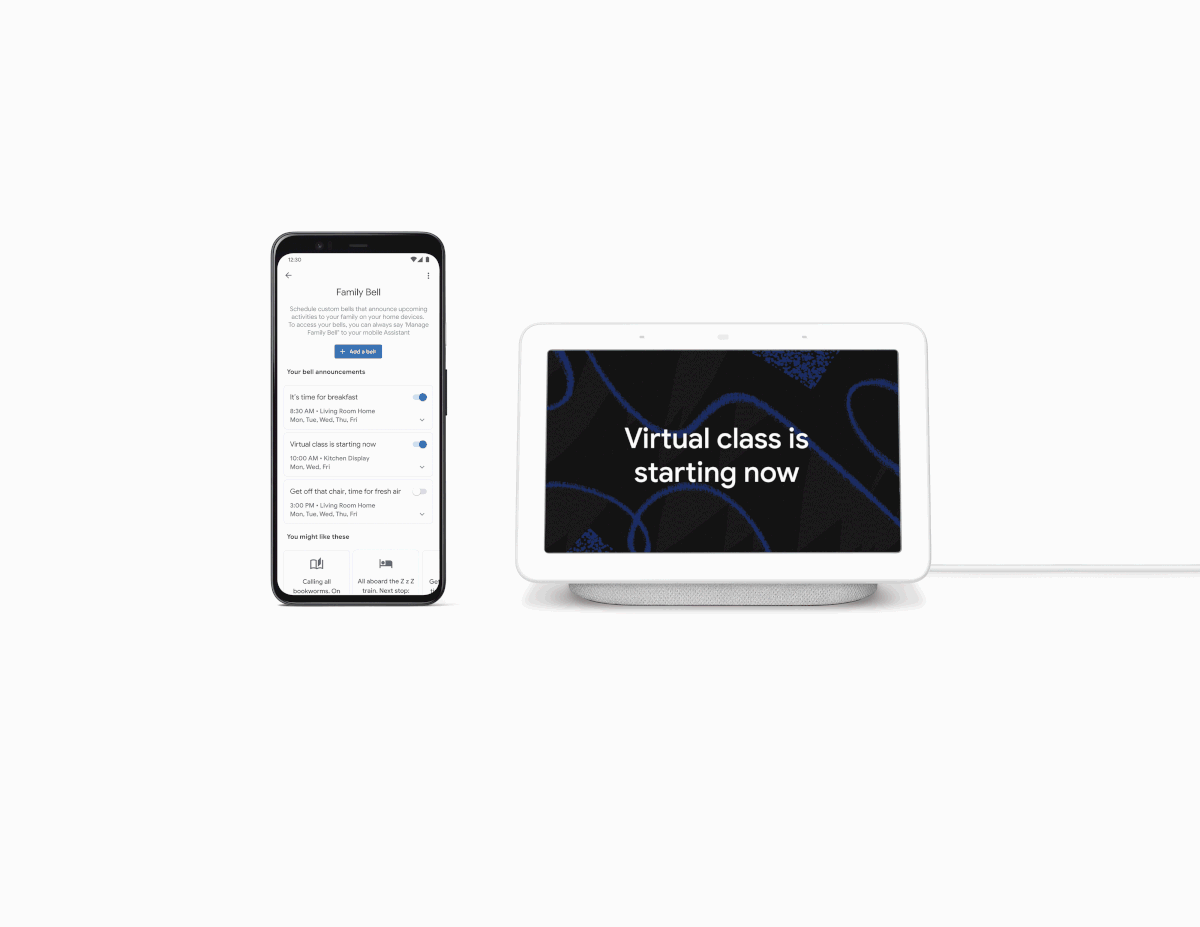 Updates turn smart displays into home-schooling sidekicksGoogle
Bells can be customized to address your child by name, with the focus here being on adding structure to your homeschooling day, but also grabbing your child's attention in a fun and engaging way.

Multiple bells can be set to go off on different devices at the same time. For example, if you have two children homeschooling, you can have one bell announce the next class for one, while another bell announces a different class, at the same time, for your other child.
Another new feature is how you can say: "Hey Google, start the school day," or "Hey Google, school's in session," and smart displays like the Nest Hub Max will show a school-themed visual and play school sounds, like kids rummaging through their lockers. If you have smart lights connected to your Google Assistant, they will flash red, orange and yellow to signal the start of class, and hopefully add a bit of fun to home-schooling.
How to broadcast to a specific room with Google Assistant
Also new this week is a feature for broadcasting to a specific room with Google Assistant. It was already possible to send a message (like "dinner is ready") to every Google speaker and display in a home. But now you can play this message in one room, or from a single device.
That way, you can send a specific message to tell your partner in the home office that their lunch is ready, or to the children studying in their bedrooms to say class is over for another day.
Check out The GearBrain, our
smart home compatibility checker
to see the other compatible products that work with
Google Assistant
enabled devices.
Google Nest WiFi Router 2 Pack (2nd Generation) – 4x4 AC2200 Mesh Wi-Fi Routers with 4400 Sq Ft Coverage
Like GearBrain on Facebook