The Google Assistant app for iOS has been updated so that it now works with Siri Shortcuts.
This means iPhone and iPad users can call up the Google Assistant hands-free and without first opening the Google app. But to do this you'll first need to get Siri's attention, which results in the phrase "Hey Siri, OK Google".
Read More:
For most users that will be the most straight-forward option, but the second part can actually be whatever you like. So, to ask the Google Assistant a question on your iPhone you could say: "Hey Siri, ask Google" and your next words will be passed to the Assistant.
Taking things a step further, it's also now possible to create Siri shortcuts for the phrases you commonly say to the Google Assistant.
For example, if you have a morning smart home routine set up with the Google Assistant, where saying "Hey Google, good morning" switches on your lights and adjusts the heating, you can ask Siri to do this for you. The phrase "Hey Siri, good morning Google" can be used to trigger the routine, essentially getting Siri to control the Google Assistant for you via a shortcut.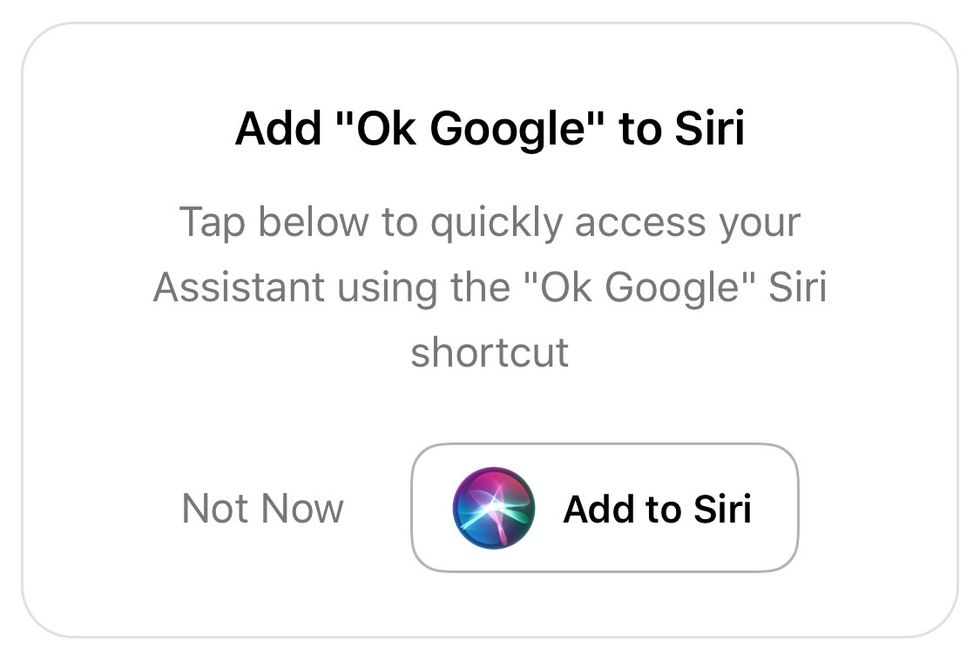 GearBrain
We admit that this is a pretty clunky way to interact with the Google Assistant, and of course speaking to a nearby Google Home device offers a simpler and more natural-sounding solution. But it's encouraging to see Google playing nice with iOS and letting the Assistant get involved with the Siri Shortcuts system. Equally, we're pleased to see Apple allow its own voice assistant to be used with others.

The system is most useful for controlling smart home devices which work with Google Assistant but not Apple's Siri-controlled HomeKit platform. With the Shortcuts iOS app, you can set up a phrase where Siri will get Google Assistant to control the non-HomeKit device.
To get started, you'll need to make sure your Google Assistant app is up to date, then open it and tap the new 'Add to Siri' button. Next, you can pick the phrase you want to use to trigger the Google Assistant (this can be a recording of anything you like), and you're good to go.