Like GearBrain on Facebook
Dyson has announced a new smart lamp which automatically adjusts its brightness based on ambient lighting conditions, and local daylight levels.
It is called the Lightcycle Morph, has a futuristic design built from aluminum and polycarbonate, and is intended to give you the right lighting levels throughout the day.
Read More:
This means it shifts from a cool, bright, bluish light during the day, to a warm, orange glow in the evening. There are set modes like Study, Precision, Relax and Wake-up, as with other smart lighting systems like Philips Hue, and up to 20 custom lighting modes can be configured.
An integrated USB-C port means you can charge your smartphone by plugging it into the stem of the Wi-Fi connected lamp, and as well as a smartphone app you can control the lamp with touch-sensitive controls.
Dyson Lightcycle Desk Light - Tracks Local Daylight - UK Version (White/Silver)
Dyson claims the LED bulbs of the Lightcycle Morph last far longer than those sold by everyone else. Thanks to a unique cooling system, Dyson claims its LEDs will last for 60 years if the lamp is used for an average of eight hours per day.
Jake Dyson, chief engineer at the British firm, said: " Our aim was to challenge the fundamental conventions of contemporary artificial lighting and find a solution. So we developed a light that tracks natural daylight and intelligently transforms for different uses - providing the right light, at the right time, precisely where it's needed."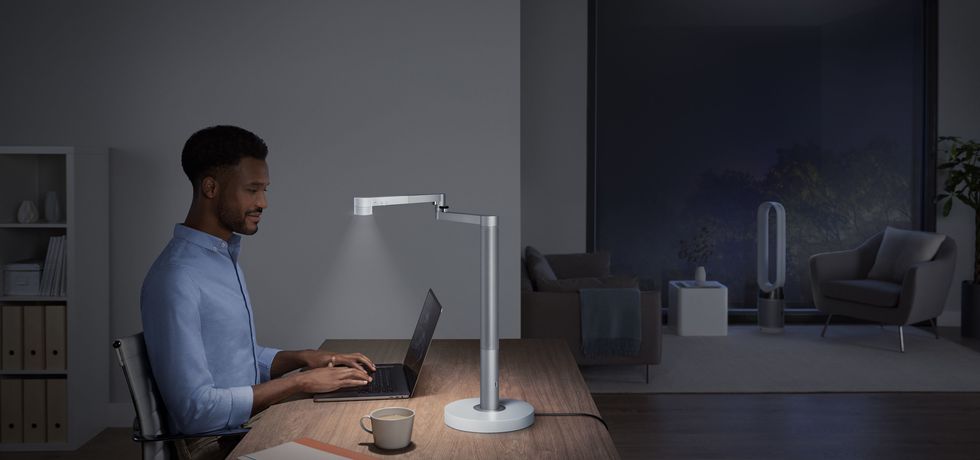 The desk version costs $650Dyson
Interestingly, Dyson claims the lamp's brightness adjusts based on your age, which it knows via a companion smartphone app, and says a 65-year-old needs to be exposed to four times more light during the day than a 20-year-old.

The lamp includes three warm and three cool LEDs, and can be pivoted 360 degrees to light up your floor, walls, desk or ceiling. Cool light shines from the top of the lamp, while warm light is emitted from its vertical stem. Temperature ranges from 4,600 Kelvin down to 1,800K, which Dyson says is low enough to mimic candlelight; the lamp cannot be set to any color, as other smart lighting systems can.
This all sounds well and good - and we quite like the look of the Lightcycle Morph with its magnetic adjustable arm - but the price is nothing short of astonishing. Dyson is charging $650 for the desk model and a huge $850 for the taller floor-standing version.
Clearly, this is a huge amount of money to spend on a single smart light that is designed to light up the area around you, rather than an entire room. Dyson is known for charging high prices in return for class-leading industrial design and unique features, but we have to wonder how many consumers will hand over $850 when that sum could fit smart lighting to an entire household.
Dyson CSYS Task Light (2019) - Precise, Powerful Illumination (White/Silver)
From Your Site Articles
Related Articles Around the Web
Like GearBrain on Facebook