Cut-price smart home company Wyze entered the smart lighting market this summer. The result is a box of four smart bulbs priced at just $29.99, with individual bulbs just $7.99 each.
At this price, the bulbs not only undercut rivals like Philips Hue, Lifx and even Ikea Tradfri, but they do so while offering broadly the same set of features.
Read More:
The main points to remember here are that the Wyze bulbs are white and not color. This means their brightness and temperature can be adjusted — from a cool, bright blue, through regular white, to a warm orange — but they cannot display any other colors.
It is also important to note that these are Wi-Fi bulbs. This means they connect directly to your smartphone instead of to their own proprietary hub or bridge using a Zigbee or Z-Wave connection.
All that said, are the Wyze smart bulbs any good, or do you really get what you pay for? Read on to find out.
Wyze Bulb review: Hardware and specification

For now, the Wyze smart bulbs can only be bought with an E26 connection. This is very popular among home lighting applications, and is likely the screw-in connection used by a number of lamps in your home.
The Wyze bulbs are also known as A19, which refers to the size and shape of the bulb. But that's fine, because all A19 bulbs have an E26 screw-in connection.
As for the specifications of the Wyze smart bulb, they offer 800 lumens of brightness, 9.5 watts of power, and have a color temperature which can be adjusted from 2,700 to 6,500 kelvin. The bulbs have a life expectancy of 20,000 hours, and work with all smartphones running iOS 9 and later or Android 5 and later.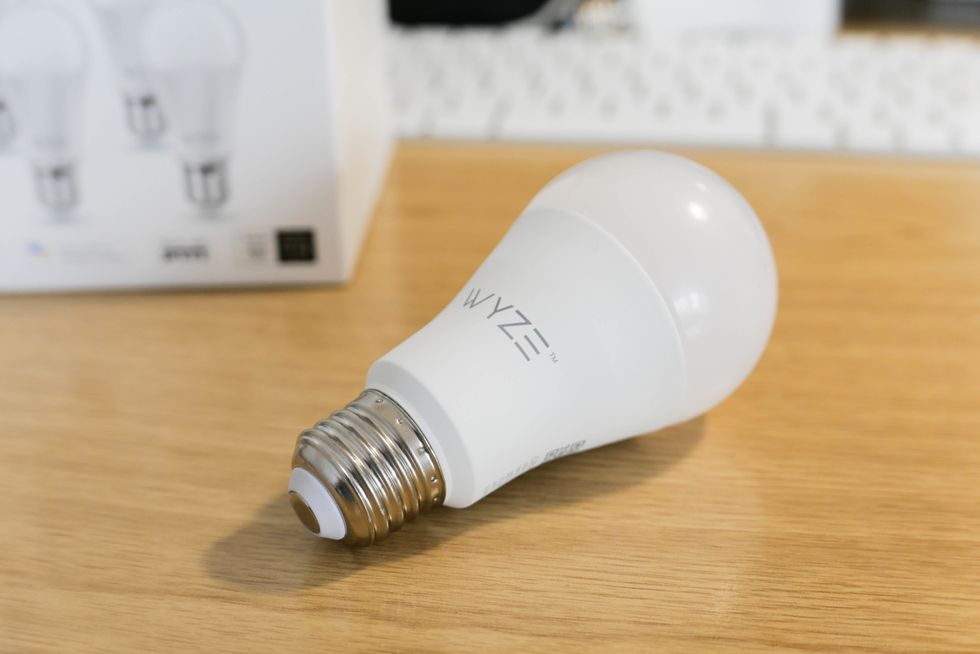 Wyze bulbs are A19 size with an E26 connectionGearBrain
The only real drawback here is that the bulbs can only connect to 2.4GHz Wi-Fi networks, so if your network runs at 5GHz then the bulbs won't work. That said, most routers can be configured to broadcast two networks using the two frequencies at once, so you should still be able to get the Wyze bulbs to connect.

As for how all this compares to the market leader, Philips Hue A19/E26 white bulbs offer 806 lumens, 9.0 watts of power, and a 25,000-hour life expectancy. Their temperature ranges from 2,200 to 6,500 kelvin. This all means that pricier Hue bulbs can display a slightly broader range of temperatures, are slightly more powerful, and have a life expectancy which is 20 percent longer. All in all, this means the bulbs are almost identical.
The big difference is how they connect to your network, and of course their price. Hue bulbs require a bridge, which connects to your router, whereas the Wyze bulbs do not. As for price, a set of two white Hue bulbs and the required bridge costs around $70, while a set of four Wyze bulbs is $30. Individual white Hue bulbs cost around $15, and Wyze prices its bulbs at $8.
If you consider adding six white smart bulbs to your home, then a Philips Hue system will cost about $130, whereas six Wyze bulbs cost $46.
Physically, the Wyze smart bulbs look much like any other, but are somewhat heavier. This should be fine in most situations, but anyone who fits one to an Anglepoise-style lamp may find the extra weight upsets the balance, and prevents the lamp from standing upright properly. Tightening the screws of my desk lamp fixed this, but it is something to consider.
Wyze offers just one type of smart bulb for now, whereas Philips and Lifx each sell a wide range of bulbs, light strips and accessories. If you want a fully-fledged system, Wyze isn't there just yet, but I would expect to see more options go on sale later, if the initial product is a success.
Wyze Bulb review: Software, setup and features
Setting up the Wyze bulbs is similar to any other Wyze product, and is done with a few taps of the company's smartphone app. Unlike other Wyze devices like the Sense kit, the bulbs do not require you to already own the company's smart camera. You can set up the bulbs while owning no other Wyze products, as they talk directly to your phone via the app.
The setup process is designed to be quick and simple, but I found it to be a little hit-and-miss. While one bulb worked right way, connecting to my Wi-Fi as intended, another bulb failed to connect a couple of times. This was remedied by force-closing the Wyze app and restarting my iPhone.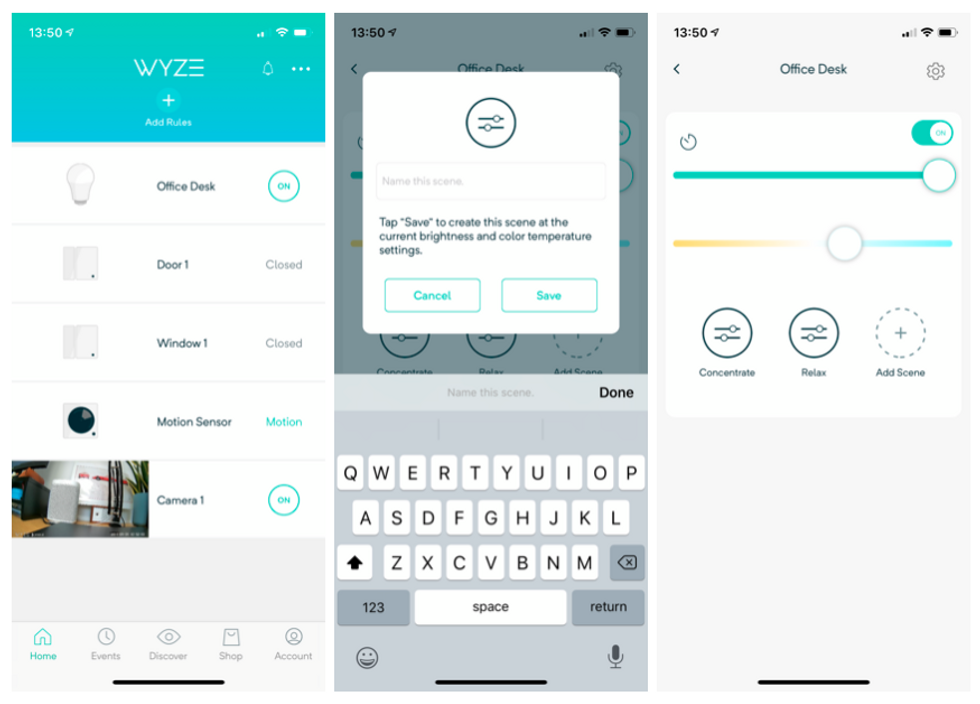 Bulbs are controlled via the Wyze smartphone appGearBrain
After this, the bulbs worked just fine. Once paired to the app, you are invited to name each bulb (something like 'desk lamp'), then you can create a range of scenes for them. For example, I set the desk lamp to maximum brightness and a clear white hue, then called this scene 'Concentrate' — as this is also the name of a Philips Hue scene I use while working. I also created a scene called 'Relax', where the bulb is less bright and emits a warm orange glow for the evenings.
While it isn't possible to pick from the millions of shades offered by full-color smart bulbs from other companies, I didn't really feel like I was missing out. I never change my Hue lights to anything other than soft orange or bright white — unless showing off what they can do to friends, before quickly switching back from red, green or blue to something more sensible.
In short, potential buyers shouldn't let the Wyze's lack of colors put them off, because the orange-to-blue range is probably all you will need in most situations.
Multiple bulbs can be grouped together, so if you have a pair of bedside lamps in the same room you can control them both with one tap of the app. You can also tap into that group and control each bulb individually, if you so wish.
A useful feature of the Wyze app is called Vacation Mode, which switches your bulbs on and off at random to make it look like someone is at home. If you want something more regimented, you can head into the app's scheduling feature and set up a lighting timetable of your own.
As part of the scheduling system, you can set each bulb to switch on at a certain time, brightness and color temperature, then adjust to a different temperature and color later in the day, before switching off at a set time at night.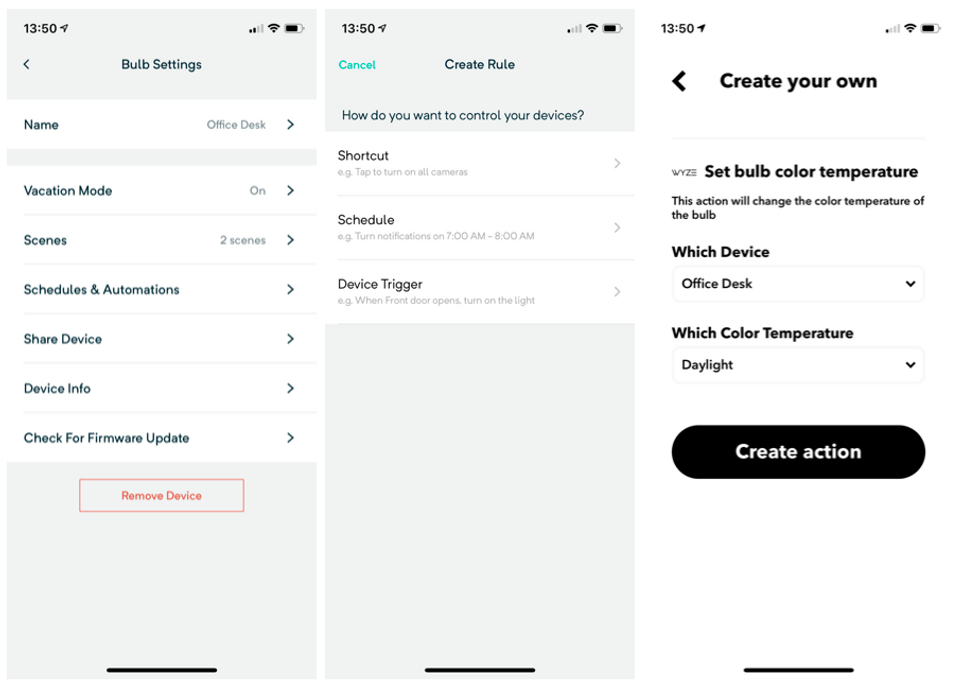 Wyze smart home appGearBrain
You can also use the app to have the bulbs interact with other Wyze devices. For example, a rule can be created which switches on a certain bulb (or multiple bulbs) when the Wyze motion sensor is triggered. Add in the Wyze Cam, and you have yourself a smart little security system, where motion causes a light to shine and a camera to start recording.

Another feature of all Wyze devices is how they can be shared with other people. When doing so through the app, you can give family members and roommates access to the device, so they can control your lighting, or view alerts from the Wyze Cam or motions sensors, if you want.
Wyze Bulb review: Smart home integration
Just like the Wyze Cam, the company's smart bulbs can be controlled by speaking to your Alexa or Google Assistant smart speaker. This means you can ask Alexa to turn lights on and off, or adjust their brightness and temperature, all with voice commands.
This system works well and is intuitive; all you have to do once setup is to say something like: "Alexa, turn the desk lamp on" or: "Alexa, set the bedside light to 40 percent." You can also ask Alexa (or the Google Assistant) to make a bulb softer, warmer, cooler or whiter, or switch to something more specific like "warm white" or "daylight." What Alexa cannot do, is take control of the scenes created in the Wyze app. Instead, you'll have to create these again in the Alexa app.
There is also integration with IFTTT (If This, Then That), so you can create a range of applets to have the Wyze bulbs work alongside third-party web services and smart devices from other manufacturers.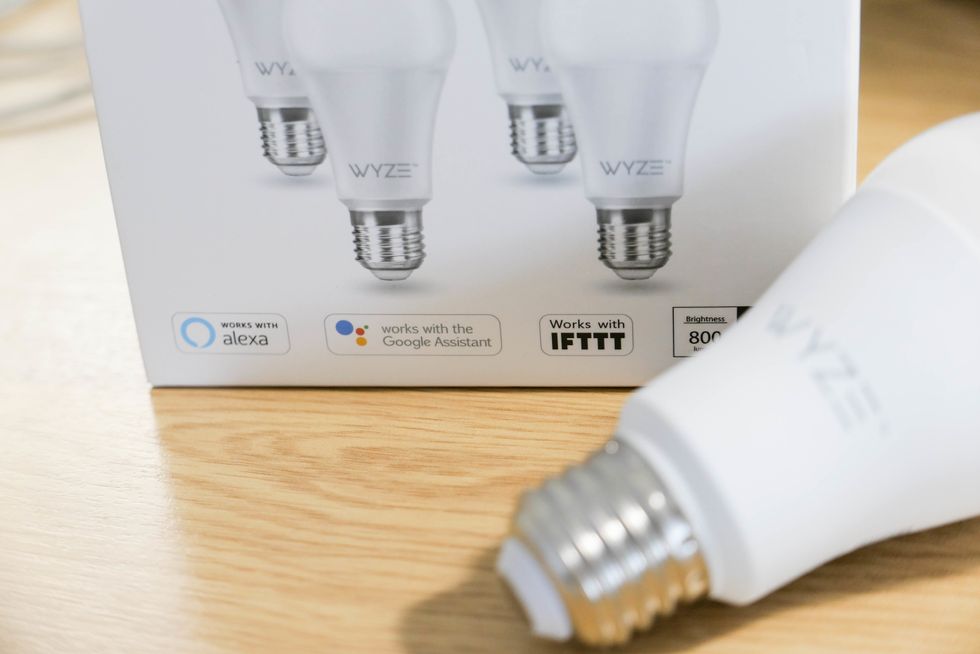 Wyze bulbs work with Alexa, Google Assistant and IFTTTGearBrain
For example, I set a Wyze bulb to switch to a 'Night' temperature at sunset, as determined by Weather Underground, which through the IFTTT app knows the location of my home, and therefore the local sunset time. I then made a second IFTTT applet to have a bulb switch on to a bright daytime color at sunrise.

These might not be the most life-changing examples of smart home automation, but they go to show how the cut-price Wyze bulbs can work just like more expensive alternatives from Philips, Lifx and others. All that's missing here is compatibility with Apple HomeKit, as is the case with all Wyze products.
Conclusion
As with the Wyze Cam and Sense kit, I have been very impressed by the Wyze bulbs. They perform just like pricier alternatives, and do so without the complexity and additional expense of a hub or bridge, as they connect to your smartphone over Wi-Fi.
Those needing full-color smart bulbs will be forced to look elsewhere for now, but I wouldn't be surprised if Wyze adds that option to its growing product range in 2020. For now, the white smart bulbs have all the functionality (and colors) most users will need, as they offer everything from warm orange through to crisp blue, and at almost any brightness.
I've lost count of how many times friends are impressed by my Philips Hue bulbs, but shocked at their high cost, especially when circa-$180 starter kits come with the required bridge to get it all working. Now, I can tell them Wyze offers much of the same functionality for far less money; at $8 per bulb or four for $30, these really do offer excellent value.
Wyze has shifted smart lighting from an expensive luxury to an affordable impulse buy, where anyone can build a system, one $8 bulb at a time.
Pros:
Low price
Fully-functioning app
Vacation Mode
Cons:
Some initial setup issues
No full-color option
Bulb weight could be an issue in some lamps