As part of a recent software update for the Philips Hue smart lighting system, a new companion app for Mac and PC can be configured to make your lights respond to anything you watch or listen to.
The new feature, called Hue Sync, is designed to bring a new level of atmosphere to your room, by taking what's on screen and projecting complimenting colors onto your walls, exactly in time with the action. Hue Sync also works with music, bringing a nightclub feel to your living room.
Read More:

Check out this 360-degree video, showing how a room kitted out with Hue lights can look with Hue Sync enabled:
What follows is the GearBrain guide to installing and using Philips Hue Sync, and how to get the most out of it. For the purpose of this article, we will assume that you already have a Philips Hue system up and running.
Philips Hue Sync setup guide : What you need
Hue Sync is a free app for Windows and Mac. You will need a Mac running macOS Sierra or later, or a PC with Windows 10 installed. Obviously, you will also need a working Philips Hue light system, and for it to be connected to the same Wi-Fi network as your computer and your smartphone, which helps set everything up through your existing Hue app.
An obvious drawback right off the bat is how Hue Sync works on computers, but not televisions, games consoles or any other device you might have plugged into your TV.
This is fine if you plan to watch movies on your computer and have a Hue bulb behind the monitor, but for the full home cinema experience we recommend you plug a laptop into your TV via its HDMI port. From there, you can run Netflix, Amazon Prime TV, YouTube or your streaming service of choice on the computer, feeding its video output to the TV.
Philips Hue Sync setup guide: Light positioning

Next, you need to think about where you want your lighting. For us, the best option is to fit a Hue LED light strip to the back of the television, projecting a satisfying pool of soft light onto the wall behind the screen. As colors move across the screen, the light on the wall behind them does the same.
Alternatively, you can place Hue lights anywhere in the room and they will still react faithfully to what's on the screen - once everything is set up.
Philips Hue Sync setup guide: Desktop and smartphone app
You need to download the Hue App, which is available for Windows here and for Mac here. Once installed, open the app and click 'Search for bridge'. This is the same process as adding any additional bulb or device to your Hue system, so you'll need to go and press the sync button on your Hue Bridge; after a few seconds your computer will be connected.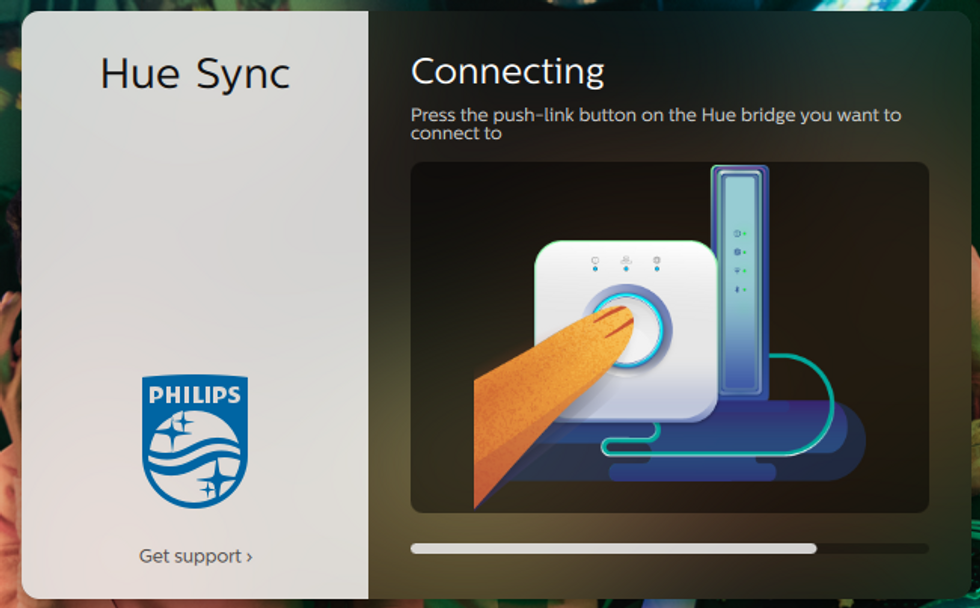 GearBrain
Next, you need to create an 'entertainment area' within the smartphone Hue app. This is done by going to Settings -> Entertainment areas -> Create entertainment area. Then simply follow the instructions for telling the app which room your entertainment area is in, and which Hue bulbs are to be included. You can then start laying out where your lights are.
The user interface here is nice and simple. Just drag the bulb icon into place, as shown in the screenshot below, to tell the app where each bulb is in relation to your TV and sofa.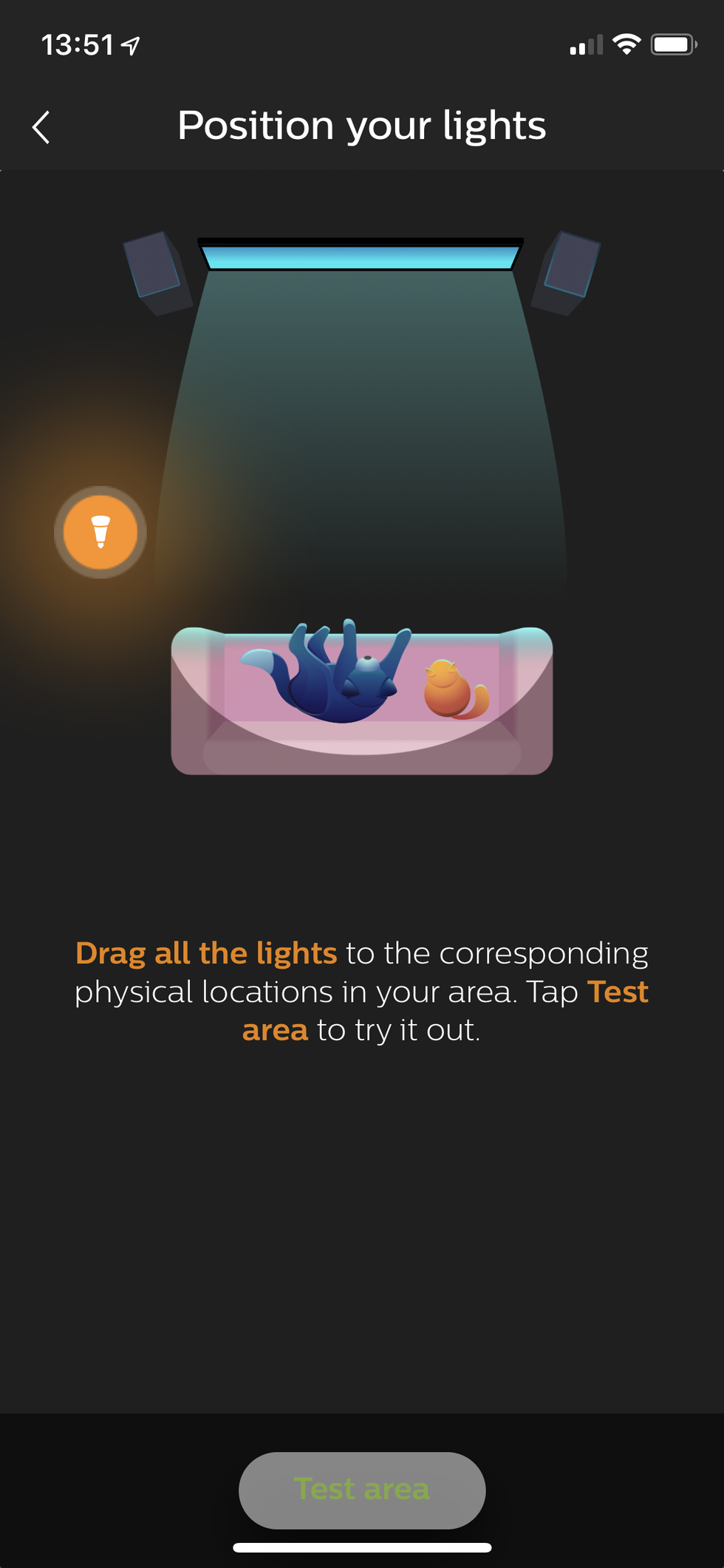 GearBrain
Accurately telling the app where your bulbs are is important, as each will light up slightly differently when colors move across the screen. Accuracy is so important, the app has a system for testing each bulb to make sure it is synced precisely. If it is not (and doesn't flash in time with an icon in the smartphone app), you can have the app re-calibrate its connection to the bulb and try again.
Note: Hue Sync only works with multi-colored bulbs, so Philips' white Hue bulbs can't be added to an entertainment area.
Now it's time to head back to the Hue Sync desktop app. The app has a similar interface to your smartphone, but instead of showing each room of your home it just shows the new entertainment area you set up earlier. Here, you can switch the area on or off, adjust the brightness of all lights in the area at once, and pick from four modes; scenes, games, music and video.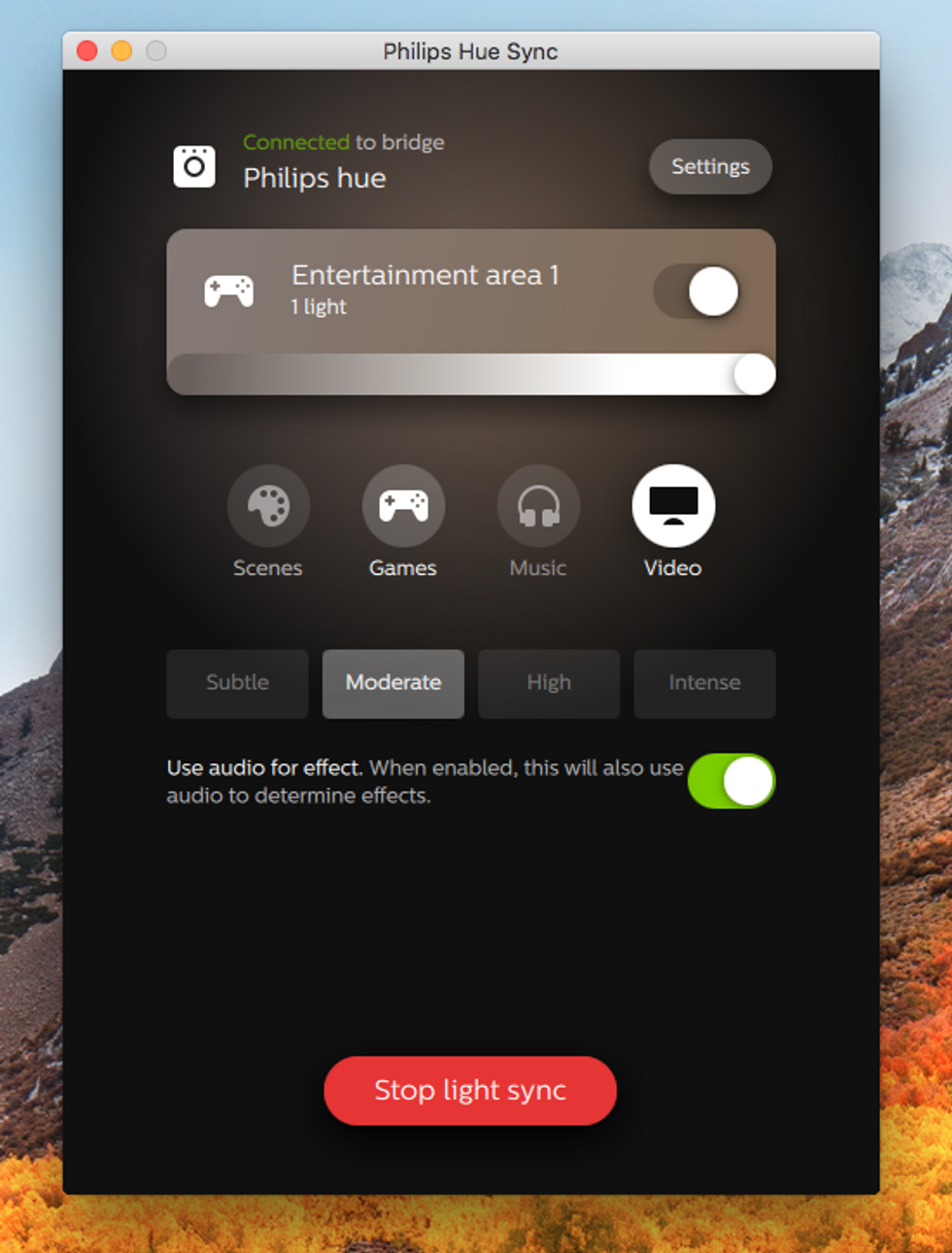 GearBrain
The Scenes section works in the same way as it does on the smartphone app, but there are only four to pick from instead of the usual 11. To get at the other scenes, just use your Hue mobile app as normal.
For each mode you can select how strong the lighting is, with the options being Subtle, Moderate, High and Intense. There's also an option for syncing the lights with with audio effects (as well as the picture) to further bring your game or movie to life.
Being able to adjust the brightness and intensity means you should be able to find a setting which works for whatever you're watching. We'd suggest the subtle or moderate modes for slow-paced dramas, then try out the high and intense settings for action movies - where fiery explosions on screen will see your room light up orange right on cue.

Philips Hue Sync setup guide: It's showtime
Now that your bulbs are added to a new entertainment areas and you've tinkered with the settings, you're ready to sit down with a bag of popcorn and press play.
It is worth remembering that Hue Sync matches your lights to the entire screen, no matter what is playing, so once the movie or TV show is in full-screen, the lights will be in sync. If the video isn't in full-screen, the lights will also mimic whatever else is on the display, like your computer wallpaper.
Naturally, the more lights you have the better the effect will be, and it helps to make the room as dark as possible for the full movie theatre experience.
You can also check The GearBrain to see What Works with Philips Hue Smart Lights.
How to Create a Smart Dorm Room Part 1 - Smart Lights www.youtube.com