Best known for its vacuum cleaners and hand dryers, Dyson has revealed a new backpack designed to monitor the air quality breathed by children as they walk to and from school.
The backpack contains three sensors which are used to measure the levels of nitrogen dioxide and volatile organic compounds, plus PM2.5 and PM10 - a similar skill set to indoor air quality monitors like the Awair and Foobot.
Read More:
To make the backpack, Dyson has taken the air quality-monitoring technology from its purifying fans and shrunk it down to fit into one pocket, which means there is still space for books, notepads and other school equipment, plus a drinks bottle holder. A badge on the back reads: "I am an air quality scientist".
PM2.5 are ultra-fine and especially harmful particles that can work their way into the respiratory system and blood, while PM10 are four times the size and include particles like dust, pollen and allergens.
Dr Ben Barratt, from King's College London, which is helping to run the study, said: "Air pollution has been found to restrict lung growth in children. Low lung function in childhood can persist into adulthood and is often associated with other health problems including chronic obstructive lung disease in later life."
Because the backpack monitors all day, it can also record data on indoor air quality as children move between classrooms, playgrounds, and other parts of the school.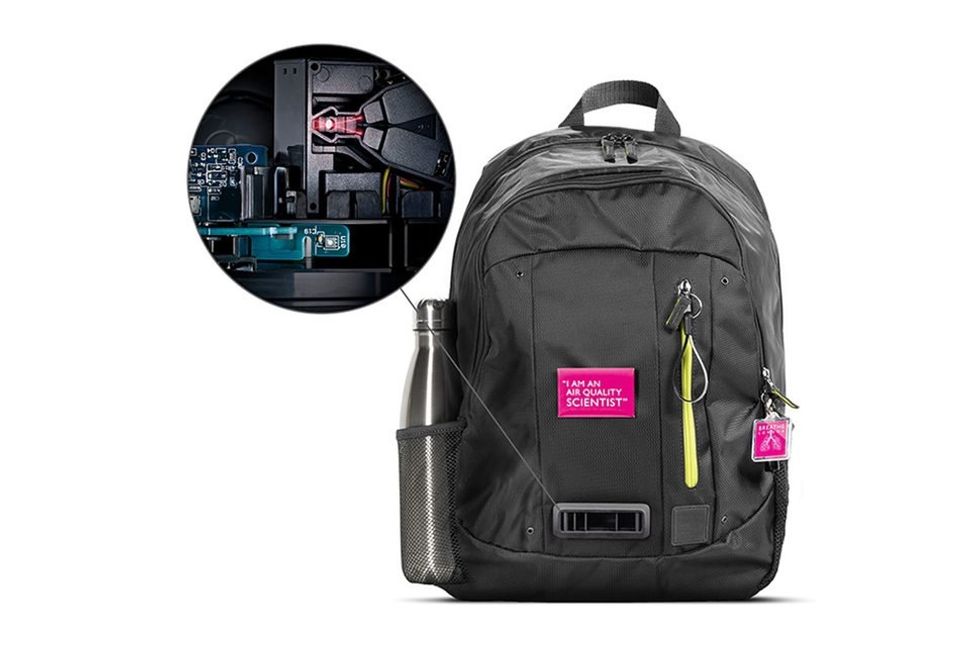 The air quality equipment fits into one pocket of the backpack, leaving space for books, food and school equipmentDyson
The backpack was produced in partnership with the Breathe London initiative, which aims to monitor and improve the quality of air breathed by London's eight million inhabitants. Many schoolchildren in the English capital walk or catch the bus or subway to school, exposing them to low-quality air damaged by the city's congested streets and rush-hour traffic.

Further compounding the issue is, perversely, the city's many tree-lined streets. When pollution levels are particularly high - during the morning and evening rush hours - tailpipe emissions are trapped by trees, potentially decreasing air quality on the sidewalks outside schools.
A rechargeable battery allows the Dyson backpack to record a week of data at a time, which will be analyzed to better understand air quality experienced by children walking alongside busy streets. Over 250 children, aged between eight and 11 and from five London schools spread across the city, will take part in the study.
As well as understanding the quality of air on school-run routes, the study could potentially lead to changes in how children commute. Adjusting their route slightly, taking in quieter residential streets and avoiding congested main roads for example, might be found to make a difference.
Avoiding major bus routes could also be a consideration, although London has worked to improve the situation here in recent years, with the introduction of hybrid buses and electric taxis.
Jessica Le Dinh, category intelligence engineer from Dyson, said: "Our engineers have been researching clean air technologies for over two decades...City air can contain potentially harmful pollutants - including nitrogen dioxide and soot-based particulate matter. That's why this study is so vital. It will help us monitor exactly what our children are exposed to, to inform effective solutions."
Dyson says the backpack will not go on general sale, but it is highly likely that future products from the company will accelerate its focus on understanding and improving air quality. On a similar note, the company is also busy working on an electric car.