Like GearBrain on Facebook
A common question posed by those curious about (or critical of) electric cars is, what happens to the batteries when their performance starts to fade?
It is often a question asked by those who are familiar with smartphones and other devices, when the batteries inside these gadgets loose the ability to hold charge as they age. In electric cars, a declining battery means a gradual decrease in potential range.
Read More:
Renault is the latest car maker to answer the question. It plans to build a large energy storage system using old electric car batteries to power local communities through the national grid. Once complete, the system will contain the energy of 2,000 batteries and meet the daily energy requirements of 5,000 homes.

The French automaker is in a particularly advantageous position as it sells its electric cars, but leases batteries to drivers. In this way, the company retains ownership of the batteries and can take them back by offering drivers upgrades to new, larger-capacity batteries during the car's lifetime.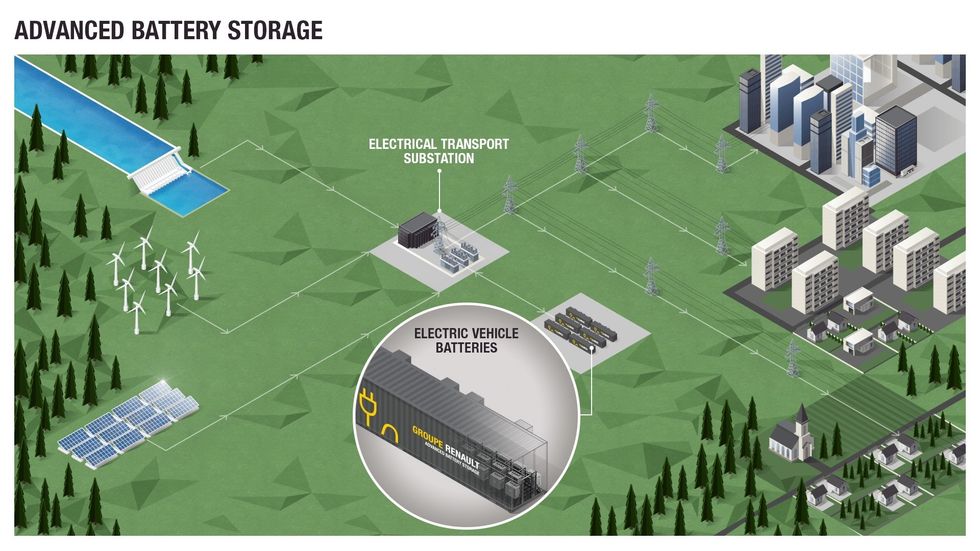 The batteries will power up to 5,000 homesRenault
Once Renault's new grid is complete, the energy storage system will have a capacity of at least 60 MWh, Renault says, making it "the biggest system of its kind ever built in Europe." Instead of a single power station, the system will be split across three sites in France and Germany, with construction starting in early 2019 and the first stage finishing in 2020.
The Renault Group explains: "The purpose of this system is to manage the difference between electricity consumption and production at a given time, in order to increase the proportion of renewable sources in the energy mix. This means maintaining the balance between offer and demand on the electricity grid by integrating different energy sources with fluctuating production capacities."
Currently, the differences in how energy is consumed and produced can cause disturbances — compromising the stability of power that is delivered to homes.
Renault is not the only electric car maker with plans like this. BMW recently connected 500 used batteries from its i3 electric car to the UK's national power grid, and Nissan uses old batteries from its Leaf car to power street lights.
Tesla, however, is taking a different approach. While the company offers new Powerwall batteries to power customer's homes — and built a huge 100MW battery to help with local power constraints in Australia — it prefers to break old batteries down and recycle them instead of using them in their current state.
The company mines old battery packs for minerals and uses them in new batteries, reducing the need to mine everything new from the ground. A recycling facility is currently operating at the company's Gigafactory 1 battery production plant in Nevada.
Like GearBrain on Facebook