Like GearBrain on Facebook
When BMW launched the i3 back in 2013, its first electric car was designed to look like it had just rolled out of a spaceship visiting Earth from a distant planet.
Angular bodywork, a carbon fibre chassis, bamboo covering a spartan dashboard, and an all-new way of driving. It is a testament to BMW's designers that the i3 still looks brand new today, some six years later and without so much as a facelift in-between.
Read More:
But, while sales have accelerated from a slow start, the i3 has never been the mass-market car BMW likely hoped it would be. Despite being an entertaining drive and hugely practical for a vehicle of its size, I've always felt the i3's futuristic design held it back. It was just a bit too heavy-handed; a car yelling "look at me, I'm from the future, I'm electric" instead of one which looked like any other, but quietly went about its business with a motor instead of an engine.
Six years later, and the 2019 Frankfurt Motor Show (also known as the IAA) was awash with electric cars aimed at the mass market. These all offer greater range, faster charging times and even more technology than the i3, but they are designed to look like 'normal'. They don't shout about their electrification in quite the same way.
These vehicles will go down in history as key milestones in the history and electrification of the motorcar. These are mass-market, production ready, on sale right now — and most of them don't shout about it.
Mini Electric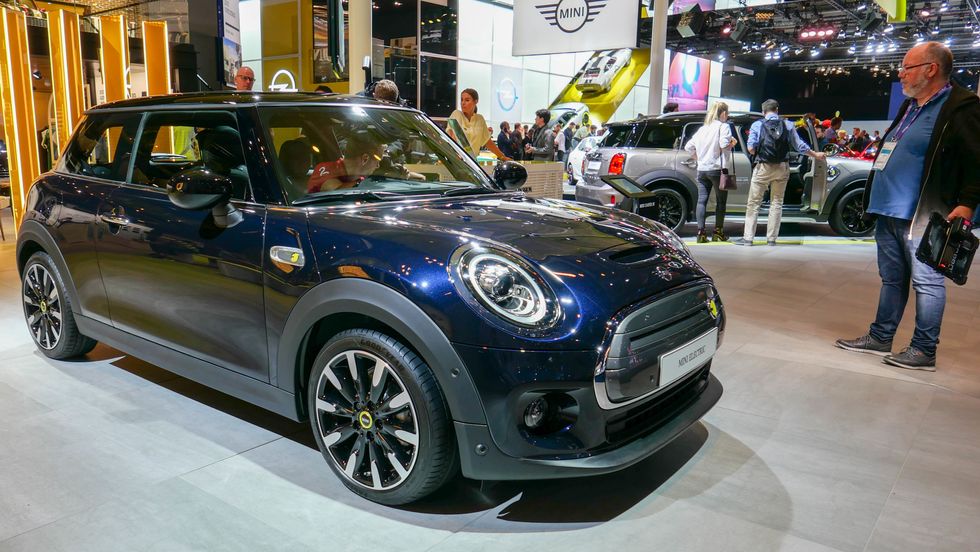 The Mini Electric has a range of around 130-145 milesGearBrain
First we have the Mini Electric, a battery-powered version of the BMW-owned hatchback which borrows its battery-powered drivetrain from the i3, but looks almost identical to a regular petrol or diesel Mini.

Yes, you can opt for a set of futuristic wheels and bright green details if you wish, but in a sombre dark blue and with regular alloys, the car almost completely hides its electrification. It's the same Mini three-door hatch currently on sale, but with an electric motor. That way, buyers can pick between petrol and electricity in the same way they might pick from three doors or five, manual or automatic, sunroof or no sunroof.
Porsche Taycan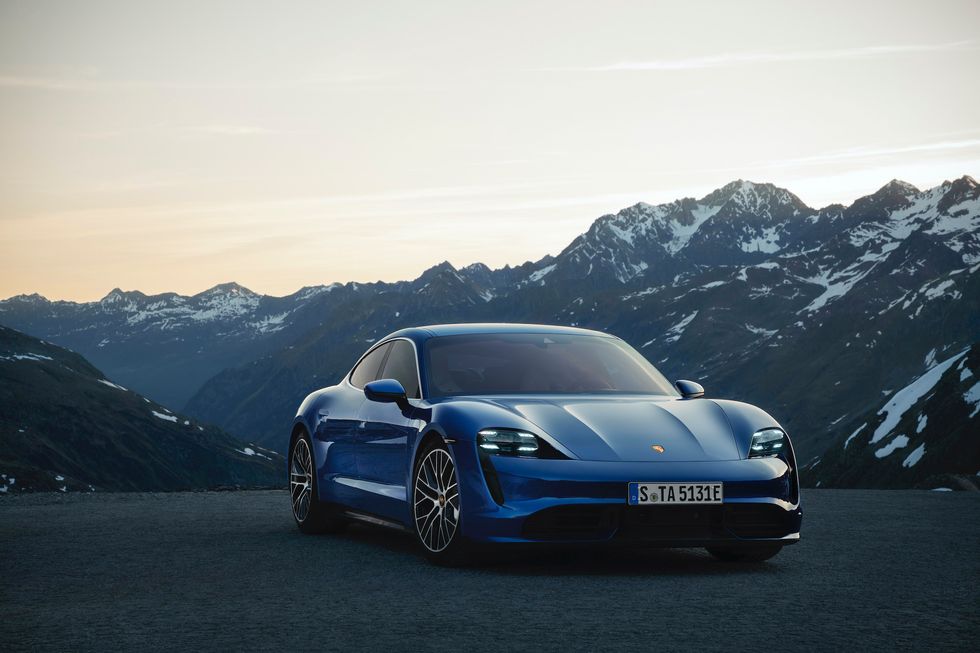 The Taycan doesn't shout about its electrificationPorsche
At the other end of the EV market is the new Porsche Taycan, which is now available to order for an early-2020 delivery. This is the first fully electric Porsche and, unlike the Mini, is an entirely new car which (for now) does not share its platform with any other.

The Taycan looks closer to Porsche's 2015 Mission E concept than many expected, but if you opt for a darker color, smaller wheels, and decline the full-fat Turbo S model, you end up with a car which hides the fact that it's electric. There are no design gimmicks like battery icons or LED lights showing the car's charge status on its bodywork (as we saw with the Honda Urban EV concept a few years ago).
Instead, the Taycan is a Porsche first and foremost, an electric car second — and almost inconsequentially. The car is clearly influenced by Porsche's house style, but updates it by replacing much of the dashboard controls with touch screens, and introducing a new style of headlight cluster.
The rear three-quarters shares a lot with its petrol-powered siblings, and I suspect the all-digital dashboard will be added to Porsche's non-electric range in the coming years, just as Jaguar Land Rover took the I-Pace's touch controls and introduced them across its vehicles.

Perhaps the most obvious (and, to some, grating) evidence of carmakers sticking to what they know best comes with the Turbo and Turbo S versions of the Taycan. Of course, electric cars do not have turbochargers, but Porsche has used the Turbo name for decades, and didn't want to create a new name for the flagships of its electric range.
That said, Tesla's Supercharger network has nothing to do with superchargers, so I can't single Porsche out for its use of counterintuitive nomenclature.
Volkswagen ID.3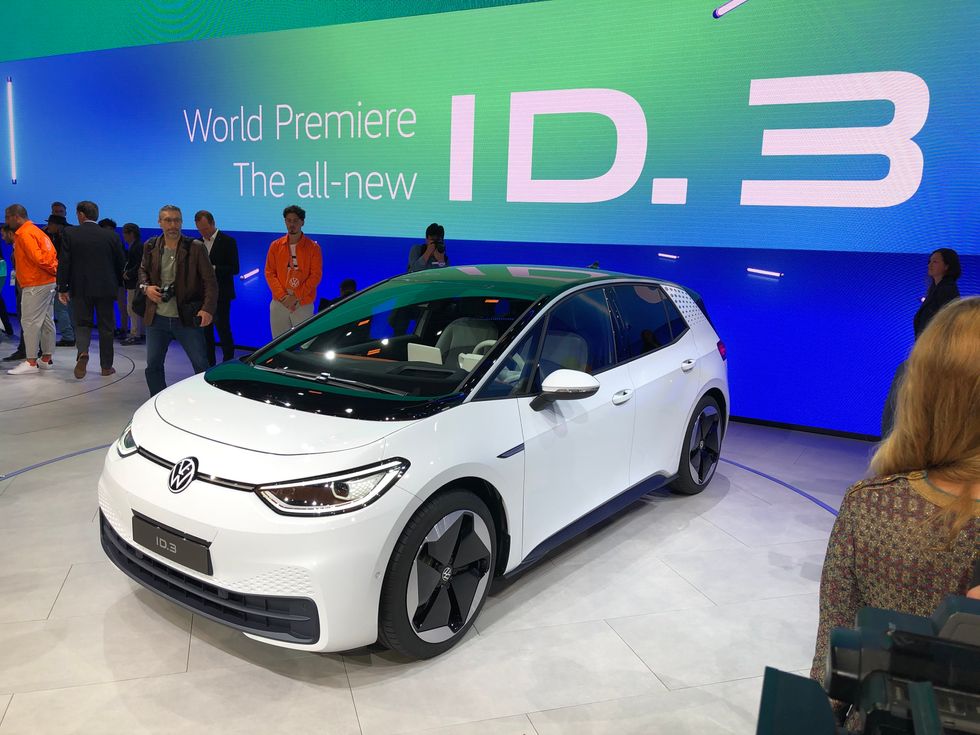 The Volkswagen ID.3 is the successor to the Beetle and GolfGearBrain
Industry giant Volkswagen also used the Frankfurt Motor Show to reveal a production-ready electric car. The ID.3 represents the third chapter in the company's history, following on from the Beetle and Golf in a bid to finally put the diesel emissions scandal to bed, and signal VW's intentions for an electric-only future. The VW Group plans to launch no fewer than 70 new electric vehicles between now and 2028.

To sit in the middle of Volkswagen's electric car range, the ID.3 is all-new and slightly undercuts the Tesla Model 3 with a starting price of less than €30,000 (it'll be Europe-only at launch). It is a hugely important car for Volkswagen and, while sitting on a new platform and boasting a touch-centric cabin, it once again steers clear of looking too futuristic.
The design is certainly new and a departure from the current Golf, but doesn't dare to dream too big. It's a sensible and considered approach to VW's first mass-market EV, with an interior which replaces conventional physical controls with a central touchscreen, but doesn't have the same feeling of otherworldly minimalism as a Tesla Model 3.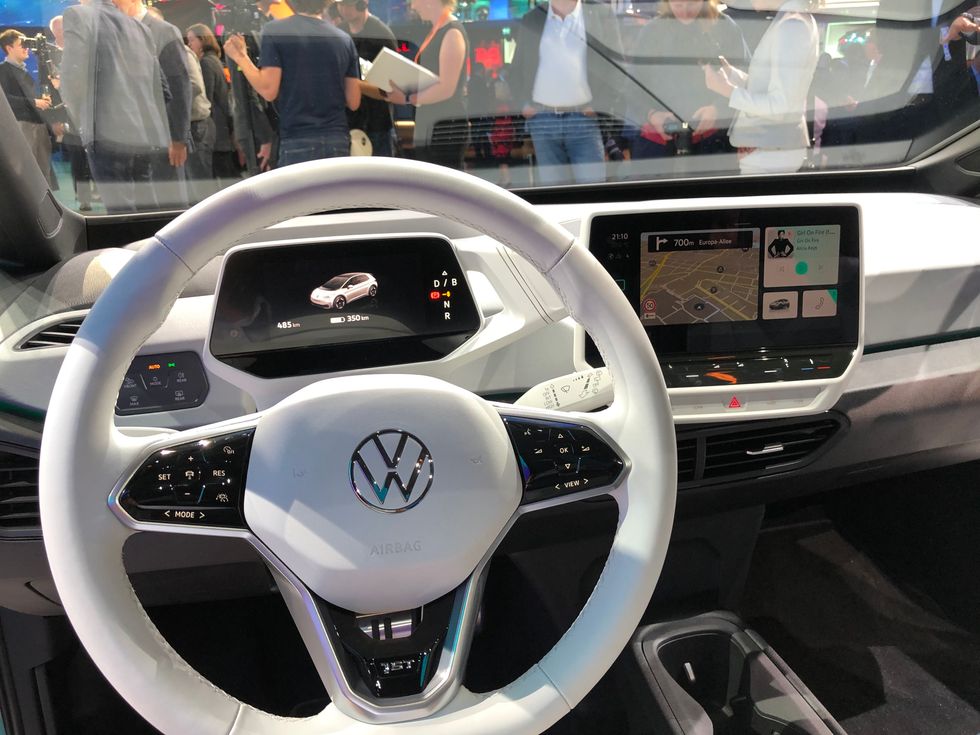 ID.3 interior has a two-screen dashboard GearBrain
Again, the message here is that Volkswagen intends to sell many millions of these, and as such needs the ID.3 to appeal to everyone - especially to buyers who stroll into the showroom to look at a Golf, but could be swayed by the ID.3.

A couple of interesting points made by VW this week; first, cars produced by the Volkswagen Group account for 1 percent of global CO2 production on their own. Second, VW says the total CO2 footprint of an electric car like the ID.3 is half that of an equivalent petrol or diesel car. This is because, while there are zero local emissions due to there being no engine and exhaust, the CO2 footprint attached to producing the car, then eventually recycling and destroying it, is still significant.
BMW i Hydrogen Next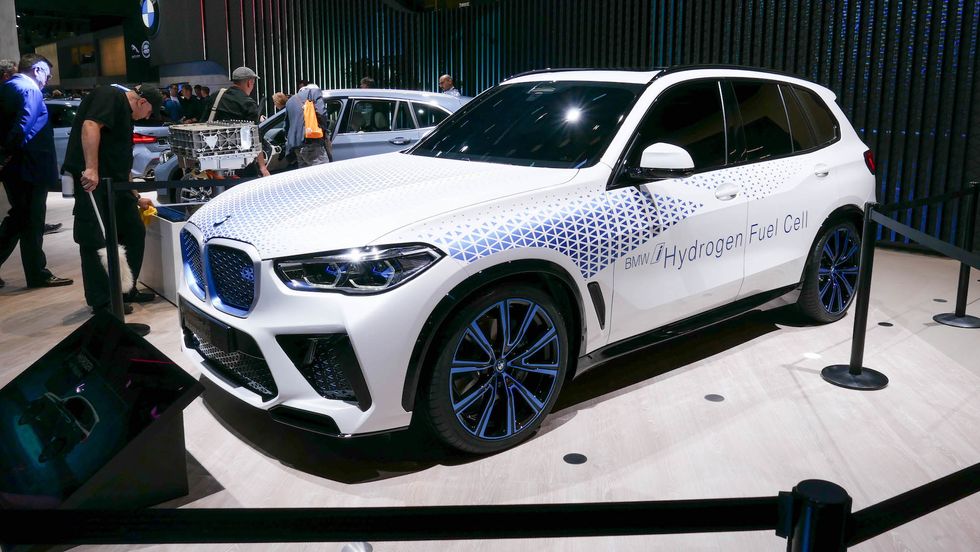 BMW is already has plans for hydrogen powerGearBrain
Stepping away from plug-in electric cars for a moment, and we have the BMW i Hydrogen Next. This is a concept for now, but represents BMW's plans to begin producing a small number of hydrogen fuel cell-powered X5 SUVs from 2022, in partnership with Toyota, pioneer of the fuel cell car.

Instead of presenting its new hydrogen technology in a just-landed-from-Mars concept, BMW chose to slot the fuel cell into a regular X5 with blue wheels and a jazzy paint job. Again, eye-grabbing concept design is shunned in favor of something that is reassuringly familiar — something today's X5 owners could see themselves buying when their current lease deal comes to an end.
BMW plans to offer a range of hydrogen fuel cell vehicles from 2025, but says this roadmap is subject to change and depends heavily on customer demand, and whether the hydrogen car market (and the all-important fueling infrastructure) has matured enough by then.
Honda E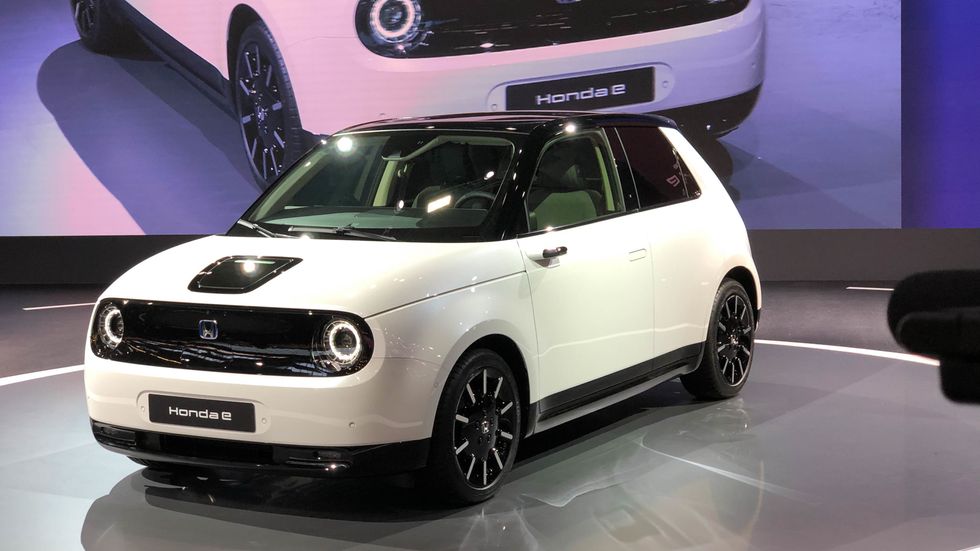 The Honda E is on sale in Europe for under €30,000GearBrain
Over at the Honda stand, the company's first electric car, called simply the E, was shown off in production-ready form for the first time. An evolution of the Urban EV concept revealed back in 2017, the E's design pushes the boat out a little further than most.

The car has cameras instead of wing mirrors — a world first in the compact segment — and a dashboard made up of touchscreens which almost span its entire width. I think the wood interior trim looks great, and the exterior strikes a neat balance between modern and retro but without being a pastiche of either.
As was a theme shared by several car makers in Frankfurt, Honda will fit the E with a new voice assistant which it claims will "get to know the owner and give more personalized answers over time." Porsche is offering a similar assistant with the Taycan, summoned by saying "hey Porsche."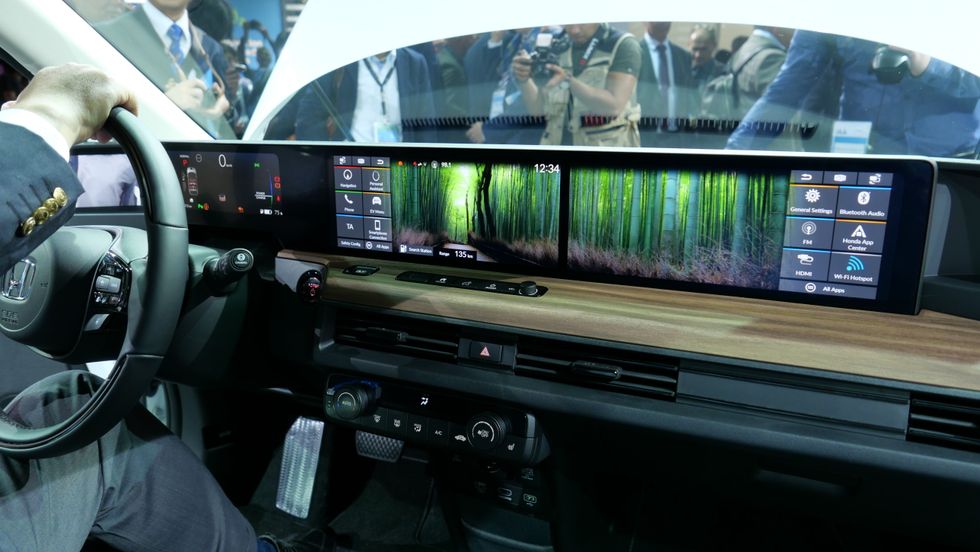 The Honda E dashboard is futuristic and retro all at onceGearBrain
The Honda E will be Europe-only at launch (those wing mirror cameras aren't legal in the US yet, for a stat), and it will be priced from just under €30,000, and £26,000 in the UK. That's quite a lot for a car with a claimed range of just 137 miles from its compact 35.5kWh battery, but Honda is aiming the E at city dwellers who may have a second, larger car for longer journeys. I like Honda's design flare here and hope the car sells well, but I doubt it'll be popular enough to worry Mini and VW.

Also interesting are Honda's plans to install car chargers in lampposts in partnership with Ubitricity, and to even offer its own electricity service. Not much was said on the latter, but it's promising to see car companies tackle the wider issue, not just producing plug-in vehicles and ignoring where the power might come from to operate these cars. This approach is a bid to clean up how the energy is created, as well as how it's used.
A watershed moment
Frankfurt 2019 will likely go down as a watershed moment for the electric car. After years of concepts and teases about what might eventually happen, the world's largest and best-known car makers have finally shown their hand. The Mini Electric and VW ID.3 in particularly will undoubtedly become flag bearers for the next chapter of the car, just as their predecessors did when they first mobilized the masses half a century ago.
What's key now, just as it was then, is accessibility. These cars are (relatively) affordable, familiar, and manage not to shout too loudly about their batteries and charging cables. They are what the auto industry — and the environment — needs; they cut their CO2 footprint in half, while still giving buyers what they are used to.
Like GearBrain on Facebook